Mazzio's is a popular Italian-American pizza place serving up some of the best mouth-watering pizzas. Apart from pizzas, their expansive menu is set out to cater to a wide variety of food cravings.
Founded in 1961, Mazzio's has been serving hot and fresh pizzas since before many of us were even born!
Mazzio's reformed and revolutionized their restaurant in 1979 when they expanded their menu to incorporate Salads, Sandwiches, Wings, Desserts, and much more! But the question remains, is there anything Keto at Mazzio's?
So what's keto-friendly at Mazzio's?
The most keto-compliant dish from Mazzio's extensive menu would be the bone-in traditional chicken wings. You can enjoy these finger-licking good wings at the expense of just 5-10g of net carbs.
Just make sure not to smother them with any sweet sauces which contain the forbidden fruit – sugar!
Other keto-friendly items from their mouth-watering menu are salads, crustless pizzas, and a few items that can become keto-friendly with a few tweaks and customizations.
Pizza places are particularly tough to navigate if you're on a ketogenic diet because almost everything has carbs in one form or another.
I mean, after all, it's a pizza place; what else would one expect? But, if you proceed with caution and thoroughly scrutinize the menu, you can enjoy a wholesome meal without sacrificing your hard-earned ketosis.
This article will be an in-depth analysis of Mazzio's menu to uncover all the different keto-friendly options. So if you ever end up at Mazzio's, you'll know exactly what to order with confidence.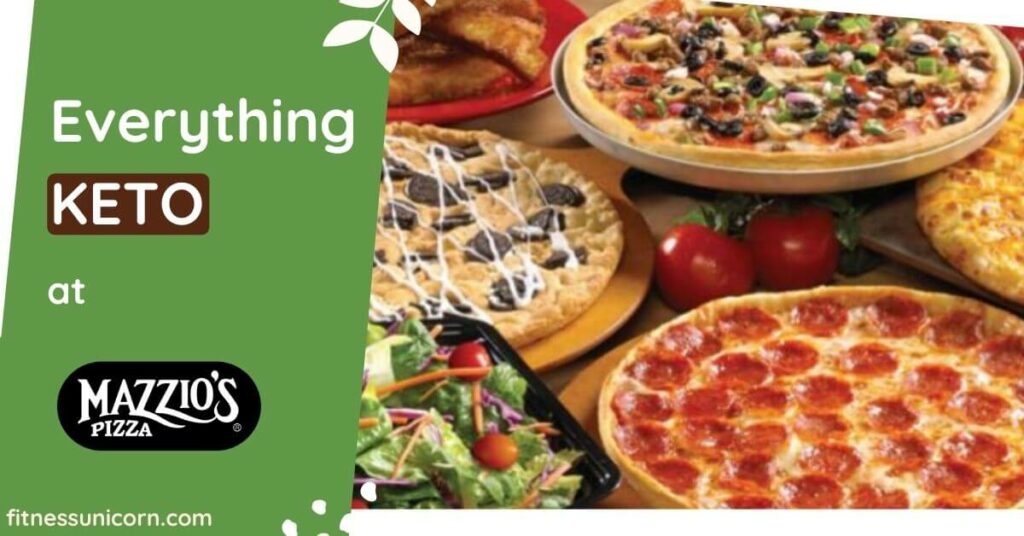 Tired of searching whether certain foods are keto? Download my keto cheat sheet with 210+ keto-friendly foods!
This post may contain affiliate links, which help keep this content free. (Full disclosure)
How to Survive Keto at Mazzio's
Mazzio's has expanded to over 170 locations across 10 states since its conception. Its menu is basic yet diverse, it is popular amongst all age groups, and there is something for everyone.
Dining out on Keto can be intimidating, especially when you know a majority of the menu items at a pizza place are bound to be packed with carbs.
With the current culinary landscape, more and more restaurants are going towards customizable menus and inclusivity for all food preferences. Mazzio's, too, has conformed to the need for more keto-friendly options for customers.
It has a detailed nutritional guide for all the menu items it offers, along with a keto-friendly nutritional guide available on its website.
Using these tools and some basic knowledge about keto, you can easily enjoy a scrumptious meal at Mazzio's without having to sweat about your carb intake.
A ketogenic diet requires you to stay below 20-25g of net carbs a day. This means you have to stay on top of your nutritional information and avoid any hidden carbs that might inhibit your ketosis.
Making a habit of pre-planning your visits and studying nutritional guides will help you order with confidence, and you'll be aware of all the ingredients going into your dish.
Mazzio's has a decent menu that will cater to most people, but unfortunately, their keto-compliant options are limited. However, you can modify a few items to fit the keto bill; we'll be discussing those shortly.
Firstly Mazzio's offers rich, cheesy, and delectable pizzas that are keto-friendly. Yes, you read that right. We're talking about keto-friendly pizza.
"How in the world is that possible?" you might ask.
Well, there's a thing called 'crustless pizza' where the crust is replaced with a layer of mincemeat or cheese, it seems like something out of a keto-lovers dream, but I assure you it is real.
A crustless pizza will usually have around 3-6g of net carbs per serving, perfect if you're looking for a hearty meal to satiate your appetite.
If you're in the mood for something light on the stomach, you can resort to their house-made salads that you can enjoy with a wide array of low-carb dressings. Be sure to skip on the croutons; their deliciousness comes at the cost of your ketosis.
If you're still paranoid about the legitimacy of crustless pizza, you can always resort to the safest bet; Boneless Wings.
They're the lowest carb item on the menu; you can pair them with a selection of savory low-carb sauces from the menu. Be cautious not to order any sweet sauces (BBQ sauce); they contain loads of sugar and knock you out of your ketosis.
Before we analyze the nutritional value of all the low-carb options at Mazzio's, we will go over all the items you need to steer clear of at all costs to protect your ketosis. These items include;
Wing Flavours: BBQ Sauce, Sweet Thai Chilli Sauce, Memphis Dry Rub, Lemon Pepper.
Boneless Wings (they're breaded hence high in carbs).
All of their Sweet Treats.
All of their drinks.
All of their Pizzas (the ones that have a crust).
All of their Calzones.
All of their Hoagies.
All of their Pasta.
Lasagna.
All of these items have the potential to play with your temptations and lock you in a carb trap, especially when your friends are enjoying these carbohydrate-rich dishes in front of you.
Now that you know what items to stay away from, let's look at the items you can enjoy without worrying about your keto diet.
RECOMMENDED: Everything Keto at Giordano's Pizza
Mazzio's Keto-Friendly Options
All the nutritional information below is collected from the official nutritional guide provided by Mazzio's webpage. They also have a 'keto-friendly' nutritional guide to make life easier for their keto customers.
Let's dive right into the keto options Mazzio's has to offer.
#1 Traditional Bone-in Wings
Net Carbs: 1.4-1.9g
Total Fats: 16-30g
Proteins: 29-32g
Calories: 271-410 kcal
Your safest bet at Mazzio's is their bone-in wings that come in a serving of 5/10/15/20 wings. You can order these delicious, moist, and cooked to perfection wings in a variety of different low-carb flavors that include;
Buffalo (Mild & Hot)
Garlic Parmesan
No sauce
*The nutritional information provided above is for a 5pc serving of wings.
#2 Salads
Net Carbs: 8-8.7g
Total Fats: 5-7g
Proteins: 6-27g
Calories: 111-202 kcal
You can enjoy Mazzio's different low-carb salads that are made fresh and to order. These salad include their House Salad and Chicken Caesar's Salad.
The nutritional information is excluding any kind of dressing and croutons. There are some low-carb dressings you can add to your salad but the croutons are an absolute no-go.
#3 Salad Dressings
Net Carbs: 1-2.9g
Total Fats: 0-17g
Proteins: 0-1g
Calories: 0-160g
You can perk up your salad with low-carb salad dressings that include;
Alpine Italian (1oz)
Balsamic Vinegar & Olive Oil (1oz)
Bleu Cheese (1oz)
Creamy Italian (1oz)
Ranch (1oz)
Red Wine Vinegar (1oz)
Royal Cesar (1oz)
Zesty Italian (1oz)
#4 Crustless Pizza
Net Carbs: 3.35-13g
Total Fats: 12-33g
Proteins: 12-24g
Calories: 153-393g
All the cheesy, gooey, melty goodness of a pizza but without the ridiculous amount of carbs; that's what a crustless pizza is. This pizza has a base layer of cheese that replaces the crust.
Top it up with your favorite low-carb toppings to create the perfect meal. You can check it out in Mazzio's keto-friendly nutrition guide. Some of their crustless pizzas include;
Chicken Bacon Alfredo Pizza
Four Meat Pizza
Fresh Veggie Pizza
Lucky 7 Pizza
*All the crustless pizzas are 9" in radius and have two servings per pizza. The nutritional information above is for a single serving.
#5 Customizations
Hoagies
Mazzio's offers a wide selection of Hoagies. If you're in the mood for a sandwich but can't afford the carbs that come with it then just ask your waiter to have the bread replaced with lettuce for the perfect lettuce wrapped sandwich.
Also, ditch the fries on the side to make it completely keto.
Calzone
You can order the calzone if you're really craving one. But, you'll have to eat the insides and not consume the outer crust to keep it keto-friendly.
RALSO READ: Jet's Pizza Keto-friendly options
Cauliflower Crust: Keto or Not?
With many people adopting gluten-free and keto lifestyles, pizza places have begun to offer alternate options to the regular gluten and carb-rich crust that we know and love.
One such alternative is the Cauliflower crust. It might catch your eye on many menus and have you think of it as a perfect keto-friendly option if you're craving pizza.
But, the truth is that the Cauliflower crust at Mazzio's contains rice flour, tapioca starch, rice starch, sugar, and cultured brown rice. All of these ingredients are packed with carbs which make Cauliflower crust a big no for individuals on a ketogenic diet.
The Mazzio's 11" cauliflower crust contains 11.5g of net carbs per slice. You can have cauliflower crust pizza if you're willing to spend 11.5g of net carbs out of your daily total of 20-25g on a single slice of pizza!
But if you ask me it doesn't seem worth it. You'd be better off ordering a crustless pizza instead (tastes just as good in a bowl!)
ALSO READ: MOD Pizza KETO Friendly Options for Low Carb Diet
Conclusion
Mazzio's is an amazing place to visit with family and friends. They have a sizeable menu with sufficient keto-friendly options for you to enjoy a good meal.
Knowing the menu and nutritional information is essential to navigating and ordering yourself low-carb meals.
Don't be shy to communicate with the waiter, and let them know your preferences and dietary requirements. Most restaurants are highly accommodating and will work towards giving you a pleasant dining experience.
So if you ever end up at Mazzio's know that you're in good hands and your ketosis is safe!