You know what they say, anytime is a good time for pizza– and it's true! It's the perfect meal at any time of the day, especially if you know a place with lots of flavors to choose from like Blaze Pizza.
No one can get tired of it thanks to the diverse items on the menu
However, does Blaze Pizza's have anything gluten-free?
Indeed, pizzas aren't the usual option for gluten-sensitive diners. Thankfully, Blaze's has a decent number of flavorful ingredients you can mix for a nicely customized gluten-free pizza that suits your preference.
For toppings, select from the grilled chicken, pepperoni, Italian sausage, salami, and applewood bacon. Top it off with some cheese-y goodness of shredded mozzarella, gorgonzola cheese, parmesan, or Daiya vegan mozzarella!
Finally, you can either have Buffalo Sauce, Chipotle Ranch, or Olive Oil for the finishing drizzle. The list of choices for a customized pizza goes on, but we'll leave that for later.
Pizza places are usually at risk for cross-contamination due to their nature. For Blaze Pizza, gluten-rich items like the classic dough can be close to gluten-free ingredients. This situation may put your health in danger.
So, it would be best for gluten sensitivity and celiac patients to steer clear of Blaze Pizza due to the overlying risk of cross-contact between the ingredients.
From the words of their head chef, "Pizza is the perfect food." Without further ado, here are the best gluten-free options at Blaze Pizza.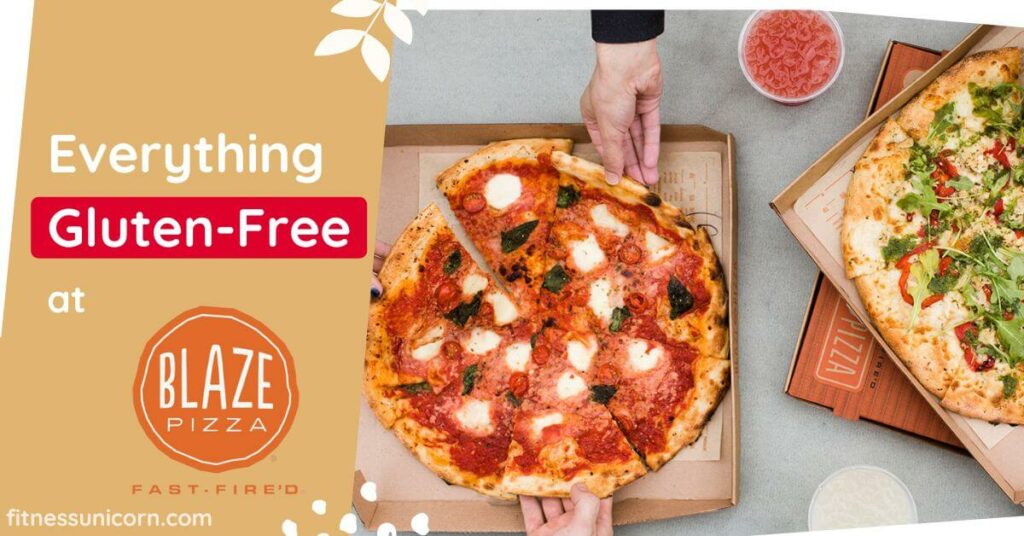 This post may contain affiliate links, which help keep this content free. (Full disclosure)
Blaze Pizza Gluten-Free Options
In 2011, Rick and Elise Wetzel of Wetzel's Pretzels founded Blaze Pizza in Pasadena, California, opening its first locations six months later. With that, the first year of the chain was a tremendous success.
Chipotle's made-to-order model inspired Blaze Pizza's way of serving food. Customers go along the service line while the staff creates the pizza according to their instructions.
You can choose your dough before selecting the toppings, sauce, and cheese for your pizza. When done, your pizza is "fast-fired" in an oven for about three minutes!
This sounds like a fun way of getting a pizza, don't you think? So before visioning your picture-perfect pizza, here's a list of gluten-free options we prepared for you to make the whole process a breeze.
(Note that these are from Blaze Pizza's online Allergen Information. Both "wheat" and "gluten" are the allergens checked for this purpose.)
Pizza 11-inch
Keto Pizza
Vegetarian Pizza
Simple Salads
BLT Cobb
BLT Wedge
Buffalo Blue salad
Butternut Squash Salad
Classic Greek Salad
Tomatoes & Mozzarella Salad
FIND MORE: Gluten-Free Options at Which Wich
Dough
Cauliflower Crust
Gluten-Free Dough
Keto Crust
Sauce
Garlic Pesto Sauce
Red Sauce
Spicy Red Sauce
White Cream Sauce
Cheese
Feta
Goat Cheese
Gorgonzola
Grated Parmesan
Ovalini Mozzarella
Riccotta
Shaved Parmesan
Shredded Mozzarella
Vegan Cheese
Meat and Veggies
Applewood Bacon
Artichokes
Banana Peppers
Basil
Black Olives
Cherry Tomatoes
Chicken
Chopped Garlic
Green Bell Peppers
Italian Sausage
Jalapenos
Kalamata Olives
Mushrooms
Pepperoni
Pineapple
Red Onions
Roasted Brussel Sprouts
Red Peppers
Roasted Butternut Squash
Roasted Garlic
Salami
Sauteed Onion
Scorpion Slaw
Spicy Chorizo (Vegan)
Spinach
Zucchini
RELATED: Does Cafe Rio Have Anything Gluten-Free To Offer?
Finishes
Arugula
BBQ Drizzle
Buffalo Sauce
Chipotle Ranch Drizzle
Franks Red Hot Drizzle
Olive Oil
Ranch
Sea Salt
Pesto Drizzle
Oregano
Drinks
All drinks at Blaze Pizza's are gluten-free!
Beer and Wine
Tips For A Gluten-Free Meal at Blaze Pizza
Alert The Staff
Although this is an impulse for gluten-sensitive diners, we're leaving this tip as a strong reminder to do so before ordering. Interestingly, most satisfied customers at Blaze Pizza alert the staff about their condition.
The staff responds nicely by changing their gloves and following the customers' requests for safe meal preparation.
Tell the staff about your condition before ordering just to be sure, regardless if you already ordered a gluten-free option. If you don't alert them beforehand, they may forget to change gloves or use a gluten-free pizza cutter, so it's best to confirm your requests.
Cut Your Own Pizza
Some customers had issues with the same cutter for all pizzas, even if it's for a gluten-free one!
Take our word for it, cut your own pizza. You'll never know if the location you're headed to has a separate cutter, so try to bring your own cutter to eliminate any risk of cross-contamination.
ALSO READ: Are There Gluten-Free Options at Torchy's?
Watch Your Pizza
Fast-casual dining places like Blaze Pizza can struggle with following special requests strictly. Some customers reported seeing staff accidentally reusing gluten-contaminated equipment for their meal, which could make them sick.
It's best to watch the pizza-making process while you're ordering. Are they using the same sauce ladle? Did they cook yours in a different oven? Did they change gloves?
All of these things matter when preparing a gluten-safe meal, so watching the process won't hurt.
Keep It Simple
Although customers can personalize their own pizza, gluten-sensitive diners may want to keep their pizza simple without decorating it too much.
A simple pizza uses less ingredients, which translates to a less risk of cross-contact between the ingredients.
Cross Contamination Risk
We hear and read it often– cross-contamination. The biggest enemy of gluten-sensitive people, as some would say. But, what exactly is it?
Cross-contamination happens when gluten-free items come across gluten-containing products. When this (unfortunately) happens, the supposedly gluten-free item is no longer safe for anyone with gluten intolerance or celiac disease.
Most places forget that cross-contamination occurs in different ways, despite the "strict" measures they follow when prepping your meal. For instance, not changing gloves before preparing a gluten-free dish can be very harmful.
Celiac patients can get terribly sick even at the slightest trace of gluten in their meal. Restaurants don't realize this until a customer complains of being 'glutened' after eating the badly-prepared dish.
Blaze Pizza gladly has more gluten-free options than a usual pizza place would have. However, its nature as a fast-casual pizza chain can still make some visitors doubtful whether strict allergy protocols exist.
So, if you're doubtful of anything on the menu– it's best to trust your instinct and find an alternative place. But if you do try Blaze Pizza, do your best to watch your meal being prepared carefully to guarantee a worry-free experience.
After all, Blaze Pizza doesn't claim to be a gluten-free restaurant. The risk of cross-contamination could still lurk around and endanger your health.
To know more about the insights of other fellow gluten-sensitive visitors who tried Blaze Pizza, read on to see their relevant reviews.
What People Are Saying
Based on some online reviews from reliable sites and personal interviews, here are some relevant opinions about Blaze Pizza's gluten-free accommodation.
Some customers complain about the same pizza cutter used for flour and gluten-free doughs. After seeing this situation, one celiac visitor had no choice but to cut their own pizza at home.
Another user says that they got sick after two days. They believe that the staff didn't use a different cutter despite claiming that it was. They even had to yell "stop!" after seeing that the same sauce ladle was used for her gluten-free pizza.
While others say that the staff puts a "special board" before popping the gluten-free pizza in the oven, some complained that the oven was very contaminated with gluten but the staff didn't seem to care so much about it. Other customers say that even though the staff used a special board, the same pizza paddle was used.
One celiac user says that if you're going to get sick, it might as well be worth it thanks to their good-tasting pizza. They believe that the place had many gluten-filled crumbs floating around. They add that the pizza was messy, although the staff genuinely tried to follow protocols. The user still ended up being glutened.
Other users had a lovely experience with the staff's knowledge about safe meal preparation. Most of these satisfied users say that the staff changed gloves upon request and used dedicated utensils for a gluten-free pizza. One visitor even says that the staff had changed clothes before preparing their meal.
One user commends the staff for taking all needed measures. The staff had special utensils, changed gloves, used a silicon pad to avoid the crust from touching gluten-rich surfaces, and had a separate pizza paddle for their order.
Gluten-Free Alternatives To Blaze Pizza
If you feel like today isn't the day for Blaze Pizza, you can still go for alternative places that offer similar options like the ones we'll share with you!
1. Domino's
Nothing beats a quick pizza craving fix at Domino's to satisfy your midnight pizza craving.
Build your own pizza in the Blaze Pizza way! Start by choosing from sauces like BBQ, Garlic Parmesan, Hearty Manira, or the Robust Inspired Tomato sauce.
Top it off with American cheese, anchovies, bacon, beef, garlic, Feta cheese, Chorizo, and a lot more (we could go on!) Order some sides, too, like the barbecue chicken wings, classic garden salad, or roasted red peppers if you're feeling a little extra.
2. Boston Pizza
No dietary sensitivity should stop you from enjoying a fresh, tasty pizza at Boston Pizza. The best part about it is that they have a special GlutenWise, chef-crafted menu featuring all items prepared with gluten-free ingredients.
Customers can build their own cauliflower crust pizza and pasta with gluten-free ingredients. There are also sandwiches like the Grilled Chicken Clubhouse and Boston-Sized Burger, which you can enjoy with some Oven Roasted Wings.
You can order the NY Striploin Steak or Slow-Roasted Pork Back Ribs with salads for a more filling meal. Finish it with a sweet treat of their chocolate brownie!
3. Blue Pan Pizza
There's nothing like Blue Pan's Detroit-style pizza. They pride their gluten-free dough provided by Wild Flour Bakery, a highly respected chain in the food industry.
Customers can get the gluten-free version of the Detroit-style and Classic Italian pizzas. Most gluten-sensitive visitors have no complaints of cross-contamination and love Blue Pan's Detroit-style pizza the most!
4. Woodstock's Pizza
California Woodstock's Pizza also has tons of healthy options, making it a favorite spot for gluten-sensitive diners. Its gluten-free crust is infused with blends of basil, thyme, sage, garlic, and oregano.
Drizzle this with some mozzarella cheese and zesty red pizza sauce.
Top it with a handful of carnitas, Italian sausage, bacon, salami, grilled chicken, or pepperoni to finish your pizza. Woodstock's generally has a good response from its visitors regarding their gluten-free accommodation.
Visitors say that the staff is well-informed of the proper practices with a great system in place. One visitor says that the staff washed their hands before preparing the meal in a separate location and cooked the pizza separately.