In recent years, there has been an increasing awareness of the importance of gluten-free diets. For many people, avoiding gluten is a necessity in order to maintain their health.
Fortunately, there are now more options than ever before for those who need to eat gluten-free. Firehouse Subs is one restaurant that is now offering a variety of options. But do they have anything gluten-free?
Definitely! A new medium-sized sub roll available with Firehouse Subs is certified gluten-free thanks to a partnership with Schar. Thus, Firehouse Subs offers gluten-free bread that is ideal for making a delicious sub.
You can find gluten-free rolls at all Firehouse Subs locations in the U.S. and Canada.
Essentially, all you need to do now is to find out what gluten-free toppings and fillings there are for you to choose from. That's where we come into play. Firehouse Subs offer a lot of gluten-free options.
From chopped salads to cheese to meat, We will list each of them in this article.
It is important to keep in mind that Firehouse Subs cannot guarantee that cross-contact with allergens will not occur. Before placing your order, please inform your server if you or anyone in your party has a food allergy.
Although efforts are made to avoid cross-contact with allergens, it is possible that such contact may occur. For this reason, Firehouse Subs cannot be responsible for any allergic reactions you may experience.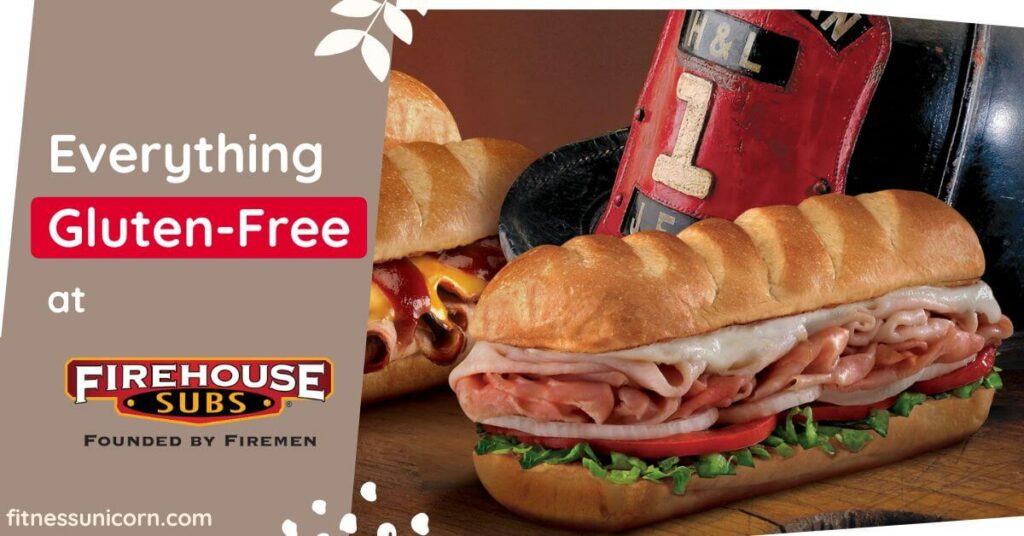 This post may contain affiliate links, which help keep this content free. (Full disclosure)
Firehouse Subs Gluten-free Options
Firehouse Subs opened its first restaurant in Jacksonville on October 10, 1994. In 1995, the company tried franchising for the first time. Later, the founders backed out of the concept, repurchasing the franchised locations.
They chose instead to operate only company-owned establishments, particularly in the Jacksonville area. Later that year, Firehouse Subs opened its first location outside of Florida as it passed the ten-location mark.
The founders took a different approach to franchise growth in 2000, hiring consultants to plan franchise expansion. Consultants helped potential franchisees to get financing. After 2001, franchising experienced a second surge.
In October 2015, Firehouse Subs opened its first location in Canada with its franchisee OnFire Restaurant Group, which opened the first store in Oshawa, Ontario.
There are currently 50 restaurants operated by the group in Canada, with plans to open 90 more restaurants alone in Ontario in the future. A loyalty program has also been launched by the chain.
Now that we know the history of this restaurant let's get into all the gluten-free options they have.
RECOMMENDED: Does Cafe Rio Have Anything Gluten-Free to Offer?
Gluten-Free Chopped salads at Firehouse Subs
Chopped Hook & Ladder Salad
Firehouse Chopped Salad, No Meat
Firehouse Chopped Salad with Grilled Chicken
Firehouse Chopped Salad with Ham
Firehouse Chopped Salad with Turkey
Firehouse Chopped Side Salad
Italian Chopped Salad with Grilled Chicken Salad
Gluten-Free Salad add-on toppings at Firehouse subs
Black Olives Add-On
Jalapeno Peppers
Gluten-Free Salad dressings at Firehouse subs
Balsamic Dressing
Honey Mustard Dressing
Italian Dressing
Light Italian Dressing
Oil & Vinegar
Peppercorn Ranch
Gluten-Free Soups at Firehouse subs
Gluten-Free Sides and chips at Firehouse subs
Chili
Coleslaw
Pickle Spear
ALSO READ: Torchy's Gluten-Free Options
Gluten-Free Catering salad platters at Firehouse subs
Catering Salad Chopped
Catering Salad Chopped Deluxe Chicken
Catering Salad Chopped Deluxe Ham
Catering Salad Chopped Deluxe Tuna Salad
Catering Salad Chopped Deluxe Turkey
Catering Salad Platter
Gluten-Free Cheese at Firehouse subs
Cheddar Cheese
Monterey Jack Cheese
Pepper Jack Cheese
Provolone Cheese
Swiss Cheese
Gluten-Free Meats at Firehouse subs
Chicken Breast
Oven Roasted Chicken
Pepper Bacon
Pepperoni
Salami
Sauteed USDA Choice Steak
Smoked Honey Ham
Smoked Turkey Breast Roast
Tuna Salad
USDA Choice Beef Brisket
USDA Choice Corned Beef Brisket
USDA Choice Pastrami
USDA Choice Roast Beef
FIND MORE: Blaze Pizza Gluten-Free Options
Gluten-Free Toppings at Firehouse subs
Au Jus Mushrooms
Avocado
Black Olives
Cherry Pepper Rings
Chopped Green Peppers
Chopped Pickle Spear
Coleslaw
Iceberg Lettuce
Onion
Pickle Spear
Tomato
Gluten-Free Condiments at Firehouse subs
Balsamic Dressing
Cajun Mayo
Cajun Seasoning
Captain Sorensen's Datil Pepper Hot Sauce
Honey Mustard
Italian Salad Dressing
Italian Seasoning
Jerk Mustard
Light Mayonnaise
Marinara Sauce
Mayonnaise
Peppercorn Ranch Dressing
Spicy Mustard
Sriracha Sauce
Sweet Baby Ray's BBQ Sauce
Sweet Mustard
Gluten-Free Add-on toppings at Firehouse subs
Banana Peppers
Black Olives Add-On
Jalapeno Peppers
Oil and Vinegar Dressing
Tips for a Gluten-free Meal at Firehouse subs
For many people, a gluten-free diet is a necessary way of life. And while there are plenty of delicious gluten-free options out there, sometimes it can be tough to find a quick and easy meal when you're on the go.
Fortunately, Firehouse Subs has a great selection of gluten-free options that will satisfy your hunger without sacrificing taste. Here are a few tips for ordering a delicious and gluten-free meal at Firehouse Subs:
Pick a wholesome meal
Start with a hearty base: Firehouse Subs offers a gluten-free sub roll that you can have.
Add extra protein to your sub. heap on the meat, cheese, and vegetables to make up for the lost calories from the bun or bread. firehouse subs offer several types of meat, cheese, and vegetables that are safe for those on a gluten-free diet.
Add some veggies: Fresh lettuce, tomatoes, and onions are always a great option.
Be careful when choosing condiments
Choose your condiments carefully. Many common condiments, such as ketchup and mustard, are naturally gluten-free. However, other condiments, such as mayonnaise and some salad dressings, may contain gluten.
Be sure to check the ingredients list or ask your server for more information.
Beware of assuming gluten-free dishes are free from gluten
The absence of any details mentioning gluten-containing ingredients in a dish's description can lead us to assume it's gluten-free.
For example, some people may assume that rice dishes are gluten-free when they are often not. Rice dishes such as Cuban rice, saffron rice, and paella are sometimes prepared with a stock containing wheat ingredients.
The wrong assumption that buckwheat pasta is gluten-free is because we ignore the fact that only a very small part of the pasta is made of buckwheat and the rest of it is made from wheat products.
Ask the chef about every part of the preparation, even if it sounds redundant. In addition to marinades and salad dressings, gravies, stocks, and thickeners that are used in the preparation of gluten-free foods, there is gluten that is hidden inside such ingredients.
Eat only from your own plate
Food is often split between two people so that each has a little taste of everything. If you are dining with a group and they order some appetizers for the table, it is more than likely that the dishes will not be something you are able to eat.
If you need to avoid gluten in restaurants, you may want to stop asking for modifications to a dish that the group wants to split, rather than forcing them to change the dish, you can relax while sipping on wine while you wait for your meal to arrive.
Moreover, avoid sharing desserts. A bowl of fresh berries will likely suit your food intolerances if nothing else does.
Lastly, if you can't imagine ending a meal without some sort of dessert, bring some homemade cookies or gluten-free snacks, and enjoy them when the occasion calls for it.
Cross Contamination Risk
Cross-contamination occurs when gluten-containing foods and gluten-free foods come into contact with each other, exposing the gluten-free food to traces of gluten.
This can happen in restaurants if, for example, a gluten-free sandwich is placed on a cutting board that was previously used to cut a wheat roll.
While the amount of gluten transferred in this way is usually very small, it can be enough to trigger symptoms in people with celiac disease or non-celiac gluten sensitivity.
Cross-contamination can also occur if gluten-free and gluten-containing foods are cooked in the same pot or pan, or if utensils are shared between them.
For this reason, it's important for restaurants to take steps to prevent cross-contamination, such as using separate cutting boards and pots/pans for gluten-free foods and clearly labeling all gluten-free items.
At Firehouse Subs, they take the risk of gluten cross-contamination very seriously.
They have implemented a number of procedures to minimize the risk, including separate prep areas for our gluten-free items and dedicated utensils and equipment.
However, they cannot guarantee that their food will be completely free of gluten. For this reason, they recommend that their guests with celiac disease or other sensitivities to gluten consult to be careful while dining at their establishment.
What People Are Saying
When it comes to finding a good gluten-free option at a restaurant, Firehouse Subs is a popular choice. But what do the reviewers think? Let's take a look at some reviews from around the web.
One reviewer praised the Firehouse Subs' gluten-free options, saying that they were "glad to have found a place that [they] can eat without getting sick."
They went on to say that the food was delicious and that they would definitely be back.
Another reviewer had a more mixed experience, saying that the food was good but that they didn't love it as much as other gluten-free options they'd tried.
They also said that the staff wasn't particularly knowledgeable about the gluten-free options, which was a bit of a turn-off.
Overall, reviewers seem to be pretty pleased with Firehouse Subs' gluten-free options. The food is generally praised as being tasty and affordable, and it's great to have a reliable option for those with celiac disease or gluten sensitivities.
However, there are a few complaints about the staff not being very knowledgeable about the gluten-free options, so if that's something that's important to you, you may want to be mindful of this fact.
Gluten-free Alternatives to Firehouse Subs
Want to look for another place that can accommodate your dietary needs? Look no further. Here are a few alternative restaurants to Firehouse Subs.
Uno Pizzeria & Grill
Uno Pizzeria & Grill is a chain of pizza restaurants with locations throughout the United States. The restaurant offers a variety of pizzas, both with and without gluten, as well as other Italian dishes such as pasta, sandwiches, and salads.
For those with Celiac disease or gluten intolerance, Uno Pizzeria & Grill offers a selection of gluten-free options, including a gluten-free pizza crust and a variety of gluten-free pasta dishes.
Panera Bread
Panera Bread is another restaurant chain with locations across the United States. The menu offers a variety of soups, sandwiches, salads, and pastries.
While Panera Bread does not have any specifically gluten-free items on their menu, they do offer a few items that can be made gluten-free upon request, such as their soup of the day and several of their salads.
BJs
BJ's is a chain of restaurants that specializes in American comfort food. The menu includes items such as burgers, pizzas, pasta, and sandwiches.
For those with Celiac disease or gluten intolerance, BJ's offers a selection of gluten-free options including a gluten-free bun for their burgers and several types of gluten-free pasta.