Why wait for Taco Tuesday when you can have tacos at any time of the day, all week at Torchy's? Who could say no to their "Damn-Good!" Chicken Fajita taco with some guacamole and chips on the side?
Their inclusive and lusciously diverse menu promises something for everyone.
Even so, are there gluten-free options at Torchy's?
Say no more because Torchy's has a special gluten-free menu just for you! You can order a decent selection of different meals all day, from breakfast to a midday craving.
For breakfast, you can have The Wrangler containing smoked beef brisket and cheese on a corn tortilla.
Then munch on one of their Damn Good Tacos, choose from the crazy flavors like Brushfire, Fresh Avocado, Mofaux, Baja Shrimp, Green Chile Pork… the list goes on!
Top it with some of their zero-gluten hot sauces like Diablo and Chipotle. Get some chips and dips for a complete meal if you're feeling a little fancy.
But with the nature of Torchy's menu, there's always a risk of cross-contamination between the ingredients. A statement on their gluten-free menu should tell you this, too.
Their use of the shared cooking and preparation areas doesn't assure completely allergen-free food, although proper procedures are in place to prevent cross-contact when needed.
Thus, gluten-sensitive and celiac patients should think twice about going to this place for their own sake.
Torchy's is serious about only one thing— their food. To see what they have in store for you, let's look at the available gluten-free options on the menu.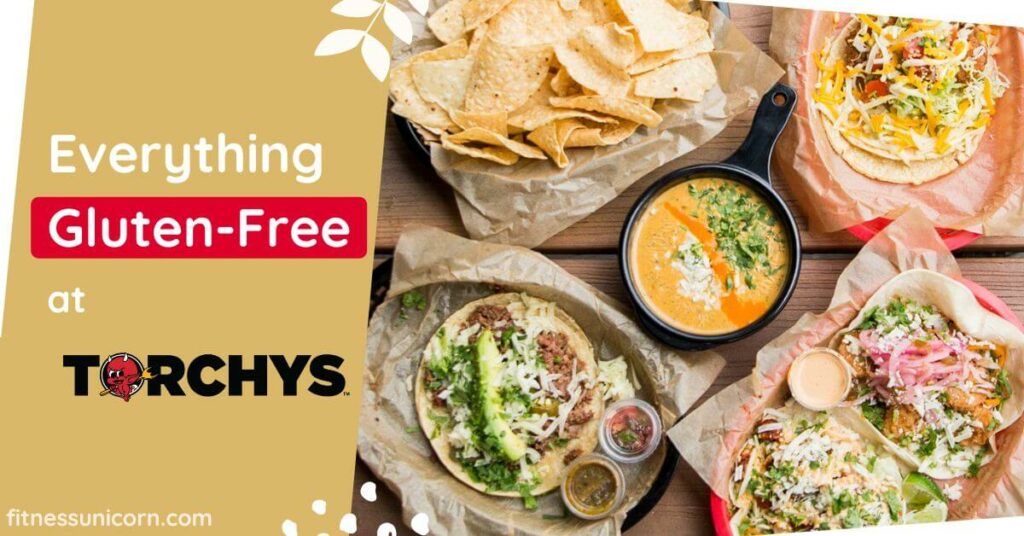 This post may contain affiliate links, which help keep this content free. (Full disclosure)
Torchy's Gluten-Free Options
"Damn, these tacos are good!" were the words of the founder- Mike Rypka repeatedly heard at his first food trailer, also the exact words we now see on Torchy's menu. He dreamt of starting a taco joint with only a food trailer and a red Vespa.
Thanks to his creative mind, he obviously got very successful, which got Torchy's to where it is today. He packed the first menu with experimental dishes rather than usual meals as he traveled around Vespa!
Today, Torchy's still lives up to his experimental legacy by constantly bringing new twists to their menu. As they say, it's history-in-the-making.
What makes Torchy's an excellent spot for gluten-intolerant diners is the dedicated gluten-free menu that lists all safe, wheat-free items. We shortlisted them already to make things easier for you, as you can see below!
(Note that this information is sourced from Torchy's online Allergen Info. While gluten can still be present in other grains, Torchy's uses "wheat" to denote the presence of gluten, in this case.)
Breakfast Tacos
All served on a corn tortilla with your preferred sauce. You can add some green chiles, too!
Bacon, Egg, & Cheese
Potato, Egg, & Cheese
Chorizo, Egg, & Cheese
Jalapeno Cheddar Sausage, Egg, & Cheese
Migas
Ranch Hand
The Wrangler
RECOMMENDED: Gluten-Free Options at Outback Steakhouse
Damn Good Tacos
It's not a Torchy's experience without one of their Damn Good Tacos! These are all made from scratch, made with fresh and responsibly sourced ingredients. Get them all day, every day. Get these ones on corn, too!
Baja Shrimp Grilled
Brushfire
Chicken Fajita
Democrat
Crossroads
Fresh Avocado
Green Chile Pork
Republican
Mofaux
Not A Taco
Airstream Salad (No Protein or With Chicken)
Burrito Bowl (With Beef, Chicken, Pork, or Veggies)
Chips and Dips
Complete your meal with unique dips and crunchy chips. Luckily, all sides at Torchy's are gluten-free!
Avocado Sauce
Chipotle Sauce
Diablo Sauce
Green Chile Queso
Guacamole
Hillbilly Queso
Pico de Gallo
Poblano Sauce
Roja Sauce
Tomatillo Sauce
Sides & Devilishly Sweet
Juan's Refried Beans
Street Corn
Torchy's Mexican Rice
Sauces
It's not a meal without some sauce. All sauces at Torchy's are gluten-free.
FIND MORE: Firehouse Subs Gluten-free Options
Secret Menu
It's where you'll find the best of the best tacos you'll ever taste. A wild, wacky menu that's completely yours.
Ace of Spades
Smoked beef brisket and grilled jalapeno cheddar sausage with sour cream, cilantro, and cheese. All served on corn tortillas.
Drinks
All fountain drinks, Damn Good drinks, and bottled beverages are gluten-free.
Tips For A Gluten-Free Meal at Torchy's
Give Them A Heads Up
Torchy's states that they prepare foods following appropriate procedures to prevent allergen cross-contact. It's still best to give them a slight nudge to alert them of your condition before ordering.
This tip is also what most visitors do to have a good time at Torchy's. Reviews online commend some locations' staff knowledge about gluten-free meal preparation when rightfully informed.
So, a slight heads up won't hurt to ensure safety for all.
Get Everything on Corn
Torchy's tacos are either served on flour or corn tortilla. Of course, you want yours on corn.
When doing so, confirm this choice twice with your server to ensure that it's corn. Mess ups could happen, and you might be served with a taco on a flour tortilla instead.
You can try doing this after following our previous tip so they can remember to tag your order as "special."
Dodge the Chips
Wouldn't it be such a shame to dodge one of the best items on the menu? Yup, it indeed is. However, your health should be your top priority when dining out!
Recent reviews online have varying opinions about the chips being falsely advertised as gluten-free when they're actually not. Most visitors say that the chips share the same fryer with other flour products on the menu.
Some would say it's more of a "gluten-conscious" choice and is not celiac safe.
Everything is still up to your discernment. But, we recommend not to get the chips at any location just to be (very) sure. If worse comes to worst, this simple choice could jeopardize your health.
Go Online
Before going to any restaurant, you should check out past reviews and insights of other gluten-intolerant visitors. Some of the sites you can check include Find Me Gluten-Free, Yelp, Reddit, Google Reviews, or Facebook.
This tip comes handy for Torchy's, too. If you check out some of the reviews, visitors had varying experiences at different locations.
Some would say that the location they visited had gluten-free chips, while others would say that the chips made them sick. Thus, checking out reviews online for the specific location you're visiting will totally help you know what's in store for you.
Cross Contamination Risk
Living gluten-free is never an easy path to take. Besides finding good restaurants that cater to your needs, the risk of cross-contamination lurks even in supposedly safe places.
Cross-contact occurs when food containing gluten comes into contact with gluten-free items. You'd commonly expect this to happen in the kitchen when food is prepared using the same equipment in a common area.
Gluten particles can stick to kitchenware utensils and transfer to a gluten-free product.
Although Torchy's tries its best to ensure a gluten-free meal preparation, the nature of the restaurant raises doubts about safety. Flour tortillas can cause gluten particles to float around the kitchen freely.
While the lack of a special gluten-free prep area and special equipment also increases the risk of cross-contamination.
Hence, it's best to take Torchy's gluten-free claims with a grain of salt. For instance, some Torchy's locations have no dedicated fryers for chips while other locations do. So, try not to be swayed to get the chips and dips.
Let's look at what other visitors say about Torchy's gluten-free accommodation.
What People Are Saying
As a go-to taco destination, Torchy's has a couple of reviews and recommendations online, which we shortlisted to help you know if it's worth taking a shot to dine here or not.
Some users are impressed with the staff's knowledge of gluten sensitivity and how to handle a safe meal preparation. The gluten-free menu available online was also helpful for knowing what to order before visiting.
One celiac user thinks Torchy's is not great with gluten-free food, as the staff is not well-informed. They also added that the chips didn't have a separate fryer.
Another celiac visitor thinks that the fryer used for the corn chips was also used for flour-containing products. They added that the corn tortillas were on the same grill as the flour. Although they think that the gluten-sensitive menu has fun selections, it's not at all celiac-safe.
Another celiac customer was "definitely glutened," as they say, even after getting special tacos. Their advice? If you're a celiac, don't eat at Torchy's no matter how much you badly want it!
On the good side, one celiac visitor had already had several pleasant experiences at Torchy's. They think that the staff is terrific for taking concerns seriously as they've never been sick.
Interestingly, one visitor had no problems with their chips and guacamole. They called in to check if there was a dedicated fryer for the chips. Torchy's responded that they clean the fryer between items when alerted of a customer's gluten allergy. Luckily, they had no issues!
Gluten-Free Alternatives To Torchy's
Yup, it's totally possible for anyone to reach the end of the article and say… "Maybe Torchy's isn't for me."
That's okay! It's what we're here for, to help you decide if a place is good enough for you or not.
If you're looking for other alternatives, look no further. Here are some of the best gluten-free alternatives we got for you:
1. Taco Bell
Thanks to the diverse menu, some would say that Taco Bell is almost like a staple food to them.
This one's the closest you could get to Torchy's tacos. Still, Taco Bell has more gluten-free options like the Black Beans and Seasoned Rice, Nacho Cheese Doritos Locos Taco Supreme, Guacamole and Chips, Hash Browns, and protein loaded Power Menu Bowls.
2. Mighty Taco
Lots of visitors love Mighty Taco for the easy and broad gluten-free menu that you won't get tired of.
Manufacturers of the ingredients they use for these meals even provide a certificate that their products are gluten-free, and manufactured in a gluten-free environment!
It's evident that gluten-sensitive customers mostly had an excellent time at Mighty Taco, thanks to their attentive staff. You can choose from many corn shell taco varieties like the Meatless Mighty, Veggies & Cheese, or Refried Bean & Cheese.
If you're in for a hearty meal, go for some salads like Fajita Chicken or Buffito Chicken with your dressing of choice.
3. Wildfire Restaurant
Try some of Wildfire's best-tasting chops and seafood for a more filling meal.
There are tons of options at this place compared to the previous ones, from appetizers to dessert. Enjoy a nice Filet Mignon, Prime Rib, Baby Back Ribs, Thick Prime Angus Burger, and Loaded Baked Potato.
Complement your palate with a rich, flourless chocolate cake to finish your meal. The menu does seem like an endless list of possibilities, proving how Wildfire takes gluten-free dining to a whole new level.