Schlotzsky's is a fast-casual restaurant and the pioneer of oven-baked sandwiches. With a wide variety of pizzas, sandwiches, and desserts, it's easy for you to assume that there can't be any keto-friendly items on Schlotzsky's menu. Here I am, to prove you wrong.
Not only will I prove you wrong, but also take you through all the keto-friendly snacks and drinks you can have at Schlotzsky's.
From breakfast options such as Hashbrowns to the main course entrées like the Chicken Caesar, Schlotzsky's has plenty of low-carb options to entertain your taste buds! You can also find keto-friendly sides, authentic low-carb bread, and salad dressings that are not full of sugar.
The ketogenic diet is high in fat, low in carbohydrates, and moderate in protein. And your daily carb limit is capped at 25 grams. This often becomes a challenge when you are dining out at restaurants. You look at the menu and all you can see is sugary, carb-laden items like bread, sauces, tortillas, rice, etc.
In this article, you'll find everything you need to stay keto at Schlotzsky's.
So read on.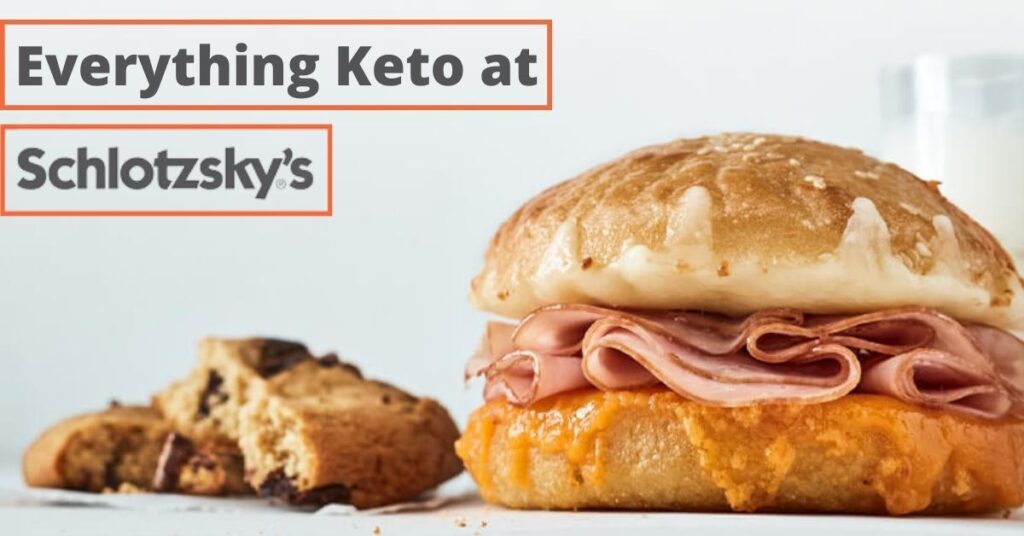 Tired of searching whether certain foods are keto? Download my keto cheat sheet with 210+ keto-friendly foods!
This post may contain affiliate links, which help keep this content free. (Full disclosure)
Surviving Keto at Schlotzsky's
Schlotzsky's is way better than your random fast-food restaurant because all of their dishes are made-to-order with fresh ingredients. It is my go-to place to grab a quick bite and spend some quality time with my pals.
Headquartered in Atlanta, Georgia, the sandwich chain has more than 330 locations spread across the United States. They are mostly concentrated in the South and Southwestern US as of now. But the company is deliberately trying to expand into other regions as well.
The very first Schlotzsky's only had one sandwich that gathered all the love: The Original – consisting of meats, cheeses, and black olives on a freshly made, toasted bun. But soon enough, they branched out to include specialty pizzas, toasted wraps, salads, soups, and other appetizers.
If you are on a ketogenic diet, the soups and salads will appeal the most to you here. However, you can always have tacos, burritos, and sandwiches if you can let go of the outer coverings (bun and tortillas).
Schlotzsky's, although has lesser high fat, low carb options still it has recognized the keto trend and attempting to meet the needs with its keto-friendly options on the menu.
For example, the staff is well trained to take customizations heartily. You won't get awkward stares if you ask them to have the sandwich "in a bowl" instead of the bun. The same goes for tacos and burritos without the outer shell.
Pizza is another dish that Schlotzsky's is loved for. Sadly, there's no keto customization available for it. Because a pizza without the crust is simply a bunch of toppings, and you'd better go for a salad and top with some chunky blue cheese (which is a lot better option!)
While some restaurants today offer a crustless pizza, Schlotzsky's still has a long way to go.
Till then, let's stick to what we've got and make the most out of it (with minimum carbs, duh!). Without any further ado, let's look at all the keto-friendly options that they have to offer today!
READ: Huddle House Keto-Friendly Options
Keto-Friendly Options At Schlotzsky's
Schlotzsky's is famous for its sandwiches, but due to the bread, all of them cross the keto carb limit mark. But no worries, I'm gonna tell you some amazing keto-friendly alternatives to help you continue your keto journey even at Schlotzsky's.
Keto-Friendly Options at Schlotzsky's are:
#1. Garden Salad
Carbs: 9g
Fiber: 2g
Net Carbs: 7g
Total Fats: 1.5g
Protein: 1g
Calories: 45 Kcal
Probably the healthiest keto-friendly option out there, packed with low-carb veggies and delicious keto-approved Ranch Dressing. You can pick half of this with any other keto-friendly option as well. (Pick 2 option available)
#2. Chicken Caesar
Carbs: 14.5g
Fiber: 1g
Net Carbs: 13.5g
Total Fats: 13.5g
Protein: 18.5g
Calories: 340Kcal
Chicken serves as the perfect keto-friendly dish, with high fat and high protein content. It consists of romaine lettuce, chicken, cheese, croutons, Caesar dressing which make it absolutely keto-friendly. Take out the croutons and you'll further bring down the carbs.
#3. Bread Stick
Carbs: 7g
Fiber: 0g
Net Carbs: 7g
Total Fats: 1g
Protein: 1g
Calories: 40Kcal
Not an ideal keto candidate, but still comes well under the allowed carb range. You can go with it for a light keto-friendly snack.
#4. Broccoli Cheese Soup
Carbs: 14g
Fiber: 0g
Net Carbs: 14g
Total Fats: 12g
Protein: 8g
Calories: 185Kcal
A good blend of broccoli florets and cheddar cheese. You can go with this if you are on a vegetarian keto diet. Nonetheless, the thick and creamy texture will take you on a food trance you'll always cherish!
Suggested: Cheddar's Scratch Kitchen Keto Menu
#5. Chicken and Dumpling Soup
Carbs: 15g
Fiber: 0g
Net Carbs: 15g
Total Fats: 4.5g
Protein: 9g
Calories: 145Kcal
Chicken, carrots, and celery dipped in a keto-friendly chicken broth. With carbs on the higher side, keep the carb count low for the other keto meals of your day.
Some keto-friendly breakfast options you can try at Schlotzsky's are:
#6. Hash Brown
Carbs: 8g
Fiber: 1g
Net Carbs: 7g
Total Fats: 5g
Protein: 1g
Calories: 60Kcal
If you don't wanna resist junk food during your keto journey, this one's a perfect keto-friendly snack for you to munch on.
#7. Mixed Fruit
Carbs: 6g
Fiber: 1g
Net Carbs: 5g
Total Fats: 0g
Protein: 0g
Calories: 20Kcal
Another vegetarian keto-friendly option, with low-carb fruits. Fruits also satisfy your appetite more, so you don't have to look for snacks to munch on, especially during keto.
#8. Salsa
Carbs: 4g
Fiber: 1g
Net Carbs: 3g
Total Fats: 0g
Protein: 1g
Calories: 20Kcal
Generally used as a condiment, this Mexican delight can be added to your low-carb breakfast option.
Dressings & Condiments
Schlotzsky's also allows you to customize your keto-friendly salads. Some keto toppings that you can add to your salad are:
Blue Cheese (3g)
Buttermilk Ranch (4g)
Italian (3g)
Red Wine Vinaigrette (9g)
Caesar (2g)
Extra Virgin Olive Oil (0g)
Balsamic Vinegar (2g)
Thousand Island (5g)
Schlotzsky's Keto-Friendly Sandwiches
Now, if you're too fond of Schlotzsky's sandwiches, and are willing to ditch the high carb bun, you can enjoy all the keto-friendly sandwich fillings in a bowl (or in a lettuce wrap), for very low carbs.
According to MyFitnessPal, Schlotzsky's small Sourdough bun has 45g of net carbs. So if you subtract that from the total carbs in a small sandwich, you are left with a bowl of delicious sandwich fillings for a fraction of carbs!
Here's a list of all bunless sandwiches (small) and their net carbs:
Chipotle Chicken (5g)
Deluxe Original (6g)
Turkey Bacon Club (5g)
Fiesta Chicken (4g)
Turkey Original (6g)
Turkey and Guacamole (1g)
Angus Beef and Cheese (6g)
Smoked Turkey Breast (5g)
Ham and Cheese Original (5g)
Fresh Veggie Sandwich (0g)
Chicken Bacon Smokecheesy (4g)
Bacon Grilled Cheese (8g)
The Rancher (3g)
The Original (4g)
Cuban Brisket Sandwich (7g)
The Caprese (12g)
Classic Brisket Sandwich (13g)
Note: For medium and large-sized sandwiches, the number of net carbs might slightly move towards the higher side.
Tips for ordering Keto at Schlotzsky's
You now have a fair idea of what to order at your next visit to Schlotzsky's. Here are some keto-friendly tips to further enhance your experience:
Be careful with dressings, since they might add some unwanted carbs to your meal. Instead, go for their keto-friendly alternatives like Blue Cheese, Caesar, etc.
Keto diet caps your daily limit to 25g net carbs. It means you can have 7-8g carbs per meal. Sometimes it's okay to exceed the limit while dining out (for something realllly delicious!), but make sure you cut back on the other meals during the day.
Since desserts are out of the equation, you may calm your sweet tooth with a diet coke. In fact, if you carry a pack of liquid stevia, you can even have a sweet tea that is free from sugar and carbs!
Conclusion
Eating a keto-friendly diet is surely not a walk in the park here at Schlotzsky's. But with the right keto-friendly options, like the ones mentioned here, you can stay in ketosis while enjoying some delicious and filling meals.
Some of my favorite low-carb items include the Broccoli Cheese Soup, Caesar Salad, bunless sandwiches, and salsa.
I have tried to cover almost all the information you require, but whenever you are in doubt, check out Schlotzsky's official nutrition page to know your macros better!