I know you love Tex-Mex, but even thinking about it on the Keto diet can give you chills! With Nachos, Rice, and Beans as its essential Tex-Mex items, On the Border doesn't seem like an ideal place for a "keto-friendly" dinner! But the good news is that I'm here to prove you wrong!
So what's keto-friendly at On The Border?
With just 3g net carbs, the grilled shrimp skewers are the most keto-friendly item you'll find on the menu. Other options include roasted veggies, guacamole, low-carb dressings, and more.
From lip-smacking starters such as Queso Carne Style to low-carb Enchiladas like Chicken Tinga with Sour Cream Sauce, On The Border provides you with plenty of keto-friendly options that will put an end to your Tex-Mex cravings!
On keto, you don't have to be a shut-in or stick to home-cooked meals for eternity! If you know the right tricks and tips, just about any restaurant can be made keto-friendly! This article talks about EVERYTHING Keto at On The Border.
So read on!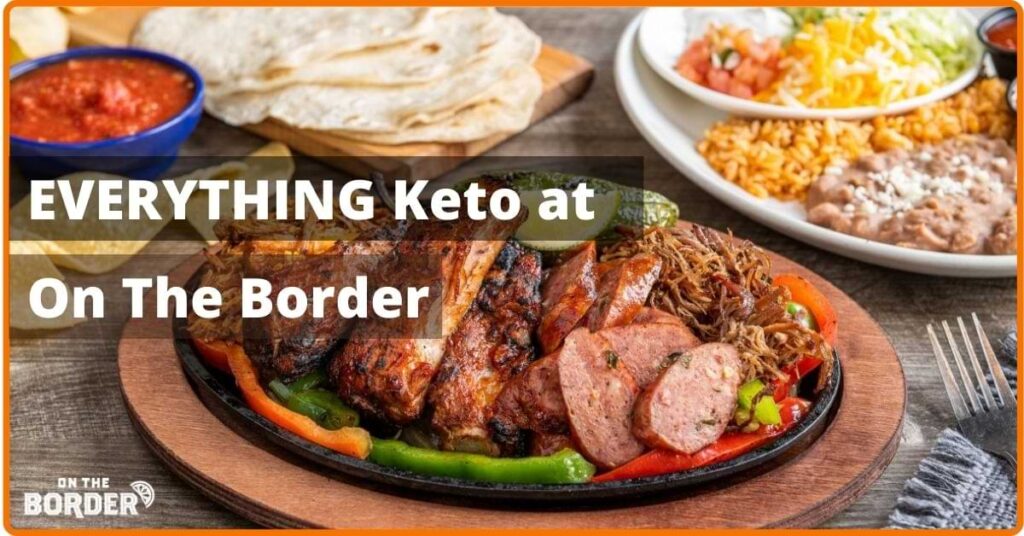 Tired of searching whether certain foods are keto? Download my keto cheat sheet with 210+ keto-friendly foods!
This post may contain affiliate links, which help keep this content free. (Full disclosure)
How to Survive KETO at On the Border
For the uninitiated, "On the Border" sounds like a weird name for a restaurant. But the theme of the restaurant is directly reflected through its menu. On the Border is a chain of restaurants that bridges the gap between Texas and Mexican cuisine.
It's not your traditional Mexican food, but it's a version of the Mexican cuisine that blends beautifully into the American favorites!
A Tex-Mex meal usually consists of cheese, canned veggies (prominently tomatoes), tortillas or rice, cumin, and all of America's favorite, BEEF. The biggest difference between Tex-Mex and typical Mexican food is the choice of ingredients. For example, you won't find any yellow cheese in Mexican cuisine. So those cheddar bits on your taco are what make it Tex-Mex!
It's pretty normal to crave a Tex-Mex lunch when going through a high-fat, low-carb life for days.
Tortillas and rice – that's where we lose the battle on keto! (The beans are just as bad.) But the good news is that you can still enjoy all of the other options like meat, cheese, veggies, and – of course – salsa and guacamole!
A person on keto needs to eat just below 25g of carbs per day to maintain his/her keto streak, and On The Border has a huge variety of keto-friendly dishes, well below the allowed carb limit.
If you're considering Tacos and Enchiladas for your meal, it would be better if you can ditch the high-carb tortilla and have the fillings as a salad bowl, instead.
Also, Mexican food consists of a lot of rice, which is known as the epitome of carbs. Remember at all times, not to indulge even in a little quantity of rice. You'll be shocked to know that rice has almost 1/3rd carbs of its weight.
On The Border has a lot of savory keto-compatible dishes but unfortunately, there are no desserts for your sweet tooth. If you crave sugar during your visit, you can instead go for the low-carb drinks they serve here (Not many, but still good enough for the job!).
With that being said, let's jump right into all the keto-friendly available at On The Border.
Keto-Friendly Options at On The Border
Eating keto is not really difficult at On The Border. You have a variety of low-carb appetizers, salads, dressings, combos, sides, and much much more. Let's hop in and find the right match for you.
READ MORE: Keto-Friendly Options at Pancheros Mexican grill
Low-Carb Appetizers
#1 Guacamole w/o chips – 10g
#2 Original Queso Carne Style w/o Chips(Cup) – 10g
#3 Original Queso w/o Chips(Cup)- 9g
#4 Primo Queso-Big Dipper (Cup) – 10g
#5 Primo Queso-Green Pig (Cup) – 9g
With good fat and protein content, these low-carb appetizers do the job well.
Keto-Friendly Dressings at On The Border
#1 Avocado Ranch (1g)
#2 Ranch (2g)
#3 Salsa (2g)
Sometimes you can ruin a low-carb meal by smothering it with sugary sauces. That's the biggest mistake most people make on the keto diet. Stick to the above-mentioned ones and you'll be just fine!
Related: Tijuana Flats Keto-Friendly Options
Enchiladas
#1 Chicken Flauta with Original Queso (15g)
#2 Chicken Tinga with Sour Cream Sauce (14g)
#3 Ground Beef with Chile con Carne (12g)
#4 Hatch Chile Chicken with Green Chile Sauce (14g)
#5 Spinach & Mushroom with Sour Cream Sauce (14g)
Mexicans love their Enchiladas (And Americans too), and when they are keto-approved, even Asians will love them.
Keto-Friendly Taco and Tostadas
#1 Crispy Ground Beef Taco (15g)
#2 Chicken Tinga Tostada (11g)
#3 Ground Beef Tostada (11g)
#4 Grilled Chicken Fajita Taco (15g)
Comfort Food for most Mexicans, low-carb tacos should be your go-to while trying Keto at On The Border. Keep in mind that a hard taco shell (made of corn) always has fewer carbs than the soft ones (flour-based).
ALSO READ: Everything Keto at Season 52
Low-Carb Fajitas
#1 Carnitas Fajitas (10g)
#2 Chicken Fajitas (10g)
#3 Monterey Ranch Chicken Fajitas (9g)
#4 Sauteed Shrimp Fajitas (9g)
#5 Steak Fajitas (9g)
Some low-carb condiments for Fajitas are Guacamole(2g), Mixed Cheese (0g), Pico de Gallo (1g), Sour Cream (1g).
Spice Things Up!
Some low-carb sauces for Burritos and Chimi's are Chile con Carne (2g), Green Chile Sauce (4g), Original Queso (6g), Ranchero Sauce (7g), Sour Cream Sauce (4g).
Something on the Side
Let's admit it! Your meal at a restaurant feels a little incomplete until you order a side dish. Even if you're on a diet, it's a feeling you just can't ignore.
So for times like these, when your belly wants more than a single dish, here are some options to complete your meal!
#1 Avocado Slices-3 slices (3g)
#2 Grilled Shrimp Skewer-3 pieces (1g)
#3 Sauteed Vegetables (8g)
#4 Side Salad w/o Dressing (4g)
Read: Taco Time Low-Carb Menu
What to Drink at On The Border on Keto?
Let me remind you that On the Border has a full bar (as if you'd ever forget that, duh!) We can't possibly end an article about On the Border and not talk about its exotic beverages.
So here are all the low-carb drinks you can find here:
CERVEZAS (Draft)
Michelob Ultra (Grande): 4
Michelob Ultra (Regular): 2
Miller Lite (Grande): 5
Miller Lite (Regular): 3
Shiner Bock (Regular): 11
Blue Moon (Grande): 10
Blue Moon (Regular): 6
Bud Light (Grande): 10
Bud Light (Grande): 6
Coors Light (Grande): 8
Coors Light (Regular): 5
Dos Equis Amber (Regular): 13
Dos Equis Lager (Regular): 10
Leinenkugel Shandy Harvest Patch (Regular): 14
Leinenkugel Shandy Orange (Regular): 12
If you are looking for handcrafted Tex-Mex cocktails, your search ends with the Ranch Water (4g carbs) – Espolon Reposado Tequila served on the rocks with Fever-Tree Lime Yuzu soda and fresh lime.
And if your poison is the Wine, a glass of Woodbridge Chardonnay would set you back by just 4g of carbs!
On The Border also has a good collection of sugar-free, low-carb drinks such as Coke Zero, Diet Coke, and of course Water! In fact, you can simply ask for a diet cooler at most restaurants and they'll hook you up with a sugar-free beverage, which is mostly zero-carb.
Keto Ordering Tips at On The Border
Exhausted your carb budget and still hungry? Have a serving of Guacamole for just 6g of net carbs. It's made with avocado, lime juice, onion, and cilatro. It's the ultimate sidedish on keto.
If you love the seasoned beef but can't afford the carbs that haunt a taco, simply toss out the shell! On the Border's taco shell has 12g net carbs each.
Choose lunch over dinner when dining out on keto. What? Well, various studies have proven that you are more likely to cheat on your diet during dinner, as compared to lunch. Think about it: Dinners are always more "comfy" and you might just give into those taco cravings after getting a bit tipsy with your pals.
Conclusion
Evidently, On The Border has definitely caught up with the ever-so-fast fitness and keto society. In almost all their subcategories, they have a good variety of keto-friendly options which look after both your health and your tastebuds.
Stay away from sugary drinks, rice and tacos as much as possible. Do not pour high carb sauces on your salads, and you should not have much of a problem going keto here.
You are now equipped with all the necessary tips and tricks required for a low-carb meal. But whenever in doubt, you can always visit their official nutrition guide and plan your order accordingly.
Happy Ketoing to you 🙂
Next: Low-Carb at Taco Cabana