Tijuana Flats is quite similar to Chuy's for satisfying those Tex-Mex cravings. But more importantly, they serve fresh food which is healthy and highly customizable. It means no matter what diet you follow – you can certainly find your fix!
So what's keto-friendly at Tijuana Flats?
The best part about Tex-Mex is that you have complete control over your meal. Tijuana Flats has plenty of low-carb options and you can combine them any way you like.
Most entrees come with their choice of toppings like lettuce, tomatoes, onions, sour cream, and jalapeños. Low-carb fillings include classic shredded and blackened chicken, beef, and steak.
So you can create multiple low-carb options with the same ingredients.
What's more, they also have chicken wings that are extremely keto-friendly, provided you pick the right sauce!
I know that keto can be boring sometimes. You can't just stick to home-cooked meals day-in and day-out. And having the same food every day sucks!
But dining out can break that monotony and fuel your motivations further. The only condition is that you stick to the rules.
So in this article, we'll look at the best keto ordering strategies for your next visit to Tijuana Flats.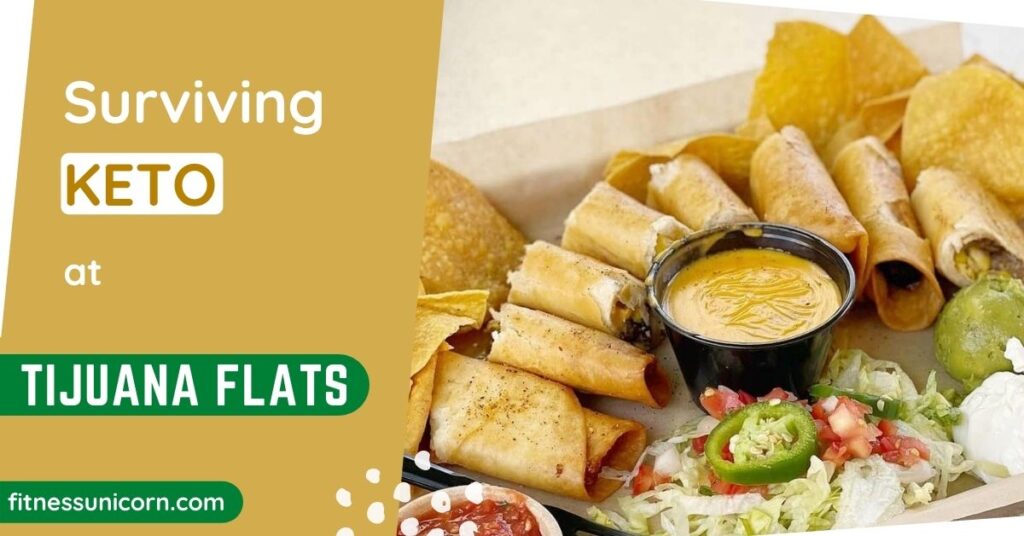 Tired of searching whether certain foods are keto? Download my keto cheat sheet with 210+ keto-friendly foods!
This post may contain affiliate links, which help keep this content free. (Full disclosure)
How to Survive Keto at Tijuana Flats
Headquartered in Florida, Tijuana Flats has over 135 locations across the United States. It is a fast-casual restaurant chain known for its fresh food and off-beat culture.
Did you know? They prepare all the ingredients from scratch every morning (including queso, guacamole, and salsa).
And their hot salsa bar is the icing on the cake!
Tijuana Flats' entrées include burritos, burrito bowls, chimichangas, dos tacos, flautas, fresh salads, nachos, and quesadillas.
Before we explore their keto-friendly options, here's a look at what to AVOID:
Corn taco shells, whole wheat tortillas, or flour tortillas

Black beans, refried beans, and cilantro lime rice

Chipotle BBQ Wing Sauce

Sweet Chili Sauce
Yellow Corn Tortilla Chips, Nachos
Cookie Dough Flautas
Churro Bites, Brookie, and Brownie
All these items are filthy rich in carbs and you'll end up being kicked out of ketosis.
But the good news is that Tijuana Flats has a host of keto-friendly options just waiting for you to devour!
All you have to do is pick a bowl and load it up with low-carb fillings, toppings, and dressings. (details in the next section).
No one is judging your choices and you can be as creative as you want!
For starters, the Chicken Soup is a fantastic low-carb option. Yup, I am talking about the Chicken Tortilla Soup without tortilla chips and strips. You'll get 10g of net carbs and 19g of fats.
The next dish is something you never expect at a Tex-Mex restaurant.
But luckily, it's a delight for us ketoers – Chicken Wings!
RELATED: Rubio's Keto Friendly Options
Keto-Friendly Chicken Wings at Tijuana Flats
Since chicken is zero-carb meat itself, the chicken wings are naturally keto-friendly. It's only the additional sauces and dry rubs that hike up their carb count.
A 6 pc serving of plain chicken wings at Tijuana Flats contains 2g of net carbs.
You can choose from a 6 pc or a 10 pc serving size. And they also have 5 different sauces to spice things up!
Here's the net carb count for each added sauce (6 pc serving):
Bangin' Chicken Wing Sauce: 0g
Chipotle BBQ Wing Sauce: 30g (worst!)
Habenaro Agave Glaze Wing Sauce: 5g
Jalapeno Lime Wing Sauce: 1g
Red Chile Dry Rub: 3.5g
Add this number to the carbs present in plain wings i.e. 2g net carbs.
For example, if you combine Jalapeno Lime Wings Sauce with Red Chile Dry Rub, your total net carbs in the 6 pc serving would be 2+1+3.5 i.e. 6.5g.
You can further pair it with a lime wedge, cilantro, or Queso Fresco. Stay away from the tortilla chips though!
Build Your Own KETO Bowl
This is where the fun begins!
I call it the "keto" bowl because you can choose any combination of low-carb ingredients as per your preference.
Here's the net carb count in each ingredient (full-size serving):
Fillings:
Classic Chicken: 1g
Steak: 0.7g
Ground Beef: 1.4g
Black Beans: 15g
Refried Beans: 13g
Toppings:
Guacamole Topping: 1g
Shredded Lettuce: 1g
Diced Tomatoes: 1g
Diced Onions: 3g
Fresh Jalapenos: 0g
Sour Cream Topping: 1g
Powerlite Sour Cream Topping: 2g
Powerlite Cheese: 0g
Sauces & Dressings:
Avocado Ranch Dressing: 2g
Light Ranch Dressing: 1g
Verde Sauce: 0g
Sides:
Fresh Red Salsa (small): 5.4g
Fresh Red Salsa (large): 8.4g
Spicy Salsa (small): 5.4g
Spicy Salsa (large): 8.4g
Queso (small): 7g
Queso (large): 15g
Guacamole (small): 4g
Guacamole (large): 9g
There is no "perfect" keto meal at Tijuana Flats. The one-size-fits-all approach doesn't work here.
It all depends on your taste and preferences, and more importantly, on how much carbs you can spend per meal.
If I'm left with 10g carbs from my daily quota, I might go all-in and splurge on a generous serving of queso. On the other hand, I can also make a decent bowl for even less than 5g net carbs.
At the end of the day, it all comes down to your daily carb limit.
By the way, you can also enjoy some of the sides
Tijuana Flats Hot Sauce Carbs
The hot sauce bar is a heaven for hotheads like me! You can sample a wide range of hot salsas from their Hot Sauce Buffet.
A hot sauce is typically a salsa made from chili peppers, vinegar, salt, garlic, and other spices.
Here's the net carb count for all variants (per tablespoon):
Don't be a Chicken Shit Hot Sauce: 0g
Bangin' Chicken Sauce: 0.5g
Smack My A*s and Call Me Sally, Red Habenaro Hot Sauce: 0.5g
Jason's Mom's Sauce: 4g
Smack My A*s and Call Me Sally, Jalapeno: 0g
Note: The official website doesn't display the carb count anywhere. These are fair estimates taken from various websites like myfitnesspal and others.
Luckily, most varieties have almost zero carbs and hence they fit the keto bill. But some include a lot of garlic, sugar, and tomatoes which may hike up the carb count.
Look out for the sweet-tasting ones and eliminate them right away.
FAQs
How many carbs are in Tijuana Flats chips?
The yellow corn tortilla chips as a side serving contain 64 grams of carbs.
Is Mexican Queso Keto Friendly?
The traditional Mexican Queso is made with white American Cheese which is high in lactose. Hence, you should limit its consumption on the keto diet.
Queso is a Mexican dip made of thick and creamy melted cheese. Soft and processed cheeses are always high in milk sugar (i.e. lactose) and that's why you should avoid them on a low-carb diet.
If you really crave cheese, go for more rigid ones like Pepper Jack cheese or Blue cheese.
Conclusion
Surviving keto at Tijuana Flats is a cakewalk because you can build your own bowl. Choose from a wide range of fillings and toppings and it's done!
The chicken wings are also super low in carbs. And you may enjoy the chicken soup without any tortilla chips or strips.
For beverages, just stick to water or diet coke.
Cheers!
NEXT: Keto at Baja Fresh