Cava is like the Mediterranean version of Chipotle – you can build your own bowl right from scratch. Their salads are healthy and craveable at the same time! That's why CAVA is so famous among fitness enthusiasts and people following specific diets. But what's keto-friendly at CAVA?
CAVA offers a fully customizable salad bowl that makes ordering keto a breeze! You can choose various combinations of low-carb meat, toppings, and dressings. Avoid the traditional Mediterranean fare like Hummus and Pita, and you are good to go!
Keto is an extremely low-carb diet and hence dining out can be a risky endeavor. One simple mistake and you could be thrown out of ketosis. After all, most restaurant dishes are laced with carbs and sugar!
In this article, we'll dive deeper into CAVA's menu and list out all the keto-friendly options that you can order right away!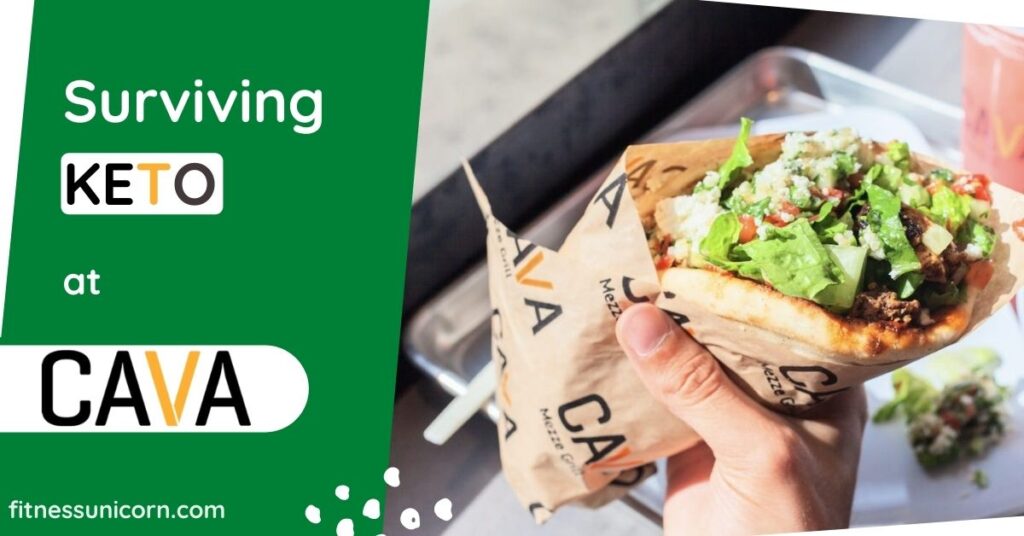 Tired of searching whether certain foods are keto? Download my keto cheat sheet with 210+ keto-friendly foods!
This post may contain affiliate links, which help keep this content free. (Full disclosure)
How to Survive Keto at CAVA
CAVA is a Mediterranean fast-casual restaurant with branches all across the USA. It's run by the same company that owns Zoes Kitchen (another keto-friendly restaurant!). Even though it's a fast-food restaurant, they call themselves the "healthy" type which offers a lot of low-carb and low-calorie options.
Their dips and spreads are so famous that you can spot them in many supermarkets including Wholefoods and Central Market.
Follow these simple strategies to order keto at CAVA:
Avoid the pre-set dishes and build your own low-carb bowl.
Steer clear of hummus, pita, sweet potato, and all grains.
Swap out the rice with greens like Arugula, lettuce, and baby spinach.
Want a more filling meal? Throw in some grilled meatballs for just 1g extra carbs.
If you are in a hurry and want a quick keto-fix, grab a greek salad for just 15g of net carbs.
And if you are really craving some typical Mediterranean delicacies, consider going for the Kids' portion size. For example, a regular serving of Falafel has 24g carbs. While the kids' Falafel will cost you a little under 13g of carbs.
So what makes a meal really keto-friendly? How can you decide what to eat on keto at CAVA?
Well, a typical keto diet restricts you to 20g of net carbs per day (Net Carbs = Total Carbs – Fiber). Assuming that you have 3 meals a day, a keto-friendly meal would be under 7-8g of net carbs.
But sometimes you can have more carbs in one meal and cut down in another, ultimately keeping your daily allowance intact.
So you may even have a side serving of Pita with some Harissa Honey Chicken for lunch (total 17g net carbs). But make sure you balance it out with low-carb meals for breakfast and dinner.
Keto-Friendly Options at CAVA
Here are some of the best low-carb options that you can order right away:
#1. Greek Salad
Carbs: 19g
Fiber: 4g
Net Carbs: 15g
Total Fats: 42g
Protein: 37g
Calories: 600 kcal
This is a high-fat and low-carb meal that is complete in all aspects! A Greek salad consists of tomatoes, cucumbers, onion, feta cheese, and olives. Seasonings include salt, pepper, Greek oregano, and olive oil.
#2. SuperGreens
Carbs: 8g
Fiber: 4g
Net Carbs: 4g
Total Fats: 0
Protein: 3g
Calories: 40 kcal
If you want something light on the go, the SuperGreens offer a crunchy combination of romaine, escarole, chicory endive, Belgian endive, and radicchio. Your body will thank you for all the nutrition and vitamins!
#3. SplendidGreens
Carbs: 4g
Fiber: 3g
Net Carbs: 1g
Total Fats: 0
Protein: 1g
Calories: 20 kcal
The SplendidGreens is a toned-down version of the SuperGreens. The best part about this item is that you only get 1g of net carbs!
#4. Kid's Falafel
Carbs: 12g
Fiber: 3g
Net Carbs: 9g
Total Fats: 13g
Protein: 3g
Calories: 15 kcal
If you are sitting in a Mediterranean restaurant, it's hard to not look at Falafel. However, the regular serving size has over 20g of carbs. So stick to the smaller portion size and still satisfy your cravings!
#5. Roasted Vegetables
Carbs: 14g
Fiber: 5g
Net Carbs: 9g
Total Fats: 5g
Protein: 3g
Calories: 100 kcal
This is a classic summer dish that includes crisp grape tomatoes, earthy sweet potatoes, button mushrooms, and zucchini. Top it with your favorite protein and you are good to go!
#6. Side Pita
Carbs: 13g
Fiber: 2g
Net Carbs: 11g
Total Fats: 2g
Protein: 3g
Calories: 80 kcal
Surprise surprise! Is pita listed as a keto option? Yup, you read it right! Luckily, the side Pita at CAVA comes for just 11g net carbs. Pair it with your favorite meat and you are good to go.
Build Your Own Keto Bowl at Cava
Here comes the best part about ordering keto at CAVA. You can choose from a wide range of ingredients to build your own bowl from scratch.
Here's the complete list showing net carbs in each item:
Pick a Base:
Choose any leafy base from SuperGreens, Organic Arugula, Spinach, Romaine, or SplendidGreens.
Dips+Spreads:
Tzatziki: 1
Roasted Eggplant: 1
Crazy Feta: 1
Add a Protein:
Braised Lamb: 1
Grilled Chicken: 2
Grilled Meatballs: 1
Harissa Chicken Honey: 5
Spicy Lamb Meatballs: 2
Toppings:
Shredded Romaine: 1
Cabbage Slaw: 1
Tomato + Onion: 2
Persian Cucumber: 1
Tomato + Cucumber: 2
Kalamata Olives: 2
Lentil Tabbouleh: 4
Pickled Onions: 5
Salt-Brined Pickles: 0
Crumbled Feta: 0
Dressings:
Preserved Lemon Vinaigrette: 1
Yogurt Dill: 1
Lemon-Herb Tahini: 2
Tahini Caesar: 2
Greek Vinaigrette: 1
Skhug: 1
Hot Harissa Vinaigrette: 2
Garlic Dressing: 0
Now you have all the tools at your disposal to build your desired keto bowl at CAVA. Just keep a check on dressings on dressings as those carbs can easily add up!
CAVA's Store Dips on the Low-Carb Diet
CAVA is more than just a restaurant. In fact, they call themselves a "culinary brand" that has restaurant as well as FMCG products.
Their products can be found in many departmental stores including Whole Foods, Central Market, Roots, Giant, YES! Markets, and more.
And the best part is that they produce their spreads daily in small batches. The production facility is located in Laurel, MD. All the dips are free from additives and preservatives, and they're vegetarian too!
Here's how they fare in terms of net carbs (serving size- 2 tbsp):
Crazy Feta: 1
Harissa: 4
Caramelized Onion Hummus: 3
Organic Traditional Hummus: 5
Roasted Eggplant Dip: 1
Roasted Garlic Hummus: 5
Roasted Red Pepper Hummus: 4
Spicy Hummus: 4
Traditional Hummus: 3
Roasted Garlic Hummus: 5
We have two clear winners here that blow the competition out of the water! These are the Crazy Feta and Roasted Eggplant Dip.
The Crazy Feta is an American twist on the classic Greek mezze. It is made of Greek Feta cheese, olive oil, and spicy Jalapeno peppers. Feta is an important part of Mediterranean cuisine and you can find it in everything ranging from desserts to appetizers.
Luckily, this crumbly soft cheese is also quite low in carbs!
Conclusion
So is CAVA Keto Friendly?
Hell yeah! CAVA grill is as keto-friendly as it gets. The best part is that you can choose your own combination of low-carb ingredients and build a bowl from scratch (just like Chipotle!). They have a wide range of keto-friendly toppings so you don't miss out on any of the good stuff.
For drinks, stick to Black Tea, Spindrift Cucumber, or just plain water.