It's really hard to find fresh food these days. What's even harder is finding it at restaurants!
Enters Zoes Kitchen, a fast-casual restaurant that makes every recipe from scratch. They offer healthy Mediterranean food made with fresh wholesome ingredients.
All the food is handmade and you won't find any fryers or microwaves in their kitchen! That means no frozen stuff, no pre-cooked marinades, etc.
Zoes Kitchen is equally famous for its diet-friendly options. If you are a vegan, vegetarian, or looking for gluten-free options, they've got you covered!
But is Zoës Kitchen keto-friendly?
Zoës Kitchen is extremely keto-friendly if you make the right choices. Avoid typical options like Hummus and go for the meat kabobs (1-2g net carbs) or a cauliflower rice bowl. They also have salads that are easy to customize. What's more, you can choose from a range of low-carb sauces including the Zoes Greek Dressing (0 carbs)
The keto diet puts you on a strict carb allowance. And that's why dining out is a risky endeavor.
But don't you worry! Through this guide, we'll help you design the perfect keto meal at Zoes Kitchen.
So let's begin.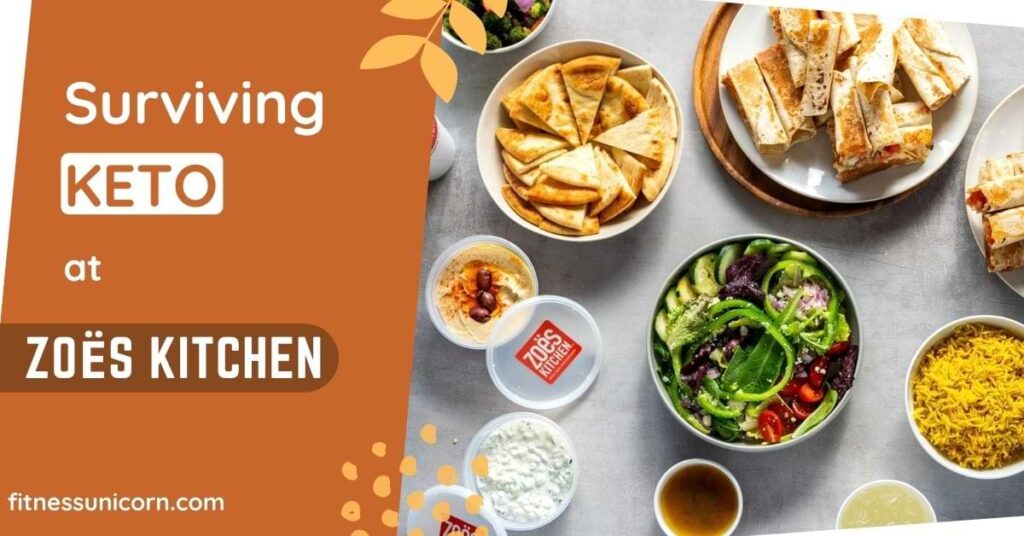 Tired of searching whether certain foods are keto? Download my keto cheat sheet with 210+ keto-friendly foods!
This post may contain affiliate links, which help keep this content free. (Full disclosure)
Surviving KETO at Zoes Kitchen
So you have jumped on the keto bandwagon and your food options have narrowed down. Gone are the days of bread, grains, pasta, and flour. Now it's all about high-fat and low-carb foods.
But the good news is you can still dine out and have a great time with your loved ones!
Keto doesn't block your social life. In fact, occasional outings and takeout meals can really boost your motivation.
So let's talk about Zoes Kitchen!
Their menu is inspired by the flavors of 21 countries around the Mediterranean. As a result, they focus on real wholesome food made with fresh ingredients.
Thanks to their healthy options, Zoes Kitchen is commonplace for gym-goers. The hummus and the chicken salads make for a great post-workout meal.
Zoes' most popular menu items include Hummus, Salads, Kabobs, Pita, and Roll-ups. But the ultimate show stopper is their dessert section!
I'm in love with the chocolate chip cookie (unfortunately, that's far from keto!)
If you are on a ketogenic diet, you can blindly go for the meat kabobs!
A kabob (or kebab) is a Mid-Eastern dish that contains pieces of meat, fish, or vegetables roasted or grilled on a skewer.
It is highly keto-friendly because, after all, it's just meat and veggies!
The traditional meat for kabobs is Lamb, but today the recipe has evolved manifold. Zoes Kitchen offers shrimp, chicken, steak, and salmon kabobs that are grilled to perfection.
Chicken and salmon kabobs are my all-time favorite! Each serving contains just 2g of net carbs.
Thanks to the kabobs, you are not just left staring at your friends as they devour the most delicious Mediterranean food!
And if you budget your carbs right, you can choose from a wide range of food options (e.g. their cauliflower rice bowl).
When I say "budgeting", I mean properly allocating the carbs to each meal of the day.
We are all running on a thin carb allowance on keto. That means most people limit their intake by 20-25 grams of carbs. So in order to maximize your food options at Zoes Kitchen, you must save up your carb budget.
For example, if you are dining out for dinner, make sure you have extremely high-fat, low-carb meals for breakfast and lunch. That's the only smart way to compensate for your macros!
Before exploring low-carb options at Zoes Kitchen, have a look at what to AVOID:
Quinoa
Corn
Beans
Pasta
Pita
Hummus
Rollups

Quesadillas
Now let's look at what you CAN enjoy on the keto diet without going on a guilt trip!
Zoes Kitchen Low-Carb Options
Treat yourself with the following keto-friendly options at Zoes Kitchen!
1. Kabobs
Zoes' Kabobs are perfect for a quick bite on the go! You can also pair them with some marinated slaw and chicken to make a wholesome keto meal!
They are served on skewers along with crunchy grilled veggies. The carb count below is inclusive of the veggies:
Chicken Kabob: 2g net carbs
Salmon Kabob: 2g net carbs
Shrimp Kabob: 2g net carbs
Spicy Chicken Kabob: 4g net carbs
Steak Kabob: 6g net carbs
2. Cauliflower Rice Bowl
Cauliflower is a highly versatile keto veggie and it's often subbed for high carb foods like mashed potatoes. But it also makes for an excellent rice substitute!
For the uninitiated, cauliflower rice is just the cruciferous veggie cut into tiny rice-like pieces. Combine it with the right flavors and you have a twin brother of rice on your plate.
Zoes Kitchen's cauliflower rice bowl provides just 9g net carbs. It contains cauliflower rice with Tzatziki, Skhug, feta, cucumbers, and fresh dill.
Nix the cucumbers and you can save a few additional carbs from your daily budget.
Add a serving or two of your preferred kabobs for a more satisfying meal. I prefer Zoes' chicken to their beef, but that's just me!
The combination of their Tzatziki with cauli rice is beyond this world. When I tasted it for the first time, I knew I found my new keto comfort food!
Nutrition: 270 Calories | 22g Fat | 14g Carbs | 5g Fiber | 8g Protein | 9g Net Carbs
RELATED: Are Dates Keto-Friendly?
3. Marinated Slaw
For just 4g net carbs, Zoes Kitchen's coleslaw is a fantastic keto-friendly side option!
Did you know? While coleslaw is always made of cabbage, Zoes Kitchen uses thinly shredded lettuce instead.
It contains feta cheese, chopped green onions, and a combination of spices. The marinated slaw pairs amazingly well with the meat kabobs or the cauliflower bowl.
Nutrition: 180 Calories | 14g Fat | 7g Carbs | 3g Fiber | 5g Protein | 4g Net Carbs
4. Protein Power Plate
The protein power plate does what it says: Fuel you with a whopping 45g of protein.
It includes grilled chicken and caramelized onions over a bed of marinated slaw.
If you want to maximize your fat-to-carb ratio, consider ditching those onions.
Nutrition: 500 Calories | 28g Fat | 15g Carbs | 5g Fiber | 45g Protein | 10g Net Carbs
5. Chicken Orzo Soup
Orzo is a form of pasta that is shaped like a rice grain.
The Chicken Orzo soup is Zoes' take on the classic chicken noodle soup. It includes chicken with orzo and a hint of lemon.
You'll want to nix the pita bread that comes along with it!
Nutrition: 70 Calories | 2g Fat | 8g Carbs | 0g Fiber | 7g Protein | 8g Net Carbs
6. Chicken Side Salad
This is the only 1g carb option at Zoes Kitchen! If you have exhausted your carb budget for the day, or simply want a light meal while chatting with your pals, this is your fix!
The chicken side salad contains shredded chicken mixed with the salad greens. It seems so simple, yet tastes utterly delish!
I love how this salad is straight to the point. No extra sauces and no additional stuff! And it is gluten-free as well.
Nutrition: 390 Calories | 33g Fat | 1g Carbs | 0g Fiber | 20g Protein | 1g Net Carbs
7. Roasted Vegetables
Could it get more healthier?
The roasted vegetables are a great side dish for regular people. But if you are on keto, this item makes much more sense as a meal option.
You can also add Zoes Greek dressing for exactly zero grams of carbs (yup, that's why I love it!)
The roasted vegetables include broccoli, onions, carrots, etc.
Nutrition: 130 Calories | 9g Fat | 10g Carbs | 3g Fiber | 4g Protein | 7g Net Carbs
8. Kids Grilled Chicken Fingers
These are juicy grilled chicken strips that are perfect for a light keto snack. Ditch the complimentary fruit serving and you have a zero-carb meal at your table!
Yup. Since its just plain grilled chicken, the only carbs you'll incur are the ones from additional dressing and sauces.
Tip: Top it with Zoes Greek dressing which is also zero-carb.
9. Low-Carb Sauces at Zoes Kitchen
Zoës Kitchen has an amazing variety of low-carb sauces.
In fact, their greek dressing is so popular that they also sell it in bottles outside the restaurant. I always keep one in my kitchen cabinet for homemade keto salads (it has zero added carbs!)
Check out all the dressings along with their carb count:
Bottle Zoes Greek Dressing: 0 net carbs
Harissa: 1g net carbs
Lemon Herb Tahini: 3g net carbs
Skhug: 1g net carbs
Spicy Aioli: 1g net carbs
Tzatziki: 2g net carbs
Conclusion
So what's keto-friendly at Zoës Kitchen?
Their low-carb options include kabobs, cauliflower rice, coleslaw, soups, roasted veggies, and much more.
While I recommend home-cooked meals over any other food, an occasional indulgence never hurt anyone ;).
However, stick to your daily carb limit and adjust your meals accordingly. Here's the official nutrition guide as provided by Zoës Kitchen on their website.
Cheers.
NEXT: Halal Guys Low-Carb Menu