Sabra from Costco is one of the creamiest Hummus I ever had! The delightful flavor of garlic, sesame, and chickpeas will make you fall in love all over again! But is Sabra Hummus Keto?
Sabra hummus is not keto-friendly because a single serving of 2 tbsp contains 3 grams of net carbs. Also, its very easy to overeat hummus and go over your daily carb limit.
But honestly, there's no straightforward answer to whether something is "keto-friendly". There's nothing black and white in the keto universe and most of the stuff falls into the "grey" area.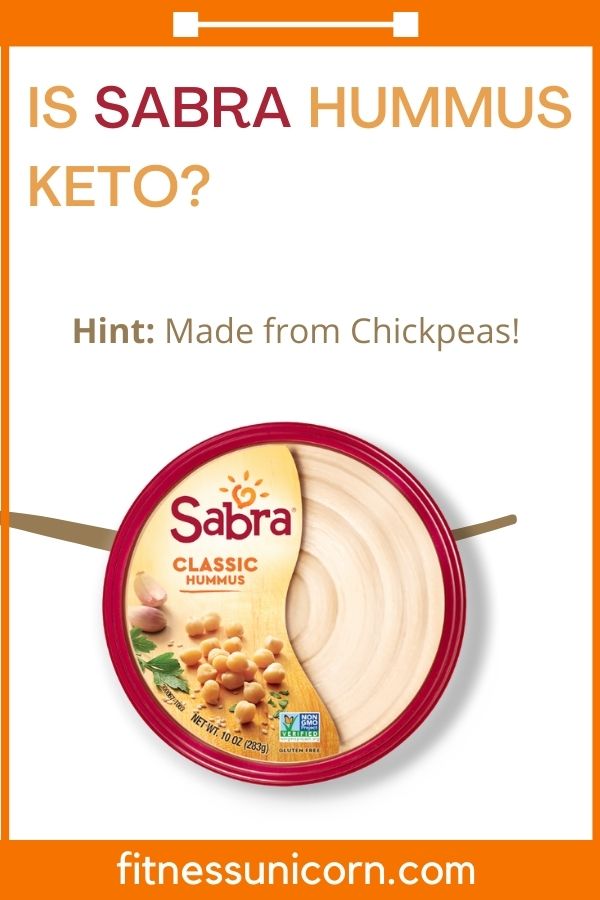 Tired of searching whether certain foods are keto? Download my keto cheat sheet with 210+ keto-friendly foods!
In this article, I'll tell you why Sabra hummus isn't really your friend on keto. You'll also find out the best way to enjoy hummus on this low-carb journey!
This post may contain affiliate links, which help keep this content free. (Full disclosure)
SHOCKING Facts About Sabra Hummus
Sabra hummus is a creamy blend of chickpeas, garlic, olive oil, and other exotic seasonings!
Hummus is one of those Middle-Eastern foods that are now completely ingrained into the American culture!
If you've ever thought about eating healthier, you couldn't have missed this Egyptian dip!
Hummus is a savory spread made using mashed chickpeas (garbanzo beans), garlic, olive oil, lemon juice, and other seasonings.
Modern-day varieties of hummus include Rosemary, herb flavors, spinach & artichoke, and dried tomatoes.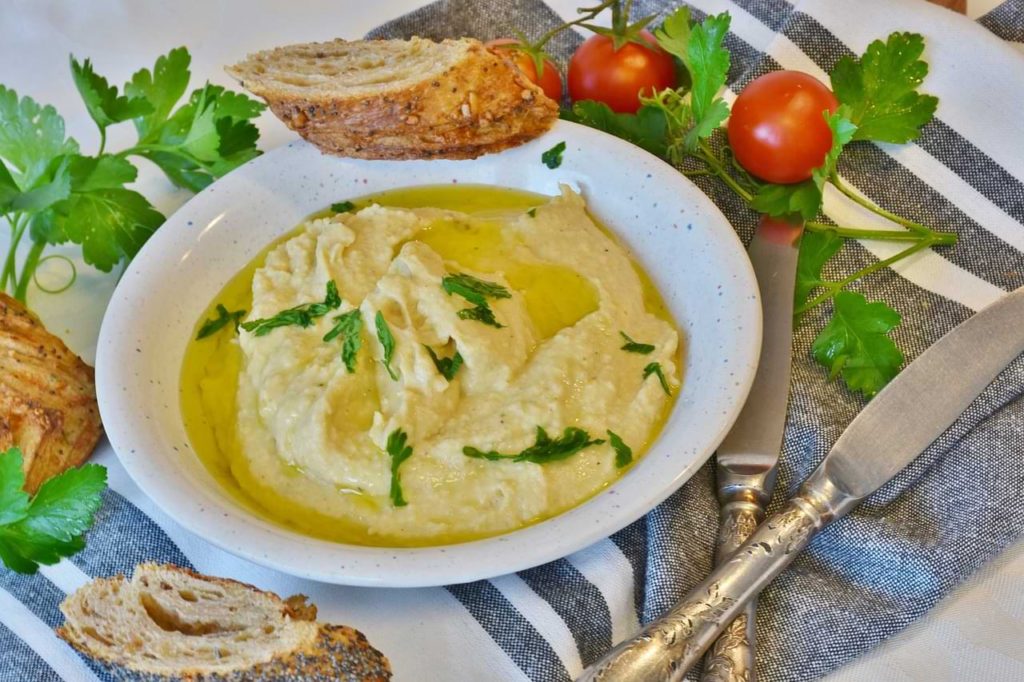 Not only is hummus delicious to taste, but it scores equally well in the nutrition department! It is loaded with various minerals and vitamins and is an excellent source of protein for vegetarians.
What's more, hummus is rich in iron, folate, phosphorus and B vitamins which are usually deficient in most vegetarians.
Sabra hummus has a whopping range of 17 flavors to choose from! Check them out here:
Caramelized Onion Hummus
Classic Hummus
Dark Chocolate Dessert Dip & Spread
Everything Bagel Seasoned Hummus
Greek Inspired Hummus
Jalapeno Hummus
Lemon Twist Hummus
Olive Tapenade Hummus
Organic Simply Roasted Pine Nut Hummus
Roasted Garlic Hummus
Roasted Red Pepper Hummus
Salsa Verde Hummus
Spinach & Artichoke Hummus
Sun-Dried Tomato with Italian Herbs Hummus
Supremely Spicy Hummus
Taco Inspired Hummus
Whoa! That is quite a MONSTEROUS range for something as simplistic as Hummus!
So you must be wondering how these different flavors score in the Keto department?
Well, all of the Sabra variants range between 3-5g net carbs per serving of 2 tbsp.
The classic Sabra hummus still remains my all-time favorite dip on the ketogenic diet. Sadly, you can only have a single serving in a day to stay under your carb limit!
READ: Is Tahini Keto Friendly?
Sabra Hummus Ingredients
This creamy blend of garlic and chickpeas is Vegan, Kosher, Non-GMO, and gluten-free.
Sabra hummus ingredients include:
Cooked Chick Peas
Tahini (Ground Sesame)
Soybean and/or Canola Oil
Garlic, Salt
Citric Acid
Red Bell Pepper
Seasoning & Spices
Natural Flavors
Potassium Sorbate (for maintaining freshness.)
Luckily, there's no insulin-spiking additive that we should worry about.
Chickpeas have a lot of carbs but their equally-high fiber content helps in controlling blood sugar levels. A single serving of two tablespoons can surely satisfy your cravings and still keep you in ketosis.
At the end of the day, its still a processed food product and you should have it in moderation.
Sabra Hummus Nutrition
Hummus is a go-to healthy food and snack among vegetarians. That speaks a lot about its nutritional values!
A 2-tbsp serving of Sabra Hummus has the following nutrition profile:
Calories: 70
Fat: 5g
Protein: 2g
Total Carbs: 4g
Dietary Fiber: 1g
Net Carbs: 3g
The traditional homemade hummus also contains a ton of vital micronutrients. But there's no mention of them in commercially processed variants like the Sabra hummus.
While going through it's ingredients, you might have noticed "soybean oil".
Most vegetable oils (including Soybean oil) are highly processed in factories and they have a bad rep in the fitness community!
The food manufacturing industry is obsessed with vegetable oil because it helps them lower their costs! Soybean oil and sunflower oil are two of the most common examples.
You'll find them in almost every packaged food like biscuits, cookies, chips, salad dressings, etc.
So what's wrong with vegetable oils?
When consumed in moderation, vegetable oils can be really beneficial for your health!
However, its the overconsumption of these chemically processed oils that pose a threat to our good health.
"Vegetable oil" generally refers to those plant oils which are extracted from the seed or kernel. Some of the common ones include:
Soybean oil
Corn oil
Cottonseed oil
Canola oil
Sunflower oil
Safflower oil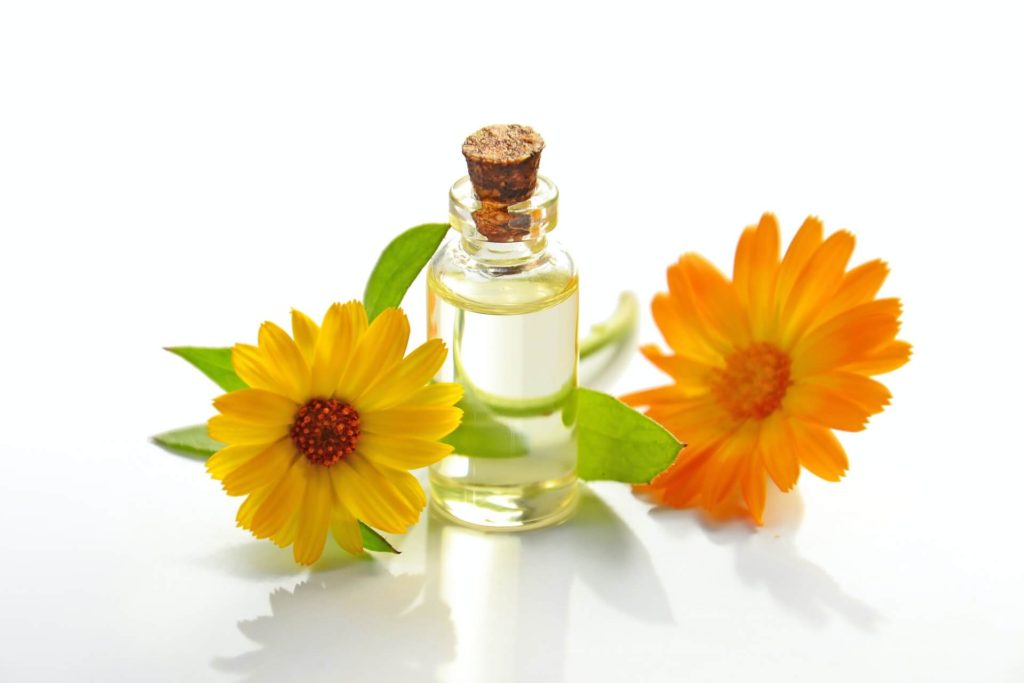 But not all vegetable oils are created equal!
Coconut oil, red palm oil, high-oleic sunflower oil, sesame oil, and olive oil are some of the healthier options available today. They are extracted through cold=pressing and don't contain chemical additives!
One should have a balance (1:1 ratio) between the two types of essential fatty acids: Omega 3 & Omega 6
But thanks to the food processing industry, the ratio of Omega 6 and Omega 3 has gone over 20:1 in the Western diets!
What's more, refined oils lose all their nutrition during the manufacturing process.
That's why you shouldn't go overboard with packaged snacks and take outs!
MORE: Is Palm Oil Keto-Friendly?
Can You Have Sabra Hummus on Keto?
At first glance, hummus may look like a complete ENEMY to the keto diet (hint: chickpeas!).
But you can surely enjoy a small serving of hummus if you stay within your daily carb limit!
You'll be surprised to know that Hummus has a glycemic index value of 12, which is fairly good as per the keto standards!
Why should I care about glycemic index?
The glycemic index of any food plays a major role in determining whether it's keto-friendly (other than the number of carbs!)
The G.I. reveals how much a food will impact your blood sugar levels. It's scale begins from 0 and goes all the way to 100 (pure sugar).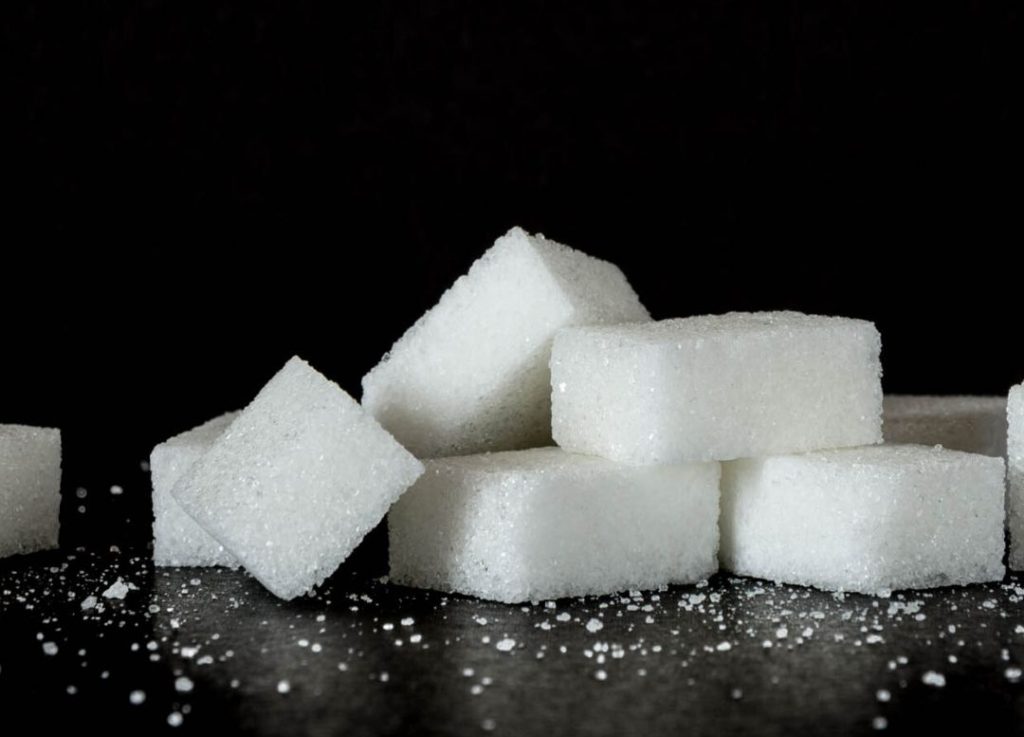 High G.I. foods are quickly digested and release a burst of energy into your body. That's why they cause a sudden spike in blood sugar levels.
On the other hand, low G.I. foods like hummus, are slowly digested into your body and don't cause aggressive fluctuations in blood sugar.
You'll notice that all keto-friendly foods rank lower on the glycemic index. Consider these examples:
Spinach: 15
Kale: 3
Cauliflower: 10
Asparagus: 15
Celery: 15
Oat Fiber: ZERO (pure fiber)
Okra: 17
Cabbage: 10
Broccoli: 15
Cucumber: 15
MORE: Are Black Eyed Peas Keto?
What is Glycemic Load
Do you think a small bud of broccoli has the same G.I. as that of one cup broccoli?
The answer is a straight NO!
Glycemic index is calculated by consuming a portion of food having 50 grams of carbs. But clearly, that's not a typical real-world scenario.
That's when the upgraded version – Glycemic Load comes in!
Glycemic load considers the quantity of each serving rather than blindly relying on a universal portion size.
A GL of 20 or higher is considered "high" whereas a score less than 10 is considered fairly low. 
A food item can have extremely high G.I. but a much lower glycemic load because it's often consumed in small quantities.
Here's a great example to understand things better:
Watermelon has a G.I. of 72 but a one-cup serving of diced watermelon (having 10g carbs) scores only 3 on the glycemic load scale.
SUGGESTED: Is Tzatziki Sauce Keto?
Is Sabra Classic Hummus Keto-Friendly?
If you can stick to a single serving of 2 tbsp, you can include Sabra hummus it in your keto diet guilt-free!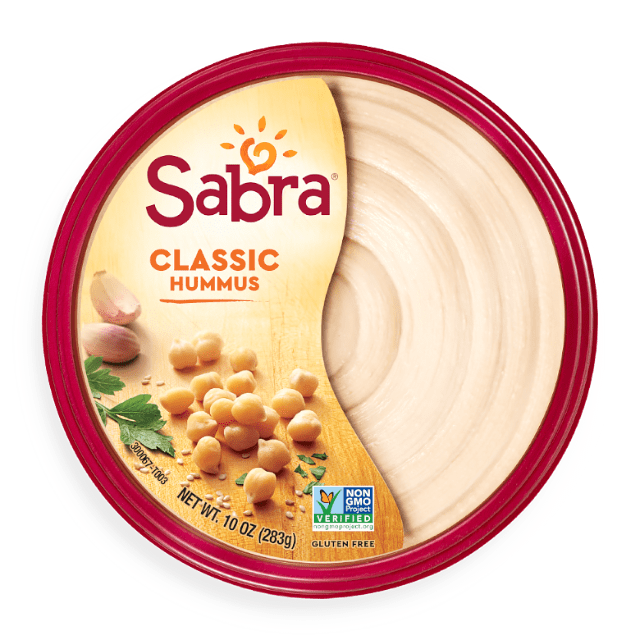 Hummus is made using chickpeas which are ridiculously high in carbs (hence the sweet taste!). And Keto is a restrictive diet where you simply can't afford to eat too many carbs.
However, you should be careful about portioning because hummus is very easy to overeat!
Even I'm guilty of having tons of hummus in a single serving along with Mission's Carb balance wraps (my pita substitute on keto!)
Sabra hummus is quite reasonably priced and it's my go-to dressings when I'm bored of all the greasy keto dips.
Their roasted garlic variant is a delight for all garlic-lovers! In my pre-keto days, I would soak up an Indian Naan with the garlic hummus and almost go into a food trance!
If you are looking for a quick low-carb snack, pair some Quest low carb chips with a serving of Sabra hummus.
Conclusion
Is Sabra Hummus keto friendly?
Sabra hummus has a nutrition profile similar to homemade hummus. A single serving of 2tbsp has 3g net carbs, which is okay on the keto diet.
If you have a daily limit of 20 grams carbs, you can easily fit a single serving of Sabra hummus without much damage.
But keep in mind that hummus is very easy to overeat and you should be careful about the portioning!