Ice cream is a luxury not every diet can afford! Surprisingly enough, we have plenty of low-carb options now in the market. But is Breyers Smart Carb ice cream keto?
I have always been in love with Enlightened keto ice cream and it is also easy on the stomach!
But a lot of you have been requesting me to review Breyers Smart Carb Frozen Dessert (yeah, they don't call it "ice cream")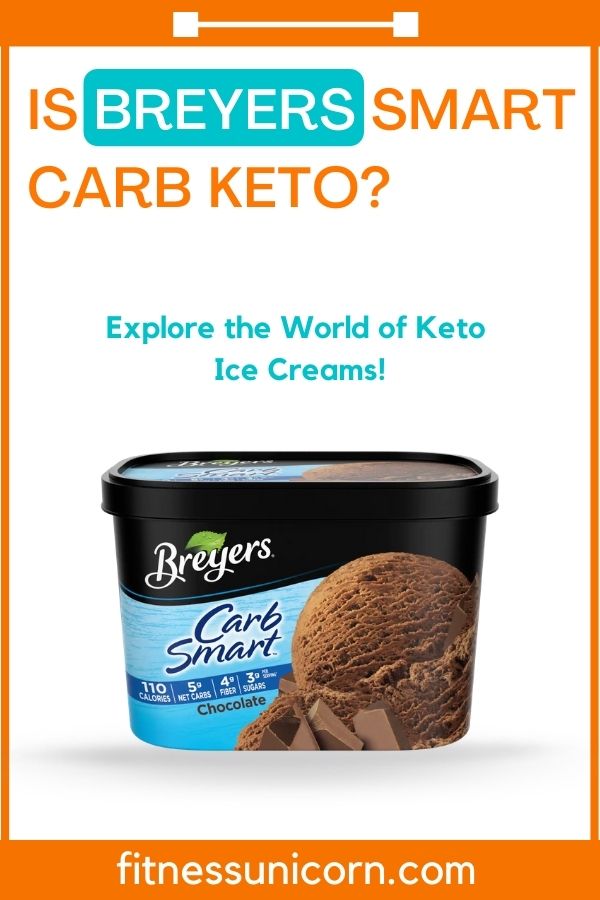 Tired of searching whether certain foods are keto? Download my keto cheat sheet with 210+ keto-friendly foods!
A simple google search for "keto dessert recipes" will yield you thousands of results! But making the perfect low-carb ice cream at home is still a dream!
That's why keto ice cream brands are shaking up the market.
But there is one thing we need to be careful about: Hidden Carbs! Even if an item says "sugar-free" on its label, doesn't mean it's keto-friendly as well.
In this article, we'll find out how Breyers Smart Carb ice cream fits into the keto diet. I'll also share some lip-smacking alternatives right from my keto guidebook!
This post may contain affiliate links, which help keep this content free. (Full disclosure)
About Breyers
Breyers is a well-known brand with ice cream at its core. It was started in 1866 by William A. Breyer in Philadelphia, Pennsylvania.
He first started out by selling from his home and then traveled on a horse and wagon to deliver supplies.
Over the course of years, the owners of the company have changed but the taste remains almost the same.
They were once known for an all-natural ingredients approach to their flavor-rich ice creams. But their latest offerings such as Carb Smart include many artificial additives!
And that's why the Breyers Smart Carb ice creams fall under the category of "dirty keto".
Honestly, you can't make any low-carb ice cream with all-natural ingredients.
Do you ever wonder why Breyers call their Carb Smart offerings "Frozen Dessert" instead of "Ice-Cream"?
Well, it's because they don't have enough milk and cream to qualify as a proper ice-cream in the eyes of authorities. And the reason is pretty simple, you need to reduce milk to lower those carbs!
Having said that, let's dig deeper and find out whether Breyers Carb Smart is really keto.
Suggested: FREE Keto Diet Plan for Beginners
Is Breyers Carb Smart Ice Cream Keto Friendly
Breyers Carb Smart is not keto-friendly because it contains high G.I. sweeteners like Sorbitol and Maltitol Syrup. They can lead to stomach cramps and also throw you out of ketosis.
Sweeteners with a high glycemic index quickly release energy into your blood, taking your insulin levels higher. And that's something you really DON'T want on a keto diet!
That sudden spike in blood sugar can lead to annoying stomach cramps and gas.
Breyers smart carbs gets more than 30% calories from carbs, which is defying all the laws of a keto diet.
Consider this keto pyramid: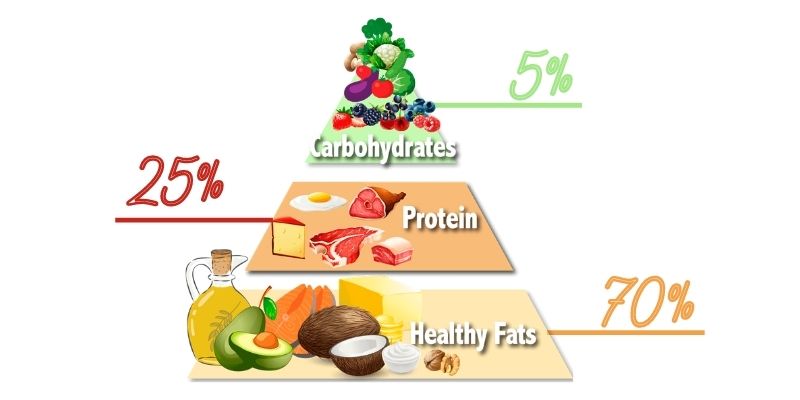 So that means no more than 5% of your calories should come from carbs for a keto-friendly meal.
Each 2/3 cup serving of Breyers Carb Smart has 19g carbs, 5g fiber, and 10g sugar alcohol.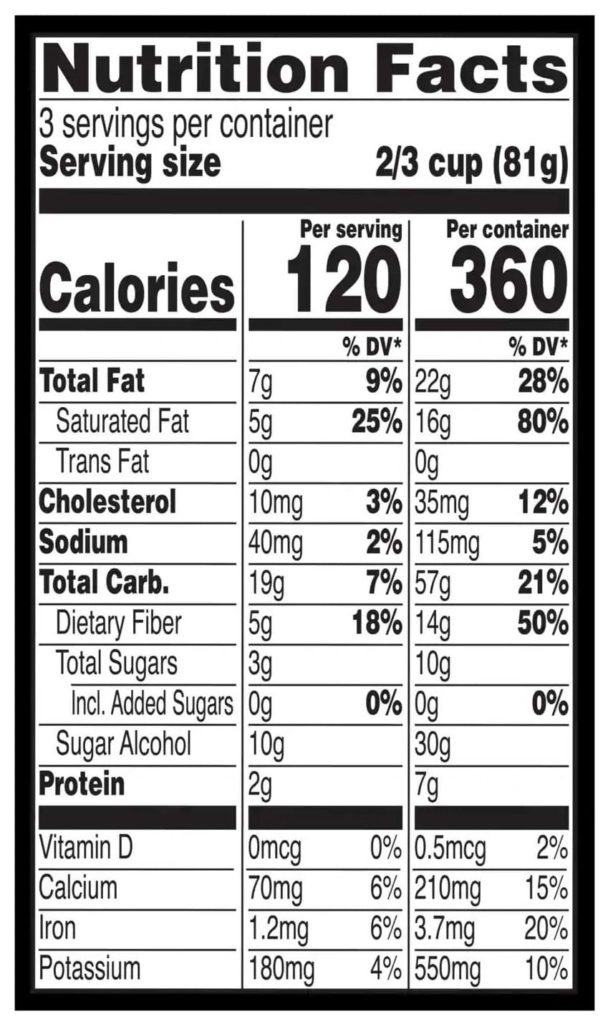 This gives us a total of 4 grams of net carbs per serving.
But there's a slight catch!
You see, we always deduct the carbs coming from "sugar alcohols" while determining the total net carbs in an item.
Sadly, the sugar alcohols present in Breyers Smart Carb ice-cream act just like simple sugar! You can't compare them with ZERO G.I. sweeteners like the Erythritol!
So essentially a single serving of Breyers Smart Carb can contain as much as 10 grams of net carbs!
With that said, you may do fine with a single scoop of this stuff occasionally.
Sugar alcohols are VERY complicated and they impact everyone differently! Some people do just fine and others might need a lot of trips to the washroom!
So it's best to have it in moderation and experiment with smaller quantities first. Don't forget to factor in those additional carbs in your daily allowance!
Let's take a deeper dive into the charm of all keto-desserts: the sugar-free sweeteners!
More: WaWa Gas Station Keto Finds
Keto Sweeteners in Breyers Carb Smart
The Keto diet is spreading across the globe like wildfire!
And that has lead to the prevalence of a host of artificial sweeteners in low-carb products!
A lot of keto dessert brands have entered the market with questionable ingredients. So it's the right time to know what really goes into that so-called "keto ice-cream" you are being sold!
Manufacturers are competing with each other to launch the next big keto thing in the market!
And sometimes that requires using artificial sweeteners like aspartame, sorbitol, sucralose, etc.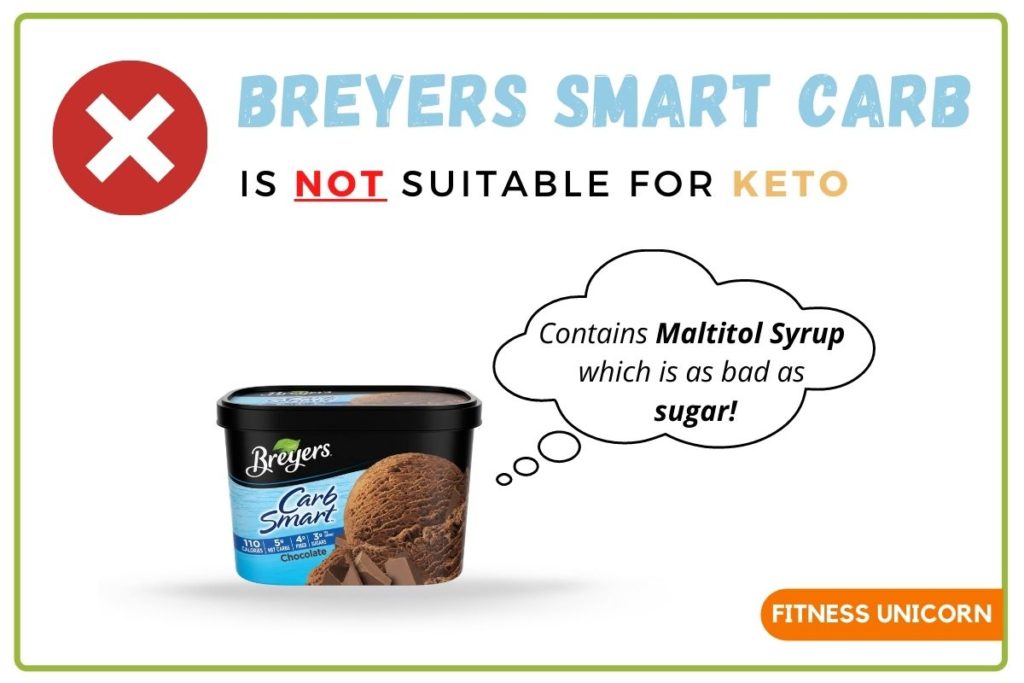 Experts believe that some of these additives (such as aspartame) may lead to long-term health effects. But there's no conclusive research backing those claims yet.
Another thing you should keep in mind is that sugar-free doesn't always mean a keto-approved product!
In fact, a lot of sugar alcohols are high in the glycemic index that makes them as bad as sugar.
These are the two main sweeteners found in Breyers Smart Carb keto ice cream:
Sorbitol
Sorbitol is a carbohydrate that is categorized as a sugar alcohol.
There's a myth that all sorbitol is commercially manufactured. However, that's far from the truth!
In fact, it's found in tiny quantities in most fruits such as apples, apricots, and dates.
Having said that, most of the Sorbitol found in packaged foods (such as keto desserts) is made in factories using corn syrup!
Breyers Smart Carb uses sorbitol because of the twin benefits:
It helps retain moisture in the ice cream
Sorbitol adds a thick texture and sweetness to the frozen desserts
It is almost half as sweet as sugar and ranks much lower on the glycemic scale (with a G.I. of 9), compared to sugar.
Out of the two controversial sweeteners in Breyers keto ice cream, Sorbitol has a much lower G.I.
Surprisingly enough, FDA claims that replacing simple sugar with sugar alcohols like Sorbitol can lower your cavity risk to a great extent!
Suggested: Water Chestnuts Keto Substitute
Maltitol Syrup
Similar to Sorbitol, Maltitol is also a sugar alcohol that is mostly manufactured in factories. It is also available in many fruits in a small amount.
However, it's one of those sweeteners they tell you NOT to have on the keto diet!
Maltitol isn't keto-friendly because it has a very high glycemic index.
And the Maltitol syrup (used in Breyers Carb Smart) has an extremely high G.I. of 52.
While 52 doesn't sound like a big deal, let me tell you that table sugar has a G.I. of 60! It means maltitol syrup is as bad as sugar for a keto-er!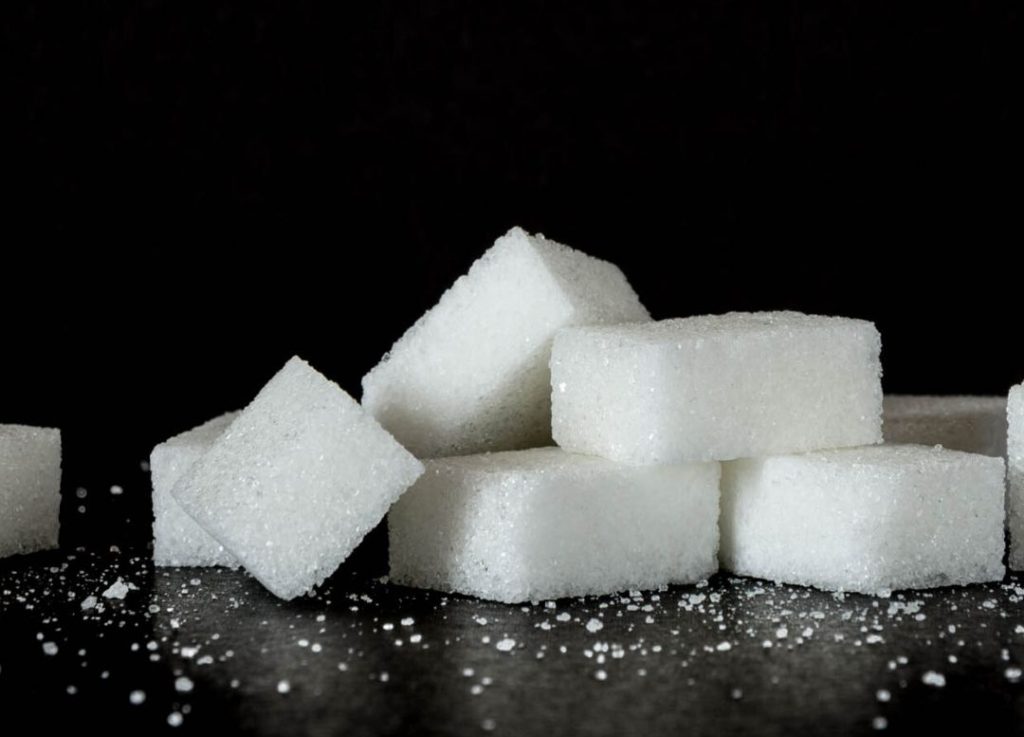 So why do people use maltitol instead of sugar?
Well, Maltitol has much fewer calories than sugar! And that's why it's so famous among fitness enthusiasts on a calorie-restricted diet.
But we keto-ers don't give a damn about calories, and carbs are our main point of interest!
That's why maltitol or maltitol syrup is one of the worst keto sweeteners of all time!
To make things worse, a lot of people experience gas and stomach cramps while indulging in Breyers smart carb keto ice cream!
But I've had no such effects with erythritol-flavored ice creams like Rebel or Enlightened.
So it's best to stick with naturally flavored ice creams with monk fruit, stevia, or Erythritol on a regular basis. And leave stuff like Breyers only for your cheat days!
Update: Some of the new Breyers' variants now use Erythritol but they still pack a lot of carbs!
Here's my review of Breyers smart carb ice cream on the keto diet.
Breyers Keto Ice Cream Review
Even though Breyers' isn't the most keto-friendly out there, it definitely scores well on the taste factor!
It is free from any weird aftertaste and feels just like you are eating real ice cream.
And that's why it has kept its place in my list of keto cheat meals!
As a keto beginner, I was a complete novice and used to eat anything that goes with the name "sugar-free" or "carb-free" or "keto-friendly".
So Breyers smart carb was my go-to dessert and one of the reasons why I stuck to my diet in the early phase! I always turned to this frozen dessert when those sugar cravings kicked in.
Little did I know the real truth about maltitol syrup!
A few months into the diet, I got to know about stuff like sugar alcohols and sweeteners. That's when I became an informed consumer and found out about desserts that are much more keto-friendly!
There are plenty of low-carb ice creams that taste just as good, and won't even kick you out of ketosis!
Read: Are Quest Chips Keto?
The BEST Low Carb Ice Creams
Every once in a while we all scream for ice-cream!
And that's when even the best of us are tempted to cheat on our diets.
But with keto-friendly ice creams like these, you can satisfy your urges without risking ketosis!
Rebel
Rebel aims to be the most keto-friendly ice cream with the least number of carbs.
It uses natural sweeteners like monk fruit and erythritol along with milk protein isolates to mimic the original ice cream.
Rebel Creamery ice creams have various flavors ranging from 5 grams to 8 grams net carbs per pint.
That is way too less compared to the Breyers smart carb ice creams! In fact, Breyers has as much as 7 times the net carbs per calorie, as compared to Rebel.
As the name suggests, Rebel Creamery ice cream is actually made of high-fat cream with no sugar at all!
Butter Pecan is my top most favorite flavor. I initially expected some bitterness, but to my surprise, the pecans were roasted to perfection and the texture is buttery smooth!
When compared to regular ice cream, Rebel might seem icier and flaky because it uses lesser milk (to cut those carbs!)
Tip: Let the ice cream thaw for 10 minutes before diving in! It'll make it much smoother and get rid of flakiness.
You can buy Rebel individually or in cases, according to your needs. But you'll get a much better deal when buying in bulk!
If you order via their official site, it'll reach your doorsteps fully packed with dry ice. So rest assured about the flavors and texture.
Enlightened Keto Ice Cream
Enlightened is originally a "healthy" ice cream brand which hopped onto the keto wagon!
They launched a lip-smacking range of keto-friendly ice creams back in August 2019. And keto enthusiasts have shown a lot of love to the brand!
Their packaging is the biggest salesman! That glowing bulb showing "1g per serving" is definitely an eye-catcher!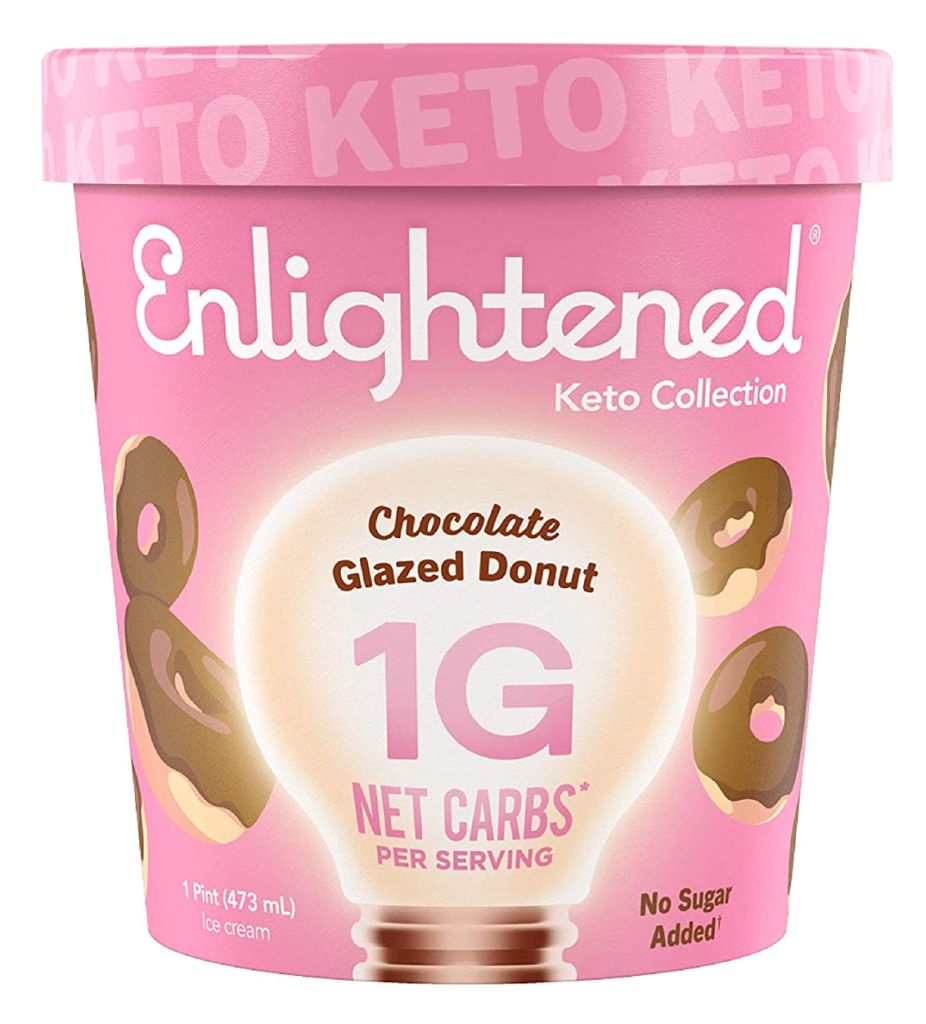 Its quite silly of me that I used to think those 1 gram carbs are for the WHOLE PINT, lol!
I jumped in excitement at the first glance, but I knew it was something too good to be true! Then I realized the truth as soon as I zoomed in on the pack!
Each half-cup serving of Enlightened ice cream has 1g of net carb.
They are made using real heavy cream and sugar-free sweeteners like monk fruit. Rest assured it wont kick you out of ketosis!
The best part about Enlightened is that it doesn't actually taste "diet food".
Both Rebel and Enlightened are rich and creamy desserts that can easily match your ice cream cravings keto!
What's more, Enlightened also has a range of keto-friendly ice cream bars that really help in portion-control!
I tend to finish a whole pint in one sitting, but bars are much smaller and help me eat fewer carbs.
Check out: Is Enlightened Really Keto?
Halo Top
Halo Top's "light ice cream" is another keto gem with 5 to 10 grams of net carbs per pint!
It is the latest entrant to the keto ice cream market, competing with two arch-rivals: Rebel and Enlightened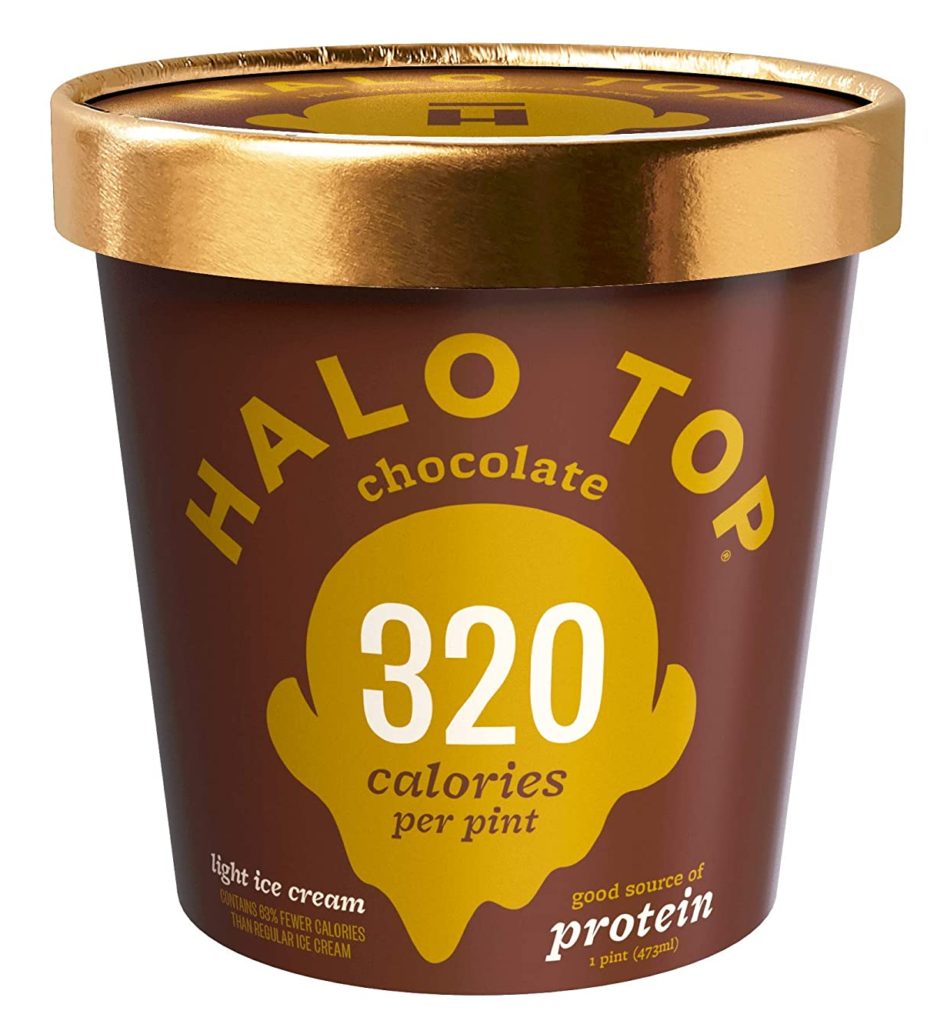 These are the flavors available along with their net carbs (per pint):
Peanut Butter Chocolate (8g)
Caramel Butter Pecan (5g)
Chocolate Cheesecake (10g)
Jelly Donut (7g)
Berry Swirl (8g)
Banana Cream Pie (8g)
White Chocolaty Macadamia Nut (8g)
While Halo top has a similar number of carbs to Breyers keto ice cream, there is a drastic difference between the sweeteners!
Halo top has no hidden carbs and uses the natural sugar-free sweetener Erythritol.
Conclusion
Is Breyers Smartcarb Keto?
Breyers smart carb frozen dessert isn't keto-friendly because it contains high G.I. sweeteners. Maltitol syrup is as bad as sugar and might throw you out of ketosis!
You are better off with naturally flavored ice-creams like Rebel Creamery, Enlightened, or Halo Top.