Tzatziki sauce is a quite refreshing and creamy combination of cucumber and yogurt. But is Tzatziki sauce keto?
It is a common sight in Southeast Europe and the Middle East where it's served along with juicy grilled meats!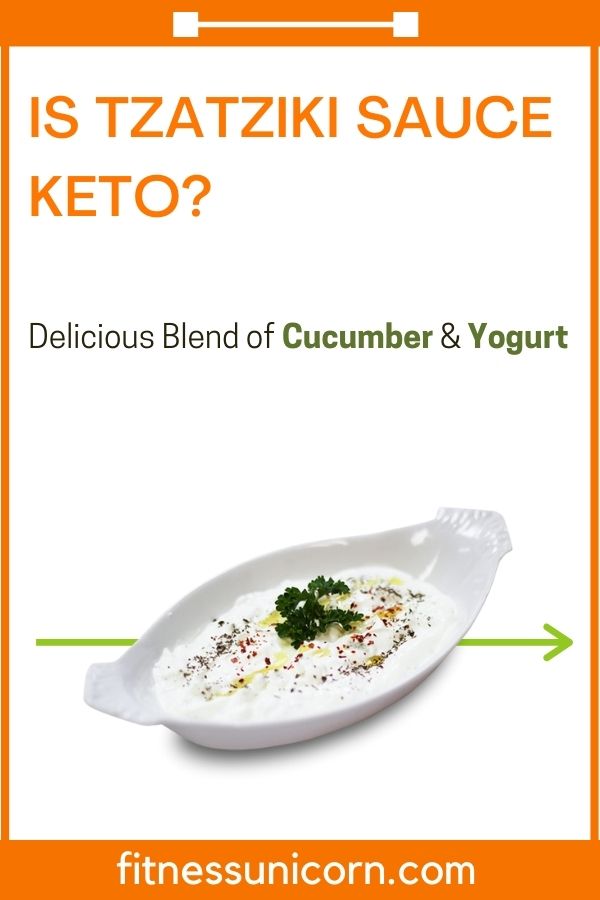 Tired of searching whether certain foods are keto? Download my keto cheat sheet with 210+ keto-friendly foods!
Tzatziki tastes equally amazing with fish and poultry. Made with full fat yogurt, it is generating a lot of interest in the Keto community!
In this article, we'll see how Tzatziki sauce fits into the keto diet and how you can easily make your own keto-friendly version at home!
I'll also talk about some other sauces that are compatible with our carb-restricted diet!
This post may contain affiliate links, which help keep this content free. (Full disclosure)
Is Tzatziki Keto Approved?
Tzatziki sauce is keto friendly because a 2 tbsp serving has just 1g net carbs. It can be enjoyed as a side dip or topping for keto recipes.
Pair it low carb veggies like celery, broccoli, or bell peppers for a perfect keto meal! Thanks to the full fat yogurt, Tzatziki sauce has a super creamy texture!
According to Carb Manager, this Mediterranean dip has 1g protein, 1g fat, and 1g net carbs.
Looking at the nutritional values, I bet you simply can't affect ketosis with just one serving of Tzatziki.
In fact, you can even have much more than one serving if you can adjust your macros accordingly!
What do you mean "adjust your macros"?
Well, I'm talking about maintaining a keto-friendly ratio of fats, proteins, and carbs (known as macronutrients)!
Let's look at the keto pyramid: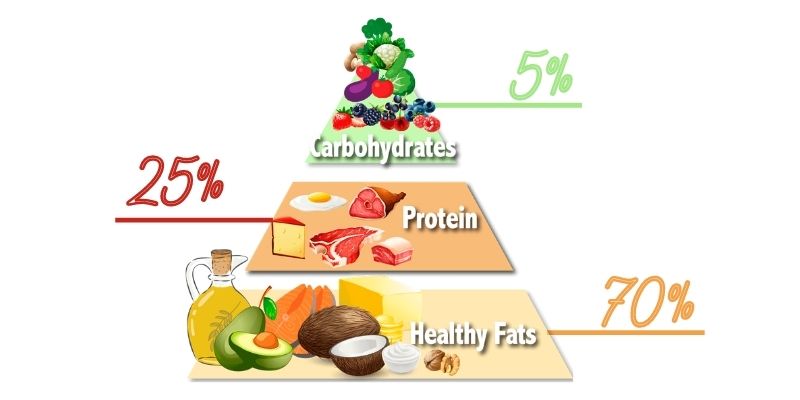 You can eliminate a hell lot of doubts if you just stick to this pyramid throughout your keto diet!
Let me explain!
Let's say you want to eat 3 servings of Tzatziki (3g net carbs) in a meal.
In order to comply with the keto-diet, you should supplement it with a high-fat meat that gives you at least 30-40g of quality fats!
That's how you should approach the keto diet and keep a good ratio of fats, carbs, and proteins as mentioned in this pyramid.
Keto is quite lenient in terms of calories and hence you have a lot of freedom there!
Also, high-fat foods are quite filling and you are much less likely to be in an insanely high calorie surplus!
Tzatziki blends perfectly well with most of the meat-based keto dishes. The cucumber also adds a refreshing touch to this dressing!
At the end of this post, I've shared a completely keto-friendly recipe for this highly versatile sauce.
Tzatziki Sauce Carbs
Depending on the ingredients used, Tzatziki sauces ranges from 1g net carbs to 2.5g net carbs per serving.
You can also make your own keto-friendly version at home with just yogurt, olive oil, lemon juice, parsley, garlic, and some salt.
What is Tzatziki?
The Mediterranean cuisine has blessed us with a lot of tasty dips! Tzatziki happens to be one of them!
Tzatziki sauce is one of the most versatile dressing I've ever come across! You can use it as a salad dressing, a side dip or even as a topping for most keto-dishes.
Heck, you can even eat it as-is as an appetizer (don't judge me!)
I've been in love with Tzatziki's fresh and inviting flavor ever since I began my keto journey!
Think of it as a lighter alternative to the Ranch dressing, which is also commonly used in keto. If you detest the strong flavor of Ranch, Tzatziki should be your pick!
All you need for a perfect Tzatziki sauce is garlic, full fat yogurt, cucumber and a few other simple ingredients!
Even the traditional Tzatziki is keto-friendly. But you can add more foods like crushed avocado to increase the fat content.
Tzatziki is usually made with seedless cucumbers as they are less bitter-ish.
Tzatsiki Sauce History
Let's take a trip down the history where the Tzatziki sauce originated:
Tatziki is also known as Tarator in some countries.
Tarator was a dish made with ground walnuts and vinegar during the times of Ottoman Empire. Soon enough, various other dips and sauces with similar nature acquired the same name.
Different regions made their own versions calling it by similar but different names. For example, In the Eastern Mediterranean, taratur is a sauce that's made using tahini.
People in Turkey and Balkans made their own versions using yogurt and cucumbers. Sometimes they also add walnuts inspired by the original recipe.
Here are some ways to enjoy fresh Tzatziki sauce on a keto diet:
Serve over fatty fishes like Sardines, Tuna, Salmon, Mahi-Mahi, etc. (grilled, roasted or pan seared).
Top it over some low carb protein chips for a healthy keto meal!
Use it as an appetizer along with low-carb crackers.
Tzatziki can add a creamy texture to your bun-less burgers (made with lettuce)
You can even add it in salads like the Chipotle's low carb salads.
Serve with low carb pita bread or use it in the filling for keto tortillas.
You can use it in a Greek pasta salad using Shirataki noodles (eliminates the carbs!)
Use it as a creamy dip for fresh veggies (that grow above the ground) like broccoli, asparagus, celery, spinach, etc.
Top it on your favorite meat-based keto dishes!
Tzatziki Sauce Nutrition
This ancient Greek dressing has a very balanced nutrition profile.
According to the Carb Manager app, a two-tbsp serving of Tzatziki sauce contains:
Calories: 14
Net Carbs: 1.3 g
Fiber: 0.1 g
Starch: 0.1 g
Sugar: 1.1 g
Protein: 0.8 g
Fat 0.6 g
Cholesterol: 2.5 mg
It is quite a healthy dip which is much safer than most processed foods out in the market!
Depending on the ingredients, Tzatziki sauce can have up to 25 calories per serving. It is still a pretty low number which makes it a really healthy appetizer!
Tzatziki is clearly a very keto-friendly dip that can add more variety to your keto diet!
Is Tzatziki Sauce Bad for You?
Tzatziki is originally made with just Greek yogurt, cucumber, and olive oil.
It is even thicker than the regular yogurt because it's made after straining it.
You may think that they do this for taste! However, they were quite smart (even without technology!) and strained the yogurt to prevent it from spoilage.
This reminds me of another ancient recipe i.e. the keto-friendly Sauerkraut. It was a highly renowned cabbage dish with probiotic benefits!
To answer your question, Tzatziki sauce is far from unhealthy!
It is made from Greek yogurt which has numerous health benefits:
High protein content that is necessary for basic bodily functions.
It has the vital Vitamin B12 that keeps our nervous system healthy!
Greek yogurt contains Iodine which is an essential requirement for production of thyroid hormones (they are highly important!).
It is also a rich source of calcium that strengthens our bones. Calcium is the mineral which is responsible for blood clots.
Greek yogurt is an excellent source of healthy fats (a necessity for keto-ers!)

Last but not least, yogurt is rich

in probiotics that keep our gut healthy and boost immune system.
Eating Tzatziki sauce on a keto diet can be really beneficial for your gut.
If you don't like regular full-fat yogurt, try Tzatziki and you may just fall in love with it's refreshing taste!
Keto Tzatziki Sauce Recipe
Looking for a lip-smacking dip to pair with those juicy grilled meats on the keto diet? Your search ends here!
I've brought you the easiest keto-friendly recipe that you can make in just 5 minutes!
But here's a twist: This recipe uses Sour Cream instead of Greek Yogurt that makes a really really thick Tzatziki sauce!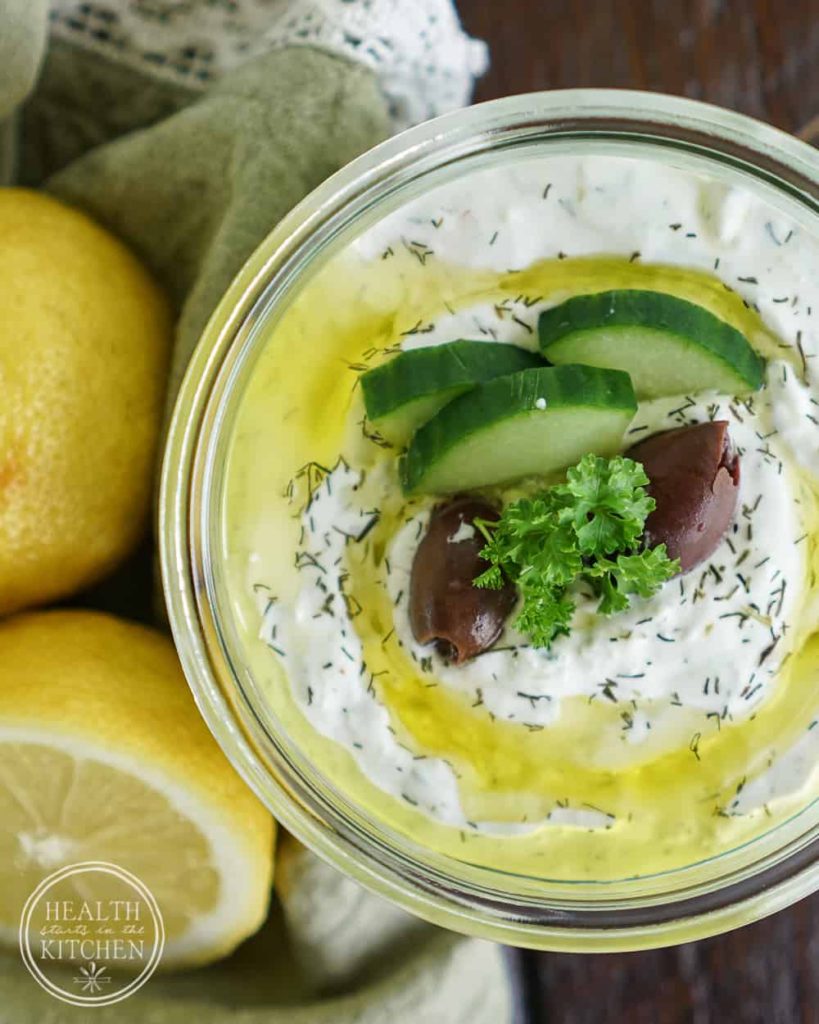 Here is a complete list of ingredients:
Cucumber
Sour Cream (organic, cultured)
Lemon juice
1+ tablespoon Fresh Dill, chopped
2+ cloves Garlic
Sea Salt
Black Pepper
Get the complete recipe from Health Starts in the Kitchen.
You can store the leftover sauce in the fridge in an airtight container for up to 3 days.
In fact, I find the second-day Tzatziki to be much more flavorsome as it gets time to fuse well with the ingredients!
Here are my personal tips to enhance your Tzatziki experience:
Mincing the cucumber in a food processor will give a much smoother texture.
Squeeze out all the juice from the cucumber to get a thicker texture in your dip!
Choose the freshest items for the best aroma and taste!
Let the dip come down to room temperature when pairing it with warm dishes.
What Sauces Can You Eat on Keto?
Our fatty meats can get really lonely sometimes and we definitely need an accompaniment!
A Ketogenic diet is filled with high-fat, thick meats and sometimes you really need a dip or a dressing to add variety.
For example, if you are going to have the same steak day after day, rotating the dips gives you a new taste every day!
One day you are having bacon with the spicy Ranch, next time you may have Tzatziki sauce and might even go for some Mustard later.
I sometimes enjoy over-powering dips that completely mask the taste of your food!
Even a healthy Subway sandwich needs the right amounts of sauces to make it perfect!
Without any further ado, let's look at some keto-friendly dips and sauces to add variety in our lives!
Ranch Dressing
The traditional version of Ranch is made using buttermilk. However, the keto-friendly Ranch has sour cream as the primary ingredient since it is much lower in carbs!
Low carb Ranch dressing is pretty much a staple in my house! We use it as a dip for most low carb veggies and salads.
You can always find a fully-loaded jar of homemade Ranch in my fridge!
The ranch has a much stronger flavor than the Tzatziki sauce but they both have a similar appearance.
Fresh broccoli, bell peppers, zucchini, etc, make for an awesome excuse to enjoy the tangy flavor of a solid Ranch dip!
Let me remind you that not all Ranch dressings are created equal! Every brand has its own recipe and you should always read labels first.
As a rule of thumb, never get any keto dressing if it has more than 2g net carbs per serving.
This recipe from Stay Snatched has less than 2g net carbs per serving and makes for an amazing keto Ranch dip.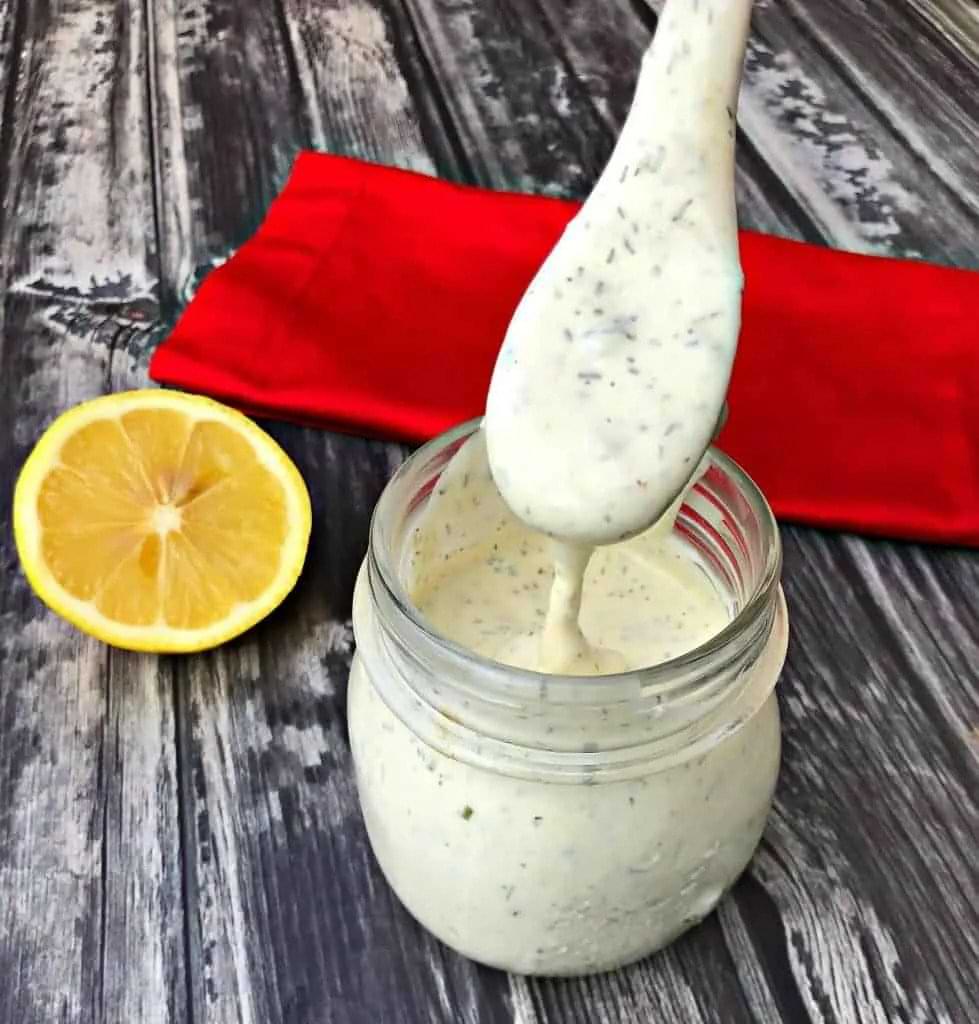 What's more, you can make this homemade Ranch in under 20 minutes with just a few basic ingredients!
Italian Vinaigrette
Italian Vinaigrette is my go-to dressing for any leafy greens on the keto diet!
It can add a pinch of freshness to your otherwise boring salads. Oil, vinegar, herbs, and mustard combine into an ultimate keto-friendly dressing that can be a staple in the low carb diet.
It is a perfect marinade for meats and veggies and you can also use it as a dip for antipasto.
You can get this Italian delight ready in less than 10 minutes!
Here is a list of ingredients required:
1 Tbsp of Italian seasoning
250 ml of light olive oil
50 ml red wine vinegar
Half tsp of salt
A pinch of ground black pepper
1 Tbsp Dijon mustard
Simple 3-step recipe for homemade Italian Vinaigrette:
Mix all ingredients in a big jar with a lid.
Shake it up and let it rest for half an hour for the flavor to soak in.
Put it in the fridge and leave it for a week.
Tip: Vinegar adds sourness to the dressing. Add a smaller amount for a less sour dip.
You can also use mayo or sour cream to make it creamier.
Blue Cheese Dressing
The low carb blue cheese dressing is a perfect add on to your salads or your chicken wings!
In fact, it's one of the most common dressings available in fast-food restaurants.
When eating keto at Bojangles, I always opt for the blue cheese dressing with my bone-in chicken wings. It adds just 2g of net carbs to my meal.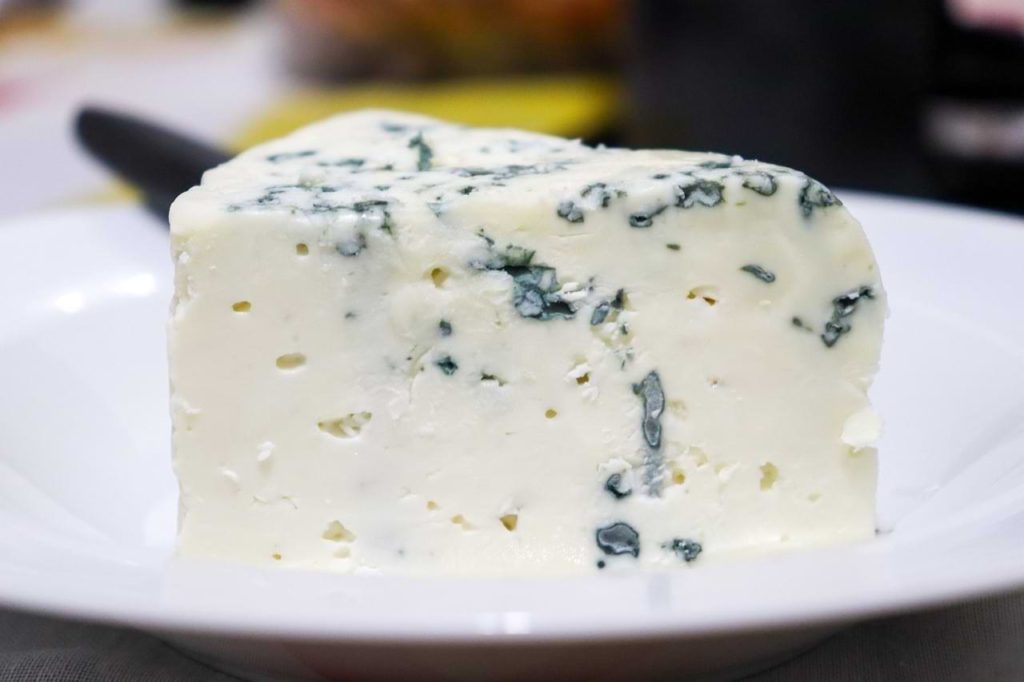 But today I'm going to share a simple recipe that has just 1g net carbs per serving!
Yup! You heard me right! Just 1g carbs per 2 tbsp!
Ingredients:
1/3rd cup heavy cream
3/4th tsp Garlic powder
Half tsp Salt
Half tsp Ground Pepper
4 ounces (or 115g) crumbled blue cheese
1/3rd cup Sour cream
1/3rd cup Mayo
1 tbsp White wine vinegar
Recipe:
Mix everything together in a medium bowl except

the blue cheese.

Slowly add blue cheese while stirring gently.

Your low carb blue cheese dressing is ready to be served!
Nutrition:
Serving: 2 Tbsp | Calories: 130kcal | Net Carbs: 1g | Protein: 3g | Fat: 12g 
Conclusion
Is Tzatziki Sauce Keto?
The tzatziki sauce is keto-friendly with just 1g of net carbs per serving. You can pair it with most keto dishes or serve it over juicy high-fat meats.
It is available in most grocery stores in the refrigerated section. You can also make your own Keto Tzatziki with just cucumber and full-fat yogurt in less than 5 minutes!