"Quality You Can Taste" always rings a bell when you hear it. After all, everyone in America must know that line by now thanks to In-N-Out's fine-tasting burgers. They just keep getting better every day!
But, is there anything gluten-free at In-N-Out?
Actually, In-N-Out is a great place to get something gluten-free without having to worry too much. Almost everything on the menu has no gluten… except for the buns.
When getting burgers, ask for no buns and have a Protein Style burger instead, which is just the burger wrapped in lettuce. It only gets better when you learn that even their fries are cooked in a separate fryer for gluten-free visitors!
All you need to do is let them know of your condition and you're good to go!
Sounds too good to be true, doesn't it?
The nature of In-N-Out still poses a risk for cross-contamination, regardless of the strictest allergy protocols in place. Well, they still use flour-rich buns after all, which could come into contact with your gluten-free meal.
Thus, if you suffer from severe gluten intolerance or celiac disease, it's best to avoid In-N-Out for your health and safety.
But, not getting In-N-Out sucks! We know. So, to give you the best options for your Protein Style burgers, here's a list of all gluten-free items on the menu.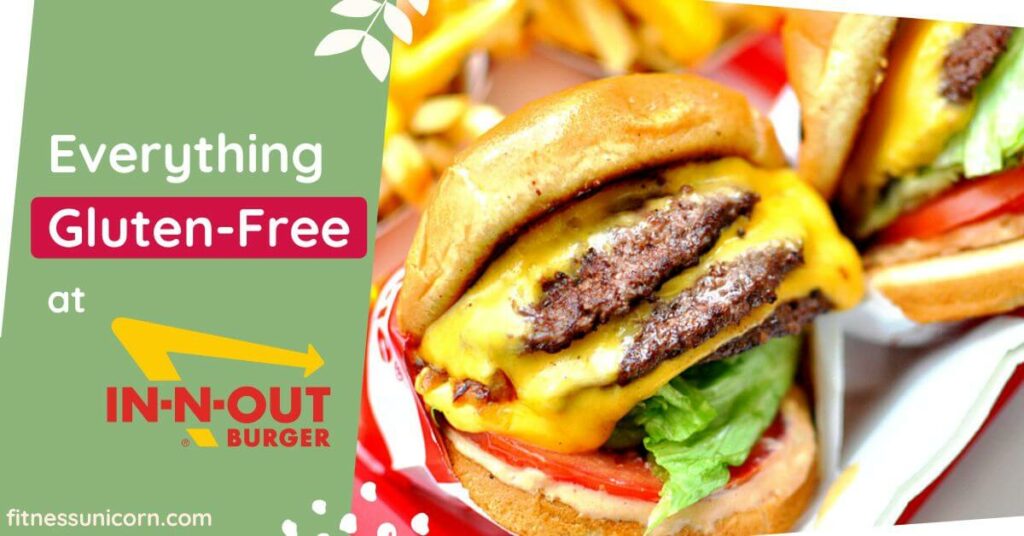 This post may contain affiliate links, which help keep this content free. (Full disclosure)
In-N-Out Gluten-Free Options
In 1948, California witnessed its first drive-thru hamburger stand. This later became the In-N-Out that we love today.
Founder Harry Snyder would then personally visit meat and produce markets to handpick the freshest ingredients while his wife, Esther, took care of all accounting matters.
Ever got curious why In-N-Out's have crossed palm trees? This was actually inspired by one of Harry's favorite movies, It's a Mad, Mad, Mad, Mad World.
Just like how the characters raced to look for treasure under palm trees, Harry also planted crossed palm trees in front of In-N-Out, which was his own treasure.
With now over 300 locations across the USA, the Snyders' granddaughter continues her grandparents' creative legacy, which has obviously become a massive success— as America still loves In-N-Out burgers almost 70 years later.
The impressively diverse menu suits all taste buds, making it a top destination among gluten-sensitive diners looking for a quick fix.
To show you what we're talking about, we've already listed all available gluten-free options at In-N-Out to ease your next visit there.
(Note that these items are from In-N-Out's online Allergen Info. The following are free of "Wheat/Wheat Gluten" as stated in the 2022 list.")
RECOMMENDED: Gluten-free menu items at Ruby Tuesday
Protein Style Burgers
These are your regular burgers wrapped in lettuce to replace the buns. You can forgo the onions and regular spread too, if you wish, by asking for mustard and ketchup instead.
Just make sure to alert your staff beforehand of your preferences and condition.
Protein Style Hamburger with Onion – 100% beef patty with lettuce, spread, tomato, and onions
Protein Style Cheeseburger with Onion – it's your regular hamburger with an additional slice of American Cheese
Protein Style Double–Double with Onion – double your regular cheeseburger! 2 beef patties with 2 slices of American cheese, lettuce, tomato, spread, and onions.
Fries
Freshly prepared in 100% sunflower oil with fresh potatoes.
Shakes (Chocolate, Strawberry, Vanilla)
Refreshing shakes made from real ice cream
Beverages
Coca-Cola
Diet Coke
7Up
Dr. Pepper
Barq's Root Beer
Barq's Caffeine Free Root Beer
Pink Lemonade
Minute Maid Zero Sugar Lemonade
Unsweetened Iced Tea
Coffee
Marshmallow Packet
Milk
Hot Cocoa* – although it doesn't have wheat, In-N-Out says that it hasn't been specifically tested for wheat gluten.
ASLO READ: Does Perkins serve anything gluten-free?
Tips For A Gluten-Free Meal at In N Out
Give Them A Heads Up
Yes, In-N-Out is truly one of those great fast dining places to offer a decent number of gluten-free options.
However, since there aren't gluten-free buns, it's still best to alert your server before ordering and let them know of your condition to avoid the risk of cross-contamination.
Always make sure to clearly state that you're ordering the Protein Style burger. On top of that, tell them that you have celiac disease or gluten sensitivity, too.
This should alert them to take extra precautionary measures while prepping your meal.
No Onions and Sauce!
In-N-Out offers customers the option of removing onions from their order. But, since grilled onions could be contaminated by flour particles from the same grill as buns, consider dodging the onions when getting a burger.
Some visitors notice that the same knife can be used to spread sauce, take our advice for it and ask for your own sauce or mayo packet instead.
Don't Get The Cocoa
According to the allergen info online, hot cocoa is wheat-free… but it hasn't been tested for wheat gluten. This distinction is important since an allergic reaction to wheat can differ from a reaction to gluten.
Some studies say that someone with a true allergy to wheat sometimes doesn't react to the gluten but rather to other parts of the wheat plant. Basically, gluten is just one type of wheat allergen which you can react to.
Thus, hot cocoa being entirely free of wheat gluten can't be guaranteed. To be completely sure of your safety, try to dodge the hot cocoa and opt for other beverages instead.
Cross-Contamination Risk
Fast foods are often a no-no when it comes to following a gluten-free regime due to the inevitable risk that floats around the place. This risk can lead to cross-contamination.
Cross-contamination occurs when gluten-containing items come into contact with gluten-free food.
It can happen in many ways. Either through direct contact with surfaces and utensils or when flour-rich particles transfer to gluten-free food when stored in a common area.
Most of those involved in food service don't realize how dangerous this could be.
Unlike bacteria, gluten isn't easily eliminated by heat. Gluten cross-contamination is only avoided when gluten is kept away from the workplace and by thoroughly cleaning anything that contacts the gluten-free item.
Despite the strictest measures performed by a restaurant to ensure a gluten-free meal preparation, unwanted things could still happen which could jeopardize your health.
For In-N-Out, its nature as a fast-food chain specializing in burgers always poses a risk of cross-contamination. Imagine the flour from the buns touching the lettuce for your Protein Style burger. Obviously, your burger wouldn't be much of a safe meal anymore.
Thus, it's always best to keep an eye out for your meal when dining out anywhere.
What People Are Saying
In-N-Out gets an impressive rating of 4.5 stars based on 246 ratings, a score that is comparatively better among its competitors. Needless to say, most visitors had a pleasant gluten-free experience.
Interestingly, satisfied customers mention their condition before ordering a Protein Style burger. The staff marks the food with "gluten allergy" to alert the kitchen. One visitor noticed that their cheeseburger was prepared on a separate grill and the fries were cooked in a separate fryer.
Most visitors also say they "never got sick" after eating at In-N-Out for years.
A common tip among some reviews is to never get sauce for the burgers. Instead, ask for a packet of sauce so you could put it yourself.
However, some customers say that there's a possibility for cross-contamination. One visitor saw the staff cook their gluten-free burger on the same grill as the buns. The visitor adds that the burgers might be a huge risk, but the fries and shakes should be safe.
One visitor tried out a new In-N-Out location. Unfortunately, they had a reaction after eating a Double-Double Protein Style burger with fries.
Gluten-Free Alternatives To In-N-Out
Yep. In-N-Out indeed sounds like the perfect choice for a quick burger meal. With many positive reviews and tasty burger options, what's not to like?
But if you feel like getting something else, here are some other alternative places you can go to:
Burger King
With over 7000 locations in the USA, Burger King still manages to be a top competitor in the industry. You can get their burgers without the bun for a gluten-free meal like In-N-Out.
Some of the bun-less burger options include Whopper, Whopper Jr., Hamburger, Cheeseburger, and Tendergrill Chicken. There's also a Crispy Taco if you're in for something different.
There are also gluten-free sides like Fresh Apple Slices, Garden Fresh Salad with Apple and Cranberry with Chicken, and French Fries.
Visitors are advised to alert the staff before ordering to ensure a safe preparation.
Chick-fil-A
You can never go wrong with Chick-fil-A. In fact, it has grown to be one of the country's biggest fast-food chains specializing in chicken.
Thanks to the gluten-free buns available, most customers had a good gluten-free experience at Chick-fil-A. Interestingly, Chick-fil-A gets a 4.0 out of 802 reviews from gluten-sensitive customers.
You can enjoy meals like the Grilled Chicken Sandwich, Spicy Southwest Salad, Market Salad, and Grilled Chicken Nuggets.
If you're looking for some sides, choose from the Fruit Cup, Kale Crunch Side, Greek Yogurt Parfait, or Waffle Potato Chips. Have a chilling dessert treat like the Frosted Cloudberry Lemonade or go for some milkshakes to complete your meal.
Subway
Subway is still trying out offering gluten-free bread in selected locations. Avoid the Grilled Chicken Teriyaki Glazed and Meatballs & Marinara when choosing the meat as they contain wheat and other gluten-containing ingredients.
You can also go for a Broccoli & Cheddar soup for an alternative.
Schlotzsky's
Schlotzsky's broad menu filled with tasty food gives customers a full gluten-free galore experience. Before ordering the sandwiches, tell the staff about your condition and order with gluten-free buns.
There's The Original, Deluxe Original Style, Turkey Bacon Club, and Fresh Veggie (we could go on!)
Luckily, you can have a 10" pizza, too. Just tell them you're going for the gluten-free crust instead. Choose from BBQ Chicken & Jalapeno, Double Cheese, Veggie Supreme, and California Chicken & Avocado.
You can also have a fresh bowl of salad filled to the brim with bold blends of greens and other flavors.
Select from Garden, The Orchard, Chicken Caesar, Southwestern Chicken Salad, and Turkey Avocado Cobb to complete your deliciously hearty meal.
Whataburger
Anyone from Texas must know Whataburger's menu by heart. Well, with over 1000 locations in the southern states of America, it has truly become a Southern favorite among everyone.
You can get sandwiches without the bun at Whataburger. Pick from grilled chicken, burger, or eggs. There are also some salads like Garden or Apple and Cranberry Chicken salad if you're looking for a healthier choice.
Some sides like Apple Slices, Hash Brown Sticks, and Fries also have no gluten. To finish it off, have a refreshing shake or some Fruit Chews.