Cook Out is a trendy American fast-food chain founded in 1989 by Morris Reaves, who is the company's sole owner to this day.
Cook Out is serving up some American classics, including grilled burgers, chicken sandwiches, wraps, hotdogs, BBQ, and a wide variety of thick creamy milkshakes.
Cook Out has an expansive menu that can be made keto-friendly with some neat (but necessary) customizations. Don't worry if you ever find yourself at Cook Out; its vast menu ensures there's something for everyone.
So what's Keto-friendly at Cook Out?
If we look at Cook Out's unaltered menu, the most keto-compliant option they have is the chicken nuggets.
These delicious golden nuggets of meat will cost you just 12g of net carbs. You can pair them up with some freshly brewed, unsweetened tea to make the perfect snack when you're out with buddies.
Other keto options at Cook Out include their delicious side of chili and their rich cheese curds, and you can even go for their fresh hotdog if you're sticking to one meal a day.
Other than their standard options, you can opt to customize your order to make it more keto-compliant. For instance, you can skip on the bread if you're ordering sandwiches or burgers.
Cook Out has an expansive menu that you can play around with in order to meet your keto requirements. Everything is made fresh to order, further elevating your dining experience.
They have a complete nutritional guide available on their website, which you can use to help you stay below the daily limit of 20-25g of net carbs in a day.
This article is an in-depth analysis of Cook Out's menu to extract every possible keto-friendly option they have to offer.
So next time you're at Cook Out, instead of going through the hassle of ordering Keto, you can just refer to this article and order straight away!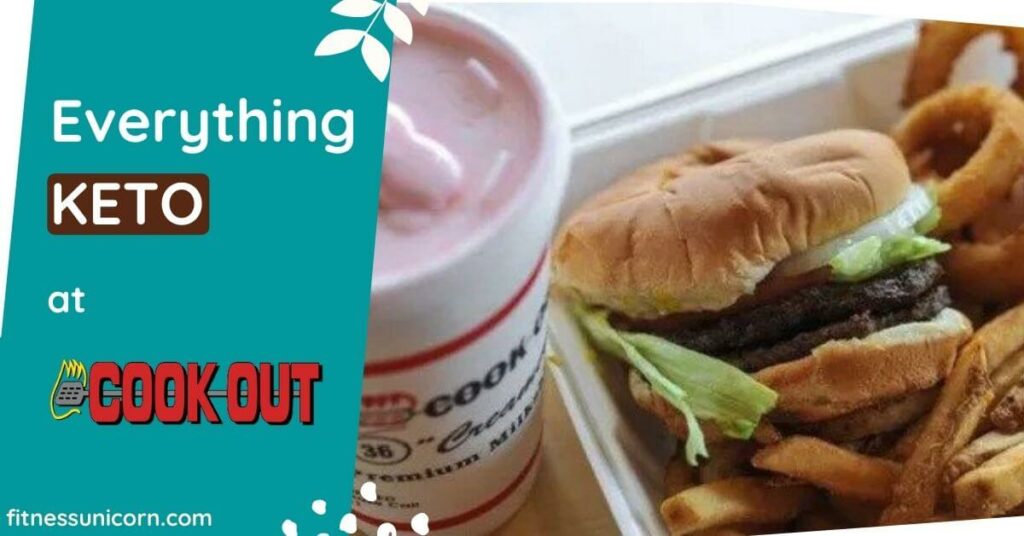 Tired of searching whether certain foods are keto? Download my keto cheat sheet with 210+ keto-friendly foods!
This post may contain affiliate links, which help keep this content free. (Full disclosure)
How to Survive Keto at Cook Out
Since its conception in 1989, Cook Out has expanded to over 290 locations across 10 states. This popular fast-food company offers fresh American classics ranging from grilled hamburgers to over 30 types of thick creamy milkshakes.
The Cook Out restaurants feature drive-thru lanes and pick-up windows but recently opened franchises that are now equipped with indoor dining facilities.
Their most popular item is their selection of trays that contain a bit of everything from the menu at an affordable price.
Dining out on keto can be a real hassle if you don't know how to select items from carbohydrate-rich menu cards. The anxiety that comes with the uncertainty of ingredients and hidden carbs can ruin your experience.
If you're on the ketogenic diet and find yourself at Cook Out with a group of friends, don't fret because you can still enjoy plenty of low-carb options.
Cook Out doesn't have a dedicated Keto menu per se, but its nutritional guide gives a good idea of what's below your carb threshold (20-25g) for the day.
These tools and some baseline knowledge about nutrients will enable you to order yourself a satisfying meal that you'll be able to enjoy without putting your diet at risk.
Low-carb options you can order straight off the menu from Cook Out include their side orders of cheese curds, chicken nuggets, and chili.
If you want a hearty meal that will keep you full for the day, you'll need to swap out some ingredients from their menu. Some pro tips while customizing your order to make it keto-compliant are;
Skip on all sorts of bread. Ask the waiter to swap the bread with lettuce or tomatoes if you're going to order a sandwich or burger.
If you're going to order a chicken sandwich, go for the grilled option instead of the fried ones.
Avoid all breaded items. They look innocent but are high in carbs.
Ditch all the sugary sauces like ketchup and BBQ sauce. Replace them with rich, fatty sauces like mayo or ranch.
Skip on the fries & drink on the side (have a diet drink if you must).
Eliminate all sorts of starch; replace a starchy side with a side of fresh green veggies.
Before conducting an in-depth nutritional analysis of the low-carb options – let us look at some of the menu items you most definitely need to avoid if you want to keep your ketosis intact.
The BBQ style, Out West style, and Original style when ordering burgers or sandwiches. These styles contain BBQ sauce and honey mustard, both of which are high in carbs and sugar.
All sorts of bread in sandwiches, burgers, and hotdogs.
Fried crispy chicken breast filet.
BBQ sandwich (too much BBQ sauce).
ALSO READ: EVERYTHING Keto at The Keg
Tortillas in wraps.
Fried chicken strips.
Onion rings.
Corn dog & Cheese dog.
Coleslaw.
Fries & Hushpuppies.
Any kind of sugary carbonated drink.
All of their thick milkshakes.
You can count these items as deadly sins if you're on a ketogenic diet. They'll knock your body out of ketosis along with all your hard work and perseverance.
SO READ: EVERYTHING Keto at The Hat
Cook Out Keto-friendly Options
Now let us carry out an in-depth nutritional analysis of the various keto-friendly options Cook Out offers.
1. Char-Grilled Hamburgers
Cook Out serves us amazing char-grilled burgers with juicy, perfectly grilled patties topped with fresh veggies and slices of cheese.
Just make sure to skip on the ketchup and BBQ sauce. Also, remember to swap out the buns for a lettuce wrap to make the burger keto-friendly.
*A typical hamburger bun will usually have around 25g of net carbs. The above value of net carbs is after you've swapped your bun for a lettuce wrap.
2. Char-Grilled Chicken Breast
You can always enjoy their char-grilled chicken sandwiches if you're not big on beef. Juicy breast topped with all your favorite fixings. Just swap the bread for a lettuce wrap and skip on the ketchup or BBQ sauce.
*A typical sandwich bun will usually have around 25g of net carbs. The above value of net carbs is after you've swapped your bun for a lettuce wrap.
3. Chopped Pork Barbeque Plate
You can have the fantastic smoky, meaty BBQ plate, which will satiate your meat cravings and leave you full for the whole day. You can only have this if you skip the fries, slaw, and hushpuppies on the side.
You can opt to replace them with a side of fresh veggies. Ask the waiter not to add any BBQ sauce to your chopped pork. BBQ sauce is high in sugars and it will ruin your ketosis.
FIND MORE: EVERYTHING Keto at Maggiano's Little Italy
4. Char-Grilled Hot Dogs
Cook Out's fresh grilled hot dogs are scrumptious and extremely flavorful. You can choose from different toppings to make the dog you prefer. Remember to skip on the ketchup and swap the bun out for a lettuce wrap.
*A typical hot dog bun will usually have around 25g of net carbs. The above value of net carbs is after you've swapped your bun for a lettuce wrap.
5. Grilled Chicken Wraps
Although Cook Out only offers crispy fried chicken wraps, you can always ask the waiter if they can skip on the fried chicken for grilled chicken. This will reduce carbs and make it healthier.
You also need to swap out the tortilla for a lettuce wrap or eat the wrap without a tortilla.
6. BLT Sandwich
Who doesn't love a good BLT? The perfect combination of crispy bacon, fresh lettuce, and juicy ripe tomatoes. The only part you'll have to sacrifice is the bread. You can replace it with a lettuce exterior.
*Typical sandwich bread will usually have around 25g of net carbs. The above value of net carbs is after you've swapped your bread for a lettuce wrap.
7. Chicken Nuggets
Net Carbs: 7-12g
Total Fats: 11-18g
Proteins: 5-8g
Calories: 144-240 kcal
If you feel like having a snack that's expensive on carbs, you can order Cook Out's golden chicken nuggets. They're below the Keto threshold, but they'll take away half your carb allowance in 5pcs.
8. Chili
Net Carbs: 4g
Total Fats: 3g
Proteins: 4g
Calories: 164 kcal
Enjoy a bowl of Cook Out's famous chili. This hearty bowl will fill you up without spending your precious carb allowance.
9. Cheese Curds
Net Carbs: 7-14g
Total Fats: 10-19g
Proteins: 2-4g
Calories: 150-299 kcal
If you're in the mood for something light and don't want a full meal, you can always order a side serving of the fresh gooey fried cheese curds
10. Fresh Brewed Tea
Net Carbs: 0g
Total Fats: 0g
Proteins: 0g
Calories: 0g
Besides diet soda and water, the only beverage you can enjoy is Cook Out's freshly brewed tea. The best part is you can have as much as you desire as it contains no carbs at all.
RECOMMENDED: EVERYTHING Keto at The Keg
Conclusion
Cook Out is an amazing place to visit with your friends and family to enjoy their amazing fresh food. They have a wide array of options for every age group and dietary preference.
If you're smart with how you order and study the nutritional guide, you'll be able to craft the perfect appetizing meal for yourself.
If you're planning to visit Cook Out, it's better to pre-plan your meals and have a look at their nutritional guide beforehand.
This will make ordering significantly more convenient; you'll already know what you want, and it'll save you the hassle of going through all the nutritional info at the restaurant.
If you ever catch yourself at Cook Out, we hope this article will help you order the perfect keto-friendly meal!