The first Maggiano's Little Italy opened its doors to the public in 1991. Since its conception, it has expanded to 54 locations across 22 states.
Maggiano's is a casual dining restaurant serving up some of the tastiest Italian-American classics. Their expansive menu ranges from delicious pasta to amazing steaks and seafood.
Maggiano's is well renowned for its huge family-style servings for everyone to share on the table.
Their menu features plenty of keto-friendly options too, so if you're planning to visit Maggiano's don't worry you'll have a guaranteed pleasant experience without putting your ketosis at risk.
So what's Keto-friendly at Maggiano's Little Italy?
Maggiano's Little Italy has an expansive menu that consists of many keto-compliant options for you to choose from. First off you can order any of their fresh delicious salads, top it off with your favourite dressing.
Make sure to skip on the croutons if you're going to order their famous Caesar's Salad.
From their starters, you can order the Italian Meatballs just don't touch the garlic bread on the side. When it comes to the entrees you have a wide array of different options.
You can opt for their grilled seafood items or go for their juicy succulent steaks. Just remember to skip any starchy side!
This article is going to be a detailed breakdown of Maggio's menu so we can sort out the keto-friendly dishes for you to enjoy. Its vast menu ensures you won't go home disappointed; keto or not.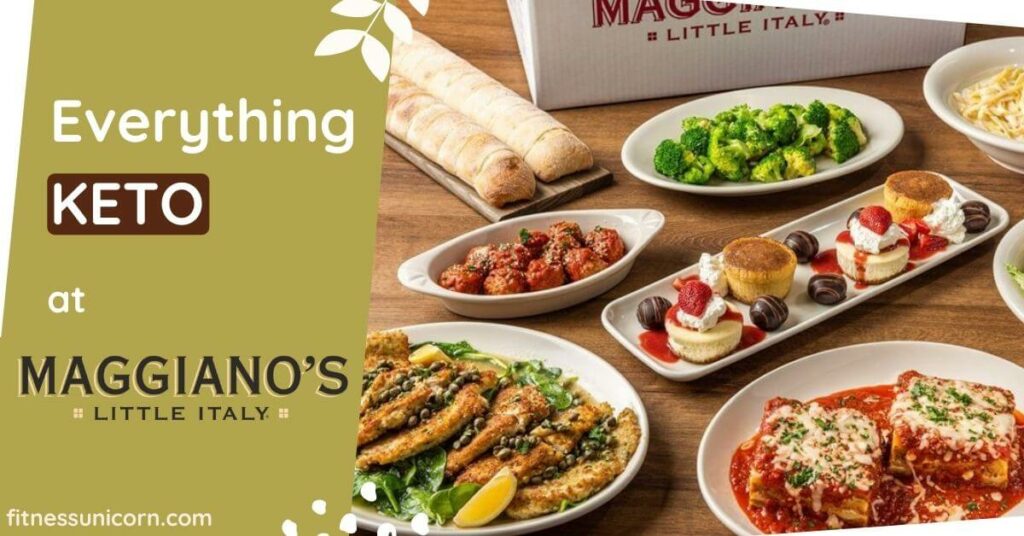 Tired of searching whether certain foods are keto? Download my keto cheat sheet with 210+ keto-friendly foods!
This post may contain affiliate links, which help keep this content free. (Full disclosure)
How to Survive Keto at Maggio's Little Italy
Adhering to the ketogenic diet can get a bit hectic when dining out. You have to tackle the judgement you receive from friends and family, you're always doubtful about any hidden ingredients that might throw you off your ketosis.
This makes it extremely uncomfortable to dine out on a diet with such strict parameters.
These apprehensions tend to escalate when visiting an Italian-American restaurant. The menus are usually packed with pasta and bread of all sorts; both of which will kill your ketogenic state in an instant.
Staying in a state of ketosis means that you've to stay below 20-25g of net carbs for any given day. This means you've to be extremely picky and meticulous while ordering in order to keep below the daily threshold.
Maggiano's has plenty of keto-friendly options that you'll need to extract from the menu. This requires a good understanding of what foods are safe and what foods to avoid.
To save you the hassle we've intricately gone through their expansive menu to decide what you can and cannot have while doing Keto.
For starters, you can have the Steamed Mussels which have almost no carbs at all. You can take down as many of these delicious mussels as your heart desires.
You can also opt for a healthy serving of fresh salad, just make sure it's free of croutons and sweet dressings!
For the mains, there is a wide variety of keto-friendly dishes that will satiate your taste buds.
From the seafood section, you can enjoy Maggio's specialty Alaskan Cod (have your Cod grilled without the parmesan crust) or the Salmon Lemon & Herb.
Other amazing and equally delicious keto-compliant items include a selection of juicy marbled cuts of steak that you can enjoy with a side of grilled or fresh greens. Just remember to cut out any starchy sides like mashed potatoes.
Sticking to these safe carb-free options will ensure the safety of your ketogenic diet and satiate all your cravings. Now let us list down some of the dishes on Maggiano's extensive menu that are an absolute NO-GO.
Having a full serving of any of these items will destroy the diet you've worked so hard for. Some of these forbidden items include;
All of their fried breaded items – Crispy Zucchini Fritte, Mozzarella Marinara, Stuffed Mushrooms, Calamari Fritte.
All of their bread items – Classic Tomato Bruschetta, Margherita Flatbread, Italian Sausage Flatbread, Garlic Bread.
All kinds of Pasta (these makeup majority of the menu).
All of their Pizzas.
All the dishes in the Chicken section (they are all dredged or coated with flour/breadcrumbs)
All kinds of Desserts.
All Beverages that are sweet and contain some form of sugar (stick to sugar-free drinks).
All these items are loaded with carbs and they will instantly spike your blood glucose to destroy the ketosis you've worked so hard on.
Before we go into an in-depth review of all the keto-friendly options at Maggiano's, we'll be going over some foolproof pro-tips for ordering keto-compliant meals every time you dine out.
Pro-Tips for Dining Out on Keto
Since Maggiano's Little Italy does not have a detailed nutritional guide for its menu, it is especially difficult to gauge what's keto and what's not.
Hence here are some pro-tips for orders that will ensure you enjoy a keto-friendly meal without having to consult a nutritional guide.
ALSO READ: Keto-Friendly Options at Flower Child
Pre-Planning
You should always plan your meals ahead of your visit to the restaurant. Detailed menus are available online, you can pick out keto-friendly options ahead of time.
This will make your dining experience more comfortable. You won't have to worry about what to order on the spot.
YOU MAY ALSO LIKE: EVERYTHING Keto at Bar Louie in 2022
Communication
Whenever you're at a restaurant it's important to establish good communication with the staff especially if you have special dietary concerns.
Let the waiter know what you need and whether the chef can swap out certain ingredients to make your meals keto-friendly.
For instance, meatballs have breadcrumbs in their mix which brings up the total number of carbs. The Chicken Marsala has flour-coated chicken.
These hidden carbs can easily be avoided if you communicate with the waiter and ask them to eliminate these ingredients.
Greens In – Carbs Out
A simple rule of thumb while ordering at restaurants is to swap your carb-rich sides with healthy greens.
Whether it's a side of mashed potatoes, rice, or pasta just ask the waiter to replace it with a side of grilled greens like asparagus or broccoli.
If swapping certain items is not possible, just eliminate the carb-heavy items.
Keep it Simple
Don't try to overcomplicate things when you're ordering. Stick to items and ingredients you're familiar with. Complex dishes with extensive ingredient lists run the risk of having hidden carbs that may ruin your diet.
Hence it is wise to keep it simple!
Condiments
If you're going to have certain sauces with your meal; make sure they are sugar-free. Many sauces and gravies are prepared with carb-rich thickeners.
Inquire about the ingredients in your preferred condiments for the safety of your ketosis.
Don't Drink
Beverages at restaurants will almost always contain sweeteners. It's better to avoid ordering any beverages, but if you must make sure to order sugar-free versions of the drink.
RELATED: EVERYTHING Keto at MAD Greens
Maggiano's Little Italy Keto Options
Maggiano's does not have an official nutritional breakdown of their menu available on their website. Hence, we've filtered out the items that are likely to be the most keto-friendly.
The following list of items is estimated to be under 20g of net carbs:
Starters
Italian Meatballs – Delicious hearty meatballs served with marinara sauce. Just make sure the meat mix doesn't include breadcrumbs.
Prince Edward Island Steamed Mussels – You'll be addicted to these keto-friendly mussels, leaving you longing for more!
Salads
Chopped Salad
Maggiano's Salad
Caesar Salad
Grilled Salmon Salad
Italian Tossed Salad
Maggiano's has an amazing variety of fresh salads that you can enjoy as a side or even an entree. You can even add on extra proteins like chicken, shrimp, and salmon. Just remember to skip on any sweet dressings and croutons.
Classics
Spaghetti and Meatballs – Skip the spaghetti and enjoy the meatballs with marinara as is!
Seafood
Shrimp Fra Diavolo* – Pan-Seared Shrimp, Garlic, Tomatoes, Diavolo Sauce with Linguine pasta.
Shrimp Scampi* – Garlic & Lemon Butter with Spaghetti.
Linguine Di Mare* – Lobster, Shrimp, Mussels, Clams, Spicy Tomato Sauce.
Alaskan Cod – Ask for grilled Cod instead of parmesan-crusted to make it keto-friendly.
Salmon Lemon & Herb – White Wine Butter Sauce with Spinach.
Shrimp Cacio E Pepe* – Smoked Bacon, Arugula, Lemon Parmesan Sauce with Spaghetti.
*Enjoy these beautiful seafood dishes by eliminating the pasta and swapping it with a side of salad or greens.
Steaks
16oz Bone-In Ribeye
Center-Cut Filet Mignon
Beef Tenderloin Medallions
Enjoy these protein-rich tender cuts of meat with your favourite sides. Nothing says Keto like a fat piece of grilled meat and herb butter cooked to perfection. Just make sure to swap the mashed potatoes with a side of greens or salad.
RECOMMENDED: EVERYTHING Keto at MAD Greens
Sides
Fresh Grilled Asparagus
Garlic Spinach
Roasted Garlic Broccoli
These scrumptious sides by Maggiano's are perfect to go alongside any dish. You can swap in these delicious sides and eliminate all the starchy sides like mashed potatoes and pasta.
Conclusion
Maggiano's Little Italy is an amazing cozy spot to rejoice with friends and family over hearty Italian-American meals. Their expansive menu ensures no one is left out and the family-style sharing meals establish a sense of comradery.
Maggiano's menu will ignite your carb cravings and entice you with its plethora of high-carb pasta dishes.
But, if you're smart and know your way around the menu you can easily order yourself keto-friendly meals that are just as satisfying and delicious as the high-carb options.
Just pre-plan your visit and decide what you want before you set foot into the place. Don't let yourself get distracted by the tantalizing menu and aromas.
We hope this article will help you stay true to your keto diet and successfully navigate Maggiano's Little Italy!