Pappadeaux is one such chain that I can never get tired of! Sure, they are a bit overpriced, but their quality and service more than make up for it (plus the huge portion sizes!).
If you've landed here, you are probably on a low-carb/keto diet and your seafood cravings are driving you nuts.
So what's keto-friendly at Pappadeaux Seafood Kitchen?
You can enjoy most of the grilled seafood options such as Shrimp, Tilapia, Salmon, and Rainbow Trout. Avoid any rice or spaghetti squash and opt for green veggies on the side. You can also have the Gumbo in moderation without the rice.
Pappadeaux has a wide range of options that can be very tempting on a keto diet (especially the fried seafood!). But the truth is that only a small section of the menu is keto-compliant.
I have done my research, and now I'll take you through all the keto items available at Pappadaux (So that you can order like a BOSS next time!).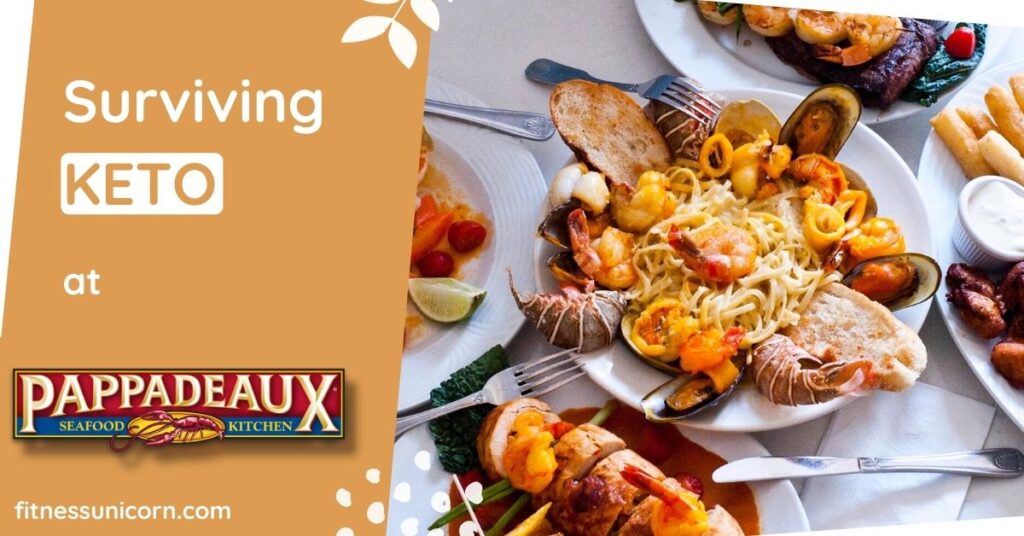 Tired of searching whether certain foods are keto? Download my keto cheat sheet with 210+ keto-friendly foods!
This post may contain affiliate links, which help keep this content free. (Full disclosure)
How to Survive Keto at Pappadeaux Seafood Kitchen
Pappadeaux is a brand of the Pappas Restaurants – a family owned and operated American chain present in over 90 locations in the US. I love the inviting atmosphere and open layouts of their restaurants (not to forget the scrumptious offerings!)
I happened to visit Pappadeaux Kitchen last week and fell in love with their fresh seafood and Louisiana-style delicacies.
But as soon as I sat down to order, I realised they don't have a nutritional calculator on their website. That's when I decided to write this guide for you guys!
You see, seafood is generally considered a low-carb cuisine. The caveat to this statement is that you do no ruin it with any rice, baked potatoes, or any creamy sauces.
And it's not just about the sides and how you serve it. It's also about how its prepared. For example, a 100g serving of grilled shrimp has almost zero carbs.
On the other hand, the same portion of a fried shrimp will cost you 20g of net carbs from your daily carb quota (thanks to all the breading).
So before we begin with our options, let's see what you should totally AVOID on keto at Pappadeaux Seafood Kitchen:
All cocktails, beer, & wine (the only acceptable option is the Bud Light with 7g net carbs per serve)
Lemonades & Beverages (ask for a sugar-free lemonade if possible)
Mozzarella cheese bites (coated with breading)
All kinds of fried/crispy options (they are all batter-dipped)
Honey Bacon
All kinds of bread and Grits
Rice and Spaghetti Squash (swap them with some mixed greens)
Mac & Cheese and French Fries
Also, avoid going for the platters or any other pre-set meals. Because once you order and the plate arrives, our willpower often goes for a toss.
Let your friends order separately and you stick to your clean, low-carb options such as grilled shrimp, salmon, chicken, etc.
Without any further ado, here are all the low-carb options you can enjoy at Pappadeaux Seafood Kitchen.
RECOMMENDED: Everything Keto at Yoshinoya
Pappadeaux Seafood Low-Carb Guide
Note: The dishes given below range anywhere between 5-15g of net carbs. Since Pappadeaux doesn't have an official nutrition guide on their website, it's hard to measure the exact values.
Hot Appetizers
Crab & Spinach Dip – Four cheese blend with spinach and fresh lump crab. Nix the Crostini that comes along.
Shrimp and Crawfish Fondeaux – Crawfish, shrimp, spinach, chives & mushrooms in a cream sauce topped with Monterey Jack cheese. Nix the garlic bread and limit your portion sizes because it has a lot of cream (made of milk.)
YOU MAY ALSO LIKE: Keto-Frienldy Options at TopGolf
Cold Appetizers and Salads
Traditional Shrimp Cocktail – It comes with cocktail sauce and horseradish sauce. You are good as long as you keep the sauces to a minimum.
Pappadeaux House Salad – Get rid of the croutons and the honey bacon, and you'll be left with mixed greens, baby tomatoes, red onion, and aged cheddar cheese.
Classic Caesar Salad – You can never go wrong with the classic! Nix the croutons though.
Pappas Greek Salad – Enjoy this one without any changes. It comes straight from the Mediterranean Diet which closely resembles keto.
Chopped Salad – Go easy on the creamy vinaigrette and for meat options, choose only the grilled salmon (others are batter-dipped)
Seafood Cobb Salad- It has Mixed greens with honey bacon, red onion, bleu cheese, egg, avocado, baby tomatoes with house vinaigrette. Go easy on the vinaigrette and add as much Shrimp as you want (zero carbs, you see!)
ALSO READ: Keto Buffet at Golden Corral
Soups
The soups are the biggest illusionist on the keto diet. You may wonder that all they contain is meat and veggies, then how can they be NOT keto-friendly?
The reason is simple, it's the thickeners. They are usually flour-made and inflate the carb count of your stews/soups.
When dining at Pappadeaux on keto, make sure you go with the smaller portion i.e. cup size. The gumbos they offer also have rice by default. So ask your server to get rid of it.
Louisiana Shrimp Gumbo – Spicy soup with shrimp, celery, onion, bell pepper, okra, tomato. Ask for No Rice
Louisiana Crab Gumbo – Spicy soup with crab, celery, onion, bell pepper, okra, tomato, spices. Nix the rice.
Louisiana Seafood Gumbo – Spicy soup with shrimp, crab, celery, onion, bell pepper, okra, tomato, and spices. Again, nix the rice.
Louisiana Andouille Sausage & Seafood Gumbo – Spicy soup with shrimp, crab, andouille sausage, celery, onion, bell pepper, okra, tomato. Only pick the "cup" size and ask them for no rice.
Specialities and Chef Selections
Jumbo Shrimp Brochette – Char-grilled bacon-wrapped shrimp filled with Monterey Jack cheese & a sliver of jalapeño. Nix the rice and you are golden.
Blackened Catfish – No rice or beans
Crawfish Etouffee – Ask for No Rice and keep the portions in check. The stew has plenty of thickeners which are high-carb.
Shrimp Etouffee – Same as the one above.
Grilled Tilapia and Lump Crab – Seared shrimp, lemon butter, green beans with toasted almonds
Naked Tilapia – Nix the dirty rice and opt for beans/broccoli on the side.
Naked Mahi – You can have a side of toasted almonds, beans, or broccoli but no rice
Rainbow Trout & Shrimp – It is pan-grilled and comes with seared shrimp, sautéed spinach, lemon butter. No customizations required!
Naked Grouper – Ditch the spaghetti squash that comes along.
Mississippi Catfish Opelousas – Blackened catfish, oysters, shrimp & jumbo lump crab in a lemon garlic butter sauce. Ask for No Rice
Naked Atlantic Salmon – For sides, stick to broccoli, beans, or some other greens.
Naked Snapper – No rice or squash
Naked Texas Redfish – Say no to dirty rice!
Steak, Crab, Chicken & Lobster
Filet Mignon – It's a 10 oz. filet, served with baked potato & broccolini. Nix the potatoes and you are good
Aged Beef Ribeye – Enjoy this 16 oz steak with a side serving of salad or broccoli (no potatoes)
Grilled Caribbean Lobster Tail – Again, ditch the potato and double down on broccoli or greens
Grilled Half Chicken – Marinated in garlic and rosemary, it makes for an excellent keto meal when paired with some broccoli.
Conclusion
Pappadeaux Seafood Kitchen is extremely keto-friendly if you follow the strategies discussed in this article. Not many restaurants offer such a wide variety of low-carb meals.
We could not obtain the exact nutritional data from Pappadeaux. All of the above options range from 5-15g of net carbs. So make sure you balance out your carbs throughout the day and respect your daily limit.
Happy Ketoing 🙂