Beef 'O' Brady's is an immensely popular sports bar and grill that originated in Florida. It was founded in 1985 by Jim Mellody, who had dreamt of executing a family-friendly place so that his customers could experience the joy of good food, great ambiance, and a tad bit of sports.
37 years and 250+ locations later, Beef 'O' Brady's has become an American staple, a go-to place to hang out and watch the latest football game.
Their expansive menu has everything imaginable, ranging from a variety of mouth-watering starters to a plethora of fresh salads, burgers, wraps, entrees, and much more!
It doesn't matter if you have dietary restrictions because Beef 'O' Brady's has everyone covered.
When it comes to Keto, Beef 'O' Brady's has plenty of unique options that you can opt for to satiate your appetite and have a good time with friends and family.
So what's Keto-friendly at Beef 'O' Brady's?
Beef 'O' Brady's award-winning traditional wings come in at zero grams of net carbs, making them the most keto-compliant option on their enticing menu.
You can enjoy as many wings as you please without carrying the guilt of cheating on your diet. The wings come with a selection of Beef 'O' Brady's signature sauces that will further elevate your experience.
There is nothing like chowing down on some fresh wings while enjoying your favorite ball game – that too without having to put your hard-earned ketosis at risk!
Other keto-friendly attractions at Beef 'O' Brady's include boneless wings, fresh salads, a selection of grilled meats, and their amazing steaks.
That's not all; you can customize various dishes on their extensive menu to have them fit the keto bill. For instance, you can enjoy their scrumptious burgers and sandwiches by replacing the bread with lettuce wraps.
This is a convenient way of eliminating those notorious carbs while still enjoying a wholesome meal.
This article will showcase an in-depth scrutinization of Beef 'O' Brady's menu to filter out the various keto-compliant options they have in store.
If you're planning to visit Beef 'O' Brady's, this article will save you the hassle of trying to figure out what's keto on the menu.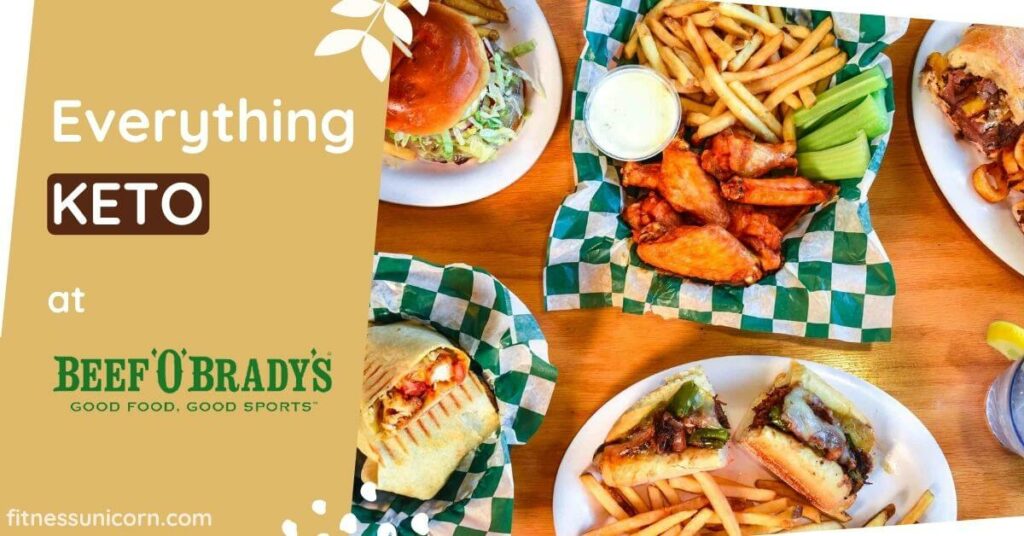 Tired of searching whether certain foods are keto? Download my keto cheat sheet with 210+ keto-friendly foods!
This post may contain affiliate links, which help keep this content free. (Full disclosure)
How to Survive Keto at Beef 'O' Brady's
Beef 'O' Brady's is a great place to unwind and relax with your friends. Watching a ball game with great company, good food, and a fantastic atmosphere makes the perfect stress reliever. For the people who don't agree, I beg to differ!
The best part is that Beef 'O' Brady's offers all this and more without compromising your dietary needs.
Maintaining a state of ketosis means you're only allowed to consume 20-25g of net carbs a day. This leaves you with limited options which you can choose from.
The good thing is Beef 'O' Brady's amazing menu can be played around with so that you can conjure a tailored selection of keto-friendly items.
They provide a complete nutritional guide for their menu that will help you choose wisely in order to maintain your hard-earned ketosis.
It is wise to pre-plan your visit to the amazing restaurant and go through their nutritional guide before you visit. This will give a better understanding of what they have to offer and the ingredients that are going into your meals.
Eating out on the ketogenic diet can be a stressful experience because even a slight mistake can ruin your diet.
Once you're at the restaurant, communicate with your waiter and make your dietary requirements known. Most eateries accommodate specific requirements and will make adjustments to their dishes accordingly.
Always inquire about any hidden ingredients that might be carb-rich and ruin your diet. Finally, stick to simple protein and fat-rich dishes that you know will cause no harm to your keto journey.
Before we carry out a detailed analysis of all the keto-friendly options on offer, we'll list some of the items that need to be avoided at all costs.
The following menu items at Beef 'O' Brady's are loaded with carbs and are bound to destroy your diet;
Starters – Onion Rings, Boom Boom Shrimp, Fried Mozzarella, Nachos, French Fries, Tortilla Chips, Pickle Chips, and Quesadillas.
Wing Sauces – Sweet Red Chilli, Sweet Jalapeno, Teriyaki, Honey BBQ, and Kentucky Bourbon.
Salad Dressings – Thousand Island, Honey Mustard, Balsamic Vinaigrette, Raspberry Vinaigrette, White Balsamic, and Fat-free Ranch.
Sandwiches & Wraps – Buffalo Chicken Wrap and Buffalo Chicken Sandwich.
Entrees – Fried Shrimp and Breaded Chicken Tenders.
Sides – Coleslaw, Seasoned Rice, Fries, and Mashed Potatoes.
All of the desserts.
It is paramount to avoid these items to ensure a keto-friendly dining experience. Now let us carry out an in-depth nutritional analysis of the various keto options Beef 'O' Brady's has to offer.
Beef 'O' Brady's Keto-friendly Options
Beef 'O' Brady's doesn't have a specific Keto menu, but after carefully going through their nutritional guide, we have filtered out the various keto-friendly items they have.
We will also be discussing all the possible customizations you can make to fit your keto requirements.
RECOMEDED: Bonefish Grill KETO Options
#1 Award-Winning Wings
Beef 'O' Brady's has the most amazing wings you can put your hands on. You can have them bone-in or boneless and enjoy them with your favorite low-carb sauces.
Our advice is to go for the traditional bone-in wings as they contain no carbs whatsoever.
*The nutritional information below is for 6pc plain wings.
Traditional Bone-In Wings
Net Carbs: 0g
Total Fats: 39g
Proteins: 45g
Calories: 520 kcal
Boneless Wings
Net Carbs: 4g
Total Fats: 12g
Proteins: 25g
Calories: 320 kcal
ALSO READ: Is Propel Keto Friendly?
#2 Wing Sauces
Beef 'O' Bradys offers various sauces to elevate your wing-eating experience. The keto-friendly sauces include;
Mild/Medium/Hot Sauce – 1g
Atomic Sauce – 0g
Spicy Garlic Sauce – 0g
Signature Buffalo Sauce – 1g
Boom Boom Sauce – 1g
Garlic Parmesan – 1g
Nashville Hot Dry Rub – 1g
Lemon Pepper Dry Rub – 1g
Blackening Dry Rub – 1g
*The value of net carbs is per 2 wings; 1g per 2 wings = 3g per 6 wings.
#3 Fresh Salads
Beef 'O' Brady's is serving up handsome portions of their fresh, homemade salads. These salads are great if you don't feel like having a full meal. They will satiate your appetite without compromising on the flavors.
Just remember to eliminate any carb-heavy croutons or tortilla strips from your salad to ensure it remains keto-compliant. You can also double up on the grilled meats at an additional cost.
Chicken Caesar Salad
Big Catch Salad
Garden Salad
Chef Salad
Grilled Chicken Salad
*All salads come out to be 10-19g of net carbs after customizations.
FIND MORE: Bullet Journal for Weight Loss
#4 Salad Dressings
No salad is complete without a rich, creamy salad dressing that will tantalize your tastebuds. Beef 'O' Brady's has plenty of keto-friendly salad dressings, which include;
Ranch Dressing – 3g
Bleu Cheese Dressing – 6g
Caesar Dressing – 2g
Creamy Poblano Dressing – 3g
*The nutritional values are for 3 fl oz of salad dressing.
YOU MAY ALSO LIKE: Keto-Frienldy Options at TopGolf
#5 The Lighter Side
You'll need to customize these dishes in order to make them keto-friendly (<20g).
Grilled Shrimp
Ask the waiter to replace the seasoned rice with some extra steamed broccoli and skip on the cocktail sauce. You can add on extra grilled shrimp as well to satiate your appetite.
Grilled Chicken
Replace the seasoned rice with extra grilled chicken or steamed broccoli to make the meal keto-friendly. Skip on the sweet BBQ sauce because it is high in sugars and will ruin your diet.
Chicken Fajitas
Ditch the soft flour tortillas to make your fajitas keto-friendly. Just enjoy them with a knife and fork. Trust me, they'll be just as good.
#6 Sandwiches & Wraps
In order to enjoy Beef 'O' Brady's scrumptious sandwiches and wraps, you'll have to swap the bread or tortilla with lettuce wraps. The majority of the carbs in a sandwich come from its bread; hence it is paramount to eliminate it.
You'll also have to skip on the side of fries.
Prime Rib Sandwich (Skip the Au Jus)
Prime Rib Garlic Melt
Philly Cheese Steak
Original Reuben
Grilled Chicken Wrap
Club Wrap
*All sandwiches & wraps are 5-15g net carbs after elimination of bread and fries.
#7 Angus Burgers
Beef 'O' Brady's is serving up some of the juiciest burgers in town. Made with fresh ground Angus and grilled to perfection, these burgers are a must-try.
Just have the waiter replace the buns with lettuce wraps and skip on the fries to maintain ketosis.
The 'O' Brady Burger
Five Cheese Burger (skip the fries mozzarella)
OMG Burger
Amarillo Fire Cracker Burger
*All burgers are 5-15g net carbs after elimination of buns and fries.
#8 Entrees
Beef 'O' Brady's has a variety of delectable entrees that you can choose from. Some are ready to order, while some will need modifying to be keto-friendly.
Grilled Shrimp
Net Carbs: 5-10g
Swap the seasoned rice with additional grilled shrimp or steamed broccoli and skip on the cocktail sauce.
Surf & Turf
Net Carbs: 9g
Get the Surf & Turf with grilled shrimp and a side of caesar salad to make it the perfect keto-friendly meal.
Big Catch
Net Carbs: 3-14g
Get the Big Catch grilled or blackened, and swap the seasoned rice with extra steamed broccoli.
Grilled Salmon
Net Carbs: 3-18g
If you enjoy the grilled salmon on its own it'll only be 3g. Add on a side of caesar salad to complete your meal, and it'll come up to 17g.
Grilled Chicken
Net Carbs: 5-10g
Swap the seasoned rice with extra broccoli, and skip the honey mustard. Ask for a keto-friendly dressing if you can.
Cheesy Bacon Chicken
Net Carbs: 5-10g
Swap the seasoned rice with extra broccoli, and ask for a keto-friendly dressing instead of honey mustard.
Sirloin Steak
Net Carbs: 2-17g
Have the juicy sirloin steak on its own, and it'll cost you 2g of net carbs.
#9 Tacos
Beef 'O' Brady's offers a delicious variety of fresh tacos that are served with a side of chips and salsa. To make these amazing tacos keto-friendly, you'll have to ask the waiter to swap the tortilla with lettuce and skip on the chips.
Net Carbs: 10-15g (2 tacos)
Steak Tacos
Shrimp Tacos
Grilled Chicken Tacos
Fish Tacos
#10 Sides
Beef 'O' Brady's has delicious low-carb sides that you can opt for with your entrees to complete your meal.
Zucchini Spears – 7g
Broccoli – 5g
Queso Dip – 6g
Guacamole – 6g
Conclusion
Beef 'O' Brady's is an amazing place if you're looking to relax and enjoy some quality time with your friends and family. With great food, you can enjoy your favorite televised sports too.
This makes for a complete experience that you'll come back for over and over.
The best part is that you can enjoy all your favorite foods at Beef 'O' Brady's without putting your keto diet at risk. There are plenty of Keto options for you to explore.
So next time you're at Brady's, don't worry about your ketosis; just consult our article, and you're good to go!