Roosters Wings is a hip family-owned restaurant founded in 1988 by Bob and Corrine. Their love for food and people makes their restaurant a trendy hangout spot for people of all ages and backgrounds.
Roosters is serving some great American classics, including scrumptious chicken wings, char-grilled burgers, meaty sandwiches, cheesy pizza, and a selection of decadent desserts.
If you're on a ketogenic diet and plan on visiting Roosters, you can easily order a keto-friendly meal. Their expansive menu offers a few keto options, and if you're smart, you can customize orders to fit the keto bill.
So what's Keto-friendly at Roosters Wings?
Roosters has the perfect meal for keto-lovers in the form of their grilled chicken fingers. These juicy pieces of perfectly grilled chicken breasts can be enjoyed as is or with your favorite sauce.
You can order the grilled fingers with a side of fresh salad if you like, or you can go full-blown carnivore mode to devour them as is. This meal will cost you ZERO grams of net carbs. This makes it a keto-lovers dream.
Other keto-attractions at Roosters include their delicious bone-in wings, freshly made salads, and their hearty chicken noodle soup.
Their variety-packed menu offers plenty of room for you to customize your orders and make them more keto-compliant. For instance, you can opt for lettuce wraps instead of bread for your burgers and sandwiches to make them keto-friendly.
Roosters is an excellent place if you're looking to have a memorable time with your friends while enjoying fast food. Their extensive menu caters to all sorts of palates and dietary needs.
They don't have a specific keto-friendly menu, but you can easily eliminate ingredients to make your meal keto-compliant. They have a complete nutritional guide available on their website that will make your life a lot easier.
This article is an in-depth scrutinization of Roosters Wings' menu. We'll be extracting every possible low-carb option they have to offer on their delectable menu.
So next time you're at Roosters, instead of going through the hassle of ordering Keto, you can just refer to this article and breathe a sigh of relief!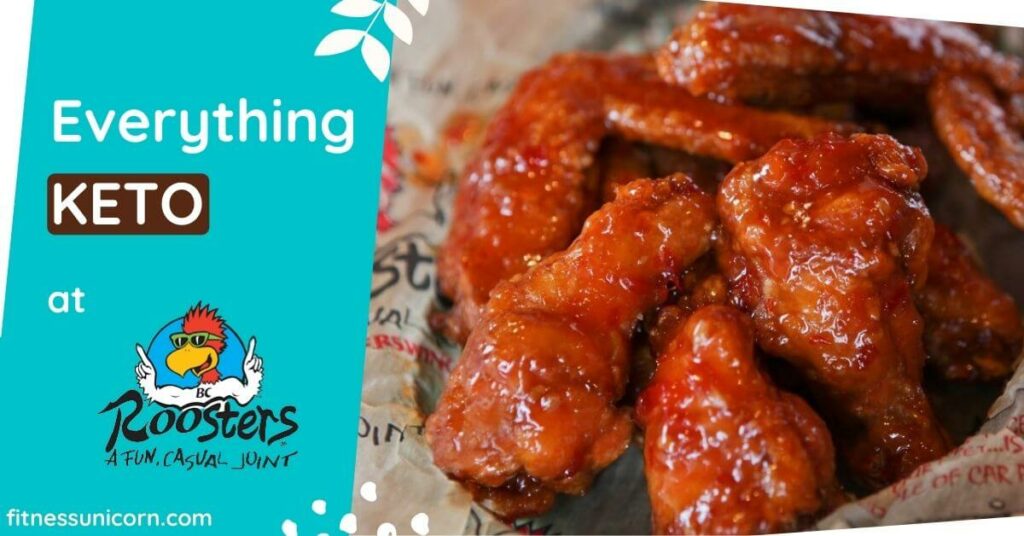 Tired of searching whether certain foods are keto? Download my keto cheat sheet with 210+ keto-friendly foods!
This post may contain affiliate links, which help keep this content free. (Full disclosure)
How to Survive Keto at Roosters Wings
Since its conception in 1988, Roosters has expanded to over 40 locations across 4 states. It offers hearty, soulful food that is prepared fresh to order and is hence impossible for anyone to resist.
They offer a casual and friendly dining experience, perfect for you to visit with friends and family.
Even though Roosters has an extensive menu with wide-ranging menu items; it is still
particularly tricky to order low-carb options if you don't know what you're up to. Maintaining a state of ketosis means you have to stay under 20-25g of net carbs on any given day.
In order to remain below this quota, it is vital to have a good understanding of certain food groups and cooking methods.
The good news is that Roosters has a comprehensive nutritional guide that will help you choose items below the daily carb limit (25g).
Moreover, you can ask the waiter about specific ingredients to avoid any hidden carbs that might throw you off your diet.
Low-carb options that will surely satiate your appetite at Roosters include its traditional bone-in wings (ask for naked wings), a selection of fresh salads, delicious creamy dressings, a variety of hot and cold teas, and their zero-carb grilled chicken fingers.
Other than their preset menu items, you can customize some items to accommodate your dietary preferences.
A few pro-tips while customizing your order to make it keto-friendly are;
Order naked wings instead of breaded versions.
Order bone-in wings – the boneless versions are always breaded.
Order grilled options instead of fried options.
Replace bread with lettuce wraps when ordering burgers and sandwiches.
Opt for fresh veggies instead of starchy sides.
Choose rich, savory sauces instead of sugary sauces (BBQ sauce & ketchup).
Ditch the croutons while ordering a salad.
Load up on protein toppings and eliminate as many carbs as you can.
These tips will help you order keto-friendly meals without fail every time, regardless of the restaurant you're visiting.
Before conducting an in-depth nutritional analysis of the various keto-compliant options at Roosters – we'll be looking at some of the various menu items that need to be avoided at all costs.
RELATED: Buca Di Beppo KETO Friendly Options
The following items are loaded with carbs and will knock you out of your hard-earned ketosis instantly;
All breaded deep-fried items – Corn Dogs, Fried Pickles, Buffalo Cauliflower, Fried Shrimp, Mozarella Sticks, Fried Mushrooms, Onion Feathers, Boneless Wings, Mac n Cheese Bites, and Fried Fingers.
All pasta, bread, and starches – Potato Skins, Nachos, Pretzels, Garlic Bread, Fries, Tater Tots, Macaroni and Cheese, and all Bread.
All kinds of Pizza.
Sweet sauces – Honey Mustard, BBQ, Honey BBQ, Sweet Thai Chilli, Korean BBQ, and Carolina Gold.
All sweet beverages.
All kinds of desserts.
Avoiding these notorious non-keto items is an absolute necessity if you want to maintain your diet. So make sure to stay clear of them while placing your order.
RELATED: Bullet Journal for Weight Loss
Roosters Wings Keto-friendly Options
The following nutritional information has been taken from Rooster's Wing's official website.
#1 Grilled Fingers
Net Carbs: 0g
Total Fats: 9g
Proteins: 74g
Calories: 400 kcal
These delicious grilled chicken fingers are perfect if you're on the keto diet. You can pair these with a side of salad and your favorite low-carb sauce to make an appetizing meal.
The best part is you can have as many as you desire because they won't make a dent in your carb allowance.
A full serving comes with 4 chicken fingers.
YOU MAY ALSO LIKE: EVERYTHING Keto at Bar Louie in 2022
#2 Traditional Bone-in Wings
Net Carbs: 10g
Total Fats: 18g
Proteins: 50g
Calories: 400 kcal
These scrumptious wings are what put Roosters on the map. Enjoy these crisp juicy wings with a selection of their low-carb sauces to make the perfect snack. Pair these with fresh celery and ranch (3g net carbs) to enhance your experience.
FIND MORE: The SECRET Behind Sean Murray's Weight Loss
#3 Homemade Salads
Roosters has an amazing variety of homemade salads. These fresh greens topped with your choice of proteins and dressings are a great alternative if you're looking for a light meal.
Just remember to skip the carb-heavy croutons (13g) which are detrimental to your diet.
The various salads they have to offer include;
Garden Salad – 6g
The Wedge – 6g
Chicken Caesar Salad – 8g
Grilled Chicken Salad – 10g
Red, Bacon & Blue 'The RBB' – 11g
Red Rooster Salad – 10g
*These values are for a full serving of salad without dressing.
#4 Rooster Noodle Soup
Net Carbs: 12g
Total Fats: 8g
Proteins: 5g
Calories: 140 kcal
Roosters noodle soup is the perfect pick-me-up for the gloomy winters. This soulful dish will warm you right up and make you feel happy on the inside. But, you can only have the small serving in a cup in order to maintain ketosis.
#5 Roosters Homemade Chilli
Net Carbs: 19g
Total Fats: 2.5g
Proteins: 10g
Calories: 140 kcal
Roosters Homemade Chilli is another hearty meal they offer. It's a little high on carbs so you'll have to forgo any other carbs you had planned to consume.
ALSO READ: From Soups To Beverages at Old Spaghetti Factory
#6 Grilled Burgers & Sandwiches & Oven Baked Subs
Roosters offers a tantalizing variety of different grilled sandwiches and burgers that will blow your tastebuds away. In order to make these keto-compliant you'll have to follow these basic tips;
Replace the bread with lettuce wraps.
Avoid the fried options like the fried chicken sandwich and fish burger.
Ask the waiter to eliminate any sweet sauces like BBQ sauce, honey mustard etcetera.
Load up on the grilled proteins & deli meat.
Load up on the different cheeses on offer.
Some of the popular burgers and sandwiches include;
Big Bob's Burger
Quarter-Pound Burger
Turkey Burger
Grilled Chicken Sandwich
Cajun Chicken Sandwich
BLT sandwich
Italian Sub
Ham & Cheese Sub
Chicken Bacon Ranch Sub
#7 Salad Dressings
Roosters has various delectable dressings that you can top your salad with to enhance your gastronomic experience. Some of the low-carb dressings include;
Ranch – 2g
Bleu Cheese – 1g
Garlic Italian – 1g
Caesar – 2g
Spicy Ranch – 2g
Balsamic Vinaigrette – 4g
*These values are for 2oz servings of salad dressing.
#8 Wing Sauces
Roosters is most famous for its amazing chicken wings. Paired with their delicious low-carb sauces; these wings become almost addictive. Some of their popular keto-friendly sauces include;
Garlic – 2g
Donkey – 4g
Hot – 2g
Medium – 2g
Mild – 2g
Nu-Killer – 6g
*These values are for 2oz servings of sauce.
#9 Hot & Cold Tea
The only beverage you can enjoy without putting your keto at risk is the hot or cold tea at Roosters.
Conclusion
Roosters Wings is a great place to catch up with friends and have a good old time. The casual dining experience lets you relax and rejoice over amazing food and ambiance.
Their expansive menu makes sure no one feels left out. There is something to fit every individual's dietary preference.
There aren't many purely keto options, but through a little customization, you can enjoy delectable keto meals that'll have you coming back to Roosters repeatedly.
The friendly staff is more than accommodating and will make sure you have a pleasant experience. Just make sure to consult their nutritional guide and be mindful of various ingredients that might ruin your diet.
Next time you catch yourself at Rooster's Wing's, be sure to consult our article for the perfect Keto experience.