No doubt Italian foods are rich in taste, but they're also loaded with a ton of carbs – the biggest keto enemy! If you are really craving Authentic Italian cuisine, Buca Di Beppo is here for your rescue. But what's really keto-friendly there?
Does Buca di Beppo has any low-carb options?
Most of the dishes at this restaurant are based on pasta and bread that you should simply avoid. However, they do have some meat-based dishes that are keto-friendly, such as the Salmon Sorrento and Chicken Limone. In addition to them, there are also a lot of salad options available that will keep you safe from the carbs.
Always eating at home can become boring. Isn't it? But now you can relish some delicious Italian fare and still stay in ketosis!
In this article, we bring you some of the best low-carb dishes at Buca Di Beppo restaurant, and how to order them.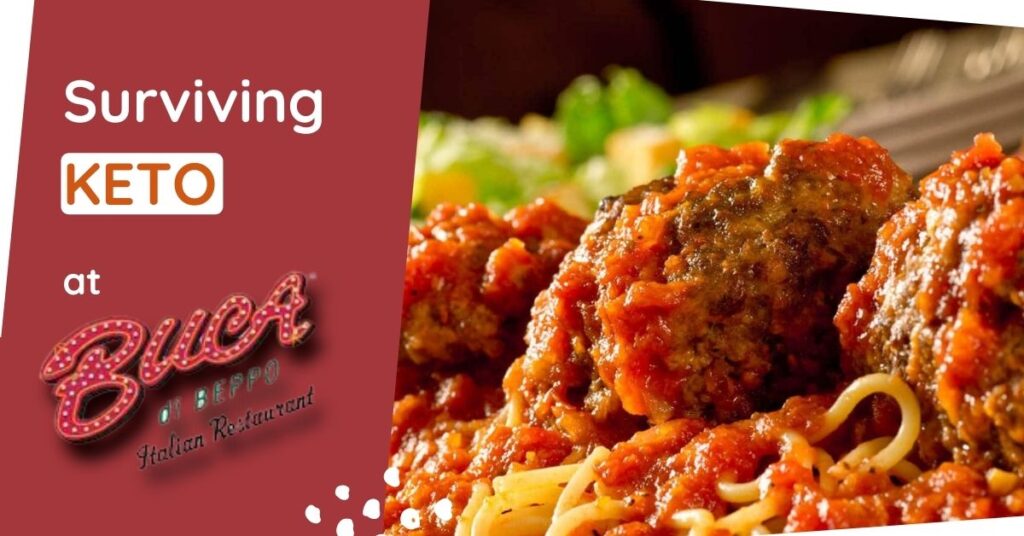 Tired of searching whether certain foods are keto? Download my keto cheat sheet with 210+ keto-friendly foods!
This post may contain affiliate links, which help keep this content free. (Full disclosure)
How to Survive KETO at Buca Di Beppo?
Buca Di Beppo is an Italian word, which means "Joe's small place." It is basically an American restaurant that specializes in American-Italian food. It is a well-known restaurant, and you will find a lot of its branches throughout the USA.
Whether you're going for lunch or dinner at Buca Di Beppo, their vast menu caters to every need. However, if you want to keep things low-carb, stay away from pasta, bread, or desserts. But the good news is that there are also green salad dishes and entrees available that could be a perfect match for you.
Moreover, if you want to make your lunch more interesting, try spaghetti with meatball or meatball sandwich smash. Indeed both of these dishes will be high in carbs, but you can reduce the number of carbs from these dishes. Do you know how?
Simply separate the spaghetti from the first dish and bread from the second dish. Enjoy the tasty meatballs with the sauce!
So, that was about lunch. But if you're visiting this restaurant for the dinner, then you should be more careful while ordering the food because the hunger pangs only get stronger by the end of the day (and we are more likely to cheat!). What's more, even the menu gets wider and denser in carbs!
The dinner menu of the Buca Di Beppo restaurant has many dessert options, appetizers, pizzas, and pasta. The dessert options will make your mouth watered, but they include tons of calories and carbs. What's more, most of the Italian sauces have a lot of sugary carbs that aren't so keto-friendly (e.g. Marinara sauce).
By keeping in view your diet goals and carbs count, you can order Salmon Sorrento and Chicken Brussels Sprouts & Prosciuttoocca for the dinner. These dishes don't include any high carbs items. Moreover, you can add an additional food item to your order, such as green beans and Brussels sprouts, and prosciutto, to make it more interesting and carbs-free.
Well, these were just the brief details about the keto-friendly dishes at Buca Di Beppo restaurant.
In the coming section, we will share many more low-carb dishes with you that are available at this restaurant. So, let's make your dining out interesting together!
Related: Firehouse Subs Keto Menu
Buca Di Beppo Keto-Friendly Options:
Without any further ado, let's jump directly to the keto menu available at Buca di Beppo:
#1. World Famous Meatballs
• Carbs: 12g
• Fiber: 3g
• Net Carbs: 9g
• Total Fats: 16g
• Protein: 28g
• Calories: 300Kcal
We exactly don't know whether these meatballs are world-famous or not, but no doubt they are superb in taste. While checking out the menu of this restaurant, the world-famous meatballs caught our attention, so we explored more about this dish. The dish includes half-pound spicy meatballs topped with creamy ricotta and marinara sauce.
The marinara sauce is homemade that includes fresh tomatoes, herbs, and some green chilies. The creamy ricotta is high in fats and protein because it is made from whole milk.
Marinara isn't really a keto-friendly sauce, but the meatballs have just the perfect quantity to keep carbs in check!
#2. Chopped Antipasto:
• Carbs: 10g
• Fiber: 3g
• Net Carbs: 7g
• Total Fats: 34g
• Protein: 12g
• Calories: 380Kcal
Chopped antipasto lies in the category of salads. All food items included in this salad are high in vitamins, minerals, protein, and healthy fats. Indeed, it is one of the best keto-friendly options at the Buca Di Beppo restaurant.
This salad is made by adding pepperoni, black as well as green olives, salami, some red onions, Roma tomatoes, and fresh cucumbers. Other than these elements, there are three different types of Italian cheese-Feta, gorgonzola, and provolone, are added to the salad. All this stuff is mixed together in their signature Italian vinaigrette before serving.
#3. Fried Calamari:
• Carbs: 8g
• Fiber: 1g
• Net Carbs: 7g
• Total Fats: 7g
• Protein: 5g
• Calories: 120Kcal
This is one of the best appetizers for those on keto. It is a low-carb seafood dish that you can enjoy in lunch as well as in dinner. It is a fried squid topped with lemon juice, pepper, and some healthy herbs. The fish is rich in flavor and low in carb that makes it the best keto-friendly option at the Buca Di Beppo restaurant.
#4. Caesar salad:
• Carbs: 9g
• Fiber: 2g
• Net Carbs: 7g
• Total Fats: 11g
• Protein: 4g
• Calories: 140Kcal
If you're a salad lover, then you're surely going to fall in love with the Caesar salad. This salad recipe includes Romaine lettuce, roasted parmesan, and garlic croutons.
The Romaine lettuce is decorated in the salad in a special Caesar dressing and some healthy spices are added to it. This salad is very low in carbs. Even it will also help you to control your hunger and support in the lower belly fat burning.
Tip: Ditch the croutons to save up on carbs!
Recommended: Marco's Pizza Low-Carb Menu
Other Low-Carb Options at Buca Di Beppo:
We have already listed the best menu dishes. But here are some additional items worthy of a mention (against their net carbs):
Mussels Bianca: 5g
Mussels Marinara: 7g
Mozzarella Caprese: 2g
Mixed Green Salad: 6g
Spicy Italian Sausage Soup Cup: 6g
Brussels Sprouts & Prosciutto: 6g
Sausage & Peppers: 7g
Italian Sausage: 3g
RECOMMENDED: Keto-Friendly Options at Beef 'O' Brady's
Keto Ordering Tips for Buca Di Beppo:
Choosing the right food at Buca Di Beppo might be overwhelming for you because most of the dishes include pasta and bread. Here we are going to share some of the best tips to order keto food at this restaurant.
1. Say no to the pasta and pizza categories
Pasta and pizzas are high in carbs. If you are going for them, you're simply ruining your fitness goals. Always ignore pasta and pizzas at the Buca Di Beppo restaurant.
2. Explore the side dishes
We have noticed that some of the side meals of this restaurant include great options for the keto followers, such as green beans, meatballs, and Italian broccoli Romano. You can add these side meals to come over your hunger.
FIND MORE: Everything Keto at Rooster's Wing's
3. Ask for sauce on the side
You can make many dishes of this restaurant keto-friendly by eliminating sauce from them. The sauce could be a major source of carbs, so always ask to serve it separately. If you are really craving some, sneak in a few spoonfuls (But don't get greedy!) Like this, you will enjoy the meal without consuming extra carbs.
4. Are the pizzas and pasta keto-friendly?
Keto-friendly foods are low in carbs and high in and fats (and medium proteins). In most restaurants, pizzas are made from ordinary dough that is high in carbs. So, if you're consuming pizza with carbs-filled dough, it will kick you out of ketosis. Not only pizza will add more carbs to your body, but it will also increase your blood sugar level.
Just like pizza, pasta is also high in carbs. There are some high-protein kinds of pasta available in the market. But in the majority of the restaurants, traditional pasta is used, which contains a lot of carbs. So, if you're following a keto diet, keep yourself away from both these food items.
RELEVANT ARTICLE: Keto at Mazzio's Pizza for Low-Carb Diet
Conclusion:
It is really difficult to find keto-friendly food at Italian restaurants. But, if you are visiting Buca Di Beppo restaurant, you will find several low-carb dishes that taste just as good!
It has different salad dishes that are rich in healthy fats and proteins. Moreover, the restaurant also has some chicken and seafood dishes that are very low in carbs. Not to forget the World-Famous meatballs, which always get me drooling in no time!
Just avoid bread, pasta, and pizza, and you are golden! Overall Buca Di Beppo is a good option to savor a low-carb meal with your friends and family.
Next: Fazoli's Low-Carb Guide