BareBurger is known for its comfort food & delish burgers. They are famous for catering to all their customers' needs, be it vegetarian or gluten-free or the hardcore carnivores! But, did you know, you can have some amazing keto food here at Bareburger and that too without sacrificing your taste?
So what's exactly keto-friendly at Bareburger?
You can have any burger wrapped in a lettuce leaf or collard greens, which takes away the majority of the carbs. In fact, you can build your own burger with your desired toppings, dressings, and meat options. They've also got low-carb side dishes like Avocado & Dill Pickles.
They have many dishes here that are high in protein and fat content. Therefore, it's the perfect place for your keto outing. Without further ado, let's dive straight in and explore EVERYTHING keto at Bareburger.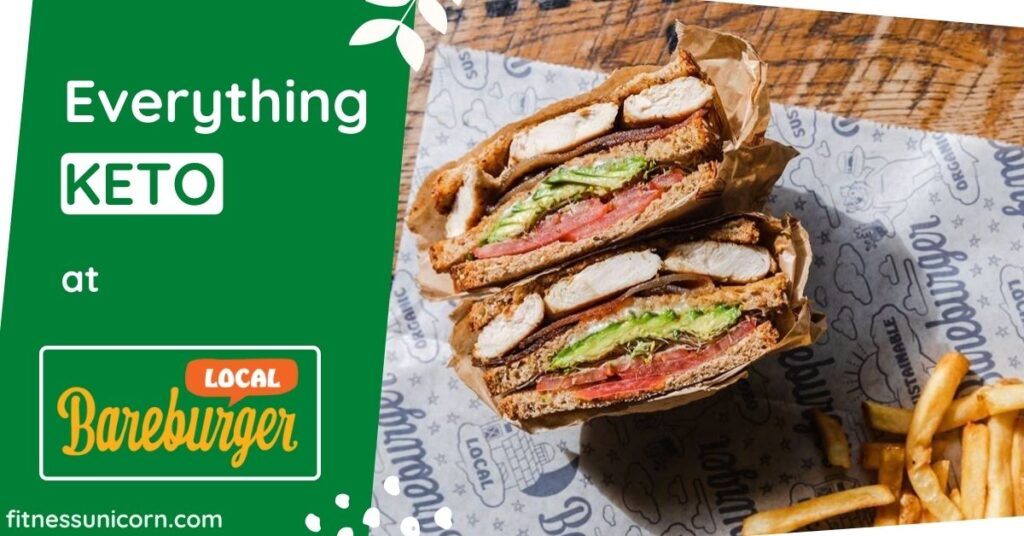 Tired of searching whether certain foods are keto? Download my keto cheat sheet with 210+ keto-friendly foods!
This post may contain affiliate links, which help keep this content free. (Full disclosure)
How to Order Keto at Bareburger
Bareburger is a diverse place where you'll find some carb-dense dishes like onion rings and fries, along with a whole range of keto-friendly items.
Bareburger allows you to customize your meal as you want it. From burgers to sandwiches to salads, you can choose what and how much you wanna eat. Isn't that simply Ketosome?
They stand out with their bun options where they provide both, Collard Green Wrap and Green Leaf Lettuce Bread, consisting of 0g and 1g of net carbs, respectively. Either go with these or go bunless. There's no "fourth" option if you are on the ketogenic diet!
They have a good variety of salads too but stay away from those sugary sauces waiting to be poured over your salad. Go for their low-carb alternatives, instead. For example, opt for the hot sauce or mustard dressing instead of their ketchup.
And if you are a vegan/vegetarian on the keto diet, I have great news for you! Bareburger has a whole menu for their vegan customer base (including gluten-free options!)
As far as their drinks and desserts are concerned, unfortunately, there are not too many options you can choose from. But, this burger chain makes up for it with its huge variety of low-carb ingredients!
So, without any delays, let's explore what all keto-friendly options Bareburger has in store for you.
Suggested: Huddle House Low-Carb Options
Keto-Friendly Options at BareBurger
Bareburger has plenty of low-carb options to please your appetite. Let me take you through all of them –
Keto-Friendly Appetizers
Plain Buttermilk bites, with Buffalo & Blue Cheese Sauce ( 12g )
Buttermilk Buffalo Sauce Bites, with Blue Cheese Sauce ( 13g )
Low-Carb Sides
Avocado ( 2g )
Dill Pickles ( 5g )
Sauces & Dressings for Burgers
Habanero Mayo ( 2g )
Vegan Mayo ( 1g )
Buffalo Sauce ( 0g )
Stone Ground Mustard ( 0g )
Mayo ( 0g )
Olive Oil ( 0g )
Keto-Friendly Burgers (Lettuce-Wrapped)
American Burgers ( 11g )
El Matador Burger ( 6g )
Standard Burger ( 8g )
Socal Burger ( 0g )
Sandwich Components
Collard Green Wrap ( 1g )
Green Leaf Lettuce Bread ( 0g )
Keto-Friendly Salads
Hudson Side Salad with Buttermilk Ranch Dressing ( 4g )
Kail Caesar Entrée Salad with Caesar Dressing ( 6g )
Guapo Chop Side Salad, with Avocado Basil Dressing ( 14g )
Baby Green Salad, with Avocado Basil Dressing ( 8g )
Salad Dressings
Buttermilk Ranch Sauce ( 0g )
Avocado Basil Dressing ( 2g )
Apple Cider Viniagrette ( 2g )
Caesar Dressing ( 0g )
Lemon Tahini ( 3g )
Salad Components
Hudson Entrée Salad with Buttermilk Ranch Dressing ( 9g )
Candid Pecans, side salad size ( 1g )
Quinoa for Salads ( 13g )
Candied Pecans, entrée size ( 2g )
Keto-Friendly Additions to Salads and Bareburgers
Impossible Burger Patty ( 8g )
Poblano Peppers ( 2g )
Bison ( 2g )
Pickled Red Onions ( 3g )
Red Onions ( 1g )
Turkey Patty ( 0g )
Vegan American Cheese ( 4g )
Beef ( 0g )
Grilled Lemon Chicken Patty ( 3g )
Elk Patty ( 2g )
Cubby Beef Patty ( 0g )
Black Forest Bacon ( 1g )
Asiago Cheese ( 0g )
Grape Tomatoes ( 2g )
Beef Patty ( 0g )
Pepper Jack Cheese ( 1g )
Brisket ( 2g )
Beyond Patty ( 3g )
Chicken Wings
The juicy buffalo wings are the latest addition to Bareburger's Keto menu!
While the chicken nuggets and boneless wings should be avoided, you can go all-in with the bone-in wings. Just make sure you have them "naked" without any sugary sauces.
So these were the best keto-friendly options available at Bareburger. You can even choose from their pre-set burgers and have them lettuce-wrapped, or build your own up from scratch.
They give you full freedom to choose your own patty, cheese, veggies, and sauces & spreads!
When it comes to quenching your thirst, Bareburger has limited options: Water, Unsweet Tea, and Diet Coke. But hey, given their huge range of keto-friendly components, let's cut them some slack here!
Note – There's no concrete definition of a "keto-friendly" meal. A keto diet caps your daily intake to 25g of carbs. And this comes out to be 8g carbs per meal. But sometimes you can have more in a single meal and cut back on others, to maintain your overall daily limit (This comes in handy especially when dining out!)
Also Read: Steak 'n Shake Keto Friendly Options
Does Bareburger have a Keto-Friendly bun?
I know, for a fact that burgers without buns are not actually burgers. They are just a different kind of salad you may say. But during ketosis, it's highly impossible for you to indulge in burger buns since they are very high on carbs, so much so that one bun carries 35g of net carbs with itself.
This is where Bareburger shows us what makes it unique. They do not have a low carb or a keto-friendly bun, but they do have something called the Collard Greens Wrap (1g carb) and Green lettuce wrap (less than 1g).
There are many places that have lettuce wrap options available for their keto customers. But with the collard green wrap, Bareburger takes things to a whole new diet-friendly level! They consist of more nutrients than traditional lettuce wrap, that too without adding any more calories.
Eating a burger as a salad is all right, but if you get options like these, it definitely makes your ride smoother. Just choose the right toppings and patties to put inside your burger, cause ditching the bun is only half the job done.
Conclusion
With their customization options and availability of low-carb bun alternatives, Bareburger certainly tops my list of favorite keto-friendly places.
You now have all the tools and weapons to ace your keto game at Bareburger. Still, if you wanna know about the different nutritional components of your food, check out their official nutrition guide here.
Must Read: Smashburger's Low-Carb Guide