As American as it can be, Slim Chickens has everything from chicken wings to sandwiches and wraps to waffles and salads. But is it the right place for a keto-friendly meal? You bet it is. And that's where I come in as I'll take you through all the keto-friendly options available at Slim Chickens.
Their grilled tenders and chicken wings are all below 2g net carbs with plain chicken wings containing absolutely no carbs. They also have keto-friendly sandwiches and wraps along with side salads, all below the allowed range of carbs. Apart from that, Slim Chickens provide you with some low-carb drinks and dressings to drizzle over your salads.
I'll provide you with a full list of keto-friendly items to try at Slim Chickens and also some tips here and there, to ace your keto journey. With some alterations, you can also turn the high-carb dishes into keto-friendly meals.
Without further ado, let us now have a look at the survival guide for surviving keto at Slim Chickens.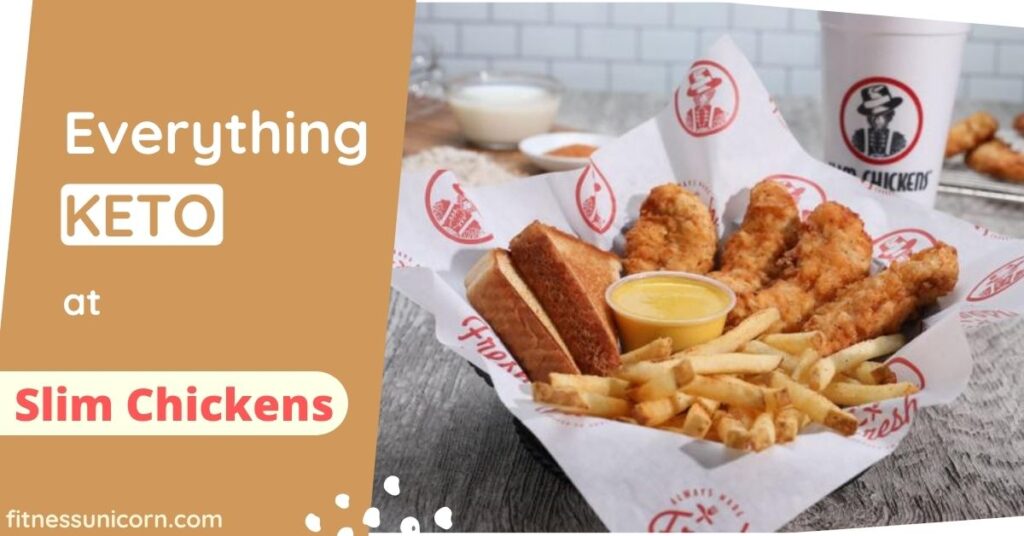 Tired of searching whether certain foods are keto? Download my keto cheat sheet with 210+ keto-friendly foods!
This post may contain affiliate links, which help keep this content free. (Full disclosure)
Surviving Keto at Slim Chickens
At Slim Chickens, you definitely would not have to worry about losing your keto streak. But, you will have to make some modifications to your meal to make it keto-friendly, otherwise, you'll be left with just a few options to choose from.
Talking about their tenders and wings, as I said, all of them are keto-friendly. Just watch out for the sauces you lather them with. Do not be too lenient with them and you should be good to go.
Their sandwiches and wraps are the ones that need modifications. In order to make them keto-friendly, you'll have to ditch the bread slice and tortilla wraps. Since just one slice of bread contains 14g of net carbs and a tortilla contains 39g net carbs, it's evident that they should be avoided at any cost.
Instead, ask for the sandwich and wrap as a salad bowl, or if they're willing to provide lettuce wraps, then go for it. Do not add any more condiments as it might increase the carb count.
As far as their salads are concerned, just stay away from sugary sauces and you're good to go. They already come with some sort of dressing, so there's actually no need to add more to them.
They have a lot of dressings that you can choose from but go for the ones with the least carbs (since your main meal might already be containing some carbs and you might cross the allowed limit, if not planned well.) As a rule of thumb, any sweet-tasting sauce is a red flag!
Slim Chickens also provides you with a good variety of keto-friendly beverages. Avoid the sugary ones and go for their low-carb alternatives, instead.
So, without any delays, let's explore what all keto-friendly options Slim Chickens has in store for you.
Also Read: Fuddruckers Low-Carb Guide
Keto-Friendly Options at Slim Chickens
Slim Chickens has plenty of low-carb options to please your appetite. Let me take you through all of them –
Low-Carb Tenders & Wings
Fried Tenders ( 2g )
Grilled Tenders ( 1g )
Plain Wings ( 0g )
Sandwiches & Wraps (In a Bowl)
Cayenne Ranch Chicken Sandwich ( 14g )
Crispy Chicken Sandwich ( 9g )
Buffalo Ranch Chicken Sandwich ( 14g )
Chicken Club Sandwich ( 10g )
Wrap with Fried Tender ( 10g )
Buffalo Wrap with Fried Tender ( 10g )
Buffalo Wrap with Grilled Tender ( 11g )
Wrap with Grilled Tender ( 6g )
A sandwich bread consists of 14g carbs per slice and a tortilla generally consists of around 39g carbs, so, if you are willing to ditch them, then you'll have a greater variety of keto-friendly dishes in front of you.
ALSO READ: EVERYTHING Keto at The Hat
Keto-Friendly Sides
Side Salad Regular- No Dressing ( 4g )
Applesauce ( 9g )
Whipped Butter ( 0g )
Salad Dressings
Lite Italian ( 3g )
Balsamic ( 6g )
Raspberry Vinaigrette ( 8g )
Keto-Friendly House Sauces
Slim Sauce ( 6g )
Cayenne Ranch ( 1g )
Ranch ( 1g )
Honey Mustard ( 9g )
Blue Cheese ( 2g )
Gravy ( 10g )
Buffalo ( 0g )
Hot ( 5g )
Inferno ( 3g )
Garlic Paremesan ( 3g )
Keto-Friendly Beverages
Coke Zero Sugar ( 0g )
Diet Coke ( 0g )
Diet Caffeine Free Coke ( 0g )
Diet Dr Pepper ( 0g )
Unsweetened Ice Tea ( 0g )
Apple Juice ( 9g )
Milk 1% White ( 13g )
Note: Though I've included meals around 10-15 g of net carb mark, an ideal meal should have around 7-8 g carbs. Only then can you keep your daily carb intake at around 25g. But sometimes, you can have more in one meal and cut back on the other.
Conclusion
Although you can of course have a keto-friendly meal at Slim Chickens, like wings, sandwiches, and salads, I still feel there's a long way to go. They can introduce low carb bread and low carb desserts to increase their customer base and make the existing customers happier.
If you abide by the tips and do the necessary modifications, it should be a smooth ride for you here at Slim Chickens and you would not have to worry about ending your keto streak.
That's more than enough knowledge for you to indulge in a keto-friendly meal here. Still, if you wanna know about the different nutritional components of your food, you can scroll through their official nutrition guide here.
Till then, Happy Ketoing 🙂
Also Read: