Serving large hamburgers with on-site ground meat and buns, Fuddruckers is one of the leading fast-casual restaurant chains. Philip J. Romano had established the first restaurant in 1979 in San Antonio. His goal was to serve a better hamburger and Fuddruckers' success is proof that he was right!
Fuddruckers serves hamburgers prepared from freshly ground meat and all the veggies are chopped on site. Obviously, most hamburgers are not keto-approved. So what's keto-friendly at Fuddruckers?
Fuddruckers low-carb options include burger patties, side salads, bacon, chicken tenders (in moderation), and the juicy buffalo wings. Avoid all bread, buns, sugary sauces and you are good to go.
Continue reading to reveal some mouth-watering keto-friendly dishes served at Fuddruckers. You can order more than one cuisine without worrying about consuming too many carbs. You will stick to your diet regimen and enjoy some great meals at this restaurant.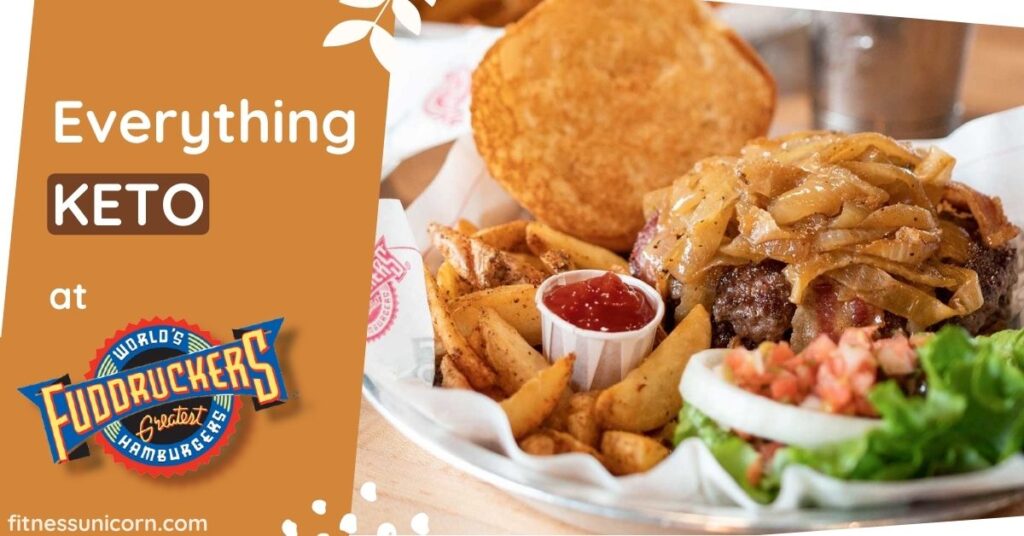 Tired of searching whether certain foods are keto? Download my keto cheat sheet with 210+ keto-friendly foods!
This post may contain affiliate links, which help keep this content free. (Full disclosure)
How to survive keto at Fuddruckers?
Fuddruckers got a pretty large menu. You will find delicious hamburgers, hot dogs, appetizers, ice creams, etc. There are both vegetarian and non-vegetarian dishes on the menu. Picking the right meal according to your diet plan will be a bit tough if you don't know the nutritional values.
Surprisingly this famous fast-food chain offers some delicious low-carb meals. So, do not drop the plan if you are planning to order something at Fuddruckers!
Fuddruckers claims that it serves the world's greatest hamburgers. Gourmet clients believe this restaurant is best when it comes to eating the finest burgers and hamburgers. It has always served fresh and healthy meals. That's why it became one of the USA's leading restaurant chains.
Being a keto dieter, you chose to avoid most fast foods and high-carb food items. So, is it possible to survive keto at Fuddruckers? Yes, it is possible! Take Fuddruckers Venison Burger for an example, it has exactly zero carbs without the bun!
The Southwest Burger served at this restaurant has only 7 grams of carbs (without bun). It offers 35 grams of protein and 739 calories. It is an ideal meal for diners, who want to lose fat and gain some protein. All kinds of bread and buns are off-limits though!
Turkey patty is another delicious meal you can find on Fuddruckers' menu. It offers zero net carbs and a significant amount of protein. This dish provides 300 calories and it does not affect your dietary plan. You will discover many such items on the menu when looking for Fuddruckers keto-friendly options.
If you do not wish to try hamburgers, then go for some chicken dishes. This restaurant serves Grilled Chicken Breasts, which contain only 5 grams of carbs. You will gain 33 grams of protein and 180 calories. You can also go for the Kids' chicken tenders for 18g of carbs.
Pepperjack Cheese is a perfect alternative to regular cheese because it adds only 10 grams of carbs to your diet. This restaurant got the best meals to please fitness-conscious consumers. You are certainly one of them. So, continue reading to reveal the best Fuddruckers keto-friendly options without wasting more time.
Fuddruckers Keto-Frienldy Options
1. Elk Patty
Carbs: 2g
Fiber: 0g
Net Carbs: 2g
Total Fats: 2g
Protein: 53g
Calories: 120 cal
Dieters always pick Elk Patty when ordering low-carb food at Fuddruckers. It is a delicious dish prepared from freshly baked ingredients and fresh veggies. You should consider it if you aren't willing to consume any carbs. 
ALSO READ: Keto-friendly options at Flower Child
2. Turkey patty
Carbs: 2g
Fiber: 0g
Net Carbs: 2g
Total Fats: 14g
Protein: 44g
Calories: 300 cal
It is a delicious alternative to Elk Patty. Fuddruckers blend ground turkey with other carb-free ingredients to prepare it. You will get a hot and juicy patty to try with a delicious sauce.
3. Grilled Chicken Breast
Carbs: 2g
Fiber: 0g
Net Carbs: 2g
Total Fats: 5g
Protein: 33g
Calories: 180 cal
Fuddruckers never disappoint chicken lovers because it got all kinds of chicken recipes. Grilled Chicken Breast is prepared specially for low-carb diet followers. It got lots of protein and almost zero carbs!
4. Southwest Burger (No Bun)
Carbs: 7g
Fiber: 0g
Net Carbs: 7g
Total Fats: 36g
Protein: 35g
Calories: 739 cal
It is an energy booster served at Fuddruckers. This burger adds only 7 grams of carbs along with that it is rich in healthy fats and protein. You will gain 739 calories if you enjoy it with low-fat sauce.
5. Buffalo Wings
Carbs: 10g
Fiber: 0g
Net Carbs: 10g
Total Fats: 30g
Protein: 30g
Calories: 420 cal
This restaurant serves at least 6 wings on each plate. You can consume all of them without worrying about the carb intake. This dish contains minimum carbs and only provides healthy fats and protein.
6. Ribeye Steak Sandwich (No Bread)
Carbs: 1g
Fiber: 0g
Net Carbs: 1g
Total Fats: 72g
Protein: 90g
Calories: 456 cal
Most Americans love Ribeye steak dishes because of its delicious flavors. Fuddruckers offer Ribeye Steak Sandwich that contains only 1 gram of carbs. It is a protein-rich food that you would love to try time and again.
7. Potato Wedges
Carbs: 22g
Fiber: 2g
Net Carbs: 20g
Total Fats: 2g
Protein: 90g
Calories: 120 cal
This food contains slightly more carbs than most keto dieters may prefer. You can reduce the number of potato wedges served on a plate to try it with some other keto-friendly dishes.
8. Spicy Brown Mustard
Carbs: 0g
Fiber: 0g
Net Carbs: 0g
Total Fats: 0g
Protein: 0g
Calories: 5 cal
Suppose you are trying a delicious chicken recipe or hamburger at Fuddruckers, take 1tbsp of Spicy Brown Mustard. It is a keto-friendly flavor enhancer that will make your meal taste a lot better!
9. Fred Meyer Lite Ranch
Carbs: 9g
Fiber: 0g
Net Carbs: 9g
Total Fats: 6g
Protein: 0g
Calories: 70 cal
Looking for keto-friendly dressing at Fuddruckers? Get a 2tbsp serving of Fred Meyer Lite Ranch sauce to make your salads and food taste more delicious.
10. Natural Energy Drink
Carbs: 2g
Fiber: 0g
Net Carbs: 2g
Total Fats: 0g
Protein: 0g
Calories: 15
It is a natural alternative to branded energy drinks sold out there. It is a perfect beverage to have with your meals at Fuddruckers.
Low-Carb Salads and Add-Ons at Fuddruckers
Still hungry? No worries! Here are some delicious add-on options that are super low in carbs. Heck, you can even make a whole meal out of these:
Bacon, Sliced (2 slices): 0
American Cheese, Yellow (2 slices): 4
Bleu Cheese, Crumbles: 0
Cheddar, Sliced or Shredded (1 slice): 0
Monterey Jack, Sliced or Shredded: 0
Pepper Jack, Sliced or Shredded: 0
Swiss, Sliced or Shredded (1 slice): 0
Grilled Onions: 6
Grilled Mushrooms: 2
Guacamole: 2
Conclusion
Fuddruckers always offer new meals to draw more clients. Fortunately, fitness enthusiasts can find several delicious meals on the menu to keep the carbohydrates intake in check.
Their keto-friendly options range from the carb-less patties to the delicious grilled meat salads.
Read Next: