No matter your cravings, this Japanese steakhouse will always have something to offer your taste buds. The list is long with all your favorites, from meals like sauces to rice, meat, seafood, dessert, and the perfect lunch combinations. There are so many food options at Benihana for everyone, even for our vegan, paleo, and keto fans out there.
So what's keto-friendly at Benihana?
Benihana is pretty good with its endless list of low-carb options, which are also keto-compliant. Some examples include steak and chicken thighs, bacon, shrimp, nigiri, and more. If you follow the basic keto rules (no bread, no buns, very few sauces, and zero sweet meals), you can have almost anything you want at this place.
Eating out is a huge risk to take, especially at restaurants like Benihana, where there are many options to choose from. One simple mistake in your food combination can cost you your hard-earned ketosis!
That's why I'm here to help. Whether you're craving some authentic Sushi or in a mood for some steak, I'll teach you all the tips and tricks to survive keto at Benihana. We'll also look at some common mistakes that you should avoid.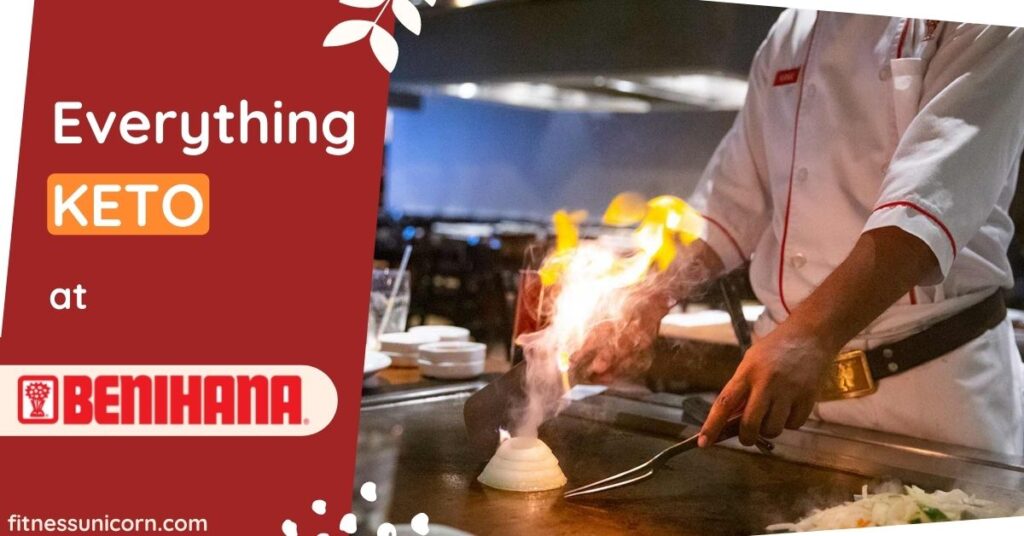 Tired of searching whether certain foods are keto? Download my keto cheat sheet with 210+ keto-friendly foods!
This post may contain affiliate links, which help keep this content free. (Full disclosure)
How to Survive Keto at Benihana
Benihana brings along a lot of savory options from the East. It's one of the first Asian-style restaurants that is loved by Americans. In fact, it's the love that Benihana enjoyed in America that lead to the opening of various Korean BBQs, hot pot chains, and bubble tea shops across the US.
I've always enjoyed Benihana as a group experience, where we are all seated at the table and the center of attraction is the Teppanyaki/Hibachi.
It's fun to watch the chefs slice and dice the meals right in front of your eyes! To be really honest, I've often gone there for the entertainment more than the food itself.
Now when it comes to keto, Benihana is super-convenient because there is a vast variety of options to choose from. Dishes like Shrimp and Sashimi don't have any carbs of their own. You just need to watch out for the accompaniments and make the right decision.
However, if you're starting to get bored, it's sometimes okay to have something higher in carbs. But make sure you track it down to a single gram. Also, if you're planning to indulge in something carb-dense, make it a point to always stuff your stomach with meat or salad first.
Eating keto-friendly foods first might get you filled up or make you lose your appetite altogether. That is the whole point of foods like a salad when you are on a diet.
Here are some meals you should avoid when enjoying your keto buffet Benihana:
All kinds of food with a breaded outer crust. If it tastes sweet on the inside and crunchy on the outside, stay away.
No bread, bun, tortillas, chips, etc. This means you'll have to pass on chicken and chips and certain burgers.
Watch out for sweet and sugary sauces such as BBQ sauce, Red Italian sauce, and Cranberry sauce. Unfortunately, Benihana has a lot of sauces, so this might be tempting.
Even the most common meals have to be avoided. You can't have beans, rice, noodles, potatoes, and even mac & cheese.
Prioritize your veggies over fruits. Go for vegetable-based salads and avoid fruit salads.
Veggies that are starchy and sugary. Some of them are peas, corn, beans, etc.
Avoid deserts! Avoid all types and forms of the desert. They are 100% not for keto consumers.
Avoid beverages. They have high-carb and sugar. It would be best to stick to bitter tea, diet coke, and clean water.
By avoiding these meals, you can always stay on track with your keto lifestyle.
Moving on, let's take a look at all the currently available keto-friendly options waiting for us at Benihana.
Benihana Keto-Friendly Options
There are so many keto-friendly options at Benihana. With that in mind, I have put together a few of the best low-carb keto options from the menu for you to take a look at.
#1. Tuna Sashimi
Carbs: 0g
Fiber: 0g
Net carbs: 0g
Total fats: 0.5g
Protein: 12g
Calories: 50 Kcal
The tuna sashimi is generally eaten with rice at Benihana. But that's not an option on keto, you can pair it with other types of Sashimi, Shrimp, or Nigiri.
#2. Filet Mignon
Carbs: 1g
Fiber: 0g
Net carbs: 1g
Total fats: 11g
Protein: 36g
Calories: 250Kcal
We all know that steak is a keto man's best friend! Benihana's Filet Mignon is a piece of delicious meat cut from the tenderest part of a loin of fileted beef.
#3. Vegetable Spring Roll
Carbs: 12g
Fiber: 1g
Net carbs: 11g
Total fats: 7g
Protein: 2g
Calories: 118Kcal
Benihana's Vegetable Spring Roll is everything you want in a spring roll. It's an awesome lunch option with the perfect blend of vegetables that meet your taste.
#4. Vanilla Ice Cream
Carbs: 12kg
Fiber: 0g
Net carbs: 12g
Total fats: 5.5kg
Protein: 2kg
Calories: 100Kcal
This is the most controversial item on my keto list! I say this because some people can have stomach aches when eating ice cream on keto (I rarely have that problem though!). Whatever you decide, make sure you stick to your daily carb limit.
#5. Edamame
Carbs: 17kg
Fiber: 8.8g
Net carbs: 8.2g
Total fats: 8.8kg
Protein: 18.4kg
Calories: 205Kcal
Made with bright green soybeans, Edamame is my all-time favorite keto appetizer.
#6. Tuna Poke
Carbs: 17kg
Fiber: 2g
Net carbs: 15g
Total fats: 0.8kg
Protein: 19kg
Calories: 140Kcal
There are many ways to enjoy tuna, and tuna poke is one. It is lathered with sweet soy sauce, thinly sliced onion, avocado, cucumber, seaweed salad, and masago.
#7. Beef Gyoza Dumplings
Carbs: 20g
Fiber: 6g
Net Carbs: 14g
Total Fats: 9.0g
Protein: 6g
Calories: 200Kcal
Beef gyoza dumpling is something to try as a keto dieter. It has just the right amount of beef and seasoning.
ELATED: Keto-Friendly Options at TCBY
#8. Edamame Gyoza Dumplings
Carbs: 25g
Fiber: 2.5g
Net carbs: 22.5g
Total fats: 4.4g
Protein: 7.5g
Calories: 184Kcal
Another dumpling offered by Benihana on the keto list is the Edamame gyoza dumpling. Edamame is fresh green soybeans that are boiled as vegetables. The carb count is mentioned for the whole serving. Take one and pass the rest!
#9. Tuna Poke/Spicy
Carbs: 0g
Fiber: 2g
Net carbs: 0
Total fats: 11g
Protein: 21g
Calories: 260 Kcal
Here's another way you can have a tuna poke. However, this tuna poke is spicy, unlike the first.
#10. Tuna Sashimi
Carbs: 0g
Fiber: 0g
Net carbs: 0g
Total fats: 0.5g
Protein: 12g
Calories: 50 Kcal
Benihana has a lot of tuna meals. The tuna sashimi is one of the most delicious options at the restaurant.
#11. Izumidai Nigiri
Carbs: 5g
Fiber: 0g
Net carbs: 5g
Total fats: 0g
Protein: 2g
Calories: 30 Kcal
This meal is another form of regular sushi, you know. It is free of fats and fiber and is a really good keto meal.
#13. Soft Shell Crab
Carbs: 16g
Fiber: 2g
Net carbs: 14g
Total fats: 20g
Protein: 12g
Calories: 290Kcal
Seafood is one of the most popular low-carb meals at Benihana. And the soft shell crab doesn't fail to deliver exquisite taste.
#14. Shrimp Saute
Carbs: 0g
Fiber: 0g
Net carbs: 0g
Total fats: 3.4g
Protein: 27g
Calories: 144Kcal
Another tasty seafood keto meal offered at Benihana is shrimp saute.
#15. Tuna Tataki
Carbs: 8g
Fiber: 1g
Net carbs: 7g
Total fats: 1g
Protein: 23g
Calories: 130Kcal
This tuna is prepared in two ways. It's either cut thinly and raw or cut thinly and cooked lightly. Either way, it comes out very delicious.
#16. Salmon Sashimi
Carbs: 0g
Fiber: 0g
Net carbs: 0g
Total fats: 4g
Protein: 7g
Calories: 70Kcal
Sashimi made with salmon is as good as any sashimi. Generally, Benihana's sashimi is great for you.
Low-Carb Sauces at Benihana
#1. Mustard Sauce (1 oz): 4g
You can also have a keto dip. The mustard sauce is 100% keto-approved and is good for pairing with other meals.
#2. Sesame Garlic Sauce (19.7 oz): 8g
This is a keto sauce made majorly with sesame seeds and garlic.
#3. Spicy Sauce (20.9 oz): 4g
The spicy sauce is often paired with something much calmer. It's a really hot dish.
#4. Chili Ponzu Yellowtail (3.39 oz): 7g
The chili ponzu yellowtail is a spicy citrus-based sauce.
Keto-Friendly Sides
#1. Benihana onion soup: 3g
#2. Miso soup: 3g
#3. Benihana salad: 0g
#4. Seaweed salad: 11g
Conclusion
There are many keto-friendly options at Benihana. I put out the most common keto meals you'll find comfortable.
Benihana is generous in its diet-friendly options. Due to their wide range of low-carb dishes, you and your keto-loving friends can enjoy a good meal at this Japanese steakhouse.