Benihana is my go-to restaurant when I'm craving that authentic Japanese flavor! Their Hibachi experience is unmatched till date. But what if you're visiting on a gluten-free diet? Do they have something for you as well?
Ranging from soups to seafood, Benihana has plenty of gluten-sensitive options in store for you. They also have special gluten-free soy sauce for customers like yourself!
Some of their most popular gluten-free options include the shrimp, Hibachi noodles, and hibachi chicken rice.
Fortunately, many restaurants today cater to the unique dietary preferences of their customers. Because we all deserve a good, satisfying meal at the end of a hectic work day, right?
Let's explore Benihana's menu so you can enjoy some tasty gluten-free cuisine.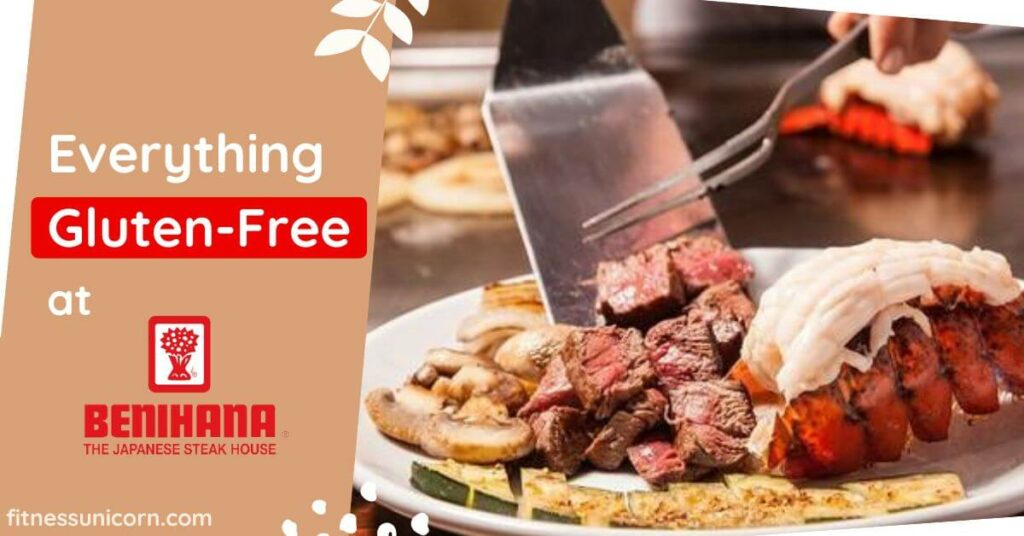 This post may contain affiliate links, which help keep this content free. (Full disclosure)
Benihana Restaurant and their Specialized Menu
Benihana is a well-known Japanese restaurant in the United States. It specializes on hibachi-style food and is a wonderful pick for a romantic night out!
The best aspect is that Benihana can accommodate customized recipe requests based on allergies or personal preferences.
It also offers an online nutritional guide that includes all of the products on their menu as well as nutritional information for each dish to help you choose what you need.
According to sources, Benihana has 35 gluten-free options on its menu, depending on how concerned you are about your allergies.
Let us tell you more about the Gluten-Free Menu at Benihana.
Benihana Restaurant's Gluten-Free Options
Surprisingly, each entrée at Benihana includes a knife-show. While the hot hibachi grill sizzles in front of you, the Teppanyaki experts at the restaurant flick their blades and tongs. It is an exciting sight to behold!
The food at the restaurant is said to taste exactly like Japanese cuisine. Furthermore, Benihana is often recognized as the first restaurant to popularize Asian cuisine to Americans.
In addition to grilled foods, the Benihana Gluten-free Menu includes sushi, sashimi, and appetizers.
The most popular Gluten-free options at Benihana are:
Hibachi chicken rice
The Japanese chicken curry is the original Benihana favorite. A tasty gluten-free soy sauce complements the grilled chicken, rice, egg, and vegetables.
RECOMMENDED: Pei Wei's gluten-free menu items
Hibachi Noodles
These hibachis use gluten-free noodles and a wonderful soy-free sauce. Another advantage is that they are vegan and super-easy to prepare.
Benihana special fried rice
Don't want to spend your money on Hibachi? Then, try the Benihana Chicken Fried Rice knockoff. It is suitable for celiac patients, and it is also gluten-free, paleo, and keto-friendly.
Seafood items
All of Benihana seafood items, including scallops, shrimp, and lobster, are prepared specifically for gluten-sensitive people. The entrees are prepared in a gluten-free soy sauce and oil, along with vinegar.
The seafood is served without bread and instead with steamed rice and a salad.
Miso Soup
This soup is one of the best-selling items on the menu. It consists of a delicious blend of miso, green onion and tofu. A simply perfect dish for gluten-free individuals.
Tips for a Gluten-Free Meal at Benihana
We understand how difficult it is to dine out when you are gluten intolerant. We also know that gluten-free alternatives are available on many restaurant menus. However, understanding how to choose your meals at a restaurant is critical.
We've prepared some safety recommendations to help you dine out at your favorite restaurant and ensure that the gluten-free products on their menu are approved by the GFFS Validation Program (Gluten-free food services).
Keep these easy suggestions always at hand to avoid serious complications:
Select the appropriate type of restaurant
When choosing a restaurant to dine at, you should consider numerous factors that impact your health, such as:
Fast food restaurants often have a predetermined menu and do not provide any personalization of the meal.
Formal restaurants offer a less-hectic setting, giving you adequate time to have your directions followed.
Chefs at fine-dining establishments produce gluten-free and lactose-free shakes and beverages. In places where language is a barrier, you may be unable to request that the chefs prepare something special that fits your dietary restrictions.
YOU MAY ALSO LIKE: What's Gluten-free at Fleming's Steakhouse?
Specify your dietary limitations clearly
When ordering at a restaurant, allow extra time to clarify your gluten-free meal requirements.
Discuss it thoroughly with the restaurant's manager or a chef. This person may be your friend or foe when it comes to finding probable gluten in menu items.
Before you begin eating, double-check from the server that your specific requirements were followed while preparing the meal.
Do your research
Before leaving your house for a dine-out, check if there are gluten-free options online. Don't assume they'll be available in every restaurant.
If there isn't anything you can eat, think about going somewhere else where you know there are possibilities.
Furthermore, if you're going to a catered event, find out ahead of time if gluten-free alternatives are available.
Be courteous with the staff
Always be prepared for unexpected scenarios. For example, if a waiter offers you a gluten-containing dish by mistake, be polite and explain why you can't eat it.
Expect a party host to be unaware of your gluten sensitivity, and notify them ahead of time.
Explain to the waiters what foods you can eat so they will offer you an alternate menu.
Risk of Cross-Contamination
Paying attention to details might assist you in understanding the risks associated with various restaurant standards. Many well-known eateries fail to take cautious measures and contaminate their food.
However, because of its well-known brand name, their flaws are compensated for.
You may not realize it, but food may quickly become contaminated, and this can be harmful for people with extreme allergies or celiac disease.
The following are a few instances of cases where gluten cross-contact is widespread yet often goes unnoticed by unskilled employees.
Salads
Cross-contact with gluten can occur when using cutting boards or including gluten-containing croutons or salad dressings.
Inquire about the manufacturing process and whether the ingredients list can be double-checked. Dressings like oil and vinegar or lemon slices should be ordered on the side so you can season the salad yourself.
Insist on not including croutons, crackers, or other bread products, and gently return the salad if there are croutons on top.
Marinades and Sauces
Gluten may be used as a thickening or binding ingredient in dressings, sauces, and marinades. Some chefs also use canned sauces, so inquire about the ingredients list on the can.
The chef should be capable of verifying the ingredients if they are prepared by themselves.
Broths and Soups
Restaurants may have soup bases, which may be produced with roux, a mixture of butter and flour. It may also contain hydrolyzed wheat protein in the soups, and it contains gluten.
Poultry and Fish
Seasonings are widely used in poultry and fish preparation, and the ingredients should be verified. If the prime rib is too raw for you, boil it in a saucepan of "Au Jus" (broth juice) until done to your taste.
Au Jus also comes in a can as well, and may contain hydrolyzed wheat protein. Gluten is present in this protein and may affect your meal.
Fried Foods
In that case, deep-frying oil can be used for both breaded and non-breaded meals, but it should be avoided. There is less risk of gluten cross-contact at large restaurants when French fries are prepared in separate fryers.
Seasoned Rice
Some gluten-containing ingredients may be added to some rice pilaf and seasoned rice, which you should avoid. Plain or steamed rice cooked in water is an excellent gluten-free meal option.
What People Say About It?
You may learn about a restaurant's reputation by reading customer reviews. We were quite impressed while researching customer feedback for Benihana's gluten-free menu online. The following were the best comments:
A client who left a five-star review mentioned that she had a fantastic time while eating at Benihana. On Mother's Day, she attended with her mother, and the two enjoyed the services.
She added that, owing to her health complications, she had to avoid gluten as well as dairy. So, in order to accommodate her, they prepared a soup without fried onions and brought oil or vinegar for her salad.
She was also given a gluten-free soy sauce to season her dishes, and there was no butter in her meal. She cited a cook named Chico, who was excellent in his services.
She said that the chef cleaned the grill twice in case any residue remained that may have contaminated the customer's food.
Another customer reported that she had a shellfish and gluten allergy and ate at Benihana. The chef of their lunch was well aware of his sensitivities and produced a dish that would meet his needs.
The chef informed him that no cross-contamination occurred and that no all-purpose flour was used in the preparation of his dish.
Based on the evaluations, we can anticipate that the personnel at Benihana will highlight the fact that most of their menu items can be adapted to a diner's preferences and will explain what cannot be modified and why.
Gluten-Free Alternatives to Benihana Restaurant
With the world advancing at such a rapid pace, we now have a plethora of restaurants that cook cuisine based on your sensitivities.
People with common allergies, such as gluten, lactose, shellfish, or dairy, no longer have to worry about dining out anymore.
Although Benihana restaurants are well-known for their customized meals, there are several alternatives. Let us mention a few options to help you narrow down your gluten-free dining options.
Ra-Sushi restaurant
Ra-sushi restaurant offers clients personalized meals. You may also order ahead of time so that they can cook your meals with precise instructions before you arrive.
The diner's ambience and employees are both praised as nice and sympathetic.
Considering all that, the restaurant also offers several gluten-free options on a separate menu. The items include:
It serves miso soup and sashimi on ice, and they offer gluten-free soy sauce for each.
One of the advantages of sashimi is that it is safe to consume. Some more examples of this are Masago/Tobiko, King Crab, nori, and veggies.
You may also get Rainbow Rolls, California Rolls, and most basic rolls, such as tuna and vegetarian rolls, which are fully gluten-free as well.
Samurai Hibachi
Samurai Hibachi has a wide variety of cuisines, including allergy-friendly meals. All of the entrees on the Samurai Hibachi restaurant's menu may be made gluten-free upon request.
Basically, most Japanese dishes are cooked in soy sauce and served with sauces that contain some amount of gluten. This restaurant also features a separate gluten-free section on their menu.
One advantage of this restaurant is that they prepare all of their menu dishes in gluten-free soy sauce for their clients.
Not only that, but you may also request that the chef use gluten-free sauces and refrain from using regular fried things in your dishes.
Bread is not added as sides for any dish you order.
Keeping everything else aside, no restaurant can guarantee a completely gluten-free menu because most restaurants include a joint preparation process for their meals.
This is why you must ensure that your requirements are communicated to the staff so that there are no problems.
The more conscious, the better!
---