Ruby Tuesday is known for its exotic fast food and huge portion sizes. Started in 1972, this American casual dining restaurant chain operates in 209 locations worldwide.
It has always been my top choice for family dinners and birthday parties. Sadly, the Covid-19 pandemic was really harsh on them and a lot of the stores had to be shut down permanently (including the one near my house!)
So if you still have access to one, I'm already jealous! But I'll be more than happy if this guide helps you enjoy a keto-friendly meal and satisfy those cravings at Ruby Tuesday.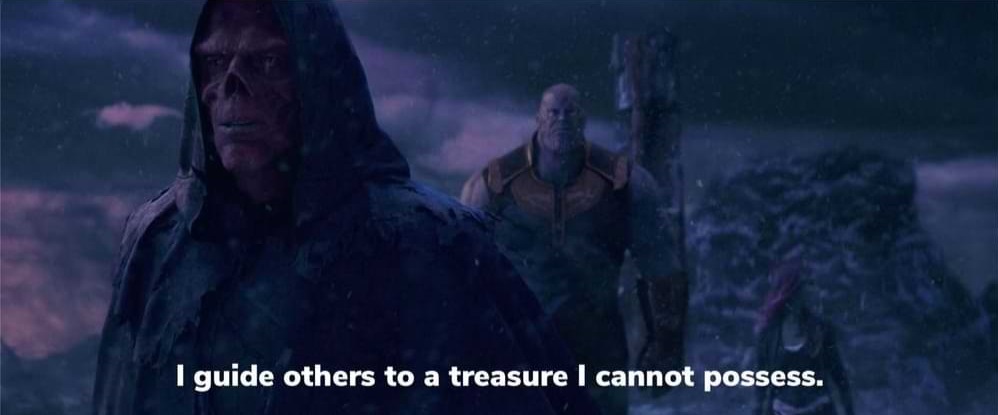 Tired of searching whether certain foods are keto? Download my keto cheat sheet with 210+ keto-friendly foods!
From the look of it, their menu seems loaded with carbs and sugar! But the beauty of Ruby Tuesday lies in its diversity. You'll find everything from breaded junk food to the zero-carb options at their salad bar.
So what's keto-friendly at Ruby Tuesday?
The garden bar at Ruby Tuesday is the most keto-friendly option with tons of variety. You can pick your own meat, cheese, and veggies along with low-carb dressings. Other options include chicken, ribs, steaks, and bunless burgers.
In this article, we'll look at all things keto at Ruby Tuesday in 2021.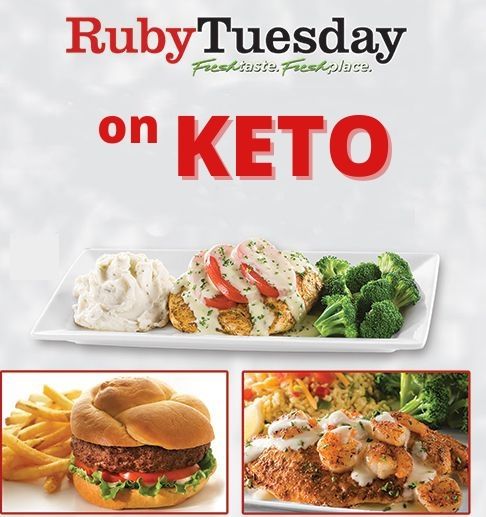 This post may contain affiliate links, which help keep this content free. (Full disclosure)
An Overview of the Menu
Ruby Tuesday's menu is similar to most fast-food restaurants. They've got fried appetizers, seafood, burgers, salads, and desserts. But the huge range of variety makes them stand out from the competition.
They also have a "Fit & Trim" menu which contains dishes under 700 calories. Luckily, the majority of the dishes are also keto-friendly (e.g. Chicken Fresco or Grilled Salmon).
The chain is well-known for its salad bar and hamburgers, particularly the giant colossal burger!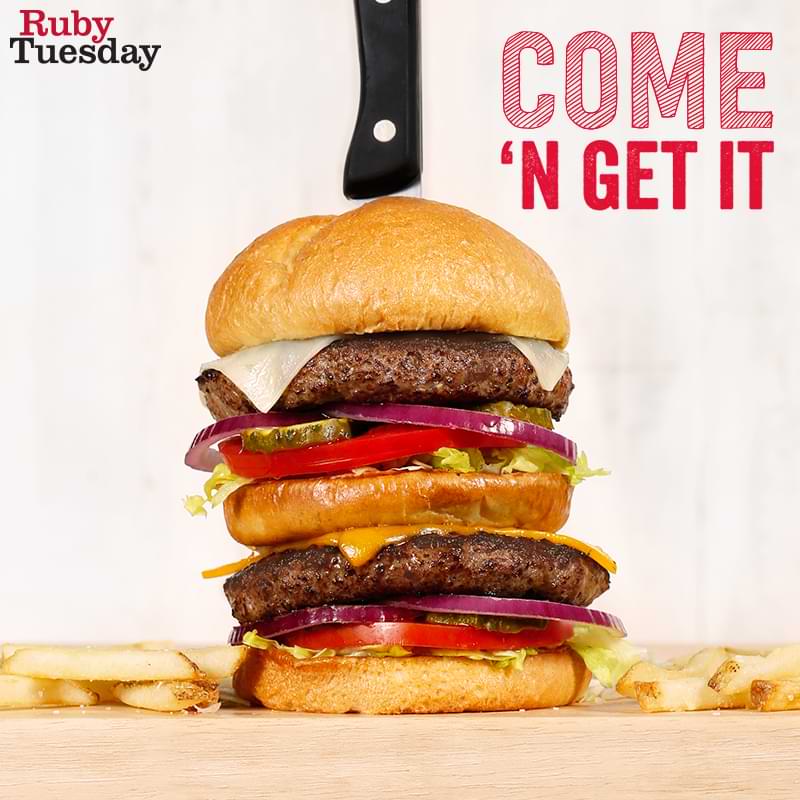 This huge hamburger contains a full pound of beef stacked on a triple-decker toasted bun. And not to forget the oozing cheddar and Swiss cheese that complete this monster!
Ruby's burgers aren't known for their nutritious values. But the colossal burgers take it to a whole new level. It's like four of McDonald's quarter pounders stacked into one.
As result, there is an awful lot of fats, carbs, and calories!
But all that fat is good for Keto, right?
Wrong. You see, all fat isn't created equal. There is good fat (unsaturated fatty acids) and then there is bad fat (saturated fat & trans fats).
The colossal burger contains 141g of fat and there is probably over 60g of the bad kind. What's worse, a single serving provides you with 1940 calories, which is roughly the recommended intake for a whole day!
Did you know? Eating excess calories can stall your weight loss even on the ketogenic diet.
So now you know the biggest keto blunder to avoid at Ruby Tuesday! But there are plenty of low-carb options that can satisfy your taste buds!
Let's start with my favorite one: The Garden Bar
YOU MAY ALSO LIKE: Gluten Free options at Ruby Tuesday
The Garden Bar is a KETO Heaven
We have always loved Ruby Tuesday for its endless salad bar. In fact, the company claimed that over half of the customers visited them only for the Garden Bar.
It's quite understandable given the rising levels of health awareness among people.
The salad bar has plenty of variety and it is highly easy to customize. Whether you are on keto, paleo, Whole30, or any other diet on the planet, they've got you covered!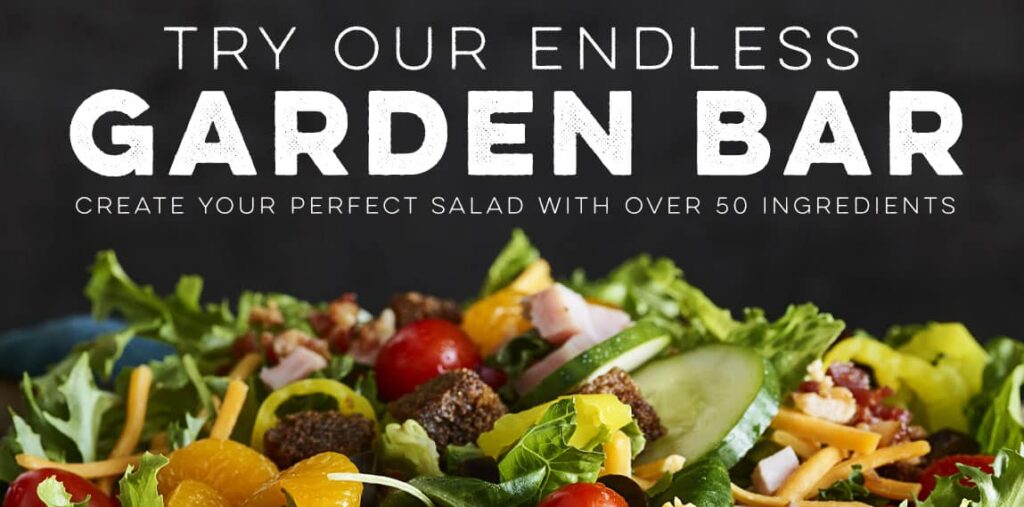 Back in 2017, the company upgraded its Salad Bar and introduced more than 20 new ingredients (taking the total from 36 to 58). Now that's quite a vast range of variety.
Things to keep in mind while visiting the Salad Bar on keto:
If you see something fancy, you're better off skipping it.
Load up on the leafy greens since they have the least amount of carbs.
Their seed-mix is highly keto-friendly and full of vital nutrients.
Use their official nutrition calculator when experimenting with different ingredients.
Here are the most keto-friendly options available at Ruby Tuesday's Salad Bar:
Meat & Veggies:
Bacon slices
Diced Ham
Diced Eggs
Pepperonicini
Jalapeno Peppers
Artichoke Hearts
Banana Peppers
Black Olives

Avocadoes

Kale
Celery
Onions (moderation)
Broccoli
Mushrooms
Cucumber
Salad Dressings:
Mentioned along with net carbs per serving.
Extra Virgin Olive Oil: 0g
Mustard: 0g
Smoky Caesar: 0g
Garden Herb Ranch: 0g
Ranch Dressing: 1g
Comeback Sauce: 1g
Sour Cream: 1g

Buttermilk Blue Cheese:

1g
Lite Ranch: 2g
Golden Italian Seasoning: 3g
Cilantro Lime Vinaigrette: 3g
Balsamic Vinaigrette: 3g
Note: One might think that Lite Ranch is better than the regular Ranch. In terms of calories, the answer would be yes! But when it comes to carbs, diet ranch is worse than the regular one.
Cheeses:
Blue Cheese Crumbles: 0g
Shredded Cheddar Cheese: 0g
Shredded Mozzarella Cheese: 1g
Do you know why mozzarella has a higher carb count than the other two? It's because of lactose. The softer cheese varieties will always have higher carbs since they have higher amounts of lactose.
It's amazing how Ruby Tuesday has four kinds of lettuce alone! If you really obsess over the tiniest of carbs (just like me!), then go for the Iceberg lettuce. It is the one with the least carbs.
Stay away from the crackers and croutons though. As much as I love that crunch, they are a complete no-go on keto!
A single serving of the Pumpernickel delivers 21g of net carbs (i.e. your whole day's worth of carb quota).
The salad bar has unlimited servings for $14.99. So go in with an empty stomach to have the most bang for your buck, lol. To be really honest with you, I make at least three trips in a visit!
Keto-Friendly Options at Ruby Tuesday
When it comes to keto, Ruby Tuesday has a lot to offer apart from the Garden Bar. They have delicious entrées that are also low in carbs!
1. Chicken Wings
Ruby Tuesday offers naked chicken wings (unbreaded) with a minimum amount of carbs. The only caveat is that you pick the right flavor!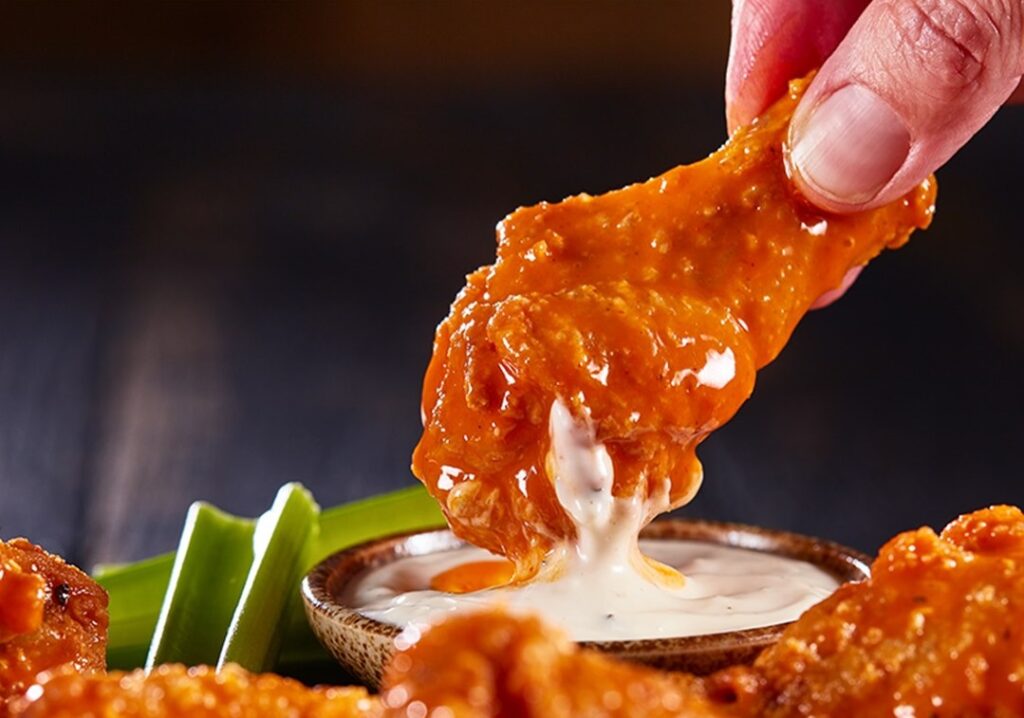 While chicken is itself zero-carb meat, those dry rubs and dressings can really turn things around. Here's a breakdown of carbs in each flavor:
| Flavor | Net Carbs |
| --- | --- |
| Nashville Hot | 5g |
| Hot Buffalo | 6g |
| Hickory Bourbon BBQ | 35g |
| Mild Buffalo | <3g |
The clear winner here is the mild buffalo chicken wings (less than 3g net carbs). Add some blue cheese to up your fat intake without the extra carbs.
Oh, and throw in some celery sticks for added fiber.
2. Asiago Bacon Chicken
This heavenly delight contains juicy grilled chicken along with crisp bacon slices. Toppings include baby 'Bella mushrooms, bacon, Parmesan cream sauce, and Asiago cheese.
You can choose between single/double chicken. Rest assured that adding more grilled chicken won't increase your carb count!
Nutrition: 450 calories | 26g fat | 11g carbs | 5g fiber | 44g protein | 6g net carbs
Note: You get to pick two sides with each entrée. All the Keto-Friendly side dishes at Ruby Tuesday are listed in the next section.
3. Chicken Fresco
The Chicken Fresco comes with grilled chicken breast that is topped with tomatoes, lemon butter, and a dash of balsamic vinaigrette.
It's a healthy and wholesome meal that even your non-keto friends may enjoy! In fact, the Chicken Fresco is the most popular offering from the "Fit & Trim" section.
Nutrition: 320 calories | 19g fat | 3g carbs | 0.5g fiber | 33g protein | 2.5g net carbs
4. Half-Rack Baby Back Ribs – Nashville Hot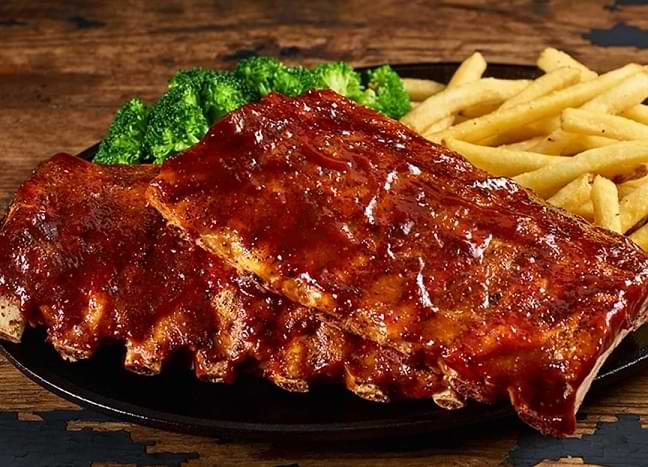 These juicy ribs are cooked super-slow until they fall off the bone! And they are glazed with the company's own proprietary spice blend.
Nutrition: 580 calories | 42g fat | 9g carbs | 0g fiber | 44g protein | 9g net carbs
5. Hickory Bourbon BBQ Chicken Cobb Salad
If you are looking for a quick salad on the go, this is your pick. However, this wholesome salad requires a bit of adjustment before it turns keto-friendly.
You've got to nix the sweet corn and BBQ Ranch dressing. Opt for the regular Ranch instead.
They let you choose between crispy and grilled chicken. And guess which one is right for you? Yup, it's the second one!
Nutrition: 500 calories | 23g fat | 14g carbs | 3g fiber | 56g protein
6. New Orleans Seafood
Seafood lovers rejoice!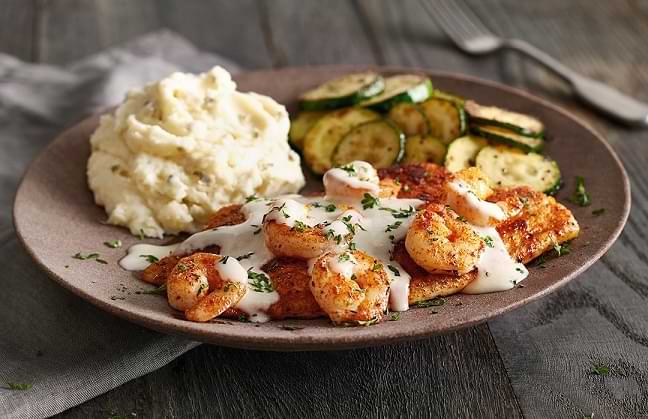 The New Orleans Seafood has the perfect balance of taste and carbs, coming to just 6g net carbs.
It contains Mild and flaky tilapia that is Creole-seasoned. On top comes Cajun-seasoned shrimp and a generous serving of Parmesan cream.
Luckily, it's the sauteed shrimp instead of the "crispy" one which is present throughout the menu. Hence we get lower carbs!
Nutrition: 320 calories | 14g fat | 6g carbs | 0g fiber | 40g protein | 6g net carbs
7. Blackened Tilapia
This one is a powerful protein-packed dish that contains no extra fluff! You get a fresh grilled blackened Tilapia that is seasoned with Creole spices.
Tilapia is a mild-flavored fish and it ranks no. 4 among the most consumed seafood in the U.S.
Did you know? Tilapia is an excellent source of protein and nutrients. A 100g serving contains 78% of your daily recommended intake for Selenium.
Nutrition: 200 calories | 7g fat | 2g carbs | 0g fiber | 32g protein | 2g net carbs
8. Grilled Salmon
It's pretty much what the name says – Just some grilled salmon with a light seasoning. However, the best part is that it has exactly zero carbs!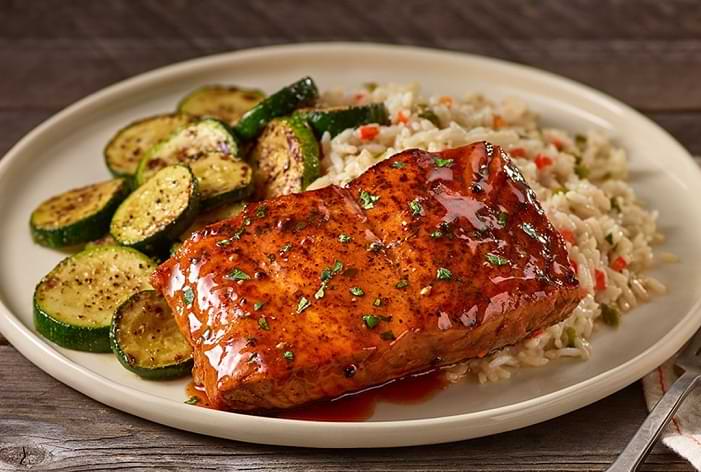 Feel free to add any topping or dressings discussed in the salad bar section above.
Nutrition: 330 calories | 22g fat | 0g carbs | 0g fiber | 39g protein | 0 net carbs
9. Rib Eye
It is a 12 oz seasoned Rib Eye lathered with Scampi butter. As you can guess, it is completely free from carbs!
Nutrition: 730 calories | 56g fat | 0g carbs | 0g fiber | 56g protein | 0 net carbs
10. Top Sirloin
Treat yourself with 6 oz Top Sirloin seared to perfection. It contains GSP seasoning, liquid margarine, and Sampi butter.
The top sirloin is usually known as tough and chewy, but that's not the case at Ruby Tuesday. It's quite juicy and cooked to perfection.
It makes a perfect candidate for a quick eggs n' steak breakfast on the go.
Nutrition: 290 calories | 17g fat | 2g carbs | 0g fiber | 32g protein | 2g net carbs
Related: Is Brisket Keto Friendly?
11. Asiago Sirloin & Grilled Shrimp
Do not mistake it with the "Asiago Sirloin & CRISPY Shrimp". These two items are worlds apart from the keto point of view.
The crispy shrimp is highly breaded and adds a lot of extra carbs. On the other hand, a grilled shrimp has exactly zero carbs!
This entrée is served with shaved Asiago cheese and Parmesan cream sauce.
Nutrition: 470 calories | 30g fat | 7g carbs | 0g fiber | 43g protein | 7g net carbs
12. Top Sirloin & Grilled Shrimp
Last but not the least, you have a 6/8 oz serving of Top Sirloin along with some grilled shrimp. It is seasoned with GSP and layered with Scampi butter.
Nutrition: 330 calories | 18g fat | 2g carbs | 0g fiber | 41g protein | 0 net carbs
Pick the Right Sides
You get to pick two side dishes with each entrée at Ruby Tuesday. Here's a table showing net carbs in each dish, so that you can make the right choice.
| Item | Net Carbs (g) |
| --- | --- |
| Steamed Broccoli | 1 |
| Grilled Zucchini | 2 |
| Roasted Baby Bellas | 2g |
| Cauliflower Au Gratin | 11g |
| Broccoli and Cheese Soup | 19g |
| Chicken Corn Chowder Soup | 19g |
Wondering why so many carbs in soup? They usually have thickeners (like cornflour) that hike up the carb count.
Lettuce Wrapped Burgers & Sandwiches
Ruby Tuesday is known for two things: their exotic Garden Bar & those delish hamburgers.
But what if you are stuck with a 20g daily carb limit?
Nope, I'm not rubbing salt on your wounds. In fact, there's a way you can have all that goodness without the added carbs!
Just have your burgers served in a lettuce wrap. That's it.
You see, an average burger at Ruby Tuesday has 35g of net carbs. And the truth is that 33g out of those come from the Brioche buns. So if you minus the buns from your burgers/sandwiches, you end up with 3-4g of net carbs.
The only exception is the crispy chicken sandwiches. Even if you nix the buns, those carbs in breaded chicken will follow you like a ghost! It's better to stick with grilled chicken instead.
Conclusion
Ruby Tuesday has a vast menu and there are tons of keto-friendly options. You can go for the endless Garden Bar or choose from 15+ low-carb entrées.
Avoid anything with Hickory Bourbon glazing or breading. For beverages, stick to water, diet coke, unsweet tea, or coffee.