Simple Mills is trying to revolutionize the snacking culture in America! Their products include high-quality organic ingredients keeping your long-term health in mind! But are Simple Mills Almond Flour crackers keto?
Simple Mills almond flour crackers are not keto-compliant because they contain tapioca starch and cassava flour. Each serving contains 16g net carbs, which is almost your entire day's carb limit.
It is no doubt a healthy product made using whole foods! But there are many brands out there with much fewer carbs.
In this article, we'll find out why Simple Mills crackers aren't keto, and also explore some of the best low-carb alternatives!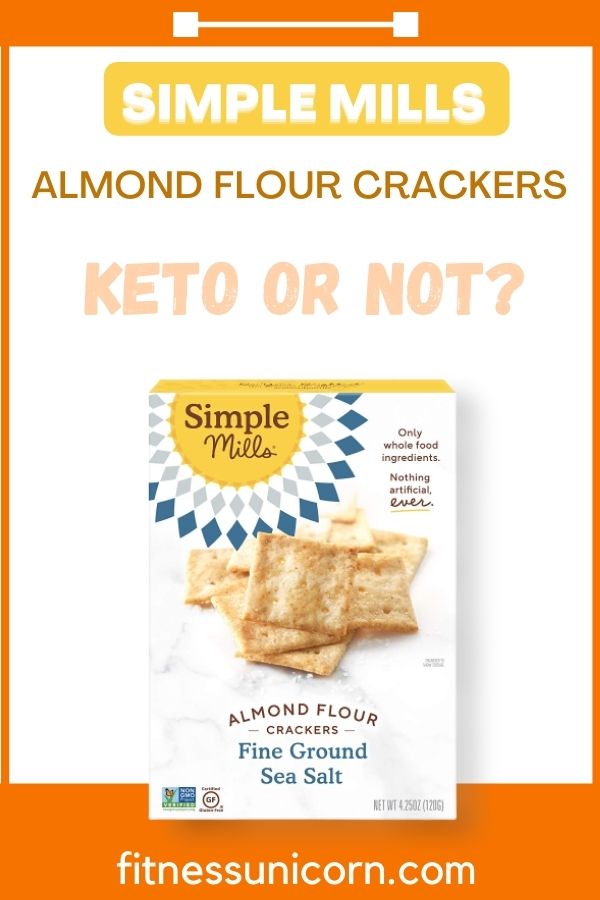 Tired of searching whether certain foods are keto? Download my keto cheat sheet with 210+ keto-friendly foods!
This post may contain affiliate links, which help keep this content free. (Full disclosure)
What are Simple Mills Crackers Made of?
Looking at the ingredients of a food can instantly reveal whether it's keto-friendly or not.
The U.S.P. of Simple Mills crackers lies in their choice of ingredients! Their products contain only natural whole foods and none of the artificial fluff!
Here's the complete list of their ingredients:
Almonds, Sunflower seeds, Flax Seeds
Tapioca Starch
Cassava Flour
Organic Cheddar Cheese
Organic Sunflower Oil
Spice blend
Organic Onion
Organic Garlic
Sea Salt
Rosemary Extract
It's a common saying in the health community: The lesser the ingredients, the healthier your packaged food is!
This is indeed true for Simple Mills' crackers! The absence of artificial preservatives and flavoring agents is a major boon for your long-term health.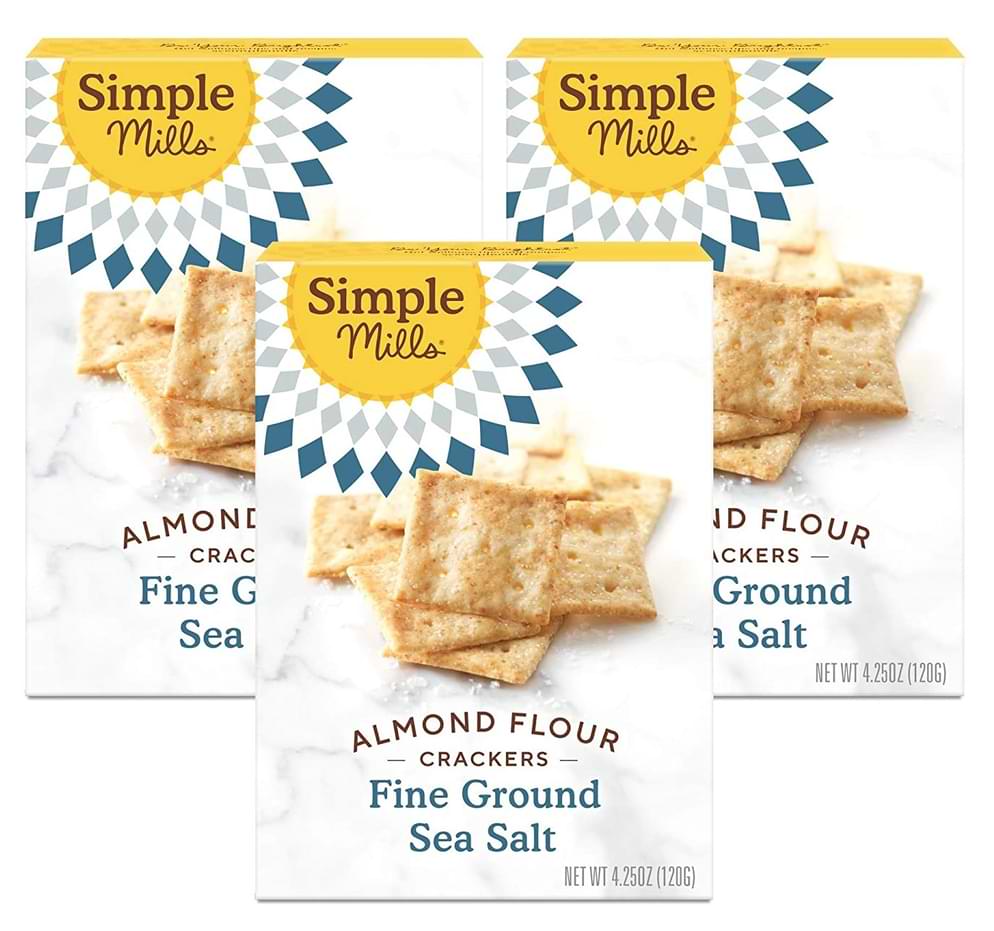 Let's see what the macros say (per serving):
Calories: 150 kcal
Fat: 8g
Protein: 3g
Carbohydrates: 17g
Fiber: 1g
Net Carbs: 16g
READ: Are Rice Cakes Keto?
Are Simple Mills Almond Flour Crackers Keto Friendly?
SimpleMills almond flour crackers have too many carbs to be considered keto. Each serving of 30 grams (17 crackers) contains more than 16g of net carbs.
Surprisingly, even a 30g serving of tomato ketchup contains fewer carbs than this!
A keto diet is all about high-fat and low-carb meals. The idea is to completely transform how your body burns fuel!
You shed fat through a process called ketosis, where your body starts burning fat for its energy needs.
Here's how this works: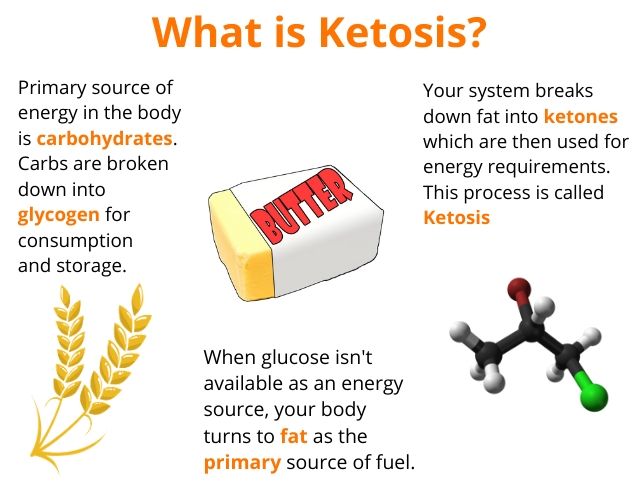 However, you need to eat less than 20g of net carbs per day in order to maintain full ketosis!
That's why these crackers are far from keto! A single serving will exhaust your whole day's carb quota. What's more, having so many carbs at once will likely spike your insulin and kick you out of ketosis.
Here are the net carbs in each variant of Simple Mills almond flour cracker:
Fine Ground Sea Salt: 16g
Rosemary and Sea Salt: 16g
Smoky BBQ Cheddar: 15g
Tomato & Basil: 16g
Cracked Black Pepper: 16g
Cheddar: 16g
All of them average out at 16g net carbs, which is a nightmare for those on keto!
But if they are made of Almond Flour, why are they not keto?
That's what confuses so many people! The answer is simple: They have a lot more ingredients alongside almond flour!
Tapioca starch and cassava flour are the main sources of carbs in these crackers. They are the ones that provide crispiness to the crackers!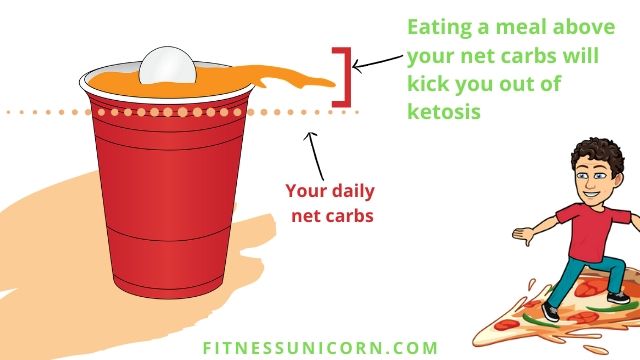 Looking at an individual cracker, it contains little under one gram of carbs. You might even be tempted to eat a few without having a full serving.
But that's not something we would recommend! Here's why you shouldn't even try them a "little bit" on keto:
Crackers are very easy to overeat. You won't know when those two turn into 10!
Some people are highly sensitive to carbs, and even two crackers can cause an insulin spike.
Having crackers will trigger even more carb cravings throughout the day!
Luckily for you, we don't just bash about non-keto products, but we also provide some of the best alternatives!
MORE: Are Quest Chips Keto?
What Crackers Are Keto Friendly?
Do low carb crackers really exist? Hell yeah!
You can definitely satisfy those crunch cravings while staying within the carb limit!
A truly keto-friendly cracker should meet two conditions:
Here's my #1 recommendation for the lowest carb crackers!
Doctor in the Kitchen Flackers
With just 1g net carbs per serving, Doctor in the Kitchen crackers are mind-blowingly keto!
All of their ingredients are natural whole foods including Organic Flax Seeds, Organic Apple Cider Vinegar, Organic Rosemary, Sea Salt, and Organic Sage.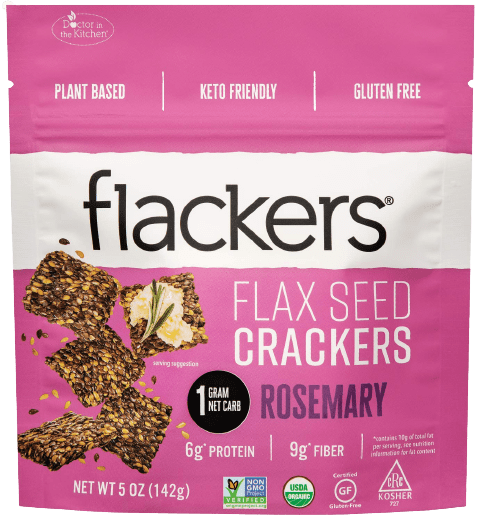 The term "flackers" is a combination of flax seeds and crackers. They dehydrate flaxseeds which turns them into a really crispy snack!
Nuts and seeds (including flaxseed) are a staple on keto! They are high-fat, low-carb, and pack a lot of healthy micronutrients!
These flackers are no different!
A 30g serving of Doctor in the Kitchen Flackers (Rosemary) contains:
Calories: 150 kcal
Fat: 10g
Protein: 6g
Carbs: 10g
Fiber: 9g
Net Carbs: 1g
These flackers have an excellent fat-to-carb ratio. What's more, 90% of the fat you are getting is high-quality unsaturated fat!
They also have other variants which are similar in terms of carbs:
| Variant | Net Carbs |
| --- | --- |
| Sea Salt | 1g (keto-friendly) |
| Dill | 2g (keto-friendly) |
| Savory | 3g (keto-friendly) |
| Tomato Basil | 3g (keto-friendly) |
| Cinnamon & Currant | 6g (Not Keto) |
Seal salt and Rosemary are two of the most keto-friendly variants, having just 1g net carbs per serving!
Did you know? They have quite an interesting method to "prepare" the flaxseeds.
They start by soaking them into the water, which triggers the germination process and boosts nutrition values! When the flaxseed becomes easy to chew and digest, they dry it in controlled temperatures and all the goodness gets locked inside!
Each variant is unique in its own way!
For example, The basil tomato ones go extremely well with a salad. On the other hand, Rosemary crackers and cream cheese is a heavenly match!
Note: You either love flackers or you hate them! There's nothing in between! I personally fall on the "love" side because they satisfy my crunch cravings really well!
Don't compare them with your usual crisps or crackers. They have their own genre!
Flackers are way better than the so called keto-friendly crisps with a cardboard-ish texture!
MORE: Carbs in Beef Jerky
Conclusion
Are Simple Mills crackers keto?
Not really! Simple Mills crackers have as much as 16g net carbs per serving, which is way over the acceptable limit.
Even though they contain almond flour (keto-friendly flour), other ingredients like tapioca starch and cassava flour drive up their carb count!
Having a smaller serving is also not recommended because it may still kick you out of ketosis.