Bar Louie is a modern high-end bar that serves some of the best gourmet food and drinks in a cozy, comfortable, and fun ambiance.
The restaurant lives by its mantra 'Eat. Drink. Be Happy', focusing on customer satisfaction and ensuring every person who steps through the door has a memorable experience at Bar Louie.
So what's gluten-free at Bar Louie?
Bar Louie boats an exciting range of gluten-free items. You can devour their scrumptious bone-in wings, loaded tots, tacos, fresh green salads, and select entrees.
All of these items are subject to contamination due to the shared kitchen space. These are only safe for consumption if proper cross-contamination protocols have been followed to prepare them.
Other possibly gluten-free items that need a minor modification include their craft burgers and scratch-built sandwiches.
You can ask the server to swap out the buns and bread for lettuce wraps if you want to enjoy these mouth-watering creations without risking your health. We wouldn't advise doing this if you have Celiac disease.
Unfortunately, Bar Louie does not have a dedicated kitchen space to prepare its gluten-free items. This means the chances of gluten particles contaminating your meal are relatively high.
If you have severe gluten allergies, we would advise you to stay highly cautious and reiterate the need for stringent protocols while preparing your meal.
The following article will be a detailed analysis of the Bar Louie menu. We're going to be filtering out all the possible gluten-free items and discuss practical ways to order a meal free of gluten.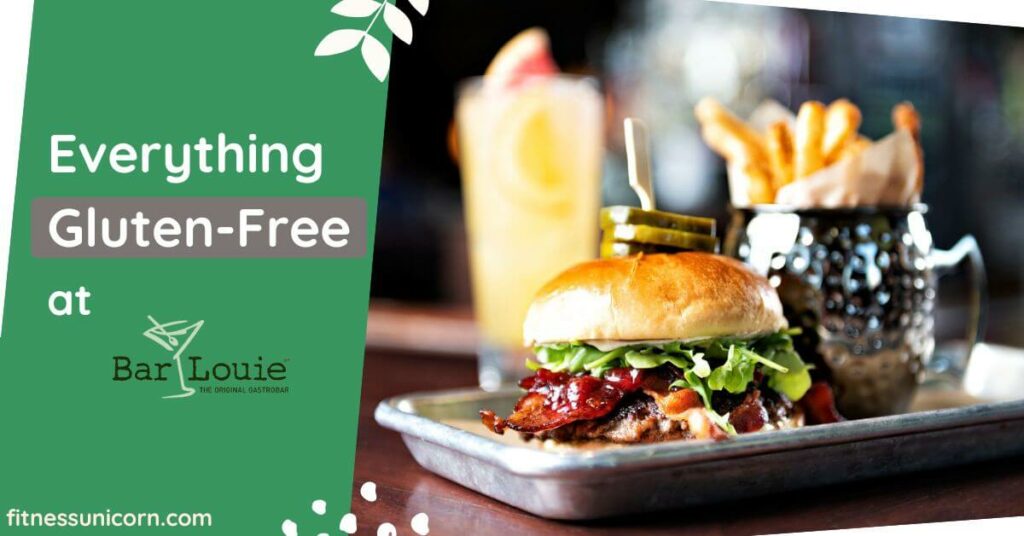 This post may contain affiliate links, which help keep this content free. (Full disclosure)
Gluten-Free Options at Bar Louie
Bar Louie was established in 1990 and has since had the sole goal of serving customers fresh gourmet food that is prepared to order with fresh ingredients along with a great atmosphere to chill and enjoy the company of friends and family.
It has since expanded to over 132 locations across the USA, making a name for itself among the high-end restaurant and bars.
Bar Louie doesn't have a dedicated gluten-free menu or allergen guide, but we've come up with a list of items that are likely to be free of gluten based on our knowledge of ingredients and food groups.
Moreover, there is always a risk of contamination due to the shared kitchen space; hence, if you have Celiac disease or severe gluten sensitivity, we advise you to stay cautious while dining at Bar Louie.
Now let us look at all the gluten-free deliciousness Bar Louie has to offer!
Loaded Tots
The tots at Bar Louie are fried in dedicated fryers and topped with queso, jalapenos, smoked bacon, and scallions to make a devour-worthy gluten-free combo.
RECOMMENDED: Is Anything Gluten-free at Zaxby's?
Bone-In Wings
The bone-in wings are marinated in buttermilk and made fresh to order. They're complimented by a side of celery and ranch or blue cheese dressing. The wings are available in a variety of delicious gluten-free flavors.
Hot Dry Rub Seasoning
Buffalo Sauce
Jalapeno Honey
BBQ Sauce
Old Bay Dry Rub
Street Tacos
The flavorsome tacos at Bar Louie are gluten-free because they're served in corn tortillas. Each tortilla is topped with a choice of meat, pico de Gallo, avocado cream, queso fresco, salsa verde, and lime.
Chipotle Chicken Tacos
Blackened Shrimp Tacos
Impossible Tacos
ALSO READ: Are Now & Laters Gluten-free?
Greens
If you're not in the mood for something heavy, you can try the refreshing fresh green salads that Bar Louie offers. These are light on the stomach and packed with flavors that will leave you longing for more.
The Blue 'Wedge'
Quinoa Chop (without the flatbread pieces)
Charred Lemon Caesar (without the pretzel crumbs)
Seared Salmon
Atlantic salmon is served over a bed of cauliflower rice, quinoa blend, marinated artichokes, cherry tomatoes, roasted broccolini, shishito peppers, arugula, radishes, and lemon vinaigrette.
This dish is a true gluten-free gastronomic experience!
Sides
A variety of gluten-free sides is available for you to enjoy with your meal or to feed the kids.
Fries/Loaded Fries
Tots/Loaded Tots
Roasted Broccolini
Small Garden Salad
ALSO READ: Gluten-Free Options at Krystal
Craft Burgers & Sandwiches
Unfortunately, Bar Louie doesn't have gluten-free buns. If you're really craving a burger or sandwich, you'll have to ditch the buns and opt for a lettuce wrap to enjoy these mouth-watering creations. Be wary of the risk of contamination while ordering these.
Burgers – Louie's Choice Cheeseburger, All-Nighter, Gastroburger, That's My Jam
Sandwiches – Cali Chicken Club, Gastrobar Grilled Cheese
Drinks
There is a wide variety of drinks on offer at Bar Louie. Ask the bartender to offer you drinks free of wheat-based alcohol. Most of the drinks are gluten-free, so you should be good to go.
Louie's Cocktails
Twisted Mules
Signature Martinis
Margaritas & Mainstays
Spiked Sangrias
A variety of red and white wines
Sober A.F. (alcohol-free)
Fantastic Tips for a Gluten-Free Meal at Bar Louie
Since Bar Louie doesn't have a dedicated gluten-free menu or allergen guide, we've devised some helpful tips that will help you ensure a meal free of gluten and contamination. These tips apply to Bar Louie and any other eatery you visit.
Know the Eatery Beforehand
Having a little background knowledge about the restaurant and its operation will help you make an informed decision. Some of the most important aspects to look for when you're looking for an allergy-friendly place are;
What type of food is being served?
Is there a gluten-free menu or not?
Are there separate prep stations for gluten-free food?
Are there strict cross-contact measures in place?
Is the staff knowledgeable enough to guide you accurately?
Bar Louie lacks a gluten-free menu and dedicated prep stations; hence, the risk of contamination is something you can't ignore. If you're a Celiac, we advise you to stay cautious since nothing holds priority over your health and well-being.
Talk to the Manager
Communication is always key when it comes to having a pleasant gluten-free experience. Make sure to inform the manager about your allergy or Celiac disease so they can make arrangements to cater to your needs.
The staff at Bar Louie is extremely helpful and accommodating; they truly care about your experience and will listen to all your queries in detail.
Even though they don't have a dedicated kitchen space, they will try their best to prevent contamination with the facility they do have. If you end up at Bar Louie, know that you'll be in good hands.
Personalize your Order
You can personalize your order at Bar Louie by giving the servers special instructions to avoid cross-contact as much as possible. Request the staff to prepare your meal with the following precautions;
Ask for a single chef to prepare your meal from start to finish to avoid unnecessary confusion.
Request the chef to wear a fresh pair of gloves and disinfect the prep surfaces and grill before preparing your order.
Ask for your ingredients to be fetched from a fresh batch to avoid any possible contamination.
Request the staff to use clean utensils to prepare your order.
If you order any burgers or sandwiches, ask for the bread to be replaced with lettuce wraps.
Keep it Simple
Try sticking to simple dishes that you know are likely to be gluten-free. Order items with the least processed ingredients to ensure safety. Avoid dishes with complex dishes that might contain hidden gluten, like soups in the form of thickeners.
If in Doubt, Throw it Out
No food item is worth risking your health over. Hence, it's important to order things you're certain about. If you're doubtful about a dish or ingredient, it's best to keep away from it.
Avoid Rush
No matter how accommodating or trained the staff is, the risk of contamination and mistakes increases when the orders pile up. Therefore, visiting during off-peak hours is ideal so the staff can be extra careful with your meal.
Cross Contamination Risk at Bar Louie
The fear of cross-contamination is probably the most stress-inducing experience a Celiac can go through.
Cross-contamination occurs when gluten-free food items come into contact with gluten particles through contaminated gloves, utensils, surfaces, pots, and other food items.
This poses a significant risk to people with gluten allergies; hence, the need for strict contamination protocols is paramount.
Unfortunately, Bar Louie doesn't have a dedicated gluten-free menu or a dedicated kitchen space for prepping gluten-free dishes. This leaves the door wide open for cross-contact.
However, the staff is accommodating enough to ensure they do their best to avoid contamination and will follow the utmost safety measures for you.
If you have Celiac disease or severe gluten sensitivity, we'll advise you to stay cautious since there could be a million things in the kitchen that might contaminate your dish.
What is the Public Saying?
Whenever you visit a new eatery, it's important to know its general perception amongst the gluten-free community. These raw, unfiltered reviews help gauge how allergy-friendly an establishment is.
Therefore, we've summarised a series of reviews from Celiac and gluten-sensitive customers to help you in your decision whether to visit Bar Louie or not.
We encountered mixed reviews and found the public split between Bar Louie haters and lovers.
On one side, customers loved the friendly and accommodating staff that was empathetic and ensured servers took care of allergic customers adequately.
They made sure the meal was kept free of contamination as much as possible. Moreover, people loved the gluten-free tots and tacos on the menu; many Celiacs reported not getting sick after eating out at Bar Louie.
On the other hand, many customers were severely disappointed in the lack of cross-contamination measures and separate space for gluten-free items.
They also expressed disappointment in the fact that there was no dedicated gluten-free menu, which made them feel unsafe eating there.
Overall, your experience at Bar Louie can be a hit or miss depending upon how picky you are about the intricacies related to the gluten-free experience. Rest assured, the staff at Bar Louie is incredibly helpful and knowledgeable, so that's a plus.
Gluten-Free Alternatives to Bar Louie
Bar Louie has some exciting gluten-free items, but there is a lack of cross-contamination protocols and a dedicated gluten-free menu. Hence, we've listed some fantastic alternatives to Bar Louie with decent gluten-free options.
McAlister's Deli
McAlister's Deli is a popular casual restaurant that serves some hearty fresh food that is prepared from locally sourced sustainable ingredients. It's the perfect place to hang out with friends and family over some delicious food.
The best part is that McAlister's has introduced gluten-free buns that enable you to enjoy their delicious handcrafted sandwiches, among many other things.
Ultimate Nachos
Fresh Salads – Caesar's Salad, McAlister's Chef Salad, Savannah Chopped Salad
Handcrafted Sandwiches – McAlister's Club, BLT, Reuben, The Veggie
Giant Spuds
Scrumptious Sides
Beverages
The Cheesecake Factory
The Cheesecake Factory is an immensely popular international restaurant serving breakfast, lunch, and dinner. They boast an expansive menu with a huge variety of gluten-free items that will leave you satisfied and fulfilled.
The staff is knowledgeable and well-trained to accommodate people with allergies.
Appetizers
Fresh Green Salads
Small Plates & Snacks
Lunch Specials
Burgers (gluten-free buns)
Steaks & Chops
Breakfast Eggs & Omelets
Mellow Mushroom
Mellow Mushroom is a restaurant specializing in stone-baked pizzas with their own twist. It's the perfect place to satisfy your pizza cravings since they have a certified gluten-free crust on which you can enjoy the pizza of your choice.
Gluten-Free Pizza – House Special, Mighty Meaty, Veg Out
Munchies – Oven Roasted Wings, Hummus with Veggies
Fresh Salads – Greek Salad, House Salad, Chef's Salad
Gluten-Free Brownies