If you have a sweet tooth, then Now and Laters are no stranger to you. They instantly bring a bout of nostalgia in one's mind due to their easy availability in the US and their longevity in the American market.
Avoiding gluten becomes a task when it comes to packaged goods, especially sweets, but don't worry, I've got you covered! So is Now and Later gluten-free?
Some variants of Now and Laters are widely considered gluten-free because they are free from gluten-containing ingredients.
On the other hand, some particular variants have gluten-containing flavoring agents, which are not suited to people with gluten allergies.
In this article, we are going to discuss which variants of Now and Later are glute-sensitive, what are their ingredients, and whether you can have them on a gluten-free diet.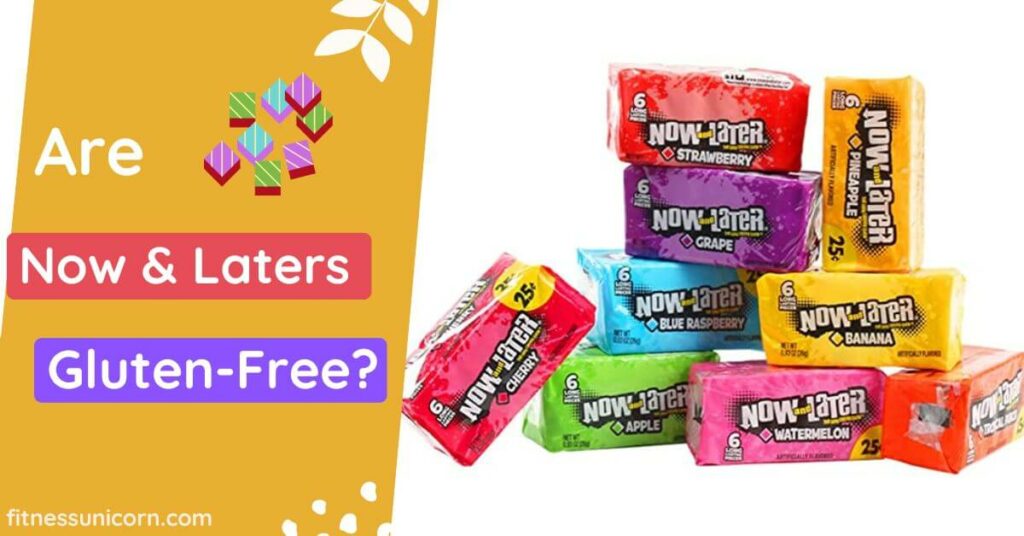 This post may contain affiliate links, which help keep this content free. (Full disclosure)
What Are Now and Later?
Now and laters are a candy brand manufactured by Ferrara Candy Company. These candies are available in both the traditional and chewy forms.
The Phoenix Company created it in Brooklyn in the 1960s and the name was meant to suggest to customers that they are going to like them now and want to buy more for later.
The chewy texture was intended for the same so that if one puts it in their mouth now they will still be chewing it later. The candy is formed into squares and packaged in colorful paper.
It has a total of 6 types. Each type is further sub-categorized into singles or mixes of specific flavors.
What Are The Ingredients In Now and Laters?
Now and laters contain the following ingredients- corn syrup, sugar, palm oil, citric acid, salt, artificial flavor, soy lecithin(emulsifier), red40, yellow5, blue1, blue2.
This also contains soy and product manufacturing is done in a facility that uses eggs in the production of other products.
More nutritional facts include 120 calories, 1g fat, 19g sugars, 35g sodium, and 0g protein in a serving size of 7 pieces.
Different flavors of now and laters may/may not contain gluten based on the artificial flavoring even if not highlighted straightforwardly as "gluten".
What Exactly Is Gluten?
Gluten is naturally found in a protein (known as prolamins) present in certain cereal grains such as wheat, barley, rye, etc which are responsible for the elastic texture of dough.
Gluten can be found in whole grains and various processed foods as gluten is a wheat derivative. Processed foods may not always show "gluten" in their ingredient list but might dress it as "wheat" or in the form of other flavorings.
FIND MORE: Are Reese's Puffs Gluten-Free?
Are Now and Later Gluten-Free?
Now and later as a company proves to be a very gluten-free diet-friendly brand. But gluten-free or not depends on many factors, the major of which is the added flavorings.
Many types and flavors of the now and later are gluten-free but not all.
The now and later as well as the Ferrara Candy Company have a website or page regarding the constituents of each candy which is very helpful for customers to identify which flavors are suitable for their gluten-free diet.
The links to these websites are https://www.ferrarausa.com/ and https://www.nowandlater.com/.
When you are trying to avoid gluten, you don't just need to research the food but also consider its flavors and its many varieties individually.
So, to save you from the hassle, I have put down a detailed analysis in very simple language to help you understand which options are in line with your health preferences.
Let's dig deep into which specific flavors are gluten-free and diet-friendly.
Which Now And Laters Are Gluten-free?
There are a total of 6 types of now and later namely- now and later original, now and later chewy, now and later morphs, now and later shell shocked, now and later extreme sour mix, and now and later splits.
Of these, only 2 are completely gluten-free options based on both their single and mixed flavors. The gluten-free now and later types are:
Now and later MORPHS
Now and later SHELL SHOCKED
The other 4 product ranges also have mostly gluten-free flavors, but not all. Each type of now and later is divided into single or mixed flavors and some of them have their entire mixes or singles gluten-free.
To know more specifically about which now and laters are gluten-free or not continue reading.
RECOMMENDED: Are Bugles Gluten Free?
Are Now and Laters MORPHS Gluten-free?
In short yes! Now and Later morphs are one of the 2 types of Now and Laters which prove to be completely gluten-free. Now and later morphs have 1 mix (morphs) & 1 single (cherry mango morphs) and both of them are gluten-free.
Are Now and Laters ORIGINAL Gluten-free?
The now and later originals have 3 mixes namely the original mix, tropic rush, and berry smash, and all of them are gluten-free.
It has 12 single flavors of which 9 are gluten-free options. The gluten-free singles are listed below:
Banana original
Watermelon original
Strawberry original
Cherry original
Apple original
Grape original
Blue raspberry original
Pineapple original
Orange mandarin original
The 3 gluten containing flavors are:
Tropical punch original
Mango guava original
Strawberry kiwi original
Are Now and Laters CHEWY Gluten-free?
Now and later chewy has 2 mixes namely- the original mix chew, and berry smashes chewy which are both gluten-free.
It also comprises 10 single flavors of which 9 are gluten-free, these gluten-free options are listed below:
Banana chewy
Watermelon chewy
Strawberry chewy
Cherry chewy
Mango chewy
Apple chewy
Grape chewy
Blue raspberry chewy
Pineapple chewy
The only flavor of the chewy singles that are not gluten-free is:
Are Now and Laters SHELL-SHOCKED Gluten-free?
Yes, Now & Later shell shocked is one of the 2 completely gluten-free options out of the 6 total types. Now and later shell shocked has just mixes and no single flavors.
There are two mixes, namely- shell shocked & sour shell shocked and both of them are gluten-free.
Are Now and Laters EXTREME SOUR Gluten-free?
In short yes! Now and later extreme sour has 1 mix named extreme sour mix and it is gluten-free.
And it's single flavors comprise — extreme sour watermelon, extreme sour apple, and extreme sour cherry, and all 3 of these are gluten-free.
Are Now and Laters SPLITS Gluten-free?
Now and later splits have 1 mixed flavor known as mixed fruit splits and it is gluten-free. But now and later splits' 2 available single flavors comprising of lemon-lime splits and lemon blue raspberry splits are both not gluten-free.
Now and Later As a Gluten-free Diet Friendly Brand:
Now and Later has done very well in proving to be a gluten-free brand although some of its flavors do contain some amount of gluten but only for seasoning or flavoring purposes. Most options provided by the company are gluten-free.
There are a total of 38 different kinds of now and laters out of which only 7 are containing gluten and the rest 31 is completely gluten-free.
Therefore, the brand has 81.57% of gluten-free choices, which further qualifies it as a gluten-free diet-friendly brand.
It's necessary to know which options of the Ferrara Candy Company's Now and Later brand align with your gluten-free diet plan or not before shopping directly at the market as the labels don't always tell the full story.
So it's better to go directly to the source for your research.
I hope this article clears all your doubts about which flavors and types of the now and later are suitable for your gluten-free lifestyle and which are not.
And if you loved this post I encourage you to share it with other like-minded people and spread awareness on Facebook, etc and pin it for future reference on Pinterest.