Since the arrival of nerds rope, this crazy-looking jiggly and crunchy candy has made a space in everybody's hearts. Kids and adults are equally attracted to this playful candy, and no one can deny their love for it.
You might be wondering whether these juicy candies are safe to eat if you are gluten-sensitive. Unfortunately, nerds ropes are not the ideal delights for people with gluten sensitivity.
Although they are entirely made of sugar and added gluten-free flavors, the facilities where they are made don't provide a gluten-free environment.
But don't worry. In this blog post, we've covered a comprehensive list of gluten-free alternatives to nerds rope. Additionally, you will learn about their nutritional value and whether they are suitable for vegans or not.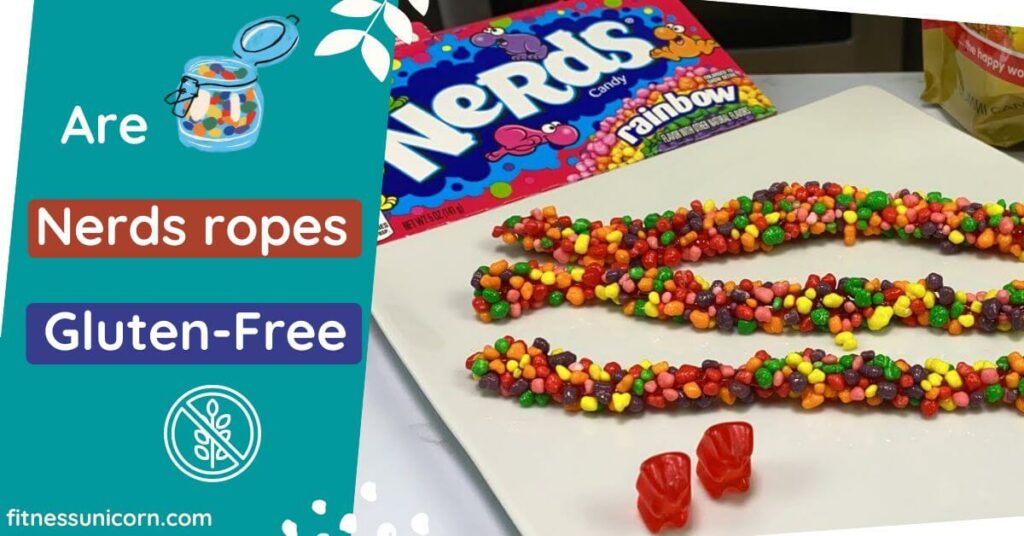 This post may contain affiliate links, which help keep this content free. (Full disclosure)
What are Nerds Ropes?
Nerds rope are DNA-looking colorful, and crazy sugary candies made for kids and adults. Nerds rope is exclusively manufactured by the Ferrera company and can be easily found across all the stores in America.
It is pellicular-shaped colorful candy, with a chewy, elastic center covered with colorful beads-looking candies. These delicious sweet candies are made by combining many flavors like grape, orange, lemon, watermelon, and strawberry.
Nerds ropes are available in three packagings
Rainbow Nerds Rope
Berry Nerds Rope
Tropical Nerds Rope
What are They Made of?
Nerds rope is a combination of two distinct elements, its chewy and stretchy gummy center and the crunchy and colorful nerds surrounding it.
Yes, nerds, and I am not talking about human nerds; these are colorful round little candies with fruity flavors.
The official list of ingredients used in making nerds rope are DEXTROSE, SUGAR, CORN SYRUP, 2% OR LESS OF MALIC ACID, GELATIN, GLYCERIN, NATURAL FLAVORS, CONFECTIONER'S GLAZE (LAC RESIN), CITRIC ACID, CARNAUBA WAX, CARMINE COLOR, COLOR ADDED, BLUE 1, BLUE 1 LAKE, BLUE 2 LAKE, RED 40, RED 40 LAKE, YELLOW 5, YELLOW 5 LAKE, YELLOW 6.
And the nutritional value of nerds rope is as follows.
Total Fat – 0g
Saturated Fat – 0g
Trans Fat – 0g
Cholesterol – 0g
Sodium – 5mg
Total Carbs – 23g
Dietary Fiber – 0g
Sugars – 21g
Includes added sugars – 21g
Protein – 0g
Vitamin A – 0g
Vitamin C – 0g
Calcium – 0g
Iron – 0g
What is Gluten?
Gluten is a naturally occurring insoluble protein found in wheat, rye, and barley that keeps the food glued together. It gives a chewy and stretchy texture to bread and pasta.
Gluten is inseparable from wheat products. Hence it is impossible to find gluten-free wheat products. In one way or another, gluten is found in almost all shelved products at the mart.
The major processed foods that contain gluten are bread, pasta, sauces, beer, salad dressing, cookies, cereals, and many others.
However, gluten can sometimes be hidden inside products as many are manufactured in wheat processing factories.
RECOMMENDED: Are Reese's Puffs Gluten-Free?
Are Nerds Ropes Gluten-Free?
Yes, Nerds Ropes are gluten-free, but with a small caveat. Ingredients used in making nerds rope are gluten-free; however, it is written on Amazon that its made in facilities where wheat products are processed.
A gluten-free product is labeled as gluten-free on the product packaging, and nerds rope is not marked as gluten-free.
If you are highly gluten sensitive, it is advisable to avoid eating nerds rope altogether; however, with mild wheat intolerance, it is always better to consult your doctor and experiment if it works for you.
Is There Gluten in Nerds?
Nerds are colorful round candies made up of sugar and various fruity flavors.
Although nerds are not made of gluten-containing ingredients, they are made in facilities containing gluten. Therefore, they can't be considered gluten-free and are advised for gluten-sensitive people to avoid them.
Is there gluten in the gummy center?
Nerds rope gummy center comprises gelatine, sweeteners, and other flavors. These ingredients individually are gluten-free; however, these products are made in facilities that contain gluten; hence these can't be considered gluten-free.
Are nerds ropes vegan?
No, these multicolored treats are not vegan for many reasons. The primary is the ingredients used in making the gummy center and the flavors of the nerds.
The gummy center contains gelatine, made up of animal protein, and the red flavor used in making nerds is made up of carmine, obtained by boiling cochineal beetles.
As nerds rope is always a combination of various flavors, it's hard to find one that is vegan friendly; however, you can find grape nerds vegan-free and try them individually.
Another major aspect that makes nerds rope not vegan friendly is that they are manufactured in facilities where eggs are processed; it is officially mentioned on nerds rope packaging that they may contain eggs.
ALSO READ: Are Bugles Gluten Free?
Are nerds ropes fat-free?
Nerds rope is free from all types of fats. No fats are used in the recipe for making nerds rope; hence, they have zero fat content.
How to make better choices while choosing gluten-free candies?
The best way to find a gluten-free product is to read the packaging. Gluten-free products are always labeled as gluten-free.
It is a good idea to stay updated with changes in product ingredients and their processing facilities. A slight change in components or the manufacturing facility often can introduce gluten into the products.
Additionally, you check their ingredient list and determine if there is any hidden element of gluten hidden in it. You can contact the official manufacturer and gain information regarding specific products.
Gluten-free alternatives to nerds ropes
Nerds rope is manufactured by only one company; hence, this product has no exact alternatives. However, various other candies available in the market can act as suitable alternatives to nerds ropes.
Ferrera
Ferrera is the parent company of nerds rope. Although it doesn't offer gluten-free nerds rope, there are other products offered by this company that doesn't contain gluten.
The company advises you to obtain product-specification information by filing their contact form.
Atomic Fireballs
Black Forest Gummies and Fruit Snacks
Ferrara Gummies and Jellies
Jawbreakers/Jawbusters
Jujubes
Jujyfruits
Lemonheads (Regular and Chewy)
Now & Laters
Rain-Blo Gumballs
Raisinets
Red Hots
Sathers Cherry Sours
Sathers Gummies
Trolli Gummies and Fruit Snacks (all except Sour Brite Bites and Twisted Sour Brite Crawlers)
Nestlé
Nestlé offers varieties of gluten-free candies that are labeled gluten-free on their packaging. However, you must be careful because the ingredients and manufacturing locations change over time.
Read the label carefully before consuming any of these products.
Goobers
Nips (including both regular and sugar-free)
Oh Henry!
Raisinets (including Cranberry and Dark Chocolate flavors)
Sno-Caps
Wonka Pixy Stix
Wonka Lik-M-Aid Fun Dip
Annies Homegrown
Annie Homegrown is known for its organic food products; they micro-manage everything from making raw materials on the farms to packaging them.
Their Organic Fruit bites and fruit snacks are gluten-free.
JellyBelly
JellyBelly officially claims on its website that all of its candies are gluten-free, fat-free, peanut-free, and dairy-free. Their candies are made up of natural flavors and are available in over 100 flavors.
Black Forest
All of their organic gummies and fruit-flavored snacks are gluten-free or certified gluten-free. Their products are made of certified USDA organic ingredients; hence you can trust this candy brand.
Sour Patch
Sour patch claims some of its candies to be gluten-free on its official website; however, it is always a good idea to contact the manufacturers for more information. Some of the gluten-free options offered by sour patches are
Go-Gurt
Sour Patch Extreme
Pop Socket
Welch's
Welch's is known for their gluten-free fruit snacks. All of their fruit snacks are officially labeled as gluten-free on their packaging. You can consume these products without any issues.
Gimbal's Fine Candy
Gimbal's Fine candies are gluten-free, allergen-free, dairy-free, and peanut free. You can easily verify these claims from the product's packaging.
Boston Fruit Slices
Boston Fruit Slices serve handmade products, and their facility and products are entirely allergen-free. All of their products are gluten-free, vegan, and fat-free, so you can enjoy these sweet candies without problems.
Paskesz
Paskesz offers many gluten-free products. You can find a gluten-free label on their gluten-free products; hence they are safe for people with gluten sensitivity. Here is a list of some gluten-free products. You can check more products on their website.
Beanie Hearts
Gummy Bears
Sour Jelly Animals
Sour Jelly Rings
Fruit Snacks Very Berry
Fruit Snacks Wild Strawberry
Cherry Sours
Raspberry Sours
Apple Sours
Fruit Sours
Mini Jelly Beans
Gummy Hearts
Jelly Fish
Gummy Fruit Slices
Fruity Taffy
Assorted Ball Lollipops
Fruit Snacks Fruit Medley
Giant Shock Pops
Fruit Leather – All Flavors
Fruit Taffy
Conclusion
Nerds rope is not gluten-free, but it doesn't mean that you can't enjoy candies altogether or can't treat kids with candies. You can try other gluten-free alternatives to nerds rope and can renew your childhood memories.
However, it is always better to remain cautious of the ingredients and any allergen warning mentioned on the products. Make smart choices and only choose gluten-free labeled products from the store.