TopGolf was founded in 2000 by two brothers who shared an immense passion for golf. They came up with the idea of TopGolf while contemplating the problems of golf and lackluster driving ranges.
The idea was not well-received initially but come present-day, TopGolf is a popular international franchise with multiple locations spread across 4 countries.
TopGolf is a great place to visit with friends. You don't even need to be a great golfer, just have a few swings in their hitting bays while enjoying the company of your friends along with great food and music.
The limited menu at TopGolf offers little variety, and it's a bit challenging to order something keto-friendly if you're on a keto diet. But, not to worry because with some cheeky ordering hacks, you can always enjoy an appetizing keto meal.
So what's Keto-friendly at TopGolf?
The bone-in traditional wings at TopGolf are your safest bet when it comes to being keto-compliant. These scrumptious wings are made fresh and come in at around 4g of net carbs.
You can have these tossed in your favorite sauce and enjoy them with a side of celery sticks and carrots.
Other keto-attractions at TopGolf include their grilled chicken sticks and a variety of fresh salads.
You can also customize items to make them keto-friendly, for instance, you can replace tortillas with lettuce wraps to enjoy their delicious tacos.
This article will be showcasing all the possible keto-compliant options on offer at TopGolf.
We will be saving you the hassle of trying to figure out what's keto on the menu, so you can focus on beating your friends in the countless fun games instead of worrying about what to order.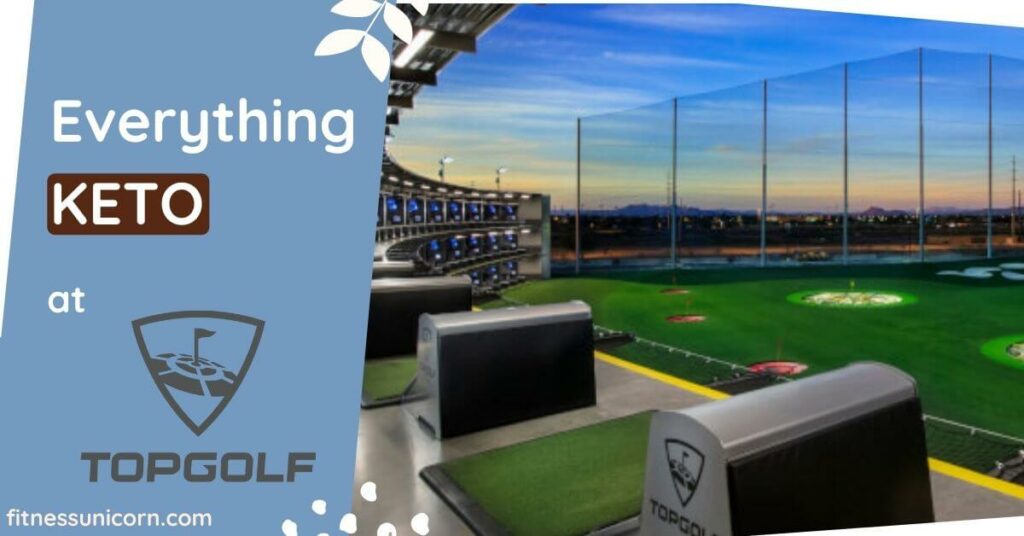 Tired of searching whether certain foods are keto? Download my keto cheat sheet with 210+ keto-friendly foods!
This post may contain affiliate links, which help keep this content free. (Full disclosure)
How to Survive Keto at TopGolf
TopGolf originated in the UK but eventually became a US thing. The majority of the 50+ locations are now in the US.
TopGolf has become a hit place to visit with friends, you can book your climate-controlled hitting bays and enjoy dozens of different games with your buddies. All this with the addition of great food, music, and atmosphere.
When it comes to the food, the options are limited if you're on keto. This might be problematic for someone new to keto and has a hard time figuring out what they can and cannot have.
Maintaining a state of ketosis means you're only allowed 20-25g of net carbs a day. This leaves you with very little room for carbs in your diet.
The good thing about TopGolf is that they have a complete nutritional guide on their menu that you can consult to figure out the number of carbs in your desired meal.
If you plan on visiting TopGolf, you can pre-plan your meals by going through the nutrition guide. This will save you the stress and hassle of having to order a low-carb meal on the spot.
Even though the menu at TopGolf is concise it still has decent keto-friendly options for you to choose from. Their grilled chicken sticks, fresh salads, and famous wings make for the perfect keto snacks.
You can also have the burgers wrapped in lettuce instead of buns to make them keto compliant.
Before we carry out an in-depth nutritional analysis of the keto-friendly options at TopGolf, we need to look at some of the items you need to avoid at all costs. These items are extremely carb-rich and will ruin your diet in seconds.
Shareables – Buffalo Chicken Dip, Queso Blanco, Macaroni Bites, Crispy Chicken Strips, Loaded Sheet Pan Nachos & Tots, Pulled Pork Sliders, and Boneless Wings
All of their Flatbreads
Butter Milk Fried Chicken Sandwich
Miso Salmon Bowl
Sides – French Fries, Tater Tots, and Sweet Potato Waffle Fries
Wing Sauces – BBQ and Asian Sesame Sauce
All of their desserts
It is vital to avoid these items to ensure the safety of your hard-earned ketosis. You'll have to fight temptations but "No Pain, No Gain" right? Now let us analyze the various Keto-friendly options available at TopGolf.
ALSO READ: Keto-Friendly Grilled Options at Urban Plates
TopGolf Keto-friendly Options
TopGolf doesn't have a specific keto menu, but after carefully analyzing their nutritional guide, we have come up with a list of keto-friendly items. These items are all under 20-25g of carbs and won't ruin your hard-earned ketosis.
#1 TopGolf Wings
Net Carbs: 4g
Total Fats: 55g
Proteins: 32g
Calories: 650 kcal
TopGolf's delicious bone-in wings are always fresh and made to order. You can have them tossed in your favorite low-carb sauce with a side of celery sticks and ranch. These wings will surely satiate your cravings while maintaining ketosis.
#2 Grilled Chicken Sticks
Net Carbs: 10g
Total Fats: 76g
Proteins: 42g
Calories: 890 kcal
The Grilled Chicken Sticks are an amazing low-carb alternate to chicken tenders. These perfectly grilled chicken strips are garnished with fresh feta and cilantro and served with your favorite dipping sauce.
#3 Blackened Shrimp Sticks
Net Carbs: 20g
Total Fats: 60g
Proteins: 35g
Calories: 300 kcal
Served with a side of lime crema and cilantro, these shrimp sticks are an absolute fan favorite. Make sure to skip the mango salsa to further reduce the carbs.
RECOMMENDED: Everything Keto at Beef 'O' Brady's
#4 Fresh Salads
TopGolf has a variety of rich green salads that will serve as the perfect snack if you're not looking for a full meal. Make sure you skip on the croutons and sweet high-carb dressings. You can also add on extra proteins to make a full meal out of the salad. Some of their keto-friendly salads include;
House Salad – 20g
Chicken Caesar Salad – 12-18g (minus the croutons)
Turkey Avacado Salad – 21g
#5 Burgers & Sandwiches
TopGolf has delicious juicy burgers and sandwiches which are extremely hard to resist. If you're going to fall prey to your temptations, make sure to replace the bread with lettuce wraps.
This will allow you to experience the meaty goodness without having to sacrifice your diet.
Remember to skip the side of fries and substitute fried chicken with grilled chicken.
All American Burger – 12-15g
Smokehouse Burger – 12-15g (without BBQ sauce)
Teriyaki Burger – 12g
Grilled Zucchini Caprese
Fried Chicken Heat-wich (opt for grilled chicken)
RELATED: Keto at Pappadeaux Seafood Kitchen
#6 Tres Tacos
Net Carbs: 6-8g (per taco)
The scrumptious Mexican tacos at TopGolf come in three different proteins; Chicken, Steak, and Shrimp. You can opt for the protein of your choice but remember to swap out the tortillas with lettuce wrap to make them keto-compliant.
#7 Wing Sauces
TopGolf has a variety of sauces you can enjoy with your wings. Some of the low-carb sauces include;
Buffalo Sauce – 0g
Garlic Parmesan – 4g
Lemon Pepper – 1g
#8 Salad Dressings
The salad dressings on offer will add that extra oomph to your salads. The low-carb dressings include;
Low-Fat Balsamic – 4g
Blue Cheese – 1g
Ranch – 2g
Chipotle Aioli – 5g
Caesar Dressing – 4g
ALSO READ: EVERYTHING Keto at Corner Bakery Cafe
#9 Beverages
TopGolf has an expansive beverage menu that has both alcoholic and non-alcoholic drinks. Unfortunately, the majority of these drinks contain sweeteners making them off-limits. However, there are a few drinks that you can enjoy without ruining your diet. Just be careful not to drink too much.
#Non-Alcoholic
Diet Sodas – 0g
Redbull sugar-free – 2g
#Alcoholic
Topo Chico – 0g
Michelob Ultra – 3g
Miller Lite – 4g
Coors Lite – 4g
Lagunitas Day Time – 5g
Truly Strawberry Lemonade – 2g
White Claw – 2g
High Noon Pineapple Vodka & Soda – 3g
Canteen Watermelon Vodka Soda – 0g
14 Hands – Pinot Grigio – 4g
Coppola Diamond Collection Rose – 4g
Imagery – Chardonnay – 4g
Kim Crawford – Sauvignon Blanc – 4g
Hayes Ranch – Chardonnay – 4g
Conundrum – White Blend – 0g
Hayes Ranch – Merlot – 4g
J. Lohr Seven Oaks – Cabernet – 5g
Three Thieves – Pinot Noir – 4g
Josh Cellars – Cabernet – 0g
Rose Sparkling, Chandon – 2g
Conclusion
TopGolf has limited options for the people on a ketogenic diet. However, if you plan ahead you can easily make the most of their concise menu.
All the nutritional information is provided to the customer and you can also inquire about specific ingredients that might contain hidden carbs.
At TopGolf you are bound to have a great time with friends and family. The only problem you might have encountered was the food, but this article takes care of that. So next time you visit TopGolf be sure you give this article a read.
Happy Golfing!