Krystal is a famous American fast-food chain specializing in miniature burgers popularly known as sliders. It was established in 1932, making it one of the oldest hamburger chains in America.
Even though Krystal is a popular fast-food chain, the fact remains that they're not well equipped to serve people with dietary restrictions. Hence, if you have Celiac disease or severe gluten sensitivity, your options are sparse.
So what's gluten-free at Krystal?
The limited gluten-sensitive options at Krystal include their delicious scrambler breakfast bowls, a few sides, and some decadent desserts. These items will only be safe for consumption if proper cross-contamination protocols are followed.
Other gluten-free items at Krystal are the sliders and hotdogs if you swap out the bun with lettuce wraps. You can also enjoy a selection of gluten-free sauces along with these dishes.
Krystal is a fast-food joint with a predominantly gluten-containing menu and little to no cross-contamination protocols. This means that the chances of getting sick if you have Celiac disease or severe gluten sensitivity are relatively high.
Moreover, Krystal does not have an allergen menu that you can refer to; this makes it exceptionally difficult to order something 100% gluten-free.
Therefore, if you have severe gluten allergies or Celiac disease, you should definitely stay clear of Krystal. Risking your health and well-being over some food is never worth it.
This article is going to be an in-depth scrutinization of Krystal's menu. We're going to compile a list of items that are safe for consumption for the casual gluten-free eater.
We'll also discuss a few tips to reduce the risk of cross-contamination and order a gluten-free meal.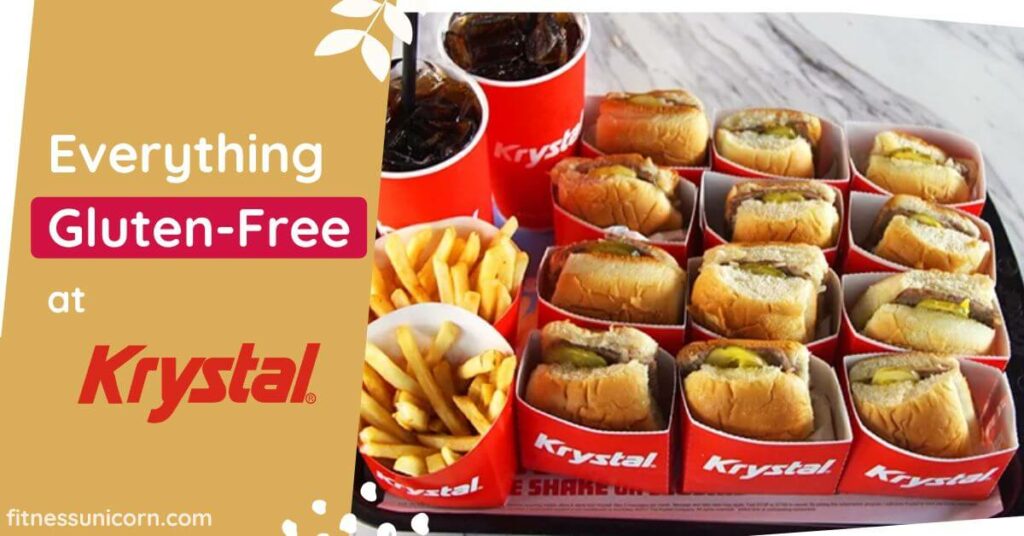 This post may contain affiliate links, which help keep this content free. (Full disclosure)
Gluten-Free Options at Krystal
Krystal serves some fast-food favorites, including breakfast, sliders, hotdogs, chili dogs, and chili fries. We're going to be looking at some of the possible gluten-free options at Krystal.
The name Krystal was inspired by the owner noticing a crystal lawn ornament. The name signified cleanliness as a cornerstone of their new business endeavor. 'Crystal clean' but with a K.
Krystal initially started out with an over-the-counter service that gradually adopted a drive-thru style of service. Today, Krystal has over 350 locations across nine states.
The menu at Krystal ranges from the famous sliders and hotdogs to breakfast items and much more!
We've thoroughly gone through the Krystal menu to shortlist a few items that would be safe for consumption if proper cross-contamination protocols are followed.
If you suffer from Celiac disease, we highly suggest you stay clear of Krystal or visit at your own risk.
Breakfast
Some breakfast items at Krystal can be made gluten-free if adequate measures are taken to prevent cross-contamination. The options that are free of gluten are listed below.
1. Scrambler Breakfast Bowl
The scrambler breakfast bowl at Krystal consists of scrambled eggs, homemade grits, American cheese, savory sausage, and crispy bacon. This makes for a perfect gluten-free breakfast on the go.
You can also order a low-carb version that comes without the grits.
Remember to remind the staff to follow precautions to avoid contamination.
2. Three Egg Breakfast Plate
If you're looking for a hearty breakfast that will get you through the day, then Krystal's three-egg breakfast platter is the way to go. It comes with three eggs, grits, savory sausage, and two crispy bacon strips.
Ask the waiter to skip the biscuit to make your meal gluten-free.
3. Pups/Mini Hotdogs
The miniature hotdogs at Krystal are called pups. The pups come in a classic and chili cheese variant. You can only eat this if you swap the bun for lettuce.
ALSO READ: Is there anything gluten-free at Arby's?
Sliders
The sliders at Krystal are the main attraction. They're what put Krystal on the map and what people visit them for. You can enjoy their classic sliders if you swap the bun for lettuce.
Also, make sure the staff follows strict protocols to avoid cross-contamination.
You can have the sliders in four different variations.
Original Krystal
Double Krystal
Cheese Krystal
Bacon Cheese Krystal
Desserts
To satisfy your sweet tooth, you can enjoy Krystal's delicious sundaes and milkshakes.
Sundae – Chocolate and Strawberry
Milkshake – Vanilla, Strawberry, and Chocolate.
Sauces
You can complement your food with some of Krystal's gluten-free sauces.
Honey Mustard
Sweet Baby Rays BBQ
Ranch
RECOMMENDED: Krispy Kreme Gluten-Free Options
Tips & Tricks for a Gluten-Free Meal at Krystal
Krystal doesn't have a gluten-free or allergen menu like many fast-food places. This makes ordering gluten-free items extremely inconvenient.
Moreover, they don't have an ingredient list that we could use to judge what gluten-free items they have. Therefore, having background knowledge of any restaurant is pertinent before you visit.
We have a few tips that will help you stay clear of contamination and gluten-containing items whenever you visit Krystal or any other restaurant. If you suffer from Celiac disease or severe gluten allergy, we recommend you stay clear of Krystal.
Know The Eatery
Before visiting any new eatery, you must know what kind of food they serve, whether they have good cross-contamination protocols, a gluten-free/allergen menu on hand, and whether they're open to catering modifications.
This will allow you to judge how allergy-friendly an establishment is.
Fast-food restaurants are ill-famed for having extremely poor cross-contamination protocols. The gluten-free ingredients are placed in the same place as gluten-containing items, and there are no dedicated prep surfaces to avoid contamination.
This holds true for Krystal as they have no specific gluten-free policy; hence, if you do end up visiting Krystal, be sure to practice extreme caution.
Communicate
It is paramount that you inform the staff and manager about your gluten allergy before ordering. This will allow the kitchen staff to take necessary precautions if possible.
If the restaurant cannot cater to your needs, the manager will tell you beforehand so you can make a decision accordingly.
At Krystal, your meal will never be guaranteed to be gluten-free. The staff there isn't as knowledgeable or trained to handle allergies; hence it's better if you stay clear of Krystal. 
READ MORE: BEST Gluten-Free Bakeries in San Antonio, TX
Keep it Simple
Remember to keep it simple when it comes to ordering from a new place. Always request something that carries the lowest risk of contamination, and you're sure of it.
Stay away from complex dishes that might have hidden gluten and trigger your allergies—moreover, the more complex the dish, the higher the chances of contamination.
Special Precautions
If Krystal is open to following precautions and modifying your order for you, then be sure to mention the following precautions when ordering.
Request for a single server to prepare your order from start to finish to avoid confusion and contamination.
Request the server to have the prep surfaces cleaned and disinfected before prepping your order to reduce contamination further.
Ask the kitchen staff to put on a fresh pair of gloves before prepping your order.
Request that your ingredients be fetched from a fresh batch to minimize contamination.
If you're going to order the sliders or hotdogs, remember to ask for the bun to be swapped with lettuce wraps.
When In Doubt, Throw It Out
If you think your meal has come into contact with gluten in any way or contains an ingredient that you're not so sure of, then it's better to stay clear of the dish altogether.
Nothing is worth risking your health over especially if you have Celiac disease or severe gluten sensitivity.
Avoid Rush Hours
You should always visit a restaurant during off-peak hours when the staff is much more relaxed and can cater to your needs accordingly.
This is especially true for a place like Krystal, where there are no gluten-free policies or protocols in place. Rush hours significantly increase the chances of contamination and mistakes in the kitchen.
Cross Contamination Risk at Krystal
Cross-contamination occurs when gluten-free food items come into contact with gluten-contaminated gloves, utensils, surfaces, and food. This has proven to be a huge risk for Celiacs and people with extreme gluten intolerance.
Something seemingly gluten-free could be laced with gluten through contamination. Therefore, stringent cross-contamination protocols are paramount at any eatery.
A fast-food restaurant like Krystal is notorious for having extremely poor cross-contamination protocols. They usually don't have a dedicated gluten-free facility or even separate prep stations.
This means the risk of contamination is extremely high at these restaurants. Krystal doesn't have any protocols, making it unsafe for Celiacs.
Moreover, the staff isn't very knowledgeable about gluten-free food items; therefore, you should stay clear of Krystal if you have severe gluten intolerance.
The Publics Verdict
We scoured the internet to look for reviews about Krystal's gluten-free options. After conducting thorough research, we found that Krystal is not a good place for Celiacs to visit.
The overwhelming majority of people mention the lack of gluten-free options and the non-existent cross-contamination protocols. The people also mention the overall ambiguity due to the lack of an official ingredient list.
The reviews have reiterated the fact that if you suffer from Celiac disease or severe gluten intolerance, then Krystal is not the place for you.
Gluten-Free Alternatives to Krystal
Since the gluten-free options at Krystal are a bit dodgy, here are a few excellent fast-food alternatives that maintain satisfactory cross-contamination protocols and have fantastic food.
Chick-fil-A
Chick-fil-A is a great fast-food restaurant if you're on a gluten-free diet. They've introduced gluten-free buns which means you can enjoy their grilled chicken sandwiches.
They also have an official allergen menu and ingredient menu that helps you order with ease. The various gluten-free options at Chick-fil-A include;
Grilled Chicken Sandwich (GF buns)
Salads
Grilled Chicken Nuggets
Waffle Fries
Sauces
In N' Out
If you're situated on the west coast and love burgers, then In N' Out is your go-to. The best part is that all the menu items at In N' Out are gluten-free except their buns.
You can order their burgers protein-style, which means they'll replace the buns with a lettuce wrap, making the burger free of gluten.
Protein-Style Burgers
Animal Fries
Plain Fries
Milkshakes
Five Guys
Five Guys has one of the best fast-food burgers you can get your hands on. These burgers are completely gluten-free if you swap the bun out for lettuce wraps. You can also order their hotdogs without the buns.
They have a wide variety of toppings you can choose from to construct a burger of your choice.
Burgers (no buns)
Hotdogs (no buns)
Fries
Peanuts
Plain Milkshakes