Sandwiches are perfect for any time of the day. They're tasty, healthy, and super customizable to your own liking. What's not to like? But if you're looking for a place with fun options, Arby's is the place for you.
Is there anything gluten-free at Arby's, though?
Arby's lives by their motto, "We have the meats." So, no worries about getting a decent gluten-free meal! There are other ways to get a gluten-free "sandwich."
Frankly, Arby's still doesn't offer gluten-free buns. Customers can choose to put the meat and other ingredients in a bowl or get a lettuce wrap.
Meat options for your sandwich include Angus Beef, Corned Beef, Pepper Bacon, or Roast Turkey.
There's also a Chopped Farmhouse Salad filled to the brim with luscious greens which you can drizzle with Buttermilk Ranch or get with shredded cheddar. You can also get a refreshing shake or Applesauce to complete your meal.
Arby's has a lot of gluten-rich items on the menu. Naturally, the kitchen runs a high risk of cross-contamination, especially if the location has a poor allergy protocol.
Thus, if you're someone with extreme gluten intolerance or celiac disease, you might want to drive past Arby's and go somewhere else instead of endangering your health.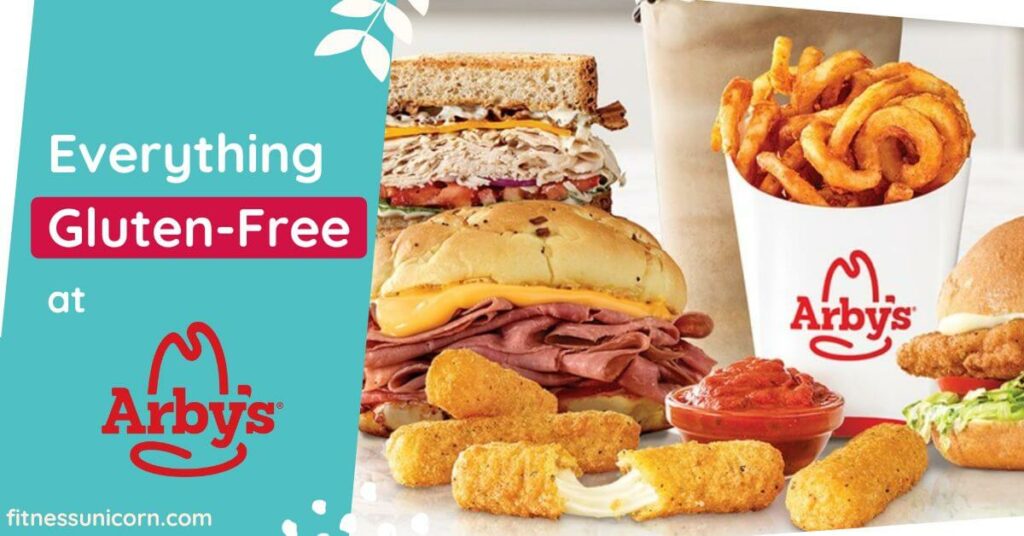 This post may contain affiliate links, which help keep this content free. (Full disclosure)
Arby's Gluten-Free Options
Arby's sounds like the R.B, right? The company's name was actually based on the founders' surname, Raffel. The initials R.B which stands for Raffel Brothers, eventually became Arby's.
Creative? Totally.
The Raffel brothers first thought of starting a franchise based on something else other than the famous hamburgers during the sixties. In 1964, the first Arby's was built in Ohio.
They originally had roast beef sandwiches, potato chips, and soft drinks only. The company expanded along with its menu, offering more options in the succeeding years.
In 1976, the family decided to sell the company to Royal Crown Cola Company for $18 million.
To this day, America still loves the old sandwiches the Raffel brothers started. Well, it won't be America's second-largest sandwich chain without a good reason.
Arby's ensures that no one is left out. There's something for every diet! Vegan, Keto, and of course, gluten-free.
Here are the best gluten-free items on Arby's menu.
Note: These are sourced from Arby's U.S Menu Items Without Gluten. They contain no wheat, barley (malt), rye, or oats. Items marked with (*) indicates that they may contain maltodextrin from a corn source.
Angus Beef
Corned beef
Roast beef
Pepper bacon
Roast turkey
Smoked brisket
Pit-Smoked Ham
RECOMMENDED: Is there anything gluten-free at Krispy Kreme?
Dipping Sauces
Bronco Berry
Buffalo Dipping
Tangy Barbeque
Ranch Dipping
Marinara
Honey Mustard Dipping
Breakfast
Breakfast Bacon
Sausage Patty
Scrambled Egg Patty
Orange Juice
Chopped Salads
Chopped Farmhouse Salad (Roast Turkey)
Chopped Side Salad
Salad Dressings
Balsamic Vinaigrette
Buttermilk Ranch
Dijon Honey Mustard
Light Italian
Sides and Snacks
Condiments
American Cheese (Processed)
Arby's Sauce
Cheddar Cheese Sauce *
Cheddar Cheese (Sharp Slice)
Cheddar Cheese (Shreded)
Dijon Honey Mustard Sandwich Sauce
Horsey Sauce
Italian Seasoning
Ketchup
Mayonnaise
Parmesan Peppercorn Ranch Sauce
Pepper and Onions
Red Ranch Sauce
Sauerkraut
Spicy Brown Honey mustard Sauce
Smokey Q Sauce
Spicy Three Pepper Sauce
Spicy Brown Honey Mustard Sauce
Swiss Cheese (Natural Slice)
Swiss Cheese (Processed)
Thousand Island
FIND MORE: In-N-Out Gluten-Free Options
Shakes
Beverages
Brewed Iced Tea
CapriSun Fruit Juice
Coffee
Sweet Tea
Shamrock Farms Low Fat White and Chocolate Milk
Soft Drinks
Tips for a Gluten-Free Meal at Arby's
Bring Your Buns
Ordering sandwiches when dining out can be quite of a gamble. Only a few restaurants offer gluten-free buns, and sadly, Arby's isn't one of them.
To get the full sandwich experience, you can bring gluten-free buns to Arby's (or at any restaurant if you can!) Other gluten intolerant visitors also did this tip, and the staff were gladly helpful to use the bread for the sandwich.
Just inform them of your condition before ordering to let them know why you brought in your own buns.
Eating a delicious sandwich doesn't have to be so hard!
Alert The Staff
It's one of the basic tips to keep in heart. Alerting your server before ordering is very crucial especially for Arby's.
Not all locations are knowledgeable with gluten sensitivity accommodation, so most satisfied visitors recommend informing the staff of your condition to trigger proper allergy protocol like changing of gloves and cleaning the counter thoroughly before prepping your meal.
This tip should alleviate your worries somehow.
Avoid Anything Risky
The Potato Cakes and Homestyle Fries do sound tempting, after all they should be naturally gluten-free.
Unfortunately, they're not. Arby's states that these items may be cooked in the same oil as their other gluten-rich items containing wheat such as Mozzarella Sticks, Steakhouse Onion Rings, and Chicken Tenders.
Thus, cross-contamination is highly possible.
Other locations have dedicated fryers for gluten-free fries while some don't. Gluten intolerant visitors have varying experiences with Arby's anything deep-fried, so its safety can't be confirmed.
It's best not to get them at all regardless of that irresistible potato crisp (sorry!)
Cross Contamination Risk
It's common for gluten-intolerant diners to get sandwiches without the bun. Yup, sounds weird. Well, who wants their meal to be cross-contaminated with allergens?
Anyone with gluten sensitivity or celiac disease knows how dangerous cross-contact can be, but how does it happen?
Cross-contamination implies the risk of exposing gluten-free food to gluten-rich items. This unfavorable scenario endangers the health of anyone with gluten intolerance since the risk freely lurks in the kitchen.
The danger runs high everywhere when flawed protocols are in place. For instance, if gluten-free buns are stored in the same place as wheat bread, you can expect your GF buns to be contaminated with wheat.
Or if your server uses the same knife for a gluten-free sandwich's spread as the ordinary sandwich.
Although it's quite hard to ensure a safe, gluten-free meal, eliminating all possible sources of gluten in the workplace is a big step in doing so.
This means willingly changing gloves, cleaning the counter, and using dedicated equipment to prepare gluten-free food for the kitchen staff.
Due to Arby's nature, the risk is always high and inevitable in the kitchen. To give yourself the best time, try to watch your meal before it gets to your plate. Alert the staff if needed.
Curious about Arby's gluten-free accommodation? Read on to see some of their visitors' stories.
What People Are Saying
Most visitors complain about one thing: Arby's limited gluten-free menu. One celiac visitor even took away one star from his review due to this reason.
A lot of users agree that the staff takes gluten sensitivity requests seriously. One celiac guy said that the staff changed their gloves before preparing his sandwich. There was also a separate bag for his meal, beef cheddar without a bun. Another celiac user said that the staff was very helpful and went out of their way to help. This user also brought their own gluten-free bun.
One gluten intolerant user mentioned that the staff put his roast beef in a lettuce wrap. He was satisfied after having no reaction at all. But, he added that the fries are unsafe.
This celiac user loved the roast beef sandwich on her gluten-free bun with a baked potato. She added that the staff was knowledgeable about celiac disease and that Arby's has a separate prep area for wheat allergies like hers. She also mentioned that she can't have anything deep-fried like the fries.
One celiac user agreed and said that the fryer is shared, contrary to some users thinking that the fries and potato cakes are safe. She was also disappointed to see the real size of the sandwich, which was far from how it looked on the menu.
Overall, some locations seem to have a separate prep area for gluten-free sandwich preparation, while others don't. So, anyone with gluten intolerance or celiac disease should alert the staff before ordering to minimize the risk of cross-contamination.
Gluten-Free Alternatives to Arby's
Let's face it. Arby's limited gluten-free menu can be pretty disheartening. What's more heartbreaking is that this is quite common in different sandwich places, too.
Here's to hoping that our favorite restaurants offer more gluten-free options in 2022 (fingers crossed!)
If Arby's isn't the place for you, here are some of the best alternatives you can keep an eye out for next time.
Subway
Ah. Arby's strongest competitor. Subway.
Unfortunately, Subway also has limited gluten-free options. Only selected locations have gluten-free bread which… sucks. Honestly. You'd be lucky to find a location that has GF bread on the menu.
The best thing you can have at Subway is a salad. Thankfully, there are tons of flavors you could choose from. You can have a Buffalo Chicken, Italian BMT, Spicy Italian, Steak & Cheese, Turkey Breast, Veggie Delite, or Tuna… the list goes on.
Five Guys
Five Guys has a pretty good gluten-free menu. Most reviews on FindMeGlutenFree show satisfaction with how the staff handles food allergies.
Forgo the bun and have lettuce wrapped burger instead. Choose from 3 meat options: Bacon, Hamburger Patty, or Hotdog.
The fries are cooked in 100% peanut oil and wheat-free, which most gluten intolerant visitors love, thanks to the dedicated fryer. You can get a milkshake to upgrade your meal.
Which Wich
Which Wich is a wonderful spot for a gluten-free sandwich, or should we call them Lettucewich?
There are plenty of possible combinations depending on how creative you can get! To give you an idea, Which Wich has Turkey, Ham & Pork, Beef, and Chicken. There's also something for vegans like the Tomato & Avocado and Caprese.
You can also get one of their Classics like the BLT, Egg Salad, or Elvis Wich (peanut butter, bacon, honey & banana)
You can also go for The Wicked for an easier choice. It has five types of meat and three-cheese of your choice. Choose from American, Cheddar, Mozzarella, Swiss, and a lot more!

In-N-Out
In-N-Out wouldn't be one of the top spots for gluten intolerant people without a reason. In fact, it gets 4.5 stars out of 246 ratings on FindMeGlutenFree.
It does a fantastic job at keeping all items gluten-free, except the buns. You can order a tasty Protein Style Burger which is a burger wrapped in lettuce. Order a Hamburger, Cheeseburger, or Double-Double with Onions.
To complete your meal, add some fries and a refreshing shake to it.
Taco Bell
Taco Bell is the perfect choice if you're dreaming of something Mexican today. But due to the nature of its menu, there's a higher risk of cross-contamination in the kitchen. So, try to be extra cautious when ordering.
For snacks, you can get the Nacho Cheese Doritos Locos Tacos Supreme, Hash Brown, or Guacamole Chips. You can order more filling meals like their Power Menu Bowls loaded with protein, and Black Beans & Seasoned Rice.