How do you like to have your pizza? Buffet style where you can try multiple types of pizza with unlimited drinks & desserts or one warm pizza packed individually in a box?
Either way, Pizza Ranch has you covered. They offer pizzas, salads, chicken items, and desserts buffet-style or to-go. But can you have something gluten-free at Pizza Ranch?
Pizza ranch gives you a list of gluten-free items you can order from their menu. You may get it in the store upon request. This article shows you all the gluten-free items present on that menu.
However, you should be careful about cross-contamination if you have celiac or high gluten intolerance. Now, let's look at what Pizza Ranch has for gluten-sensitive people.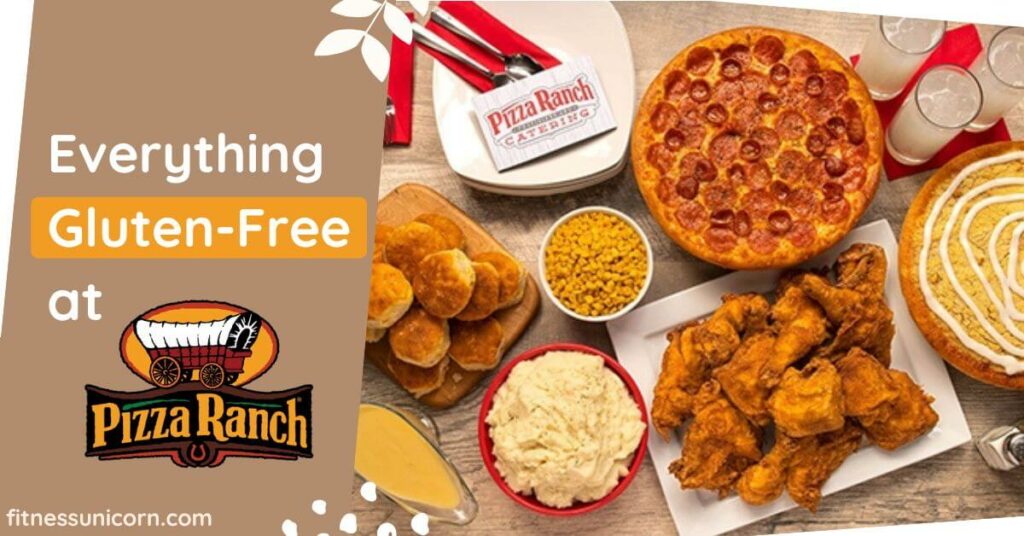 This post may contain affiliate links, which help keep this content free. (Full disclosure)
Pizza Ranch's gluten-free menu items
The pizzas on their buffet are not gluten-free. Pizza Ranch offers a gluten-free crust for their pizzas that comes pre-packed.
You'll have to ask them to bake a new pizza on a gluten-free crust and inform them that you're gluten-sensitive.
Then, they'll use sanitized utensils and bake your pizza on a separate tray. Make sure they don't bake your gluten-free pizza with a non-gluten-free pizza. Ask them to also wipe the oven before putting in your pizza.
Here is everything you can eat at Pizza Ranch gluten-free. The availability of the items will vary with location. Also, cross-contamination is possible.
Starter
#1. Ranch chips with ranch dressing
Wings
#2. Traditional Bone-In
Traditional bone-in tossed in BBQ sauce, Buffalo sauce, Garlic Parmesan sauce, Mango habanero sauce, or without sauce with ranch on the side is gluten-free.
RECOMMENDED: Blaze Pizza Gluten-Free Options
Salads
#3. Berry Bliss Salad
The Berry Bliss salad has Lettuce & Spinach mix, Strawberries, Blueberries, sliced Honey Roasted Almonds, Red Onions, and Feta Cheese.
#4. Chef Salad
The Chef salad has Lettuce, Canadian Bacon, Cheddar Cheese, Bacon, Diced Tomatoes, and Diced Egg.
#5. Chicken fiesta
The Chicken Fiesta Salad comes with shredded lettuce, cheddar cheese, baby carrots, diced chicken, tomatoes, baby carrots, and club crackers.
#6. Garden Salad
The garden salad has Lettuce, Cheddar Cheese, and Diced Tomatoes.
#7. Taco Salad
The Taco salad has Taco Chips, Lettuce, Beef, Cheddar Cheese, Diced Tomatoes, Black Olive with Taco Sauce, and Sour Cream.
House Speciality Pizzas (medium)
#8. Bacon Cheeseburger Pizza
This pizza has Beef, Red Onions, Pickles, and Bacon.
#9. BBQ Chicken Pizza
This pizza has Chicken, BBQ Sauce, and Red Onions.
#10. Bronco Pizza
This pizza has Beef, Sausage, Pepperoni, Diced Ham, and Bacon Pieces.
#11. Buffalo Chicken Pizza
This pizza comes with Chicken, Hot Sauce, and Ranch Dressing.
#12. Bruschetta Caprese Pizza
This pizza comes with fresh mozzarella, sliced tomatoes, and fresh basil, drizzled with a balsamic fig glaze.
#13. Chicken Bacon Ranch Pizza
As the name suggests, this pizza has Chicken, Bacon, Ranch Dressing, and Tomatoes.
#14. Chicken Broccoli Alfredo Pizza
This pizza has Chicken, Broccoli, and Alfredo Sauce.
#15. Prairie Pizza
This pizza comes with Broccoli, Red Onions, Black Olives, Green Olives, Green Peppers, Spinach, and Sliced Tomatoes on a gluten-free crust.
#16. Roundup Pizza
The Roundup pizza has Beef, Pepperoni, Sausage, Red Onions, Mushrooms, and Black Olives.
#17. Stampede Pizza
The Stampede pizza has Diced Ham, Pepperoni, Sausage, Beef, Mushrooms, Green and Black Olives, Red Onions, and Green Peppers.
#18. Sweet Swine Pizza
The Sweet Swine pizza has diced Ham and Pineapple.
#19. Taco Texan Pizza
This pizza comes with Beef, Lettuce, Tomatoes, Two kinds of cheeses, Taco Sauce, Red Onions, and Taco Chips on a gluten-free crust.
#20. Tuscan Roma Pizza
The Tuscan Roma has Roma Tomatoes, Spinach, and Alfredo Sauce.
#21. BLT Pizza
The BLT pizza has Bacon, Lettuce, Tomatoes, and Mayo.
YOU MAY ALSO LIKE: Everything Gluten-Free At Huddle House
Single topping pizzas (medium)
#22. Beef Pizza
#23. Diced ham Pizza
#24. Cheese Pizza
#25. Chicken Pizza
#26. Garlic Cheese Pizza
#27. Italian sausage Pizza
#28. Pepperoni Pizza
Hot Bar
Baked beans
Campfire beans
Carrots
Egg bake casserole
Green bean casserole
Green peas
Scrambled eggs
Sides
Cole Slaw
Corn
Green Beans
Mashed Potato & gravy
Meat Toppings
Beef
Diced Ham
Pepperoni
Diced Chicken
Italian Sausage
Canadian Bacon
Veggie Toppings
Red Onions
Green Peppers
Jalapeno Peppers
Tomatoes
Mozzarella Cheese
Pineapple
Black Olives
Sauerkraut
Green Olives
Spinach
Mushrooms
Pizza sauce
Alfredo
Classic Tomato
Garlic
Dipping Sauces
Original
Blue cheese
Buttermilk ranch
Alfredo
Garlic Parmesan
Buffalo
BBQ
Tips for ordering gluten-free at Pizza Ranch
Avoid items stored next to gluten-containing items.
Since Pizza Ranch is a buffet, each ingredient is stored next to each other in the open. So, it can be that when they pour those items into the container, the breadcrumb dust may fall onto other ingredients.
That's why avoid those items that are stored next to breaded items. Or take them from the bottom of the container.
Ask the staff for suggestions.
Even though there are several gluten-free options at Pizza Ranch, how they store those items is equally important. Some stores may not care about the cross-contamination factor at all.
Ask the staff about which items are the safest to eat. Since they work there, they may be able to tell which items are gluten-free but cross-contaminated. It will save you from trouble.
Stay away from these items at Pizza Ranch.
Ask the staff for the list of gluten-free items first. If the store you visit doesn't have that, or they don't know about gluten-allergy, avoid ordering Breakfast Pizzas, Dessert Pizzas, Chicken items, and starters.
None of them are gluten-free.
Avoid eating from the buffet.
The buffet is an open invitation to cross-contamination. Everything is stored together in the open, and everybody is taking everything. In this scenario, cross-contamination is possible.
So, ask the chef to make you a separate pizza rather than take one from the buffet.
Cross-contamination risks at Pizza Ranch
Pizza Ranch is a buffet-style restaurant, which means the items on the buffet are in the open, coming in contact with everything in the air.
It creates the possibility of cross-contamination, especially with items stored next to breaded items.
And although Pizza Ranch has a gluten-free crust, the gluten-free pizzas are also made in the same prep area as other crusts. So, the wheat dust may also get in your pizza.
Of course, if you inform the staff, they'll try to make your pizza cautiously, but not every place will be equally diligent with this task.
Be sure to tell them that it's an allergy. That way, they'll wipe the oven and use a separate tray for baking your pizza.
What do people say about the gluten-free options at Pizza Ranch?
It is the gist of what people with celiac or high gluten intolerance have said about the gluten-free options, the staff, and the service at Pizza Ranch. But people had different experiences at different locations. So, take it just as a clue.
Many people praised their gluten-free crust. They said they almost couldn't tell that it was a gluten-free crust. But it is more expensive.
The staff at many locations were knowledgeable about gluten sensitivity. They changed their gloves and used clean equipment and fresh toppings to make gluten-free pizzas.
They gave a mixed review about cross-contamination management. Some were fine after eating at this place. But, Many complained about getting sick after eating at some locations.
They said cross-contamination is an issue here, and people with celiac or gluten sensitivity shouldn't eat at this place.
Gluten-free alternatives of Pizza Ranch
Casey's
Casey's offers a wide range of pizzas, sandwiches, wings, drinks, and desserts. In terms of gluten-free options, You can order any of Casey's pizzas on the small size (10") Udi's gluten-free crust.
In addition to pizzas, you can order drinks, packaged chips, and a vegetable salad.
However, Casey warns people with celiac to not eat their gluten-free pizza. But their staff are well-trained to prevent cross-contamination.
If you inform them about your allergy, they'll change their gloves, use clean utensils, and prepare your pizza in a separate area.
Round Table Pizza
Round Table Pizza offers appetizers, regular and specialty pizzas, salads, desserts, and beverages. They don't have a dedicated gluten-free menu, but gluten-free items are labeled on the main menu.
At Round Table, they offer a traditional pan-style gluten-free crust. You can order any of their specialty pizzas gluten-free on that crust. You can also have some salads and drinks.
The staff at Round Table are knowledgeable about allergies. Upon asking, they'll take appropriate safety measures to prevent cross-contamination.