Marco's Pizza is hugely popular for its customizable options! It's among the top Pizza companies in the United States that offers more than just pizza – they have subs, salads, desserts, wings, and a lot more!
Thanks to their flexible menu, Marco's is a delight for health-conscious ones and fitness freaks alike. But do they have anything low-carb? And what's keto-friendly at Marco's Pizza?
The most keto-friendly dish at Marco's is their fully-customizable pizza bowls. You can choose your own toppings and sauces, and get it baked just like a regular pizza (minus the crust!). Other low-carb options include salads, chicken wings, and the meatball bake.
A keto diet is highly restrictive because you are only allowed 20-25g carbs per day. (Now compare this to an average American who consumes over 250g carbs each day!)
With such a tiny carb allowance, dining out on keto can be really overwhelming. What's more, Marco's Pizza has an endless number of toppings and dressings that can lure you into a carb trap.
But don't worry at all! In this article, I'll take you through all the low-carb options as well as some practical tips for ordering keto at Marco's Pizza.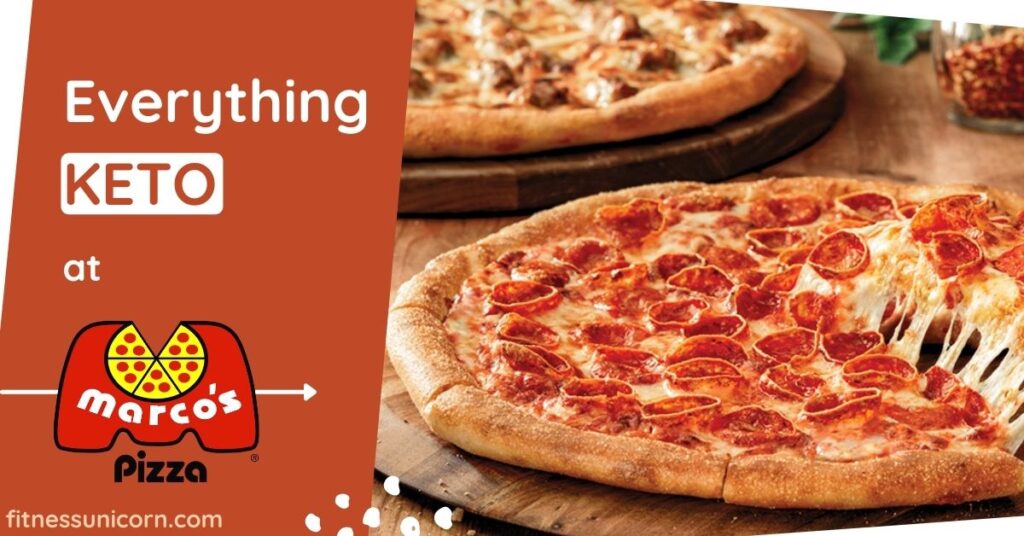 Tired of searching whether certain foods are keto? Download my keto cheat sheet with 210+ keto-friendly foods!
This post may contain affiliate links, which help keep this content free. (Full disclosure)
How to Survive Keto at Marco's Pizza
Specializing in Italian-American cuisine, Marco's Pizza is a restaurant chain based in Toledo, Ohio. Pasquale Giammarco (popularly addressed as Pat), immigrated from Italy to the USA and started Marco's Pizzas in 1978. Today, there are over 100 franchised Marco's Pizza outlets in the USA, Puerto Rico, and Bahamas.
The hard work of the franchises and the food chain's dedication to its customers are the sole reasons for its success. However due credit should also be given to the three unique ingredients that make Marco's Pizza dishes popular among all age groups – its dough, the three-cheese blend, and its much-loved special pizza sauce!
The best thing about Marco's Pizza is that while it still follows the traditional style of making pizzas since its launch, it has made considerable innovations to its menu to cater to different types of audiences.
If you are following a keto diet, you will have no trouble finding a fix here, as Marco's Pizza has quite a few impressive keto-friendly options in its arsenal.
Surviving Keto at Marco's Pizza is quite easy, as the dining process would be as smooth as butter for you. Eating at Marco's Pizza is not an ordeal you would need to "survive", but an experience you would love to enjoy! In fact, you don't have to make any compromises whatsoever if you are on keto.
They have launched new keto-friendly dishes to cater to the changing tastes and preferences of their customers.
Recently, they launched crustless pizzas to stay in the competition. Just like Papa Murphy's, some of the competitors had already launched their own low-carb alternatives to the regular pizza. Not the one to lag behind, Marco's Pizza too came out with the customizable pizza bowls!
It's a treat for low-carb enthusiasts because you can add anything and everything, without going on a guilt trip! Either choose from their pre-set bowls or build your own like a BOSS.
Let us take a look at some of the popular keto-friendly dishes you can order at Marco's Pizza in the following sections.
Also Read: Keto at CiCi's Pizza Buffet
Marco's Pizza Keto-Friendly options
Marco's Pizza is known for its flexible and healthy keto-friendly dishes such as the "Build Your Own Pizza Bowls," where you can order a dish of baked pizza casserole (also known as pizza bowl or crustless pizza).
Here, you can choose from three-cheese toppings and a maximum of four toppings for the price. You can also choose additional toppings, but you need to pay extra charges for the same.
Without any further ado, here are all the low-carb options available at Marco's Pizza
RELATED: Gluten Free options at Marco's Pizza
1. Deluxe Pizza Bowl
This crustless pizza has tasty toppings of pepperoni, mushrooms, green peppers, sausage, and green onions. Apart from this, you also get the original Marco's Pizza sauce and signature three-cheese toppings with this pizza.
Even half a bowl of this goodness is enough for a full meal. It would set you back by just 6g net carbs. Though it has about 520 calories, you can still balance the other dishes to maintain a healthy diet throughout the day.
To cut down the calories, you can lighten the sauces or completely avoid them. This will help cut down the carbs as well, thereby reducing the net carb content of the dish.
2. All-Meat Pizza Bowl
The all-meat pizza bowl is one of the most popular keto-friendly dishes at Marco's Pizza. Half of this bowl gives you about 5.5 grams of net carbs, (the number would change if you make any customizations).
However, it is important to note that all pizzas, including the keto-friendly ones, are quite high in calorie and sodium content. A half-serving of this pizza bowl contains 640 calories and 2590mg of sodium (which is even more than your whole day's RDI of sodium).
So you may want to choose the other dishes properly to eat a balanced diet on the day you have this keto-friendly pizza from Marco's Pizza.
Other than the pizza bowls listed above, they also have Philly Pizza bowl (8g carbs), the Buffalo Chicken Pizza Bowl (7g carbs), or the Garden Pizza bowl (13g net carbs).
Still not satisfied with these options? Well, the good news is that you can build your own bowl just the way you like! Pick your own veggies, meat, cheese, and toppings. (more on this later)
Note: The carb count for all pizza bowls is given for a half-serving size.
ALSO READ: Everything Keto at Season 52
3. Chicken Wings
People of all ages love chicken wings that are cooked to perfection. However, did you know that at Marco's Pizza, these are part of the keto menu? That's incredible, indeed!
You can pick hot chicken wings or plain chicken wings, depending on your taste buds. The best part is that these choices have just 1 gram of net carbs per piece, making it the perfect dish for those on a keto diet. One chicken wing also contains 100 calories, 7 grams of fat, and 8 grams of protein.
Pair them with blue cheese, ranch dip, or the La Nova Hot Sauce. But stay away from the tangy BBQ sauce at all times – this sweet and tangy dressing has buckets full of sugar melted inside!
4. Meatball Bake
After those Pizza Bowls, the Meatball Bake is Marco's second best gift to low-carb customers! In fact, it existed even before the pizza bowls (which came in early 2020).
The meatball bake is also like a crustless pizza served in a pan! It contains meatballs, sausage, and a lot of cheese and sauce. Half a serving of this Italian delight will cost you 5.5g net carbs.
When I first ordered this dish, I was really worried that it would have pasta underneath (just like most Italian dishes). But to my surprise, there is no pasta or any fillers like breadcrumbs (hence the low carb count).
And you can further lower the carbs if you get rid of the signature pizza sauce. There's a lot of sugar and tomatoes that go into making it. Ask your server for just the meatballs, sausage, and cheese – it doesn't get better than that!
Check Out: Is Joseph's Pita Bread Keto-Approved?
Other Low-Carb Options
Apart from filling dishes like pizza bowls and chicken wings, Marco's Pizza also makes interesting and light keto-friendly dishes like the ones mentioned below:
CinnaSquares – One piece of this contains 60 calories, 1 gram of fat, 1 gram of protein and 11 grams of net carbs.
Italian Chef Salad – Half a bowl of this salad contains 160 calories, 11 grams of fat, 12 grams of protein and 3 grams of net carbs.
Chicken Cesar Salad – Half a bowl of this salad contains 330 calories, 29 grams of fats, 12 grams of protein and 4 grams of net carbs.
Garden Salad – Half a bowl of this salad contains 110 calories, 7 grams of fat, 5 grams of protein and 4 grams of net carbs.
Greek Salad – Half a bowl of this salad contains 330 calories, 31 grams of fat, 4 grams of protein and 6 grams of net carbs.
Chicken Ranch Salad – One serving of this salad contains 240 calories, 13 grams of fat, 22 grams of proteins and 7 grams of net carbs.
Build Your Own Keto Pizza Bowl
This is the most interesting part while dining out at Marco's Pizza! Go crazy with your imagination and make the weirdest combos – no one would judge you.
Since a keto diet restricts you to 25g carbs per day, it loosely translates to 7-8g net carbs per meal.
Follow the carb guide below and build your own pizza bowl within the carb restraints.
Meat
Anchovies: 0
Bacon: 0
Grilled Chicken: 1
Ground Beef: 0
Ham: 0.5
Italian Sausage: 2
Meatballs: 0
Old World Pepperoni: 0
Classic Pepperioni: 0
Salami: 0
Steak: 1
Keto-Friendly Toppings at Marco's Pizza:
Banana Peppers: 0
Black Olives: 1
Fresh Spinach: 0.5
Garlic Sauce: 0
Green Olives: 0.5
Green Peppers: 0
Jalapenos: 0
Mushrooms: 0.5
Onions: 2g
Pineapple: 5
Red Onions: 2
Tomato Slices: 0
Cheese & Sauce:
Standard Cheese for Pizza Bowl: 2
Parmesan Cheese: 0
Roma Seasoning: 3
Signature Pizza Sauce: 6
Romesan Seasoning: 0
Cheddar Cheese: 2
Extra Cheese: 0.5
Feta Cheese: 1
Shaved Parmesan Cheese: 0
There you have it! Use this guide to build the perfect low-carb pizza bowls and up your keto game at this pizza chain.
If this seems like too much info at once, don't worry. Just bookmark this webpage and come back whenever you want.
FAQs
Does Marco's Pizza have cauliflower crust?
Marco's does not have a cauliflower crust as of 2021. However, you can have their crustless pizza bowls which have all the ingredients of a pizza except the carb-heavy crust!
Does Marco's have low-carb pizza?
Yes, Marco's Pizzas has launched two types of pizza bowls – Specialty Pizza Bowls and Build Your Own Pizza Bowls. While both these categories are low on carb content and high on protein content, consumers can customize the toppings, sauce, and size to cater to their needs.
How easy is it to order Keto dishes at Marco's Pizzas?
It is very easy, as you only have to spell out your requirements to the staff, and they will take care of the rest. At Marco's Pizza, the staff members are always courteous and mindful of your keto needs. Ordering low-carb here is a buttery smooth process, as the pizza chain is very open to customizations.
Conclusion
Marco's Pizza changed the whole Keto game with their launch of the Pizza Bowls. It's one of the rare pizza chains which you can enjoy guilt-free on a low-carb diet.
You can enjoy the low-carb salads, chicken wings, pizza bowls, and even a single serving of garlic bread!
Apart from their pizza bowls, you can also customize meatball bakes to make them more keto-friendly. For example, replace the signature tomato sauce with the keto-compatible creamy garlic sauce in your dishes, and you instantly save up on a lot of carbs!