WaBa Grill is known for its super-healthy rice bowls that you can grab on the go! They have a ton of options for meats, veggies, and toppings. But can you eat Keto at Waba Grill?
Waba Grill meats are hand-basted with their signature WaBa Sauce. As a result, all protein options are laced with carbs! For a truly keto-friendly order, ask your server to ditch the sauce.
A 1 oz (2 tbsp.) serving of the WaBa sauce contains 14g of carbs. And if you are on the keto diet, that's more than half of your daily carbs quota! In fact, the actual serving size is always more than 1 oz.
In this article, we'll look at all the keto-friendly options that WaBa Grill has to offer!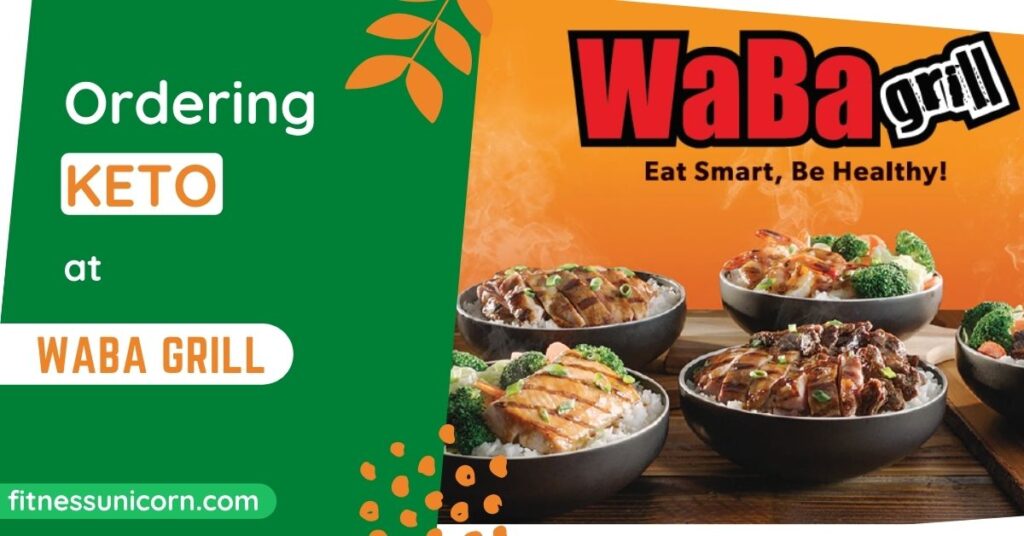 Tired of searching whether certain foods are keto? Download my keto cheat sheet with 210+ keto-friendly foods!
This post may contain affiliate links, which help keep this content free. (Full disclosure)
Navigating Through The MENU
Before jumping to the low-carb options, here's an overview of the entire menu at Waba Grill.
WaBa Grill is a fast-food chain hugely popular for its charbroiled chicken! It means their meats are cooked without any oil and you get a lean source of protein as a result!
The health and fitness community swears by the Waba rice bowls! There are so many options to choose from and you have complete control over what goes on your plate (or bowl?)
Did you know? They never use frozen chicken like other rivals! Your meals are prepared as and when you order.
A typical Waba meal bowl includes a bed of rice, your choice of grilled protein, and a combination of sauces and veggies to suit your taste buds!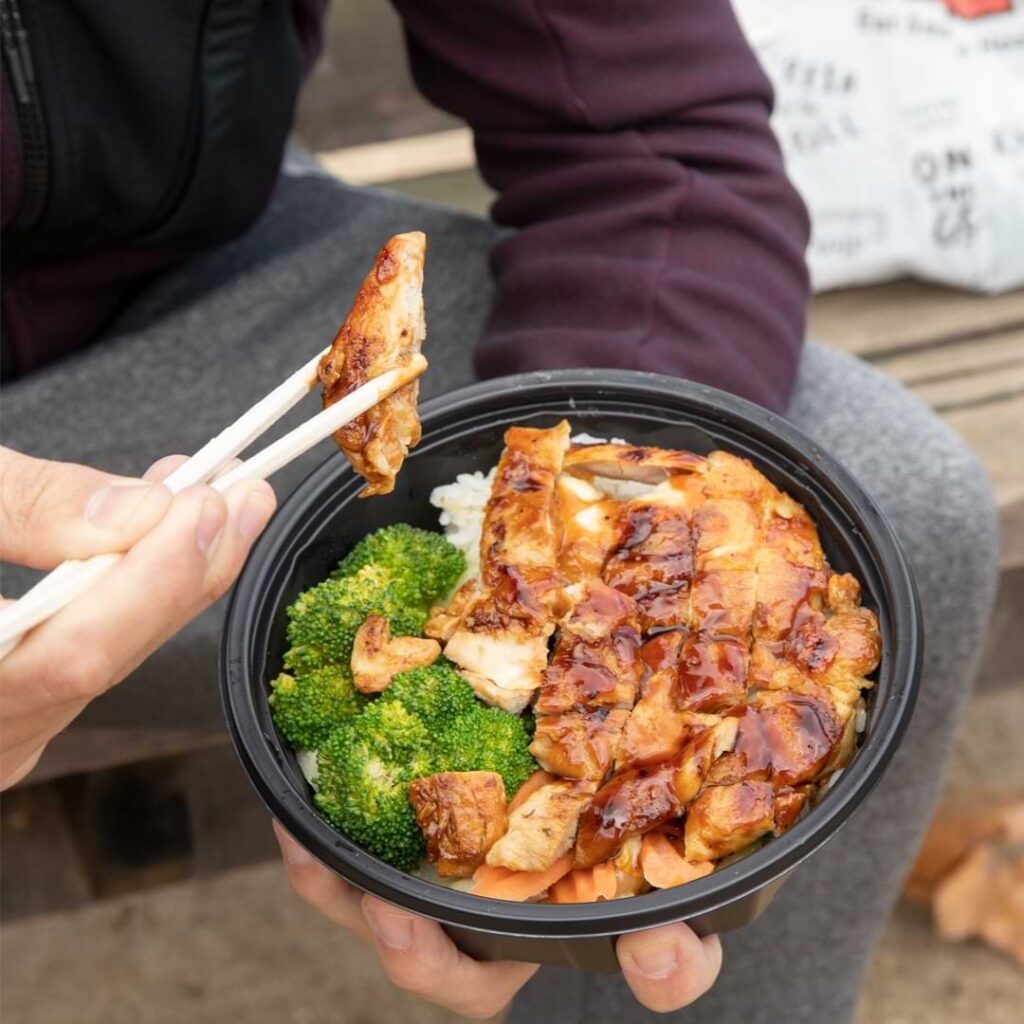 You can choose from the following menu items:
WaBa Bowls
Mini Bowls
Veggie Bowls
Plates
Salads
Sauces
A la Carte
and Sides
The bowls and plates are quite similar in nature but they differ in terms of the portion size. Man, if you are really hungry, a WaBa plate will keep you full for hours!
The plates also have a serving of citrus fruit, which is quite different from the fast-food world.
While WaBa is famous for its rice bowls, you can also opt for some greens! The salads at Waba are packing the same amount of nutrition without any extra carbs (i.e. no rice). You have two options to choose from Signature House Salad & Spicy Asian Salad
Both of them are served with white meat, which is the leanest form of protein! But if you are on the ketogenic diet, even the salads are off the charts unless your meat is sauce-free!
Coming to the sides section, WaBa offers plenty of variety. Your options range from highly processed items (like white rice) to the most wholesome ones (like avocadoes). You can add them as a topping or have them served separately as a side dish!
Then comes my favorite section: Sauces and dressings! You see, a lot of these healthy places (including Subway) have rich and delicious sauces to balance out the taste! The signature WaBa sauce can get you drooling almost instantly!
MORE: Flame Broiler Keto-Friendly Options
How to Eat Keto at WaBa Grill
To eat keto at Waba Grill, have your meats charbroiled without the WaBa sauce.
All meats at WaBa are cooked in their in-house signature sauce. The only exception being the Rib-Eye Steak, which has its own unique marinade. Nonetheless, every protein option is jam-packed with carbs!
Chicken is known as the most keto-friendly food because it has ZERO carbs. However, the teriyaki chicken at WaBa has over 10g of carbs per 100 grams serving! (Source: Official Website)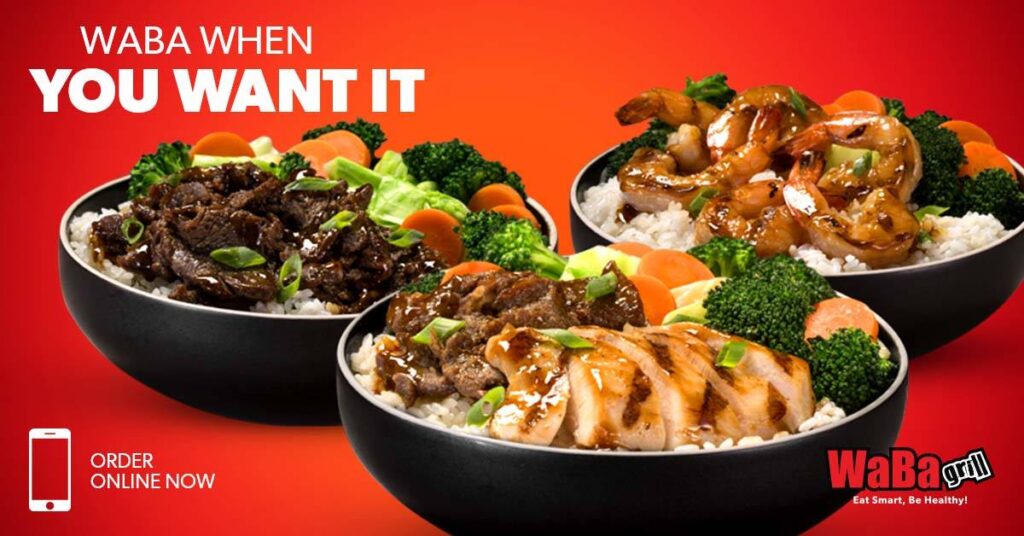 To make things worse, the majority of those carbs come from sugar. There's a high chance that it'll spike your blood sugar and throw you out of ketosis!
So how can you enjoy low-carb at WaBa Grill?
That's where we come in! We at Fitness Unicorn have only one goal: To simplify your everyday keto life!
Out and about and craving a WaBa Bowl? Follow these simple strategies to survive keto at Waba Grill:
Create your own WaBa bowl with carefully picked low-carb ingredients.
Ditch the WaBa Sauce and ask for sauce-free charbroiled meats (chicken, salmon, shrimp)
Stick to the Ranch dressing which has just 1g carbs per serving.
Add a portion of steamed veggies for a more filling meal.
For sides, you can have a serving of Miso Soup (without saucy meats) for 3g net carbs.
When in doubt, use their official nutritional guide for exact nutritional details.
Follow Your Keto Carb Limit When Dining Out
As a rule of thumb, always honor your daily carb limit on the keto diet. Sometimes we are really tempted and we end up splurging on fancy meals!
But you can prevent any damage if you just follow your daily carb limit i.e. 25g of carbs for most ketoers.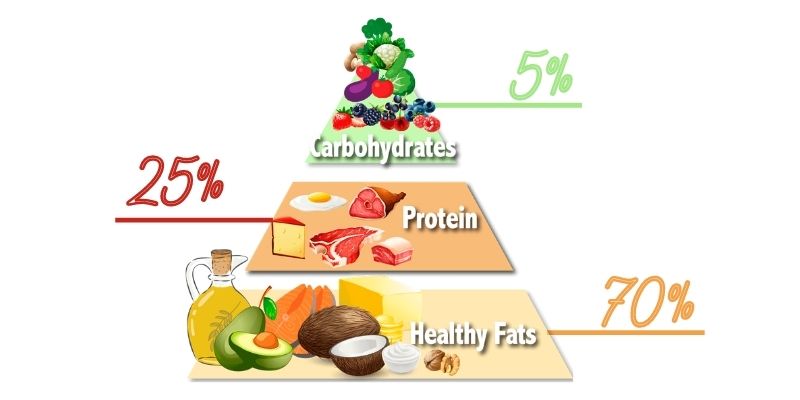 For example, let's say that you consumed 5g carbs during breakfast and only 2g carbs during lunch. So if you head out to Waba Grill for dinner, you can safely enjoy your remaining quota of 18g net carbs.
On the other hand, if you have already consumed 22g of carbs by dinner time, I would be really cautious with my choices (probably a cup of soup would suffice!)
Can WaBa Sauce Kick Me out of Ketosis?
The number #1 reason why people love Waba Grill is their signature Teriyaki sauce!
As delicious as it tastes, the Waba signature sauce is simply a warehouse of carbs! You get 14g of net carbs per 1 oz serving. What's worse, 12 out of those 14 grams are pure sugar.
If you've been following the ketogenic diet, you know how sugary sauces could mean a complete keto disaster!
In fact, your favorite teriyaki chicken bowl has much more than just 1 oz of the stuff!
The rule of "staying below your carb limit" doesn't apply to sugar and other high G.I (glycemic index) foods with simple carbohydrates. They can directly impact your ketosis even if you consume a very small amount.
However, as long as you stick to the long-term plan, a few occasional cheat-meals are worth it!
Note: The effect of sugar on keto greatly varies from person to person. Some people would process it like any other carb, while some report lowered ketosis levels by having the tiniest amount.
SUGGESTED: How to Get Back in Ketosis Quickly!
Conclusion
Eating keto at Waba Grill involves saying no to their signature sauces. Ask for your meats to be served sauce-free and load your bowl with steamed veggies! The Ranch dressing has the least amount of carbs (1g net carbs per 3 tbsp or 1 oz.)
Follow our Keto Restaurants guide for tips to survive keto at your favorite restaurants!