Steaks are the most keto-friendly item on this planet! It is high-quality beef cut into thick slices that are generally broiled or fried. That's why a steakhouse is an ultimate stop if you are on a low-carb diet.
So what's keto-friendly at Longhorn Steakhouse?
LongHorn Steakhouse has keto-friendly dishes in almost every segment of its menu. From appetizers like the Steakhouse Wings to lunch items like Chop Steaks to your favorite Red Wine (and everything in between), the possibilities are endless. What's more, the food is highly customizable as per your preferences!
We all know that meat and cuts are always low in carbs. But a steakhouse brings along plenty of pitfalls that one must avoid. Deciding on the right sauces, appetizers, and side dishes can sometimes be overwhelming on a restrictive diet like keto.
That's where I come in! This article lays down EVERYTHING Keto at Longhorn Steakhouse. You'll not only find the best low-carb options but also catch on to some tips and tricks to ace your keto game at this restaurant!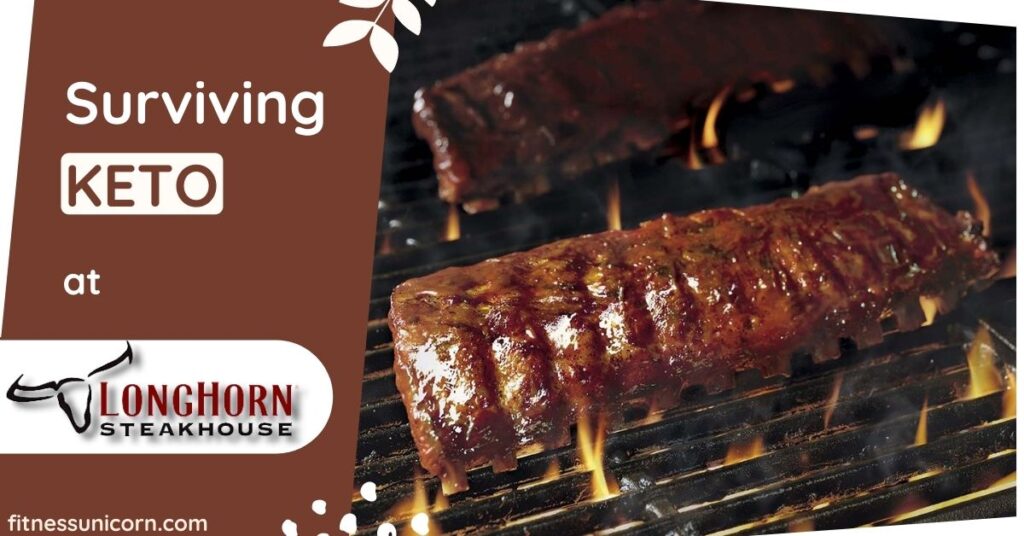 Tired of searching whether certain foods are keto? Download my keto cheat sheet with 210+ keto-friendly foods!
This post may contain affiliate links, which help keep this content free. (Full disclosure)
Surviving Keto at LongHorn Steakhouse
Frankly speaking, it's not that difficult to go keto at LongHorn Steakhouse. They have a whole variety of steaks, salmon, side salad, low-carb dressings and sauces, and high fiber veggies too.
Founded in 1981, this place has been serving juicy steaks for over 40 years now! Don't go by the name – because their menu isn't just limited to steaks only. It also includes ribs, chicken, salmon, lobster, shrimp, and salad. (Don't forget the delectable sides!). These guys know how to do a steak well! And I always leave the place with a smile on my face.
What's more, the steakhouse also has a full bar with beer, wine, and other fine cocktails. There's just so much variety that everyone can find their fix. (Including you – on a ketogenic diet!)
A thing to remember is to stay away from high-carb sauces. Steaks can sometimes be slathered in BBQ sauce, gravy, and cocktail sauces which take the carb count through the roof. If you're also ordering a side dish for yourself, season it only with salt, pepper, garlic, and other such low-carb seasonings (mentioned later in this article).
Also, there are meals consisting of rice and flatbreads. A standard rice bowl and a flatbread have around 28g carbs, which is even more than your whole day's allowed carb limit. Avoid them and you'll be just fine!
Instead, pair your main dish with some cheese, veggies, or bacon and you have a filling low-carb meal on your plate!
They also have a huge variety of beverages, both alcoholic and non-alcoholic. It's important to choose low-carb drinks and also keep a check on your portions. One glass of beer always (and I repeat, ALWAYS) attracts a second one, so pull up your socks and up your self-control.
If you have a sweet tooth, LongHorn might disappoint you, since they do not have any keto-friendly desserts. But I have the perfect "hack" for satisfying those devil cravings – Have a can of Diet Coke. Zero carbs, zero sugar, and does the job pretty well!
Let us now have a look at the various keto-compatible dishes that can be eaten at LongHorn Steakhouse.
Keto-Friendly Options at LongHorn Steakhouse
LongHorn has a huge variety of Keto-Friendly meals, ranging from soups to salads to steaks and much much more. Without further ado, let's dive into the low-carb options available here:
Appetizers
White Cheddar Stuffed Mushrooms ( 13g )
Seasoned Steakhouse Wings ( 0g )
They have options of dressings for appetizers like Avocado Lime Sauce(3g) and Buffalo Sauce (3g). Other dressings do not fit under the allowed carb range.
Keto-Friendly Soups
Loaded Potato Soup ( 14g )
Shrimp & Lobster Chowder ( 15g )
French Onion Soup ( 12g )
These soups are available in two sizes- bowl and cup. The above carb counts relate to the smaller option.
Side Salads
Mixed Greens Salad ( 10g )
Caesar Side Salad with Caesar Dressing ( 10g )
You can also add eggs to your salad to up your protein content, without adding any carbs to your meal whatsoever.
Low-Carb Dressings and Dipping Sauces
Ranch Dressing ( 2g )
White Balsamic Vinaigrette ( 6g )
Blue Cheese ( 3g )
Honey Mustard ( 8g )
Try not to overdo the sauces, and do more with less. Sauces and dressings are always the tipping points for most ketoers when it comes to dining out.
Lunch Entrees
7-Pepper Sirloin Lunch Salad ( 9g )
Parmesan Crusted Chicken 9 oz. ( 10g )
Baby Back Ribs Half-Rack ( 15g )
LongHorn Salmon 7 oz. ( 2g )
Flo's Filet ( 2g )
Outlaw Ribeye ( 2g )
Renegade Sirloin ( 2g )
Chop Steak ( 10g )
Ribeye ( 4g )
New York Strip/Kansas City Strip ( 0g )
Fire-Grilled T-Bone ( 0g )
The LongHorn ( 0g )
USDA Prime Delmonico ( 1g )
Carbs mentioned here are the smallest size for that particular dish. (wherever applicable)
Recommended: Black Bear Diner Low-Carb Options
Dinner Entrees
Renegade Sirloin 6 oz. with Redrock Grilled Shrimp ( 4g )
Flo's Filet 6 oz. with Lobster Tail ( 2g )
Parmesan Cheese Crust ( 10g )
Grilled Mushrooms Only ( 6g )
Grilled Shrimp ( 1g )
Lobster Tail ( 0g )
Fresh Steamed Asparagus ( 4g )
Fresh Steamed Brocolli ( 3g )
All the options in Lunch Entrees are also available for a keto-friendly dinner.
Keto-Friendly Beverages at Longhorn Steakhouse
Jack & Coke ( 13g )
Regular 12oz. Bottle Beer ( 12g )
Light Draft Beer ( 6g )
IPA Draft ( 1g )
White Wine ( 4g )
Red Wine ( 5g )
Raspberry Iced Tea ( 13g )
Peach Iced Tea ( 14g )
Unsweetened Tea ( 1g )
Diet Coke ( 0g )
Coke Zero ( 0g )
Coffee ( 0g )
Bottled Water ( 0g )
With both alcoholic and non-alcoholic drinks, LongHorn definitely cares for its keto customer base.
Tips for Ordering Keto at Longhorn Steakhouse
The ZERO-Carb options include Prime Rib, The Longhorn, Cowboy Pork Chops, and the New York Strip.
The soups come in two portion sizes: Bowl & Cup. Always go for the cup while on keto.
You can have a parmesan crust over your chosen steak. But as tempting as it sounds, the crust is also filled with a lot of carbs (10g to be precise!) Here's a tip: Ask your server to double down on cheese and go easy on the breadcrumbs. (Problem solved!)
Toss out the croutons from a salad and you eliminate the majority of the carbs. (Add-in some eggs for extra fat and proteins without extra added carbs.)
Add a portion of grilled shrimp along with any steak for just 1g net carbs. Remember, it's only the sauces and breading that inflate the carbs of a shrimp. (Otherwise it's just an innocent low-carb seafood!)
There is nothing "Keto-Friendly" or "Not Keto-Friendly". It all comes down to your daily carb intake. For example, if your daily carb allowance is capped at 25g of carbs, you can't have 20g carbs within a single meal and call it "keto-friendly". Because it would leave you with just 5g worth of carbs for the WHOLE DAY. The goal is to balance out the carbs while honoring your keto carb limit.
Also Read: Ono Hawaiian Low-Carb Options
Here's What to AVOID at Longhorn Steakhouse on Keto (and WHY)
#1. Texas Tonion (126g carbs): It is a full plate of Crispy battered onion petals served with a zesty dip. While onions can sometimes be enjoyed on a keto diet, the thick crusty layer of batter is the culprit here!
#2. Sweet Chili Ginger Sauce (32g carbs): That's a hell lotta carb in a single serving of dressing. It has tons of sugar, and hence the high carb count.
#3. Grilled Chicken & Strawberry Salad (52g carbs): The grilled chicken is innocent with zero carbs. The major bulk of carbs come from strawberries, oranges, and grapes. These fruits are just a no-no on keto!
#4. Margaritas (all of 'em!): Most of the cocktails are mixed with sugary drinks that ruin it for us ketoers! You can only enjoy hard liquor like vodka, gin, etc. Some varieties of light beer and white/red wine are also low in carbs, but Margaritas – NEVER!
#5. Baby-Back Ribs Full Rack (32g carbs): The last time I checked online, Ribs were still a zero-carb meat option. So what happened? The truth is, Longhorn's Ribs are slathered with their sweet and smoky BBQ sauce. And all that sugar skyrockets the carb count!
FAQs
What can I eat at a steakhouse on keto?
You can have most of the steak/meat options without sauces or breading. Flo's Filet, Outlaw Ribeye, Sirloin, and Chop steak are some of the options.
How many carbs are in Longhorn spicy chicken bites?
Longhorn's spicy chicken bites have 53g of carbs including 17g of sugar per serving.
How many carbs are in Longhorn parmesan-crusted chicken?
A 9oz. serving of Parmesan Crusted Chicken has 12g carbs and 2g fiber (hence 10g net carbs).
What can a diabetic eat at Longhorn Steakhouse?
A diabetic can have most cuts and steaks as long as you stay away from sugary sauces. Also steer clear of bread, potatoes, crust, and other carb-dense items.
Conclusion
For sure, LongHorn Steakhouse does not disappoint at all with its keto-friendly menu. A huge variety from start to finish for a complete keto meal is available here.
Only if they could do some alterations with their desserts to make them keto-friendly, might attract some more customers, but otherwise, it's definitely a treat for those trying to cut down carbs.
You can now visit LongHorn guilt-free on the ketogenic diet. Just in case you need more information on the nutritional facts, you can visit their official nutrition guide here.
Next: Sonny's BBQ Keto Options