Pasta and Pizza are all you can think of while going to an Italian restaurant. That's definitely not what you expect on a Keto diet. But what if I told you that there are plenty of keto-friendly options here at Carrabba's? Some of them are keto by default, while others can be tweaked to enjoy them on a low-carb diet!
From appetizers like the Johnny Rocco Salad, specialties like their Chicken Marsala, Grilled Salmon, to Beers and Wines, Carrabba's has plenty of low-carb options for those on the keto diet. You can also have a small serving of the soup within the allowed carb range.
Carrabba's menu is a fusion of American and Italian cuisine. And I must say the menu is pretty diverse from the eyes of a ketoer! They have zero-carb dishes like the Tuscan-grilled Ribeye, along with gluten-free pasta having a whopping 156g carbs!
Before this gets a little too overwhelming, I'm here to dissolve all your doubts. In this article, you'll find out EVERYTHING keto at Carrabba's.
We'll not only give you the low-carb options but also teach some tips and tricks to make the most out of your visit (and minimize those carbs!).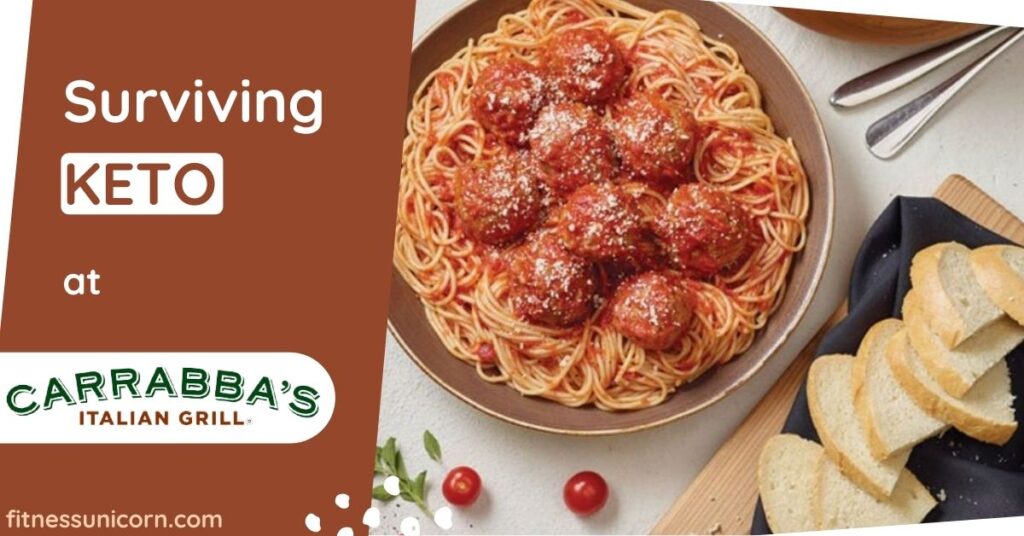 Tired of searching whether certain foods are keto? Download my keto cheat sheet with 210+ keto-friendly foods!
This post may contain affiliate links, which help keep this content free. (Full disclosure)
Surviving Keto at Carrabba's
Before Carrabba's, Americans had a very narrow vision of Italian food – limited to Pizza, Polenta, Pasta, Ravioli, etc. But the Italian grill style of cooking has been there for ages! It includes low-carb items like roasted & grilled meats and seafood.
Carrabba's has a plentiful of keto options for you, which is contrary to the "usual" perception of Italian food. The traditional options are undoubtedly high in carbs, with flour-made pizza crusts and starchy pasta. (Not to forget the sugary sauces like Marinara). But you can still enjoy a few dishes here with the right knowledge of nutrition.
When it comes to appetizers, the cheese stuffed mushrooms are here for your rescue. Moving towards the greens' section, the chicken and shrimp salads won't disappoint you either.
Most soups are high on carbs (thanks to the thickeners), and it is no exception here at Carrabba's. But, if you watch the quantity and go for their cup size instead of a bowl, you can very well fit it in your daily limit.
When it comes to Pasta, there's no surprise that it's something you should always avoid. There's no workaround for it! One cup of uncooked pasta has 25g carbs, and that's your daily allowed carb limit, and when you add gravy and other toppings to it, it goes well beyond your reach.
A word of caution: Carrabba's also has a gluten-free version of pasta. But don't confuse it with low-carb pasta! While it's true that gluten-free items are free from grains (a major source of carbs), they aren't always low in carbs. For example, gluten-free pasta has even more carbs than the regular one. It's made with corn, millet, buckwheat, quinoa, and rice.
Carrabba's also serves pizzas, but again the crust is so high on carbs, you just can't afford it on keto. You can still go for seafood, steaks & chops, and other side dishes, to settle your Italian cravings.
They also have a huge variety of beverages, both alcoholic and non-alcoholic. It's important to choose low-carb drinks and also keep a check on the quantity. I know it's hard to stop at just one glass of wine or beer, so please do not cross the limit.
Now, without any delays, let's explore what all keto-friendly options Carrabba's has in store for you.
READ MORE: Cauliflower Crust and other Keto Options at Jet's Pizza
Keto-Friendly Options at Carrabba's
Carrabba's have plenty of low-carb options to please your appetite. Let me take you through all of them –
Appetizers & Entrée Salads
Four-Cheese And Sausage Stuffed Mushrooms ( 9g )
Ricardo Sauce – Regional ( 6g )
Caesar Salad with Chicken ( 15g )
Caesar Salad with Shrimp ( 14g )
Italian Salad with Shrimp ( 14g )
Johnny Rocco Salad ( 6g )
They also provide you with add-ons for your salad, such as Crumbled Gorgonzola (0g) and Light Balsamic Dressing (8g).
Side Salads
Caesar Salad ( 7g )
House Salad ( 7g )
Italian Salad ( 7g )
You can add dressings to these too, and make them delish enough.
Keto-Friendly Soups
Minestrone – Bowl ( 14g )
Minestrone – Cup ( 6g )
Sausage & Lentil – Cup ( 8g )
Tomato Basil Cup ( 15g )
These soups contain a good amount of dietary fiber and will be good for your gut health too.
Other Specialities
Chicken Bryan ( 11g )
Chicken Marsala ( 5g )
Pollo Rosa Maria ( 6g )
Tuscan-Grilled Chicken ( 1g )
NEW Vella Piccata ( 12g )
Veal Marsala ( 10g )
RCOMMENDED: Gluten Free options at Carrabba's
Keto-Friendly Seafood
Spiedino Di Mare ( 15g )
Salmon Saporito ( 8g )
Simply Grilled Salmon ( 4g )
Salmon Vazzano (Regional) ( 7g )
Low-Carb Steaks & Chops at Carrabba's
Bryan Topping ( 9g )
Marsala Sauce ( 4g )
Spicy Sicilian Butter ( 1g )
Ardente ( 9g )
Tuscan Grilled Sirloin ( 1g )
Tuscan Grilled Filet ( 1g )
Tuscan Grilled Pork Chop ( 1g )
Tuscan Grilled Ribeye ( 0g )
Sides
Grilled Asparagus ( 3g )
Sauteed Brocolli ( 9g )
Sauteed Spinach ( 8g )
Steamed Asparagus ( 2g )
Steamed Brocolli ( 5g )
Meatballs & Ricotta ( 13g )
Keto-Friendly Beverages
Fresh Brewed Iced Tea, Unsweet ( 0g )
Caffe Latte ( 10g )
Cappuccino ( 8g )
Coffee, Decaf ( 0g )
Coffee, Regular ( 0g )
Espresso ( 4g )
Hot Tea ( 0g )
Arnold Palmer, Unsweet Tea ( 14g )
Acqua Panna ( 0g )
Diet Coke ( 0g )
Fresh Brewed Iced Tea, Unsweet ( 0g )
Flavored Tea
Blackberry ( 11g )
Desert Pear ( 9g )
Mango ( 12g )
Orange ( 11g )
Peach ( 10g )
Pomegranate ( 10g )
Raspberry ( 12g )
Strawberry ( 9g )
White Peach ( 9g )
Keto-Friendly Beers & Wines
Birra Moretti ( 13g )
Blue Moon ( 15g )
Bud Light ( 7g )
Budweiser ( 10g )
Coors Light ( 5g )
Corona Extra ( 12g )
Flying Dog Snake Dog IPA ( 13g )
Goose Island IPA ( 13g )
Heineken ( 0g )
Lagunitas ( 14g )
Michelob Ultra ( 3g )
Miller Lite ( 3g )
Moretti La Rossa ( 12g )
O'Doul's Non-Alcoholic ( 13g )
Omission Pale Ale ( 13g )
Peroni, 13 oz ( 13g )
Samuel Adama Seasonal ( 12g )
Stella Artois, 13 oz ( 12g )
Craft/Higher Alcohol ( 1g )
Light Beer ( 5g )
Regular Beer, 13 Ounce ( 13g )
Red Wine ( 5g )
Rose Wine ( 5g )
Sparkling Wine ( 5g )
White Wine ( 5g )
Cosmopolitan ( 4g )
Mr. C's Dirty Martini ( 1g )
Frozen Lemonade: Pina Colada ( 7g )
Carrabba's is one of those rare gems that offer a wide variety of low-carb beverages! At most restaurants, you are lucky if you get even four or five.
Also Read: Keto at Buca Di Beppo
What Makes a Meal Keto-Friendly?
As you can see, I've listed more than 40 options under 15g of net carbs. But does that mean they are all "keto-friendly"? What really makes a dish keto-approved?
The short answer is – it depends.
According to the principles of a keto diet, you can only have 5-10% of your calories from carbs. For an average 2,000 calorie diet, it loosely translates to 25-40g of carbs. But if you want to lose some serious weight through ketosis, experts recommend capping your daily intake to 25g.
That means you can only have a maximum of 8g net carbs per meal (assuming you have three meals per day).
However, with such a low number of carbs, dining out on keto becomes a serious challenge! Even more so at an Italian restaurant like Carrabba's
So what do you do? You've got to portion out your carbs the smart way. If you're really craving something carb-dense at a restaurant, make sure you cut back carbs in other meals of the day.
For example: Let's say you had only 8g of carbs from your breakfast and lunch combined. It now gives you the freedom to enjoy meals even up to 17g of carbs. So in this case, anything under 17g carb is "keto-friendly" for you. Ultimately it all comes down to the daily carb limit set for you.
What to Avoid at Carrabba's on Keto (and WHY)
While you know that bread, pasta, and potatoes are way off the keto limits, some items can be really confusing.
For example, you already know that shrimp is keto-friendly (because it has zero carbs), but can you say the same for Shrimp Scampi at Carrabba's? Similar doubts surround most of the chicken dishes here.
Here are a few options that you are better off avoiding:
#1. Shrimp Scampi (87g carbs): Shrimp, and seafood in general, is quite low in carbs. Carrabba's Shrimp Scampi is made with garlic, white wine, and lemon butter sauce. The major source of carbs comes from the baked bread served alongside. Ditch the bread and you are good to go.
#2. Mama Mandola's Sicilian Chicken Soup (44g): It is the soup with a maximum number of carbs at Carrabba's. The reason is simple: potatoes and pasta.
#3. Meatballs with Spaghetti (110-140g): Meatball is a delicious low-carb item made of minced meat. But if you throw in spaghetti in the bowl, the carb count takes off! Instead, you can have their "meatballs with ricotta" for just 13g of net carbs.
#4. Eggplant Parmesan (71g): Well, eggplant isn't that high in carbs. And cheese, duh! But the truth about this eggplant is that it's smothered with breadcrumbs to get that crunchy texture. What's more, it's topped with the famous Italian Pomodoro sauce – Made with tomatoes, high in carbs!
#5. Chicken Piccata (48g): Chicken is good, but the pasta served alongside is the devil!
#6. Chicken Parmesan (29g): Coated with breadcrumbs and topped with Pomodoro sauce, the chicken is no longer left low-carb.
FAQs
Is Carrabba's Chicken Bryan Keto?
With 11g of net carbs per serving, Carrabba's Chicken Bryan is highly keto-friendly. It is also filling enough for a single meal.
Is Pollo Rosa Maria Keto?
Carrabba's Pollo Rosa Maria has only 6g of net carbs and hence it is keto-friendly. It also has 32g of total fats and 65g of protein.
How many carbs are in Carrabba's chicken marsala?
Carrabba's chicken marsala has only 7 grams of carbs and 5g net carbs.
How many carbs are in Carrabba's chicken piccata?
Carrabba's chicken piccata has 48 grams of carbs.
Conclusion
Carrabba's definitely has a wide range of keto-friendly meals ranging from seafood to steaks to beers and wines. A must-visit for all the Italian keto folks (and also Americans).
Though, that's more than enough knowledge for you to indulge in a keto-friendly meal here. Still, if you wanna know about the different nutritional components of your food, you can scroll through their official nutrition guide here.
Till then, Happy Ketoing 🙂