Romano's macaroni grill is a dining restaurant chain that serves classic Italian cuisine, made with ingredients sourced from Italy. Variations of dishes like pasta, desserts, wines, salads, and soups dominate its menu.
But are there any keto-friendly food options at Romano's Macaroni grill?
Don't fret. There are many such options available for you. For example, you can try out their Lobster and shrimp bisque. It is a smooth, rich, and creamy soup-like dish.
An appropriate choice when you want something comforting and low-carb at the same time.
It may seem like their menu is filled with pasta called with different names. But if you look carefully, you will find a few low-carb offerings, too.
To save you some time, I've compiled some delicious and satisfying dishes you can try when you are ordering from Romano's Macaroni Grill.
Let's find out!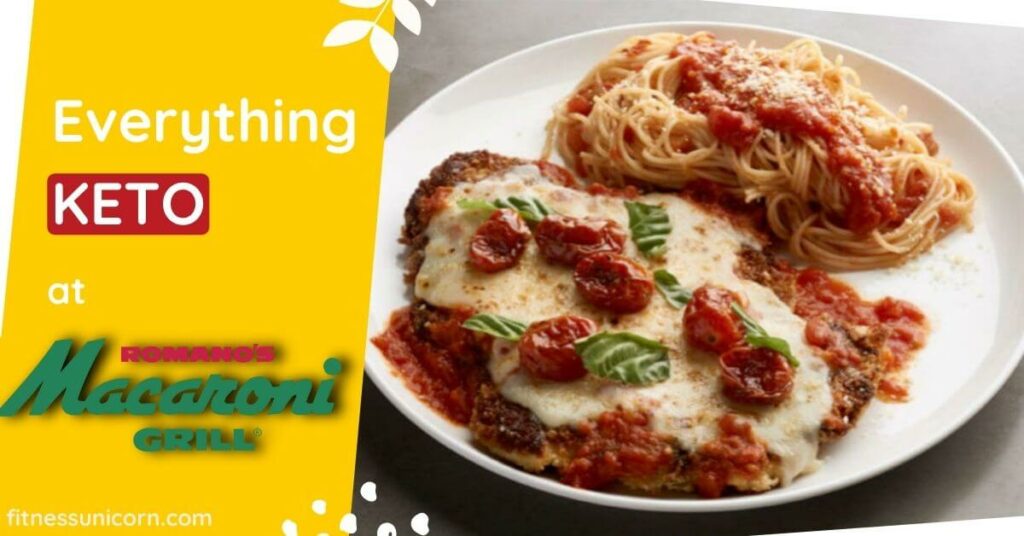 Tired of searching whether certain foods are keto? Download my keto cheat sheet with 210+ keto-friendly foods!
This post may contain affiliate links, which help keep this content free. (Full disclosure)
How to Survive Keto at Romano's Macaroni Grill?
As someone following a keto diet, Italian cuisine may not appear abundant with low-carb food options.
Outside of Italy, it may look like Italian cuisine is full of high-carb dishes, like pasta, pizza, lasagna, spaghetti, etc. though they are some of their famous dishes, the truth is, Italians don't eat pasta all the time.
In Italy, people eat in a balanced way. They also have various types of salads and soups that are lesser-known and are a good fit for the ketogenic diet. These are some of the major qualities of these less-known dishes:
They use green leafy vegetables and fresh herbs like basil, oregano, and rosemary to make their dishes flavorful.
The spices are kept to a minimum and let the original flavors of the ingredients come through.
Dishes are prepared using very few ingredients, which keeps caloric content in check.
This makes Italian food a favorite for weight watchers and health-conscious people.
Since Italian dishes are made up of simple ingredients, they focus more on the quality of ingredients than the preparation methods.
At Romano's Macaroni Grill, most of their ingredients are imported from Italy and all the dishes are made to order which maintains the flavor and freshness of the dish.
From the name of the restaurant, you may think that only macaroni or other variations of pasta are served there. But hidden in their menu are some gems that can fulfill your craving for Italian food and also be keto-friendly.
Their menu is divided into four sections, Antipasti, Pasti in Italy means meal and antipasti means before meal i.e. an appetizer. Dolce, this section contains various dessert and beverage options on its menu.
Barra, this section contains a wide selection of wines to choose from. They also have a separate kids' menu, where they offer a few kid-friendly options.
Some keto-friendly options in this section can be, Grilled chicken, which is served with broccoli and mashed potatoes. Hold the mashed potatoes and this can be a good keto-friendly choice.
Another option is Chicken strips. It is served with a choice of salad, broccolini, or fries. Go for salad and broccoli to make it keto.
This being said, let's find out how can you navigate through the menu of Romano's macaroni grill successfully.
RECOMMENDED: KETO Friendly Options at On The Border
Low-Carb Tips for Romano's Macaroni Grill
Here are a few tips you can use to make your food ordering experience easy while you are glancing over their menu:
Check out their online menu before going to their restaurant. There they mention all the ingredients used inside a dish. This makes finding a keto dish easier. This also helps you to avoid any confusion while you are ordering at the table.
Check out the main dine-in section of their menu. Many of their keto-friendly options are hiding under Italian names. If you can't identify a dish or its ingredients by its name, just google and see the Images and their meaning. You will be surprised to find out how many good options are there.
If you can control the portion size of pasta dishes (by sharing or taking half of it home for later) you can order some. If not, skip their pasta, land+sea, and dolce (sweets) section altogether.
Choose grilled meat over breaded meat. For example, avoid their crispy calamari and Chicken parmesan dish. They use breading in their preparation. You can choose options like grilled salmon and grilled sirloin in varying sizes.
Many of their dressings and dips like balsamic glaze and spinach+artichoke dip may be high in carbs. It is better to either remove them or swap them with other appropriate options.
Before placing your order, inform your server if a person in your party has a food allergy. So they can take some extra precautions while prepping their meal.
Check out the allergen and nutritional pdfs in the menu section of their website. If you have any allergies, reading through the chart will help you avoid dishes with allergenic ingredients. Similarly, if you scroll a little further, you will find a chart mentioning the nutritional facts of each dish.
They don't provide a nutrition calculator. So, you will have to use another online calculator to find out the net carb count of a dish.
If this seems all too tedious, then you can just refer to the food option section of this article. All the nutritional facts have been mentioned under each keto-friendly dish after calculation.
ALSO READ: Huddle House Keto & Low-Carb Options
Keto-friendly food options at Romano's Macaroni Grill
Now, let's explore what all Romano's macaroni Grill has to offer in the keto side of dishes.
In no particular order, here are some keto-friendly dishes you can consider when eating at Romano's Macaroni Grill.
Note: All the nutritional facts mentioned are, as provided on the Romano's macaroni grill's website.
The dishes on the Romano's Macaroni Grill's menu are categorized as antipasti (appetizer), soups+salads, land+sea, etc. So, for your convenience, I have mentioned the name of the dishes from each section in the same order.
RECOMMENDED: Keto-Friendly Grilled Options at Urban Plates
Antipasti (appetizers)
#1 Caprese salad
This salad is prepared with vine-ripened tomatoes, mozzarella, basil, and balsamic glaze. This is a famous Italian salad that is simple yet filling and a good choice on the keto diet.
Nutritional facts:
Fat: 44g
Net carb: 9.5g
Protein: 16g
Calories: 510kcal
Cholesterol: 100mg
Sodium: 510mg
#2 Stuffed mushrooms
This dish is prepared using mushroom caps filled with sausage, goat cheese, ricotta + spinach, and Mediterranean vinaigrette. Not bad if eaten in moderation.
Nutritional facts:
Fat: 38g
Net carb: 14.5g
Protein: 21g
Calories: 510kcal
Cholesterol: 60mg
Sodium: 590mg
Salad + Soups
#3 Italian Chopped
This is a salad dish made with roasted chicken, romaine, Roma tomatoes, chopped pepperoni, feta, cucumber, parmesan, and Oreganata dressing. A fresh and filling choice.
Nutritional facts:
Fat: 38g
Net carb: 11.5g
Protein: 27g
Calories: 490kcal
Cholesterol: 85mg
Sodium: 2280mg
#4 Bibb + Bleu
This particular dish is made with Bibb leaves, gorgonzola, walnuts, crispy prosciutto, crispy onions, pickled red onions, and buttermilk ranch. Buttermilk can be removed to make it low-carb.
Nutritional facts:
Fat: 42g
Net carb: 10.5g
Protein: 23g
Calories: 520kcal
Cholesterol: 55mg
Sodium: 1020mg
#5 Bibb + Bleu with Chicken
This dish is prepared using Bibb leaves, gorgonzola, walnuts, crispy prosciutto, crispy onions, pickled red onions, buttermilk ranch, and Chicken.
If you are allergic to tree nuts just ask them to hold the walnuts.
Nutritional Facts:
Fat: 43g
Net carb: 10.5g
Protein: 61g
Calories: 680kcal
Cholesterol: 85mg
Sodium: 85mg
#6 Bibb+ Bleu with Shrimp
This dish is prepared using Bibb leaves, gorgonzola, walnuts, crispy prosciutto, crispy onions, pickled red onions, buttermilk ranch, and Shrimp. Another filling option. If walnuts are not your thing, opt them out.
Nutritional Facts:
Fat: 43g
Net carb: 11.5g
Protein: 36g
Calories: 590kcal
Cholesterol: 170mg
Sodium: 1850mg
#7 Bibb+ Bleu with Salmon
This dish is prepared using Bibb leaves, gorgonzola, walnuts, crispy prosciutto, crispy onions, pickled red onions, buttermilk ranch, and Salmon.
Nutritional Facts:
Fat: 57g
Net carb: 9.5g
Protein: 63g
Calories: 830kcal
Cholesterol: 180mg
Sodium: 1760mg
#8 Tomato basil soup
This soup is prepared using tomatoes, fresh basil, and herbs. A simple and comforting option. You can hold the pieces of bread that come with them.
They also offer wine on the Barra section of their menu.
Nutritional Facts:
Fat: 42g
Net carb: 4.5g
Protein: 2g
Calories: 110kcal
Cholesterol: 0mg
Sodium: 670mg
Wine
There is a wide range of Wines to choose from. Some of the low-carb wine options are as follows:
Pinot Grigio Carletto
Pinot Noir Garnet
Cabernet Sauvignon Francis Ford Coppola Diamond
Rosé Chloe
Keto Side Dishes
Some low-carb sides available on Romano's Macaroni grill's menu are:
Grilled Asparagus
Sautéed Spinach
Broccolini
Brussels sprout halves (without balsamic glaze).
RELATED: Keto-Friendly Options at Quiznos
Conclusion
American-Italian cuisine isn't as frightening as you may assume.
With little research, you can find some awesome offerings that are well qualified as a keto dish. At Romano's Macaroni grill there are plenty of low-carb options to choose from.
Many other dishes on their menu can be made keto-friendly by removing one or two ingredients without compromising on their taste. I hope after this article you are confident about dining here on the low-carb diet!
Happy Ketoing 🙂