So you are having a tiring day at work, and you check your Google Maps for the nearest restaurant. And there is Bubba Gump, your potential solution to those intense cravings! The good news is that there are plenty of keto-friendly options to entertain you here.
So what's low-carb at Bubba Gump Shrimp Co.?
At Bubba Gump, you can find some soups, salads, and shrimp dishes that are low-carb and keto-friendly as well. And with some tight portion control, you can also enjoy chicken tenders and onion rings.
Across the different menu options, from appetizers to soups to salads, Bubba Gump does offer a good amount of low-carb dishes. However, all of their "Handhelds" and Dessert meal options are not suitable for a low-carb diet (and will kick you out of your ketosis!)
You can still adjust some Handhelds and alter their carb count.
Because we know that you don't like to waste time, in this article, we have listed all the keto-friendly meals available at Bubba Gump. So let's begin!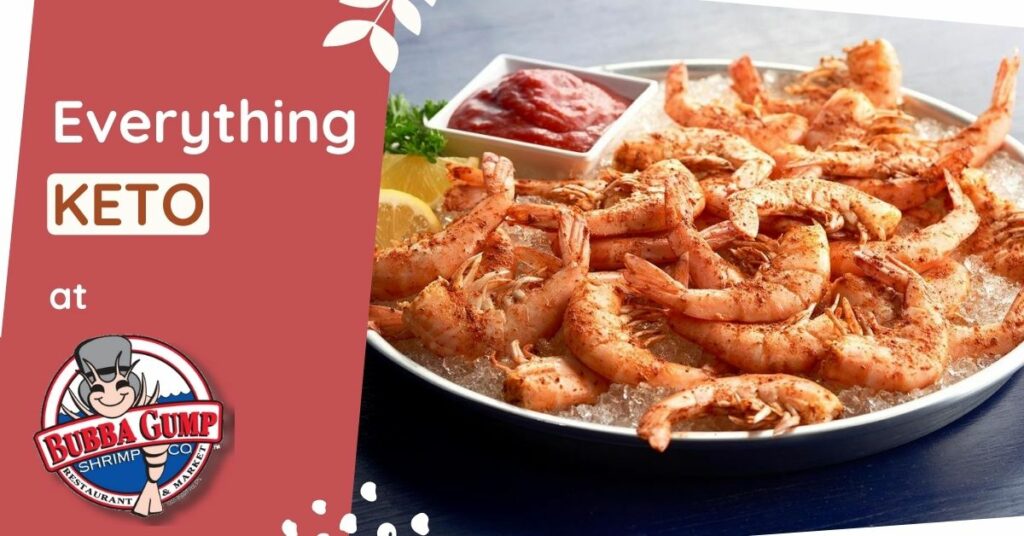 Tired of searching whether certain foods are keto? Download my keto cheat sheet with 210+ keto-friendly foods!
This post may contain affiliate links, which help keep this content free. (Full disclosure)
How to Survive Keto at Bubba Gump
With over 40 restaurants, Bubba Gump is a renowned seafood chain delivering top-class foods that are aesthetic to look at, and great on the tongue. Yes, you can thrive there on the low-carb diet, but you also have to be on the lookout.
Bubba Gump has been satisfying its customer base since 1995 and is inspired by the classic and lovable movie, Forrest Gump. Bubba Gump is a seafood restaurant chain that has 40 restaurants under its belt and is available worldwide. So, if you and the girls get hooked up on their meals and find yourselves in the UK or Qatar, you can get yourselves a Bubba Gump treatment.
Though not as widely popular as McDonald's or Taco Bell, Bubba Gump Shrimp Co. has a loyal fan base who cherishes quality seafood. It's also famous among gym freaks who want a heavy dose of protein in their meals.
You and your foodie friends can find great meals and scrumptious options that are great for your fairly standard (low carb, moderate protein, high fat) keto diet.
And let me tell you that seafood like shrimp skewers and calamari aren't just delicious, but they are also packed with lots of nutrition (win-win, right?)
Check out some of the most popular seafood health benefits:
1. You get your daily dose of essential nutrients like Vitamin A and Vitamin B.
2. Vitamin A and Omega-3 fatty acids ensure optimum eye health and prevent eye diseases.
3. According to studies, a single serving of seafood can lower your chances of stroke as well as heart disease.
4. Fish and seafood consumption has shown a reduced rate of mental decline in the elderly. It also promotes gray matter production in brain, which improves your emotional quotient.
From the obvious seafood options to the great and excellent sides, Bubba Gump can be your one-stop Keto fix!
Chicken tenders are great appetizers options, and so is the Calamari with minimum carbs and decent fat amount. Also, you can never go wrong with Shrimp Skewers and some steamed veggies on the side!
If you are in the mood for something light, get a Garden Salad that has a perfectly balanced nutrition profile (you can't ever go wrong with the greens!)
The Clam Chowder and Shrimp Gumbo can also be a part of your keto diet, provided that you limit your intake. Have a half-cup serving to relish the taste and still fly low in the carb-radar!
Before we proceed, here are some items that you should completely AVOID at Bubba Gump:
Potatoes
Strawberry Salad
Burger
Cheeseburger
French Fries
Steamed Rice
Mac & Cheese
Seafood Hush Pups
Mashed Potatoes
Cheesecake
Chocolate Chip
Having done our research, we can now proceed to view the most keto-compliant meals from Bubba Gump Shrimp Co.
Bubba Gump Keto-Friendly Options
(Note: The restaurant doesn't have an official nutrition guide on this website, so all the data below is collected from third-party sources.)
For the purpose of this section, we have sub-divided it into the different meal options.
Appetizers
#1. Chicken Tenders
Net Carbs:16g
Total Fats: 18g
Protein: 18g
Calories: 750 cal.
With chicken tenders, you can enjoy a good measure of maker's mark bourbon sauce for excellent tasting. While maintaining your ketosis, you get enough protein and fat to get through the day.
#2. Calamari
Net Carbs: 8g
Total Fats: 7g
Protein: 18g
Calories: 670 cal.
Also known as squid, Calamari is a popular appetizer from the Mediterranean side of this world, especially the fried one which Bubba Gump serves. With Marinara Sauce and chili ancho aioli, you are in for a treat.
#3. Bubba's Far Out Dip (Spinach) Snack size
Net Carbs: 15g
Total Fats:
Protein: 10g
Calories: 360 cal.
A great veggie appetizer that comes with artichokes, tomatoes minus the tortilla chips. The snack size comes with enough calories and reduced carbs.
READ MORE: 20+ Giant Food KETO Friendly Options
Soups & Salads
#4. New England Clam Chowder (Cup)
Net Carbs: 20g
Total Fats: 8g
Protein: 6g
Calories: 220 cal.
Most of the fat from New England Clam Chowder are Unsaturated fat giving for good and healthy fat consumption. Clam chowder without the potatoes makes for great soup that's nutritious.
#5. Mama Blue's Shrimp Gumbo (1 Cup)
Net Carbs: 18g
Total Fats: 6g
Protein:8g
Calories: 200 cal.
Shrimp is one seafood that's keto-friendly that taste delicious, and one that's common within Mediterranean diet.
#6. Fresh Garden Salad
Net Carbs: 14g
Fat: 6g
Protein: 8g
Calories: 140 cal.
Fresh Garden Salad combines all the great veggies in one place (tomatoes, carrots, cucumbers, lettuce) to give a great looking diet with low carb.
Sides
#7. Onion Rings
Net Carbs: 16g
Total Fats: 8g
Protein: 3g
Calories: 610 cal.
A great appetizer and side that's popular in American and British cuisine. You can have half a serving for 8g of net carbs.
#8. Grilled Shrimp Skewer
Net Carbs: 2g
Total Fats: 46
Protein: 19g
Calories: 240 cal.
Heavy on protein, Grilled Shrimp Skewer is a great seafood meal that's made with healthy oils and seasoning for fresh and exotic taste.
#9. Steamed Broccoli
Net Carbs: 5g
Total Fats: 10g
Protein: 6g
Calories: 150 cal.
Another great veggie-based meal that's seasoned with salt, pepper and lemon juice.
From the Sea
#10. Shrimp New Orleans
Net Carbs: 4g
Total Fats: 14g
Protein: 17g
Calories: 1190 cal.
Using spicy new Orleans sauce, green onions, grilled shrimp minus the garlic bread, and steamed rice, Shrimp New Orleans is a great-looking keto diet that serves.
From the Farm
#11. Forrest's Surf & Turf
Net Carbs: 20g
Total Fats: 39g
Protein: 41g
Calories: 1490 cal.
Do make sure to take them without the mashed potatoes. The boneless ribeye, shrimp and broccoli makes for a great tasty meal already.
#12. Ribeye
Net Carbs: 1g
Total Fats: 23g
Protein: 21g
Calories: 1250 cal.
Do make sure to take them without the mashed potatoes. The ribeye and broccoli taste just nice and will maintain your ketosis.
Conclusion
Bubba Gump has quite a limited number of low-carb dishes. But you can still enjoy good variety if you follow the basic keto rules of dining out (e.g. no-bun burgers, no sweet sauces, no breading, etc.)
Other restaurants like Pappadeaux Seafood Kitchen offer a much wider range of keto-friendly items.
It is important to note that we couldn't obtain the exact nutritional data from Bubba Gump, but we've made sure that all the meal options listed are well below the 20g net carb serving limit.
So do try them out, and maintain your ketosis with your girls. Like we always say, Happy Ketoing.