The ketogenic diet, sometimes known as the "Keto Diet," is a low-carbohydrate, high-fat eating plan that emphasizes healthy fats. When your body doesn't have enough carbohydrates to burn for energy, it enters a state of ketosis, where the major fat burn begins!
But one of the downsides of keto is having to say NO to a lot of delicious food like bread, pasta, noodles, etc. But what about the California Chicken Cafe's keto menu?
You can enjoy different variations of lettuce-wrapped sandwiches and chicken salads at this place. Don't eat anything with the words "breaded" or "coated" in it, and steer clear of anything with noodles or grains as a base.
Avoiding "glazed" foods is always a good idea, as they are likely to contain a lot of sugar. Oh, and do away with the fries and the buns. Salad is the new go-to side dish for the keto dieter.
Eating out on a keto diet might be difficult at times. A massive keto mistake can be made with carbs and one simple miscalculation. But we're here to help. This article will learn what keto-friendly meals to order at California Chicken Café.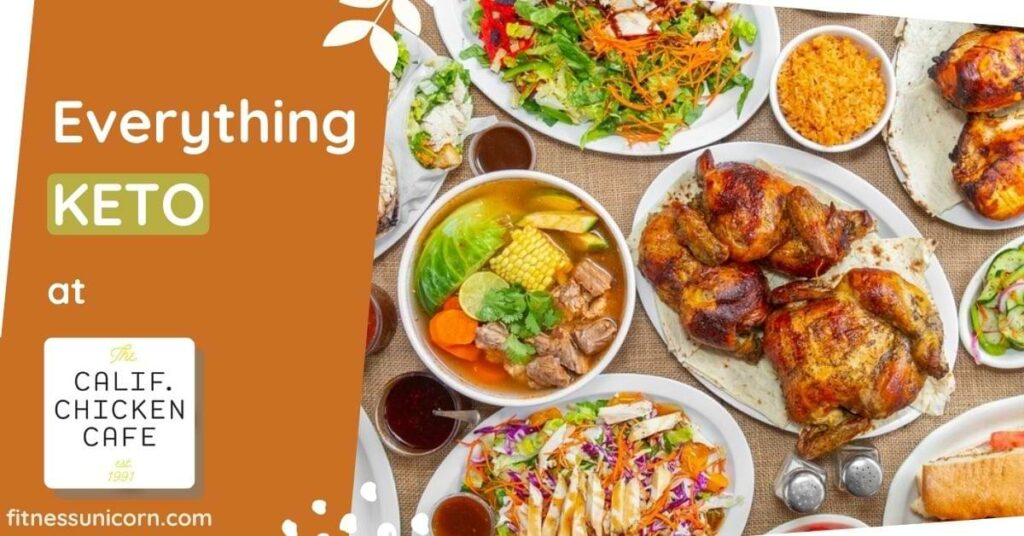 Tired of searching whether certain foods are keto? Download my keto cheat sheet with 210+ keto-friendly foods!
This post may contain affiliate links, which help keep this content free. (Full disclosure)
How to Survive Keto at California Chicken Cafe?
Chicken doesn't have to be dull, not at California Chicken Cafe, that's for sure! If you're in the mood for some hot, fresh, nutritious meals, this is the place for you.
We're here to spread the word about how great this cafe is for healthy quick pick-me-ups. Here you'll find many chicken-centric wraps, salads, plates, and sides.
Ketogenic dieters can't go wrong at California Chicken Cafe, which offers many keto-friendly dishes. The Caesar Salad has the fewest carbs of any food on the menu.
Cabbage Salad, Broccoli Soup, and Hot Potatoes are also keto-friendly options. California Omelet is a great choice for All-You-Can-Eat consumption with almost no carbs.
Since the ketogenic diet is becoming more and more popular, new products are constantly being introduced to the market. People who are concerned about their health and more educated on the role fats play in vital processes drive the diet's popularity.
A lack of keto options on the menu could potentially lose revenue for a restaurant business.
California Chicken Cafe is one of those restaurants where you can be sure that you will get a satisfying meal that is also (fairly) healthy. In 1991, the first California Chicken Cafe opened its doors on Melrose Avenue in Los Angeles; it served rotisserie chicken, salads, and wraps.
Two college friends founded the cafe to create a quick-service restaurant that offered exceptional value while also serving high-quality meals.
In a ketogenic diet, fiber is deducted from the carbohydrate count to arrive at the net carbohydrate value. As long as it can't be digested and used as a source of glucose, dietary fiber does not count as a carbohydrate.
The only carbs that matter are those that affect blood sugar. When calculating nutrition for menu items for the California Chicken Cafe, take the dietary fiber count out of the total carb count.
Most ketoers see the best fat-loss results while consuming 20g or fewer net carbs per day. This is a critical point to keep in mind while designing this cafe's low-carb and keto-friendly menu items.
It's a good idea to incorporate cauliflower into meals in various ways to help minimize carbohydrate intake. The carbohydrate content can be drastically reduced by using riced cauliflower instead of brown rice.
In general, grains aren't allowed on the ketogenic diet. Standard grains, on the other hand, are interchangeable. Expanding carbohydrate options is as simple as using your imagination and learning to substitute common forms of carbs.
Customers who aren't even on a ketogenic diet may be encouraged to try new things by such substitutions.
Many people believe that the ketogenic diet excludes all fruits and vegetables, which is a common misunderstanding. Though starchy vegetables and fruits such as potatoes and bananas are highly discouraged.
Either way, it is still possible to create keto-friendly menu items by making a few smart substitutions.
At California Chicken Cafe, you'll be able to find solace in their nutrient-rich greens. You can stick to leafy greens and salads on their menu.
Before we get started, here are a few things you should AVOID at California Chicken Cafe while on a keto diet:
Chinese Chicken Salad
Veggie Wrap
California Chicken Sandwich
California Chicken Club Sandwich
There are just too many carbs in the above-listed items, and it's not worth even a single bite. However, if you swap the sandwich bread with a lettuce wrap, it opens up new horizons for a keto meal!
Dining out on keto means limiting carbs to 20-25g of net carbs each meal. And that includes all of the day's meals as well! Keep reading to learn keto-friendly options on their menu:
California Chicken Cafe Keto-Friendly Options
Are you going out tonight? Great! We will assist you in dining out while adhering to your low-carb diet. Prepare yourself for delectable meals — wherever! We have suggestions for keeping it keto and low-carb.
Note: The dishes listed below contain between 5g-15g of net carbohydrates. (Because of the lack of an official nutrition guide on the California Chicken Cafe's website, it's difficult to determine the exact numbers.)
ALSO READ: Keto-Friendly Options at Flower Child
Rotisserie Chicken
California Chicken Cafe's rotisserie chicken is keto-friendly because of its low carbohydrate content and minimal sauces. You can have the sauce on the side so that you can determine how much to add to your food. They serve chicken in a variety of sizes, ranging from a quarter to a whole chicken. Chicken wings are also available.
Salads
Salads for meals can be quite flavorful, satisfying, and are often low-carb friendly. Simply ask what the salad contains. If your salad includes croutons or other fried toppings, request that they be served on the side or omit them entirely.
Finally, inquire about salad dressing. Several are sweetened with honey or fruit juice. If in doubt about the carb count, simply request olive oil or vinegar.
#1. California chicken salad
This signature salad is brimming with white meat chicken, avocado, feta cheese, carrots, bell peppers, tomatoes, broccoli, lettuce, pita croutons, and pasta, all of which contribute to the salad's great texture and burst of bright, fresh flavors. Remove the croutons, as they are high in carbohydrates.
#2. Veggie salad
This salad is packed with lettuce, avocado, tomatoes, broccoli, carrots, bell peppers, sprouts, pita croutons, and your choice of dressing. Go without the croutons.
#3. Cafe Caesar salad
Caesar salad is made using white flesh chicken, avocado, flakes of parmesan, pasta, lettuce, bread croutons, and lemon. Again, remove the croutons.
Low-Carb Soups
#4. Broccoli soup
The pureed broccoli is incorporated with sweet potatoes and leeks in it.
#5. Garden Side Salad
This salad consists of lettuce, tomatoes, carrots, croutons, radish, red bell pepper, cucumbers, purple cabbage. Remove the croutons.
#6. Veggie Soup
Carrots, potatoes, celery, broccoli, green beans, squash, onions, and tomatoes are combined in this mix.
Keto Wraps (Lettuce-Wrapped)
#7. Classic wrap
This comprises of chicken, lettuce, tomato, and mayonnaise. To minimize carbs, omit the outer wrap and substitute it with a lettuce wrap.
#8. Veggie wrap
The veggie wrap has avocado, jack cheese, carrots, sprouts, Italian dressing, lettuce, tomato, and mayonnaise.
Conclusion
Maintaining a ketogenic diet can be challenging, especially when dining out. But the good news is that as keto becomes more common, eateries will recognize when consumers require meal modifications. More and more restaurants have developed menu items exclusively for keto dieters.
We live in a personalized nutrition era. A menu that caters to a broad range of dietary requirements is an insurance policy for retaining current guests and attracting new ones. The ketogenic lifestyle is not a fad; it is here to stay.
By adding keto-friendly alternatives to the menu, California Chicken Cafe has tapped into a virtually untapped sector in the restaurant industry. With a few minor adjustments, the cafe can become the buzz of the keto community!
As with earlier overnight sensations, many regard keto as merely another diet fad that will fade as swiftly as it arrives.
But for restaurant owners, it's critical to distinguish food trends from fads, perform market research, and to forecast if the expenditure required to cater to a new market is worthwhile. Industry statistics indicate that keto is here to stay. Indeed, the keto trend is predicted to grow in popularity.