California Pizza Kitchen was founded in 1985 and has since been pushing creative and culinary boundaries to provide the freshest and most unique meals possible.
The chain is well known for its non-conventional take on pizza and experimenting with different ingredients constantly.
They've developed an extensive menu that boasts pasta, salads, soups, and various desserts other than their famous pizza.
So what's gluten-free at California Pizza Kitchen?
If you have a hard time finding good gluten-free pizza, California Pizza Kitchen is the right place for you.
They boast a mouth-watering variety of pizzas made with their certified gluten-free crust and prepared on dedicated prep stations with extreme care.
You can even craft your pizza by selecting your favorite gluten-free toppings to go on top of the gluten-free crust.
Other exciting gluten-free options at California Pizza Kitchen include fresh salads, appetizers, power bowls, and unique entrees. The wide variety of options free of gluten provides a spread that will satisfy everyone.
California Pizza Kitchen has a detailed gluten-free menu and an allergen guide. The items on their gluten-free menu are certified to have no gluten by the Gluten Intolerance Group (GIG).
This is coupled with stringent cross-contamination protocols to ensure the health and safety of their customers.
We would advise ordering strictly from the gluten-free menu since the regular menu items don't have a GIG certification and might be contaminated.
If you have Celiac disease or severe gluten sensitivity, it is paramount that you practice caution to protect your health.
This article will be an in-depth scrutinization of the California Pizza Kitchen menu. We'll be narrowing down the best possible options for you to consume on a gluten-free diet.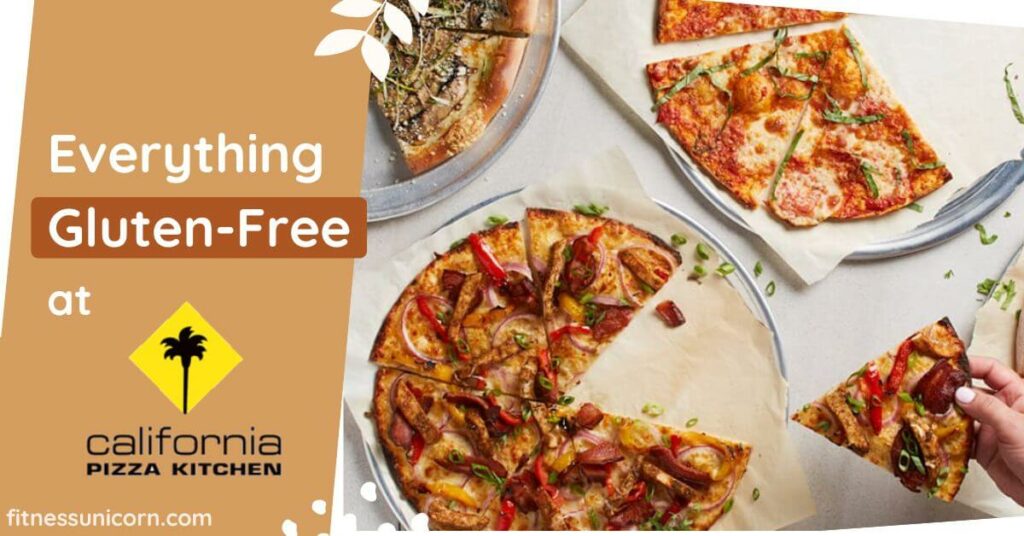 This post may contain affiliate links, which help keep this content free. (Full disclosure)
Gluten-Free Options at California Pizza Kitchen
The scrumptious offerings at California Pizza Kitchen are prepared with the freshest possible ingredients sourced locally and prepared to order. It's a fantastic place to chill with friends and family with some excellent food.
The extensive menu has a little something for everyone to munch on.
I bet you didn't know California Pizza Kitchen is the originator of the famous BBQ Chicken Pizza. The popularity of California Pizza Kitchen has seen it grow to over 300 locations across 14 countries.
They boast an impressive gluten-free menu that will satisfy your pizza cravings and have you coming back for more!
After going through their detailed gluten-free and allergen menu, we've compiled a list of all the delicious gluten-free offerings at California Pizza Kitchen.
Note: California Pizza Kitchen advises you to inform the manager of your allergy prior to ordering so the team can ensure adequate measures.
Gluten-Free Pizzas
The gluten-free pizza at California Pizza Company is made with their certified gluten-free crust and toppings supplied by verified gluten-free vendors. There are five variations of pizza you can order from the gluten-free menu.
Original BBQ Chicken Pizza
The world-famous BBQ chicken pizza starts with a gluten-free crust topped with the signature CPK BBQ sauce, smoked Gouda, chicken, red onion, and cilantro.
Pepperoni
A classic fan favorite. The gluten-free crust is topped with savory pepperoni, fresh mozzarella, and oregano.
Mushroom Pepperoni Sausage
If you like a bit more complexity of flavor, then this one is for you. Same as the pepperoni with the addition of cremini mushrooms, spicy Italian sausage, and fresh basil.
Margherita
You can never go wrong with a classic Margherita pizza. Certified gluten-free crust is topped with Italian tomatoes, fresh mozzarella, basil, and parmesan cheese.
Traditional Cheese
The traditional cheese is simple yet packs a flavor punch. Nothing beats fresh mozzarella and sauce on top of a gluten-free crust.
RECOMMENDED: Logan's Roadhouse Gluten-Free Menu Items
Fresh Salads
California Pizza Kitchen offers some delicious gluten-free salads with various fresh toppings and meats. These salads complement the pizza perfectly and can even make for a great meal if you're on a diet.
The gluten-free salads at California Pizza Company include;
California Cobb
Italian Chopped
Waldorf Chicken
Super Spinach + Quinoa
The Mediterranean
Banh Mi Bowl
The Banh Mi Bowl at California Pizza Company is a healthy, nutritious meal that will fill you up and have you feeling good.
It is loaded with nourishing ingredients like quinoa, baby kale, fresh cilantro, grilled chicken, watermelon radish, avocado, cucumber, carrot, bean sprouts, scallions, and sesame seeds served with a chili-lime vinaigrette and serrano peppers.
If you're on a gluten-free diet and like to eat healthily, this bowl is perfect for you!
YOU MAY ALSO LIKE: Are Braum's Ice-creams Gluten-free?
Cedar Plank Salmon
Another healthy and delicious gluten-free dish at California Pizza Company is the Cedar Plank Salmon. A filet of North Atlantic salmon is roasted on a cedar plank with paprika and lime.
The salmon is served with a side of white corn and spinach succotash topped with feta.
Fantastic Tips for a Gluten-Free Meal at California Pizza Kitchen
California Pizza Kitchen has a fantastic user-friendly gluten-free menu and allergen guide on its website. This will help make your experience seamless since you'll already know what to order.
Here are some tips to further elevate your experience and guarantee a safe eating experience.
Know the Restaurant
It's important to know what kind of restaurant you're visiting, the type of food they serve, the protocols in place, and whether there's an allergen or gluten-free menu available.
A quick google search will help you gauge how Celiac friendly a restaurant is.
Thankfully, California Pizza Kitchen has a detailed gluten-free menu certified by the Gluten Intolerance Group. The cross-contamination protocols are adequate, and the staff is sufficiently knowledgeable about gluten allergies.
Communicate with Staff
Let the manager and staff know about your allergies beforehand is paramount. This reiterates the need for proper protocols and cares while preparing your order.
The staff at California Pizza Kitchen is accommodating and well-trained, but the restaurant still advises its customers always to remind the staff of their allergies while ordering.
This prevents any slip-ups and carelessness that further reduces the risk of contamination.
Specify Special Precautions
The California Pizza Kitchen staff is trained to handle allergies and will practice protocols to limit contamination. But, you should still clarify your expectations and ask the staff to follow a few precautions to ensure your meal's safety.
Ask the staff to follow these steps while prepping your meal;
Request a single-line chef to prep your gluten-free pizza from start to finish to further reduce contamination
Ask for your meal to be prepped on a clean, disinfected surface
Request the staff to put on fresh gloves and use clean utensils to handle your meal
Request that your toppings be fetched from a new batch to eliminate any contamination
Ask the server to use a clean cutter to cut your pizza into slices
Keep It Simple
When visiting California Pizza Kitchen, remember to keep it simple. Order from their certified gluten-free menu since that is the safest option.
The further you sway towards the regular menu, the higher the risk of contamination that could possibly harm your health. 
READ MORE: 12 BEST Gluten-Free Bakeries in Knoxville, NT
If in Doubt, Throw it Out
If you're suspicious about a particular ingredient or menu item, it is wise to avoid it altogether. You'd be better off following your gut than having to feel miserable after consuming a questionable item.
Avoid Rush Hours
Rush usually means that the staff has to prep multiple orders at a time, which might lead to accidental contamination. It's better to visit during off-peak hours so the staff can give your order their full attention.
Cross Contamination Risk at California Pizza Kitchen
Cross-contamination is a phenomenon that plagues Celiacs. It makes dining out for them a grueling task.
Contamination occurs when gluten-free items come in contact with contaminated utensils, gloves, surfaces, and other foods. This poses a severe risk to people with Celiac disease and gluten sensitivity.
Hence, stringent cross-contamination protocols are paramount in any establishment to protect customers' health.
California Pizza Kitchen holds the safety of its customers in high regard. The Gluten Intolerance Group (GIG) approves its gluten-free menu.
Everything on the gluten-free menu is certified, from the gluten-free crust to the toppings and sauces.
Therefore, if you're ordering from the gluten-free menu, the risk of contamination is relatively low since everything is prepared on dedicated surfaces.
But, it is essential to remember that pizza places have a lot of flour flying around that might lead to contamination. Hence, we must practice due diligence and safeguard our health.
What is the Public Saying?
We scoured the internet for reviews on the California Pizza Kitchen. After extensive research, we were able to form an opinion based on the various reviews left by gluten-sensitive customers on the internet.
Most reviews reflected the fantastic attention to detail and stringent cross-contamination measures. The staff was knowledgeable and double-checked everything.
The gluten-free pizzas were prepared on separate prep stations, and the team was particular about handwashing and putting on fresh gloves. A lot of people with Celiac and gluten sensitivity left good reviews.
A few negative reviews mentioned slip-ups from the staff, like serving the wrong pizza and not following the protocols adequately.
These issues with California Pizza Kitchen seem to be location-specific; hence you must practice caution.
If you have Celiac disease or severe gluten sensitivity, you'll need to be extra vigilant and monitor your order every step of the way.
Gluten-Free Alternatives to California Pizza Kitchen
California Pizza Kitchen has some fantastic gluten-free options. But, if you can't find one in your vicinity and need to address your pizza cravings urgently, here are some delicious gluten-free alternatives.
Mellow Mushroom
Mellow Mushroom has some of the most stringent cross-contamination protocols regarding pizza places. They offer a gluten-free crust that is made in a dedicated gluten-free facility.
The restaurant has assigned prep stations for gluten-free meals. This makes Mellow Mushroom a fantastic destination to grab your pizza fix.
Gluten-Free Pizzas – Mighty Meaty, BYO, Veg Out, and more!
Wings & Veggies
Fresh Salads
Gluten-Free Brownies
BJ's Brewhouse
BJ's Brewhouse is a popular eatery with a plethora of gluten-free options. They employ strict measures to avoid contamination, making them a favorite among people with allergies.
The pizza at BJ's is offered with a gluten-free crust option that enables you to enjoy delicious pizza without risking your health.
Gluten-Free Thin Crust Pizza – BJ's Classic, BBQ Chicken, Vegetarian, and more!
Fresh Salads & Sides
Gluten-Free Soups – Broccoli Cheddar and Tuscan Tomato Bisque
Variety of Gluten-Free Entrees – Steaks, Seafood, and Poultry
Gluten-Free Burgers
Gluten-Free Pizookie
Domino's
Who doesn't love Domino's? The good news is Domino's now offers gluten-free crust, which allows you to enjoy your favorite pizza stress-free.
Just be careful when visiting because Domino's has shared prep stations that increase the risk of contamination.
Gluten-Free Pizza (small GF crust)
Fresh Salads
Chicken Wings – BBQ, Hot, and Roasted
Gluten-Free Dressings