Logan's Roadhouse is a casual dining family restaurant. They're known for mesquite-grilled meat such as steak, chicken, and seafood.
Their menu features appetizers, soups, salads, sandwiches, burgers, and alcoholic and non-alcoholic beverages. But does Logan's has any gluten-free options?
Logan's does have a gluten-free menu available upon request. The gluten-free menu has a couple of salads, soups, grilled meat, and some side options.
But, if you or someone in your group have a gluten allergy, know that Logan's doesn't have a gluten-free kitchen, so cross-contamination is possible. Read on to find some tips and gluten-free items you can order at Logan's Roadhouse.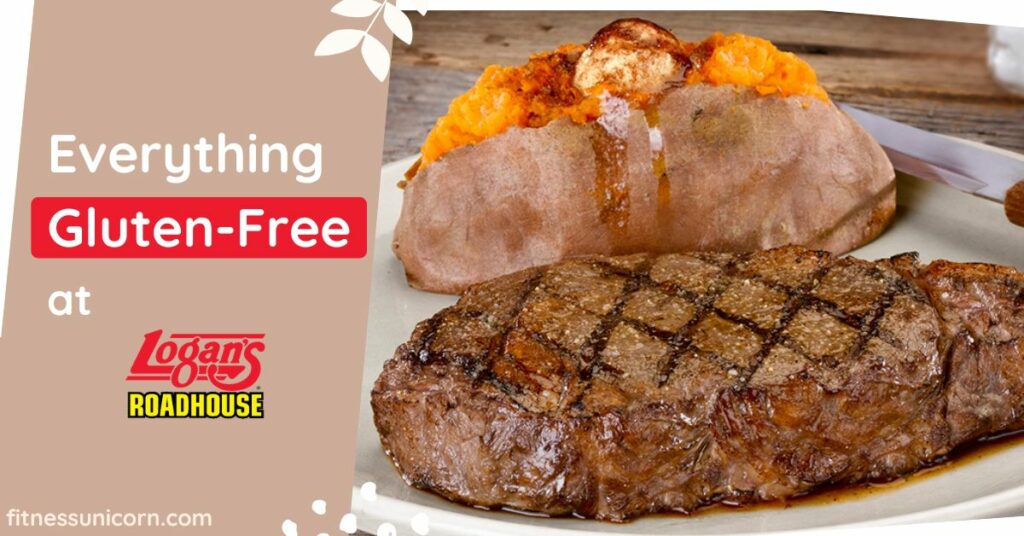 This post may contain affiliate links, which help keep this content free. (Full disclosure)
Logan's Roadhouse Gluten-Free Menu Items
Logan's menu offers a wide variety of items that will suit every taste palate. Whether you're going with your friends, date, or the whole family, they have you covered, that too at a reasonable price.
Mesquite wood-grilled steak and yeast rolls are Logan's specialty. They use grain-fed beef and grill their steaks over an open flame using mesquite wood. This gives their steaks a flavor that's unique to them.
And they pair it with their famous yeast rolls that are made from scratch every day.
But not just steaks, they have various other dishes made with chicken and seafood such as twisted chicken tenders, teriyaki glazed chicken, shrimp stacked salmon, mesquite wood-grilled salmon, crispy crab cakes, etc.
The grilled meat options don't come with any side items unless asked.
Their menu also features plenty of soups, salads, burgers, sandwiches, appetizers, and more. However, you've to be careful while ordering food here because Logan's roadhouse isn't a gluten-free establishment.
The majority of the dishes served here contain wheat in some way or the other.
But, if you stick with the tips I've shared here, you'll reduce your chances of getting sick and enjoy a delicious meal. So, here are some gluten-free options available at Logan's Roadhouse.
These items have been picked from Logan's allergen chart and may vary by location.
Appetizers
#1. Deviled Eggs
This dish has six classic deviled eggs topped with bacon & green onions and drizzled with bourbon BBQ sauce.
Nutritional Value
Calories: 508 kcal
Fat: 44 g
Carbs: 6.9 g
Protein: 20 g
FIND MORE: Braum's gluten-free menu items
Salads
#2. Anything and Everything Salad
The Anything and Everything Salad contains all-natural, mesquite wood-grilled chicken. It's served over crisp romaine lettuce, chopped bacon, walnuts, cranberries, blue cheese crumbles, tomatoes, and hard-boiled egg.
Nutritional Value
Calories: 680 kcal
Fat: 39 g
Carbs: 30 g
Protein: 70 g
Ribs & Chops
#3. Fall-off-the-Bone Ribs (half-rack)
Nutritional Value
Calories: 920 kcal
Fat: 52 g
Carbs: 59 g
Protein: 51 g
Steak & Beef
#4. New York Strip (12 oz)
Nutritional Value
Calories: 550 kcal
Fat: 43 g
Carbs: 1 g
Protein: 38 g
#5. Porterhouse (22 oz)
Nutritional Value
Calories: 790 kcal
Fat: 60 g
Carbs: 653 g
Protein: 62 g
#6. Top Sirloin (6 oz)
Nutritional Value
Calories: 330 kcal
Fat: 28 g
Carbs: 2 g
Protein: 31 g
#7. Ribeye (12 oz)
Nutritional Value
Calories: 720 kcal
Fat: 69 g
Carbs: 2 g
Protein: 58 g
#8. The Logan Sirloin (12 oz)
Nutritional Value
Calories: 600 kcal
Fat: 41 g
Carbs: 7 g
Protein: 63 g
RELATED: What's Gluten-free at Jamba Juice?
Steak topper
Bourbon Butter
Bule cheese, Butter & Bacon
Sides
Some side items such as baked potato and steamed broccoli come with butter which may not be gluten-free. Confirm with the server and order them without butter.
Baked Potato
Loaded Baked Potato
Corn
Waffle fries
Steamed Broccoli
Sweet Potato with Butter
Loaded Sweet Potato
Green Beans
Cole Slaw
Dressings
Thousand Island Dressing
Balsamic Vinaigrette
Blue Cheese Dressing
Caesar Dressing
Fat-Free Vinaigrette
French Dressing
Honey Mustard Dressing
Parmesan Peppercorn Dressing
Ranch Dressing
Roadhouse Ranch Dressing
Kid's meal
Kid's Ribs
Kid's Steak Tips
Kid's Fries
Kid's Fries
Kid's Steamed Broccoli
Kid's Green Beans
FIND MORE: 14 BEST Gluten Free Bakeries in Austin, TX
Tips for Ordering Gluten-Free at Logan's Roadhouse
Ask For the Gluten-free Menu Upfront.
While placing the order, tell the server that you're allergic to gluten and would like to choose from a gluten-free menu.
Also ask them to take safety measures such as changing the gloves, cleaning the prep area, the grill, and the utensils before preparing your order.
Speak With the Manager.
Sometimes the staff may not be knowledgeable about gluten-allergy. Or, they may or may not have a particular dish at their restaurant. In that case, you should directly consult with the manager.
Ask them to suggest some safe options for you. The manager will ensure that your order is prepared carefully.
Avoid Dishes Made With Chicken and Seafood.
Be extra careful with deep-fried items. Most of the dishes made with chicken use deep-fried chicken which may be cross-contaminated. And dishes with seafood come with rice pilaf which may also be cross-contaminated.
So, confirm with the server or the manager before ordering.
Avoid the Dessert.
The dessert section of Longan's menu has some ice cream sundaes that have baked items in them. So, stay away from those. Also, stay away from the obvious gluten-containing items such as cakes and brownies.
Ask the Server to Repeat your Order.
Remind the server a couple of times to be careful with your order. Sometimes, they may assume that choosing gluten-free is just your dietary preference rather than a health concern.
So, ask them to repeat your order to ensure they've got it right.
Order Bottled Water Instead of Other Beverages.
It has nothing to do with gluten allergy but rather nutritional value. Grilled red meat itself is going to be calorie-heavy. So, I'd suggest you go lite with beverages.
Cross-contamination Risk at Logan's Roadhouse
On their website, Longan's Roadhouse states that they don't have a gluten-free kitchen. They use shared cooking equipment, utensils, and space to prepare all of their dishes.
They also mention that their deep-fried items may contain any or all kinds of allergens.
So, even though they have a gluten-free menu, they can't guarantee any of its items to be gluten-free. Moreover, the gluten-free menu isn't up-to-date, and many ingredients used inside the dishes have changed.
They suggest that you consult with the restaurant manager to make necessary adjustments.
What do People Say About the Gluten-free Options at Longan's Roadhouse?
When trying out a new restaurant, especially on a strict diet, it's wise to check what others have said about that place. So, here is what people with celiac disease and non-celiac gluten sensitivity have said about Longan's Roadhouse.
Many people said that the server was helpful and understood their needs. They also took the necessary steps while preparing their food.
They were satisfied with the service, the food didn't make them sick, and they would return.
However, many people said that they got sick eating at Longan's even though the meal served to them was supposed to be gluten-free.
They said the place is a hit or a miss.
Some people said that every time they tried this restaurant, they got sick. An individual said that they were served a bowl of salad with croutons despite them mentioning they were allergic.
Note that people's experiences varied based on location. The staff at one restaurant may be more diligent than the other. You may have to remind the server a few times about your requirements.
Following are some food items that gluten-sensitive people ordered at Logan's Roadhouse without getting sick.
Anything and Everything Salad
Baked Potato (unsliced) with sour cream and butter.
Steak
Steamed broccoli
Side salad (no croutons)
Pork chops
12 oz sirloin
sautéed mushrooms
baked sweet potato.
Gluten-free Alternatives to Logan's Roadhouse
The Keg
The Keg is a fine-dining steakhouse restaurant chain that offers some of the best-tasting steaks. They offer a dozen different cuts of steak. Apart from that, they've seafood, salads, appetizers, sides, and alcoholic beverages.
The Keg also has a dedicated gluten-free menu with a large selection of items. Their gluten-free menu has items such as Appetizers, different cuts of steak, salads, seafood, dessert, and side items.
However, they do warn against cross-contamination. So, be sure to tell the server that food with gluten can make you sick so that they follow their allergy protocol.
Texas Roadhouse
Texas Roadhouse provides a gluten-friendly menu upon request. This menu has a decent amount of dishes. It's gluten-friendly rather than gluten-free because most of its items are made from scratch and may get cross-contaminated.
You can also find an allergen menu on their website. On that menu, they've many different cuts of steak, ribs, chicken, and seafood. Apart from that, they've salad, side items, dishes for kids, and alcoholic and non-alcoholic beverages.
However, the number of gluten-free items may depend on the location of the restaurant. Always ask your server about safe choices. And remind them to keep your order safe from cross-contamination.
Red Lobster
Red Lobster does a great job when it comes to seafood. They offer a wide range of grilled and fried seafood items, along with salads bowls, pasta, steak, sides, and beverages.
Red Lobster doesn't have a dedicated gluten-free menu. But they give you an allergen chart on which you can check which dish doesn't have wheat or gluten. It's not the most convenient method but it's better than guessing.
You can also ask the server about hidden gluten-containing dishes and what adjustments they can make to ensure your food is safe.
The staff at Red Lobster are knowledgeable and take precautions while preparing your food. They've also got good reviews from gluten-sensitive people.
Outback Steakhouse
Outback Steakhouse does a wonderful job when it comes to gluten-free orders. They give you a dedicated gluten-free menu upon request.
Their gluten-free menu has items such as steak, seafood, salads, side items, as well as gluten-free dessert.
Outback Steakhouse doesn't have a gluten-free kitchen, therefore, cross-contamination is possible.
However, the staff at Outback is trained on allergies and follows allergy protocol whenever someone orders anything from the gluten-free menu.