Logan's Roadhouse is proud of its wood-fired grilled steaks, delicious from-scratch dishes & sizzling Southern-inspired flavour.
But can they say the same about their low-carb and keto-friendly dishes? Let's find out.
You can have their Mesquite Grilled Chicken Sandwich WITHOUT the bun for just a single gram of carb. Or you can also order the New York Strip Steak which carries NO carbs at all.
Logan's Roadhouse also has a wide range of low-carb salads and beverages.
Even though there are plenty of keto-friendly options, there are some major guidelines you'll have to follow.
I'll keep sharing them throughout the article. The next section will introduce you to important points that'll help you maintain your keto streak at Logan's Roadhouse.
So without further delay, let's dive right in!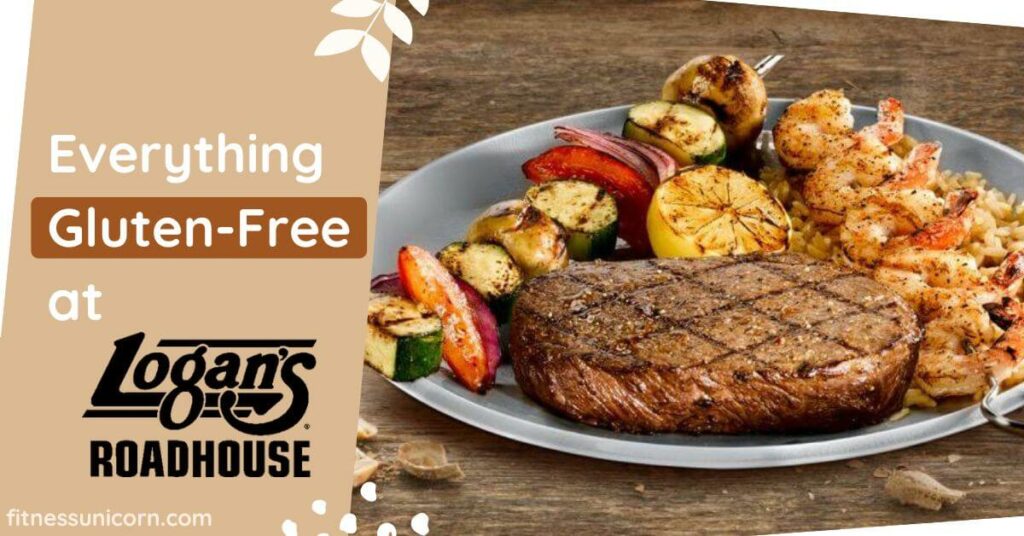 Tired of searching whether certain foods are keto? Download my keto cheat sheet with 210+ keto-friendly foods!
This post may contain affiliate links, which help keep this content free. (Full disclosure)
How to survive Keto at Logan's Roadhouse
Founded in 1991 in Lexington, Kentucky, Logan's Roadhouse is a chain of casual dining restaurants. Their menu is so vast starting from appetisers, to soups, to salads, to sandwiches and whatnot.
Burgers, sides, and non-alcoholic and alcoholic beverages are also on the menu.
Talking about the available low-carb options, even they are plenty. But, as I said earlier, following the pointers given to me is non-negotiable. For instance, sandwich bread is your enemy.
Just a single slice of bread carries with it 14g of net carbs. It means that just two slices of bread are enough to get you out of ketosis. Does that mean you can never have sandwiches now? Not at all.
You can enjoy the sandwich as either a sandwich bowl without the high-carb bread or wrap your sandwich in lettuce. Lettuce contains very low carbs and is a perfect fit to cover your sandwich stuffings and toppings.
The same is the case with their burgers. A burger bun also contains a high amount of carbs and can not be relished. Do what you did with the sandwich, and you should be good to go.
Another thing that might kick you off keto is the sugary sauces you drizzle over your meals. Logan's Roadhouse has a good variety of low-carb dressings that you can pour over your dish and still be under your daily allowed carb limit.
Now, if you are someone who craves sugar, especially while dieting, you surely won't be disappointed here. Since they do have a good number of low-carb drinks, both alcoholic and non-alcoholic.
They'll come into play when you get those sudden sugar cravings.
Following these guidelines will help you not only at Logan's but throughout your keto journey. Having said that, let me now take you through all the available keto-friendly options here at Logan's Roadhouse.
Logan's Roadhouse Keto-Friendly Options
I've mentioned all the keto-friendly and low-carb dishes below-
Appetisers
Smokin Hot Grilled Wings ( 7g )
Not many choices regarding appetizers, and wings are your friend here.
Fresh Homemade Soups
Southwest Chicken Tortilla Cup ( 7g )
Chili-Cup ( 15g )
Soups are both healthy and low on carbs, serving us two benefits at once.
Crisp Salads
Roadhouse Salad ( 9g )
Mesquite Grilled Chicken Salad ( 10g )
Grilled Steak Salad ( 10g )
Fried Chicken Salad ( 15g )
Logan's Club Salad ( 10g )
Small House Salad ( 5g )
Small Caesar Salad-includes Caesar dressing ( 16g )
Salads are undoubtedly your best bet during keto. They contain a hell lot of fibers to make you feel full and prevent you from bingeing.
RECOMMENDED: 20+ Giant Food KETO Friendly Options
Original Steak Burgers
Ditch the buttery bun and enjoy your favourite burgers as you want:
Old-Fashioned Roadhouse Burger-without cheese ( 1g )
Roadhouse Deluxe Burger ( 7g )
– With Cheddar Cheese ( 0g )
– With Swiss Cheese ( 0g )
– With Monterey Jack Cheese ( 0g )
Roadhouse Sandwiches
Deluxe Chicken Sandwich ( 3g )
Mesquite Grilled Chicken Sandwich ( 1g )
As mentioned earlier, sandwiches are only keto-friendly if the bread's ditched. Eat it either as a salad bowl or wrap it in lettuce for a low-carb meal.
Fresh Hand-Cut Steak Entrees
The Logan ( 0g )
Sirloin ( 3g )
Rib Eye ( 0g )
New York Strip ( 0g )
Filet Mignon ( 0g )
T-Bone ( 0g )
Porterhouse ( 0g )
Chopped Sirloin Steak ( 2g )
FIND MORE: How to survive Keto at Hopdoddy
Combo Entrees
Filet & Grilled Shrimp ( 15g )
USDA Choice Sirloin Steak & Fall-Off-the-Bone Ribs ( 12g )
Full Portion Fall of the bone ribs ( 14g )
Half Portion Fall of the bone ribs ( 12g )
Mesquite Grilled Pork Chops ( 15g )
Roadhouse Sides
Brewski® Onions ( 5g )
Sautéed Mushrooms ( 3g )
Fresh Vegetables ( 6g )
Fruit Cup ( 11g )
Broccoli ( 5g )
Extras
Grilled Vegetable Skewer ( 7g )
Small House Salad-without dressing ( 5g )
5 Ct. Shrimp – grilled, seasoned ( 15g )
Dressings and Dipping Sauces
Parmesan Peppercorn, Ranch, Blue Cheese, Oil & Vinegar, Caesar, Italian, Chipotle Ranch, and Texas Petal are some low-carb dressings that won't bother you much. They're in a range of 0 to 4g of net carbs.
Beverages
Diet Coke, Iced Tea – Unsweet, Coffee, Miller Lite( 3g ), Corona ( 14g ), all the light beers and all varieties of vines carry less than 10g of carbs. Thus, they can be enjoyed without any hesitation.
Now, in the next section, I'm gonna give you some alternatives to Logan's Roadhouse if you could not already find the dishes you were looking for.
Alternatives Restaurants to Logan's Roadhouse
Hooters
Established in 1983, Hooters is quite a popular sports bar now. Not only in the USA, but it also has stores in over 430 locations throughout the world.
The menu includes hamburgers and other sandwiches, steaks, seafood entrees, appetizers, and the restaurant's speciality, chicken wings.
Almost all Hooters restaurants hold alcoholic beverage licenses to sell beer and wine, and where local permits allow a full liquor bar.
Steaks, Chicken wings and seafood entrees have quite a few low-carb options. Apart from that, almost all the above rules apply here as well when choosing a keto-friendly dish.
Jack's
Founded in 1960, Jack's Family Restaurant is an American fast-food restaurant chain, headquartered and based in Birmingham.
Their menu includes everything from breakfast, chicken fingers, sandwiches and fried chicken to desserts and beverages. And almost every sub-menu has some or the other keto-friendly dish for you to relish.
You'll just have to go by the following rules to keep your keto streak going.
With a good variety and a mix of both savoury and sweet dishes, Jack's is a good option to consider on your next outing. As far as keto is concerned, every sub-menu has low-carb options for you to relish.
Hopdoddy
Started in 2010 by four friends, Hopdoddy pushed the boundaries of what's expected by bringing together craft beer and unique burger concoctions – all with high-quality ingredients and even higher standards.
On their menu, they have burgers, salads, shareable fries, shakes and of course, Beer.
A new concept on its own, bringing burgers and bars together, Hopdoddy shows us that they are here to innovate and create. Their contemporary vision proves that they want to serve whatever the customer requires.
Interestingly, they also have options for customers like us. Burgers, patties and salads contain a high amount of fat and protein and a low amount of carbs ( if done the right way )
Conclusion
Logan's Roadhouse has one of the widest varieties of keto-friendly options I've seen at any place. Right from appetizers, all the way up to side dishes and beverages, they have got it all covered.
And With low-carb alcoholic beverages on the menu, it sure stands out. Although, there are certain important guidelines that you'll have to follow to get the best out of it. A small mistake might lead to a big keto blunder.
For instance, if you choose to go for a bread sandwich, wrap it in lettuce instead. If you're craving sugar and want to have dessert, drink a low-carb beverage instead.
With that said, I'm confident in the knowledge I've passed on to you and am sure you won't disappoint.
If you still wish to know more about the nutritional info of your dish or want to clear any other doubts, feel free to visit their official nutrition guide here.
Happy Ketoing 🙂