Regardless of your dietary intolerance or allergy – many bakeries, restaurants, and coffee shops have stepped their game up to be more a LOT more accommodating!
There are plenty of options in Pittsburgh when it comes to dedicated gluten-free baked goods and pastries.
Craving a fresh and tender honey oat bread loaf? Or are you more inclined towards a gluten-free pastry with your morning coffee? This post has you covered!
We've compiled a comprehensive list of the 16 best gluten free bakeries in Pittsburgh, for those craving a comforting pastry, or looking forthat sweet-little-something after a soul-satisfying dinner.
Important: While we try our best to ensure that each listed bakery has gluten-free offerings, it's hard to assure the absolute safety of the restaurant or store. If you have severe allergies, always consult the store staff prior to ordering or eating.
Having said that, let's begin!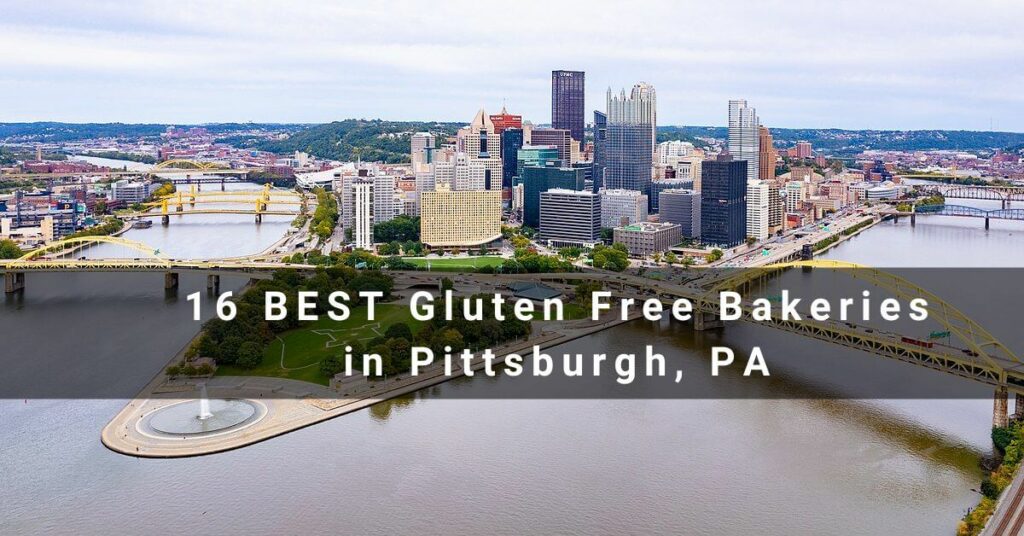 This post may contain affiliate links, which help keep this content free. (Full disclosure)
List of Gluten Free Bakeries in Pittsburgh, PA
1. Wild Rise
Address: 6901 Lynn Way, Suite 218 Pittsburgh, PA 15208
Website: Home | Wild Rise Bakery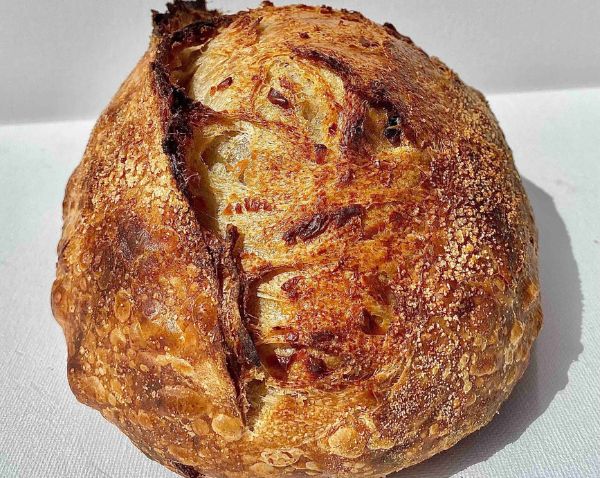 Phone Number: 412-254-4597
Email: wildrisebakery@gmail.com
While not a dedicated gluten-free bakery, Wild Rise offers online ordering with their production kitchen located in Point Breeze, PA.
Locally, their baked goods can be found at the East End Co-Op in Point Breeze and among various cafes around Pittsburgh.
Online pre-orders can be picked up locally at Lawrenceville and Bloomfield markets.
The production kitchen for Wild Rise is certified gluten-free, and completely designated for Wild Rise only.
In addition to being gluten free, Wild Rise also places an emphasis on nut allergies by avoiding commonly used nut flour substitutions like almond.
They are also accommodating, and can be reached via email easily to discuss any concerns or questions related to allergies prior to ordering.
All the flours used at Wild Rice are proprietary flour blends, formulated by Wild Rise themselves. These include combinations of brown rice, oat, flaxseed meal, and buckwheat.
Most customer feedback proclaims them to offer "the best gluten free baked goods [they've] ever had."
They offer a variety of options ranging from breads to pastries. We recommend checking out their signature breads and rolls:
Babka – buttery flavor, and tender when crumbled. Perfect for the holidays, this gluten-free loaf is a multigrain filled with spice and healthy flours. They offer both vegan and non-vegan options made with conventional dairy + butter, or without.
Sage and Sweet Potato Bread – Yes, you read that correctly. Packed with antioxidants and the rich aroma of sage, the bread pairs well with a slaw, pulled pork, or vegan seitan sandwich.
Coconut Spice Rolls – A gluten-free analogue to the classic cinnamon bun, this brown sugar, cinnamon, nutmeg, and coconut swirl roll is delectable and indulgent.
Wild Rise also features:
Pepperoni rolls, potato leek hand pies, cinnamon raisin rolls, fruit turnovers, classic chocolate chip cookies, brownies, cake, banana bread, classic sandwich loaves, honey oat sandwich loaves, seeded multigrain bread, pizza crust, bagels, and cinnamon raisin swirl bread.
---
2. Baked True North
Address: 1137 Perry Hwy, Pittsburgh, PA 15237
Website: Home Page – (bakedtruenorth.com)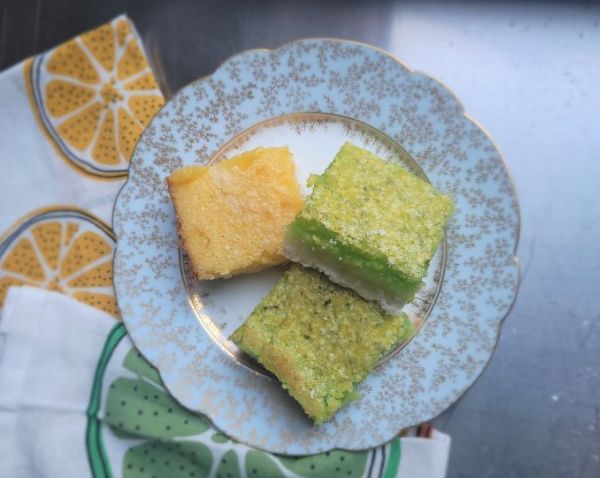 Phone Number: 412-837-4058
Email: BakedTrueNorth@gmail.com
Defining themselves as Pittsburgh's "dedicated gluten-free bakery," Baked True North has an operating storefront where people can go in and pick up goods in-person or from pre-orders placed through their website.
Their baked goods are not only found in Pittsburgh, but can be spotted on menus at bakeries and cafes all around PA.
While all of Baked True North's products are 100% dedicated gluten free, they do specify that they use "lots" of nuts in their products, including: peanuts, almonds, cashews, and pecans.
They go as far as not recommending anyone with a severe nut allergy purchase anything from their bakery for the high possibility of cross contamination. Nuts are incorporated into many of their GF flours as well.
With glowing reviews across Google, gluten-free review sites & blogs, Baked True North offers a GF twist on classic favorites – see our recommendations below and a full listing of their offerings!
Dairy Free "Yum Bread" – Offering chocolate chip and blueberry options as a sweet loaf made for sharing.
Banana Bread Scones – A banana bread twist on the classic scone, these treats come heart-shaped for Valentines and special occasions, and are gluten-free, dairy-free, and completely vegan.
Pumpkin Bread – A comforting fall loaf of pumpkin bread that is vegan and gluten-free! Soft and tender, this loaf will put you in that cozy fall mood!
Baked True North also offers: peanut butter brownies, english muffins, lemon loaf bars, donuts (dozen or half dozen), cakes (cookie crumble-based or icing sugar), cookies (snickerdoodles, chocolate chip, oatmeal, double chocolate), scones, muffins, cupcakes, and cinnamon rolls.
RECOMMENDED: Golden Chick's Gluten-free menu items
---
3. Cafe Chocolade
Address: 7061 Steubenville Pike, Oakdale, PA, 15071
Website: Home (cafechocolade.net)
Phone Number: 412-788-4041
Email: cafechocolade@aol.com
Founded by two highly educated individuals – James Kaufmann and Aniko Kaufmann, Cafe Chocolade has countless awards to prove their place in the realm of gluten-free royalty.
Winner of numerous awards, including the 'top 5' ranking of vegan restaurants in PA, gf-pizza spots, best vegetarian restaurant in PA (2020), and best bakery in South-West Pittsburgh – Cafe Chocolade stands out from the crowd.
Offering a variety of special orders, curbside pick-up options, sweets, freshly roasted coffee beans, and house-made award winning GF pizza crust – Cafe Chocolade has got it all.
We've got a couple of treats in mind we'd like to recommend, but we highly suggest checking out their full range on their website.
Macarons – Marketed as the only "true" GF macarons in Pittsburgh, made in a dedicated GF kitchen.
GF Corn Muffins – Perfect sweet alternative to corn bread for BBQs or an afternoon snack. Soy-free, gluten-free, and dairy free!
Focaccia – Drizzled with Sonoma EVOO (extra virgin olive oil); these are soft, not hard.
GF Eclairs – Gluten free and dairy free, these eclairs are incredible. You won't be able to tell the difference between them and any run-of-the-mill wheat / dairy based eclair.
Cafe Chocolade also offers a variety of options on a rotating basis, including: avocado fries, pierogi pizza, Italian flatbread, pita chips, whole grain GF bread loaves, and "handmade" candies.
---
4. A Sweet Morsel
Address: 3612 William Flinn Highway Allison Park, PA 15101
Website: Home (cafechocolade.net)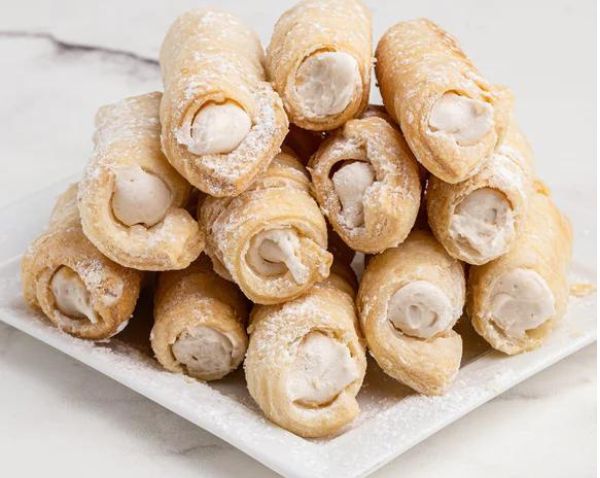 Phone Number: 412-486-1850
Email: orders@asweetmorselco.com
Offering nationwide shipping, with local storefront in Pittsburgh, PA. A Sweet Morsel was born out of the creativity of a young mom way back in 2013.
A Sweet Morsel specializes in gourmet wedding cakes, gourmet cookies, sugar cookies, cupcakes, and other treats.
While they specify gluten-free items on their website, they do indicate that they still bake with wheat flour in a 'common' kitchen that has the possibility of cross contamination.
A Sweet Morsel is geared more towards sweets and cakes than they are baked goods like bread loaves.
For those with less severe gluten allergies/intolerance, they offer a huge variety of pastries, cookies, and assorted treats.
They offer a wide range of specialty cakes that are made gluten-free, including: double chocolate raspberry, white raspberry, chocolate peanut butter, coconut macaroon, double chocolate mint, and lemon raspberry.
We recommend trying:
Peanut Butter Saucepan Squares – Crispy rice and peanut butter based bottom layer, topped off with brown sugar and drizzled with peanut butter.
Chocolate Coconut Bites – Cream cheese and coconut center, covered with a chocolate layer; extremely rich.
Chocolate Covered Strawberries – Naturally GF, dipped in white chocolate or dark chocolate, and topped with a drizzle of strawberry sugar coating.
A Sweet Morsel also offers: chocolate chip cookies, macarons, cupcakes, peanut butter granola bars, and sugar cookies.
FIND MORE: BEST Gluten-Free Bakeries in Knoxville, NT
---
5. The Chosen Crumb Bakeshop
Address: 108 Maple Avenue, Butler, PA 16001 (with Pittsburgh off-site pick-up location)
Website: https://thechosencrumb.square.site/custom-orders
Phone Number: 412-486-1850
Email: orders@asweetmorselco.com
The Chosen Crumb is defined as "small-batch" made goods, with all of their items being 100% completely vegan.
Despite not being a dedicated gluten-free restaurant, they state that many of their desert items can be made gluten-free, utilizing gluten-free flours and avoiding cross contamination with wheat-based or wheat-containing products.
The Chosen Crumb Bakeshop also offers custom made cakes, cookies, and sweets that can be delivered locally! Pick-up is always available at the Butler's southside location, and delivery accommodations are available for customers within Pittsburgh.
The website specifically denotes that they "are not" a dedicated gluten-free kitchen. While they offer to make most items gluten-free and nut-free, there always exists the risk of cross contamination
– they ask to be notified of any allergens prior to placing an order. They state that they use a combination of soy milk, almond milk, and coconut milk in their kitchen.
We recommend trying:
Peanut butter blossom cookies, stuffed cookies (oatmeal creampie)
---
6. Truly Wize
Address: Greensburg, PA (offers shipping across PA)
Website:Truly Wize Gluten Free Bakery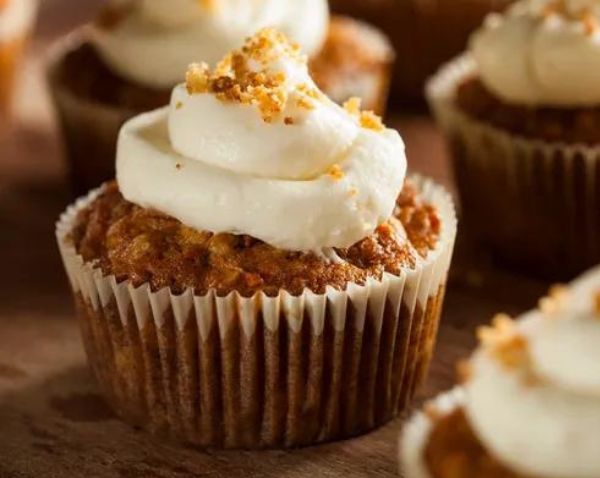 Phone Number: 724-787-4921
Email: caren@trulywize.com
Truly Wize is a truly gluten-free bakery located in PA, offering shipping and home deliveries provided you're located in their delivery zone (which includes Pittsburgh).
Truly Wize utilizes a dedicated gluten-free facility/kitchen, to ensure that there is absolutely no risk of cross contamination. Informed with a mission statement to "provide fresh, healthy, safe, and delicious premium quality gluten-free and allergen friendly baked goods, made without the use of any wheat, dairy, soy, nut, artificial colors, or flavors."
Finding a gluten-free bakery might not be easy, but finding one that completely avoids other allergens like soy, dairy, and nuts is even more difficult. Yet, here we are!
Having established themselves in 2008, Truly Wize has built a reputation on delivering fresh baked goods made from scratch and to order.
Gluten-Free and Dairy-Free vanilla frosted cinnamon rolls
Gluten-Free and Dairy-Free maple glazed cinnamon rolls
Gluten-Free and Dairy-Free pumpkin roll (seasonal from September to December)
Gluten-Free and Dairy-Free cinnamon coffee cake
For something more on the savory side, and less on the sweet, we recommend:
Gluten-Free and Dairy-Free herb focaccia
Gluten-Free and Dairy-Free "pizza" rolls (tomato sauce, mixed herbs, and mozzarella cheese)
Gluten-Free and Dairy-Free parker house rolls
---
7. Kaibur Coffee
Address: 3138 Dobson Street, Pittsburgh, PA 15219
Website: KAIBUR COFFEE & CAFE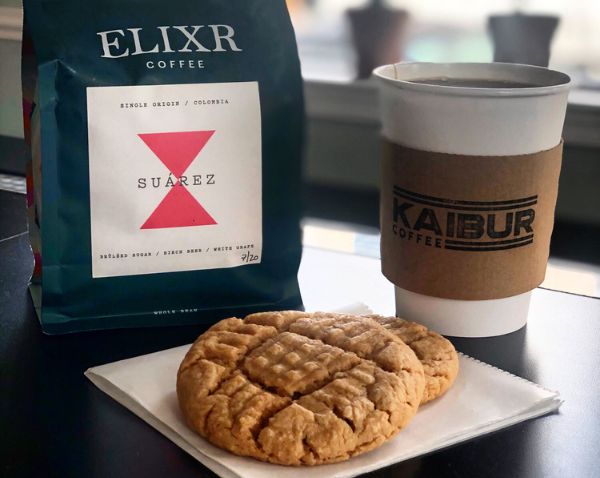 Phone Number: N/A; for online ordering go to – Kaibur Coffee & Cafe (square.site)
Email: kaiburcoffee@gmail.com
For those seeking out an actual traditional breakfast at a bakery/brunch spot as opposed to some GF sweet treats, Kaibur can satisfy that itch for local Pittsburgh residents.
Their menu features a wide assortment of vegan, vegetarian, and gluten-free goodies – all sourced locally or made in-house.
Despite this, they do also report on their website that they cannot verify the safety of potential cross contamination, and note the use of a "shared grill and toaster."
While reviews even from gluten-free patrons tend to be overwhelmingly positive with no reported allergic reactions, those with a more severe intolerance or Celiac might be best advised to steer clear.
GF Avocado Toast – toast topped with Earth Balance or Veganaise, avocado mashed, nutritional yeast and black pepper
GF Strawberry Balsamic Toast – toast topped with cream cheese, a strawberry balsamic jam, and arugula
GF Egg and Vegan Ham Sandwich – GF or sourdough bread with either eggs or tofu scramble, paired with vegan ham slices and either cheddar or vegan cheese. Served with arugula and tomato
---
8. The Gluten Free Oven
Address: 125 West Main St, #2001, Mt Pleasant, PA 15666
Website: The Gluten Free Oven, Mt Pleasant, PA
Phone Number: 724-542-4457
Email: N/A – online contact form available:The Gluten Free Oven, Mt Pleasant, PA
The Gluten Free Oven prepares and bakes everything from scratch; no premade doughs or frozen starters. They prioritize using high-quality, gluten-free ingredients within the context of a dedicated GF facility – just as the name implies!
For those who don't live nearby, The Gluten Free Oven does offer delivery service across PA via UPS, with orders shipped out every Thursday by a deadline of placement on Tuesday.
The Gluten Free Oven offers a variety of breads/rolls, desserts, cookies, pasta, and cakes – the full menu too comprehensive to list in full here.
We recommend heading over to Gluten Free Oven's website directly to see the full list of offerings. Some highlights we recommend trying out:
GF Pies: seasonal pumpkin, apple, cherry, peach cobbler, and blueberry
GF Pound Cakes: vanilla, chocolate, raspberry, orange, lemon, and almond
GF Speciality Treats: Belgian waffles, cream-filled delight (vanilla, banana or raspberry), "Kitty Paws"
GF Cookies: snickerdoodle, oatmeal scotchie, double chocolate chip, white chocolate cran-raisin, oatmeal raisin, peanut butter
GF Baked Breads: cinnamon raisin, garlic & herb crusted breadsticks, garlic cheddar & buttermilk biscuits, bread for stuffing
---
9. Illumina Cafe and Bakery
Address: N/A; online cafe and bakery operating out of the Pittsburgh area that offers delivery options and catering
Website: HOME | Illumina Cafe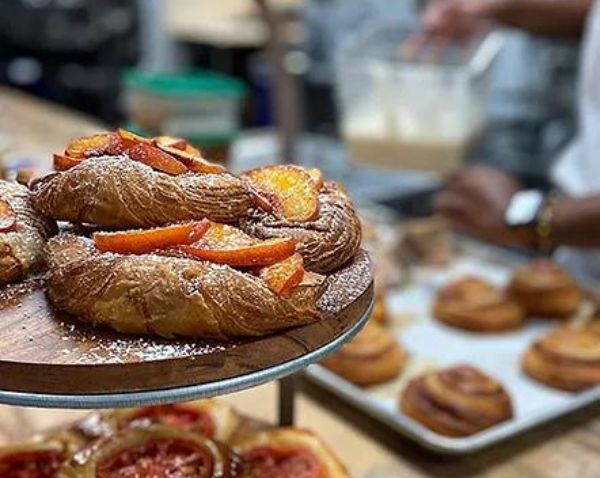 Phone Number: 412-589-9414
Email: info@illuminacafe.com
Illumina describes themselves as a new online cafe and bakery featuring ingredients that are "chef quality," locally sourced and 100% gluten-free.
Their products can be found in stores locally across the Pittsburgh area like Coffee Tree Roasters or Erin's Deli, or they can be reached via email/social media about setting up deliveries or wholesale orders.
They offer plenty of accommodation and open communication about any allergies, but do also state on the bottom of their website that they cannot account for complete control as they share a kitchen.
While they do their best to ensure everything remains gluten-free, the possibility of cross contamination does still exist.
Despite this, they offer a very expansive range of gluten-free menu items (the most options for gluten-free cookies we've seen) that they can also turn into vegan, dairy-free, nut-free, and Paleol!
GF Tarts – vanilla bean tart
GF Brownies – salted caramel icing, raspberry icing, cookies & cream
GF Cakes – carrot cake, red velvet cake, chocolate HoHo cake, vanilla bean
GF Cookies – sugar cookies, "jelly" cookies, pumpkin cookies, shortbread cookies, brown butterscotch, cinnamon vanilla white chocolate oatmeal cookies, Oreo truffle balls, white chocolate blueberry lemon biscotti
GF Cupcakes – strawberry chocolate, "dirty" chai latte, S'mores, salted caramel brown sugar, chocolate, lemon blueberry
---
10. Herbalicious Gluten-Free
Address: 612 West Main Street, Mount Pleasant, PA 15666
Website: Herbalicious – The Store (herbaliciousgf.com)
Phone Number: 724-542-9745
Email: N/A (see website for contact form)
Despite being geared toward customers looking for more of an "in-store" personal care shopping experience (like that of a health food store), Herbalicious also offers PA residents plenty of GF in-store baked goods in a dedicated kitchen.
They have been preparing freshly baked goods in-store for customers since 2004, and their history as a staple among gluten-free patrons in Mount Pleasant, PA is well established after close to two decades of operation.
Sweet breads – banana walnut, dutch apple, orange cranberry bread, spiced apple walnut, cinnamon swirl, double chocolate
Cupcakes – soy-free, "filled" (coconut, strawberry, lemon, vanilla), iced vanilla
Cookies – triple chocolate, snickerdoodle, pumpkin w/ cream cheese frosting, Oatmeal cranberry walnut, iced coconut, glazed almond
Breads & dinner rolls – artisan italian bread, focaccia with cheese & herbs, brioche, artisan sandwich rolls
---
11. Gluten-Free Goat
Address: 4905 Penn Ave, Pittsburgh, PA 15224 – No storefront; can order via their website or contact phone number
Website: Bakery – glutenfreegoat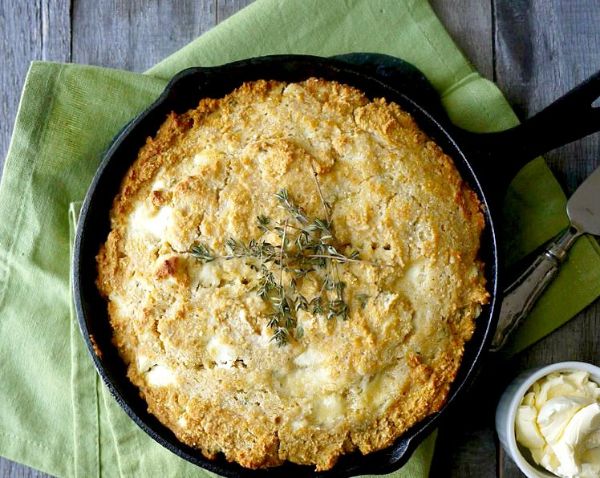 Phone Number: 412-376-7082
Email: hello@glutenfreegoat.com
The self-proclaimed G.O.A.T. of gluten-free baking, Gluten-Free Goat is backed by Pittsburgh native Zoe's refined skill in the kitchen.
As a PA culinary school graduate and former GM (general manager) of Gluuteny Bakery, a professional skill level is brought to the kitchen – one which is often absent from GF bakeries.
Gluten-Free Goat has steadily grown into one of the most popular and well-known gluten-free bakeries in Pittsburgh.
Baking in a dedicated GF kitchen, Gluten-Free Goat is bringing a new menu to the forefront as of September, which includes some of the following items that can be enjoyed by those with gluten intolerance and those without just as easily!
Primarily working with white rice + brown rice flour, potato + tapioca starch and a combination of traditional baking ingredients, you can feel secure in knowing there aren't any unhealthy additives or ingredients which will often be present in GF treats & baked goodies.
Vegan & GF donuts – cinnamon roll and caramel apple
Pumpkin roll (can be made vegan upon request)
Full butter brown sugar pecan cake
M & M blondies (peanut free)
GF pop tarts (s'mores, cinnamon plum, cookie butter)
Dulce de Leche brownies
Cookies (chocolate chip, apple cider, pumpkin drop, snickerdoodle)
---
12. Oakmont Bakery
Address: 1 Sweet Street, Oakmont, PA 15139
Website: Home – We Create Delicious Memories – Oakmont Bakery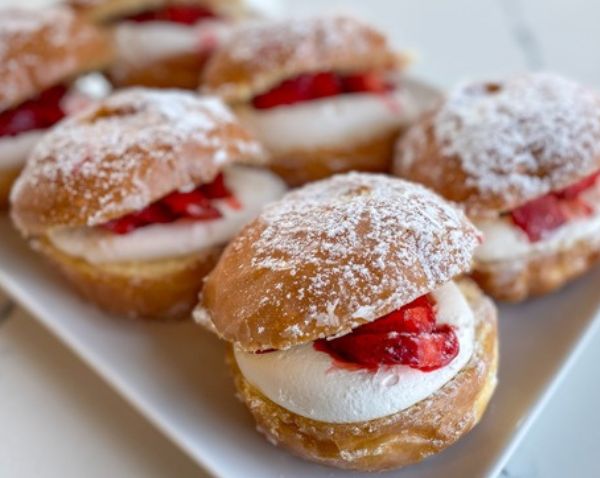 Phone Number: 412-826-1606
Email: N/A – can be reached either by phone or contact form on the website.
With a disclaimer under their FAQ that reads: "because all of our products are made in the same facility, we cannot say that any of our products are gluten-free," those with Celiac Disease or a more serious intolerance may need to avoid Oakmont.
For those who simply want to avoid consuming gluten, you can advise them of allergens beforehand, and they will reduce the risk of cross contamination occurring with their select GF designated items. These include:
Almond Dolce
Cupcakes
Macarons (almond, chocolate, pecan, vanilla, pumpkin, razzleberry, strawberry, peppermint)
Brownie drop cookies
---
13. The Bluehouse Bakery
Address: 1113 Gromwell Ln, Bridgeville, PA 15017
Website: Shop — The Blue House Bakery
Phone Number: 440-539-0052
Email: erin@thebluehousebakery.com
Described as "Pittsburgh's best paleo, gluten-free, and autoimmune friendly bakery," The Bluehouse lives up to the hype. They are easily one of our favorites on this list!
Offering shipping, home delivery and pick-up across the Pittsburgh area, Bluehouse is easily accessible for all.
All orders at the bakery are made completely fresh, and do require a 24-hour turnaround time frame.
Perhaps unlike other similar gluten-free bakeries, Bluehouse doesn't believe you should need to compromise on your health by eating unhealthy GF alternatives. All of their options are paleo friendly, dairy-free, gluten-free, and grain-free.
This does mean that those with peanut or nut allergies will need to avoid the Bluehouse Bakery, as they predominantly use nut based flours.
OG chocolate chip cookie
'Cashew chip' cookie
Blueberry cookie
Lemon lavender shortbread
Pumpkin coffee cakes
Chocolate chip banana bread muffins
Banana bread muffin
Almond butter cookies
Carob chip cookies
Pumpkin pie
Pecan shortbread
Apple hand pies
---
14. Pastries A-La-Carte
Address: 81 Clairton Blvd, Pittsburgh, PA 15236
Website: Pittsburgh Bakery and Desserts, Gluten Free; Pastries A-La-Carte (pastriesalacarte.com)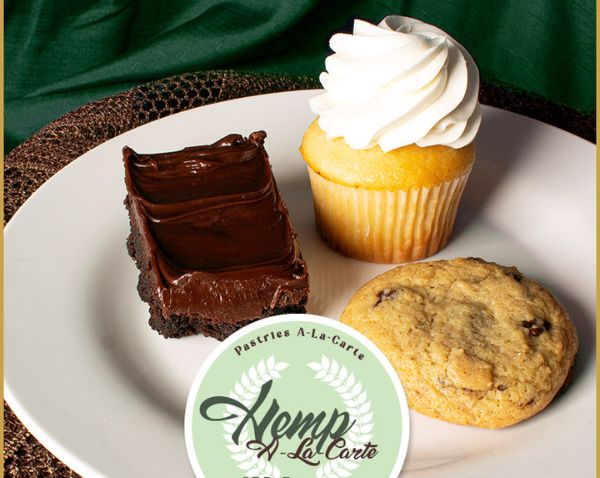 Phone Number: 412-653-2236
Email: pastries51@gmail.com
Again, another bakery that is unfortunately not fully designated as gluten-free or Celiac safe, due to the possibility of cross contamination with gluten containing products.
For those with a less severe allergy, Pastries A-La-Carte offers an extremely delicious assortment of gluten-free baked goods, desserts, and pastries.
They are featured throughout popular establishments in Pittsburgh, including the University of Pittsburgh, LeMont, and George Washington Hotel. They even do catering for the Pittsburgh Penguins!
Below is a small sample of some of their gluten-free menu offerings:
GF cheesecake and cheesecake tassies
GF pumpkin pie
GF macarons
GF cupcakes
GF raspberry topped thumbprints
GF pumpkin bread (seasonal)
PF pecan tassies
GF cookies
GF brownie tray
GF cookie cake
---
15. California Coffee Bar
Address: 3619 California Ave, Pittsburgh, PA 15212
Website: Home | California Coffee Bar (square.site)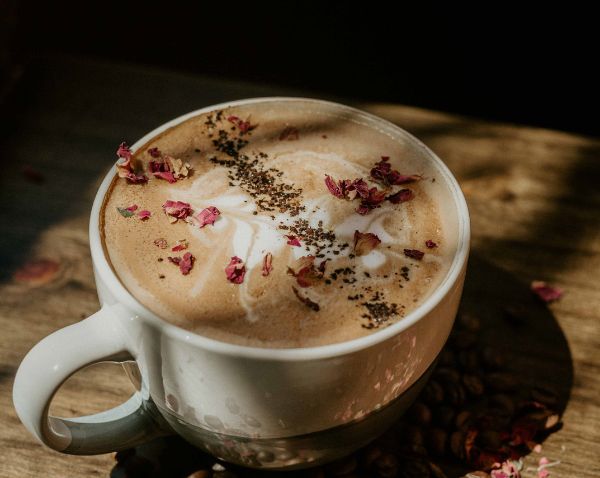 Phone Number: 412-766-0444
Email: californiacoffee.pgh@gmail.com
California Coffee Bar denotes that all items are in fact prepared in the same area – so despite control to prevent cross contamination, it is still a real possibility.
Unfortunately, this seems to be the case with most restaurants/coffee shops that do not utilize a dedicated bakery themselves for gluten-free items.
They do still offer the ability to swap out all bagels/breads/sandwiches that are made with wheat for gluten-free alternatives.
This effectively makes the vast majority of their menu gluten-free – as the other items like acai bowls and smoothies are inherently GF.
Turkey Asiago – turkey and provolone topped with hummus, chipotle mayo, lettuce, and tomato on an asiago bagel (which can be replaced with GF bread)
Fruit & Acai Bowls – frozen acai, fruits, greek yogurt, banana topped with oats or gluten-free granola, berries, dark chocolate
Western (gluten free bread)
Chicken Salad (gluten free bread)
BLT (gluten free bread)
Grilled Cheese (gluten free bread)
---
16. Eden's Market: A Gluten-Free Emporium
Address: 99 Alfred Street, Pittsburgh, PA 15228
Website: Eden's Market a Gluten Free Emporium – Gluten Free, Supplements, New Chapter, MegaFood, Kirkman, Wholefoods,, Gluten Free, Gluten Free Diet, Gluten Free Recipes (edens-market.com)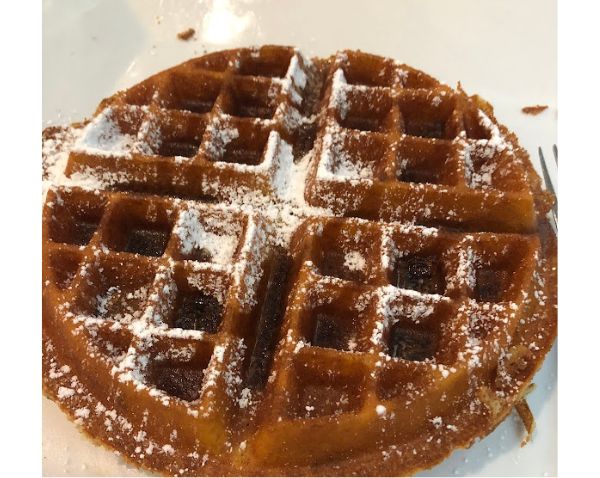 Phone Number: 412-343-1802
Email: N/A – contact form on website
Last, but certainly not least – Eden's Market has been a staple among the Pittsburgh health and wellness community.
They might not be a strict bakery or coffee shop offering desserts, but they offer plenty of in-store baked goods from local dedicated GF bakeries, along with a variety of other products aimed specifically towards those who need to be gluten free.
Founded in 2009 as a family owned and operated business, Eden's Market is run as a business for those living a gluten-free lifestyle by those living a gluten-free lifestyle.
That means you can feel completely secure in shopping or eating baked goods from the store without any worry or stress.
Not a traditional bakery like our other list features, we still highly recommend Eden's market for anyone that needs to do shopping for bread, pastries, flours, or other food items that are organic, GF, and sourced locally when possible.