People may not think of Texas when they think allergen conscious, but they would stand corrected.
San Antonio, TX features a number of gluten-free and Celiac friendly restaurants, dining establishments, and bakeries – all of which come highly reviewed and well received by the local community and visitors seeking GF options either for health reasons, dietary reasons, or due to severe intolerance.
With that being said, we've got the 16 best gluten-free bakeries in San Antonio, TX (and what to order) for those craving a delectable treat, or a morning pastry with their coffee.
Please Note: While we try our best to ensure that each listed bakery has gluten-free offerings, it's hard to assure the absolute safety of the restaurant or store.
If you have severe allergies, always consult the store staff prior to ordering or eating.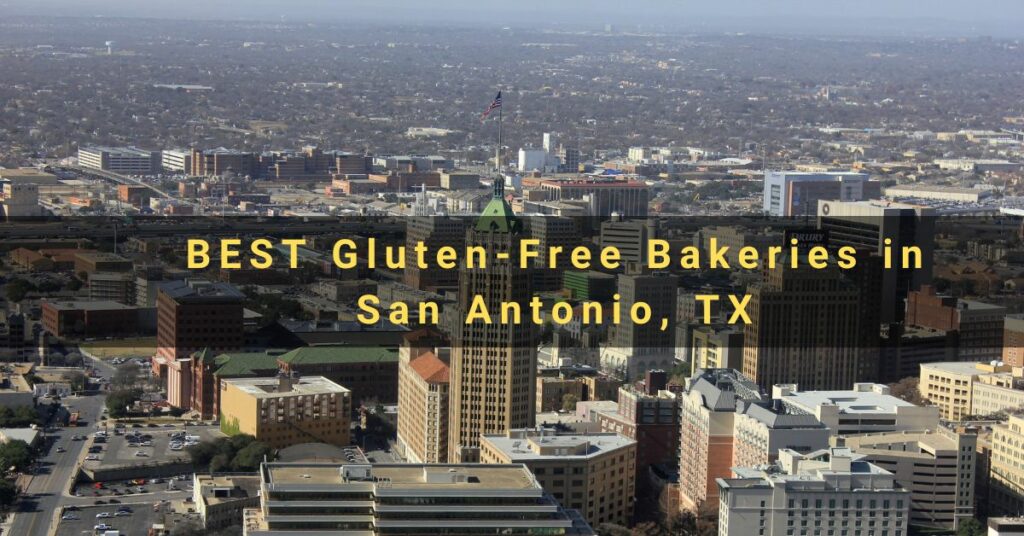 This post may contain affiliate links, which help keep this content free. (Full disclosure)
Akki's Cupcakery & Tea
Address: 16131 Salto Del Agua, San Antonio, TX, 78255
Website: akkiscupcakery.com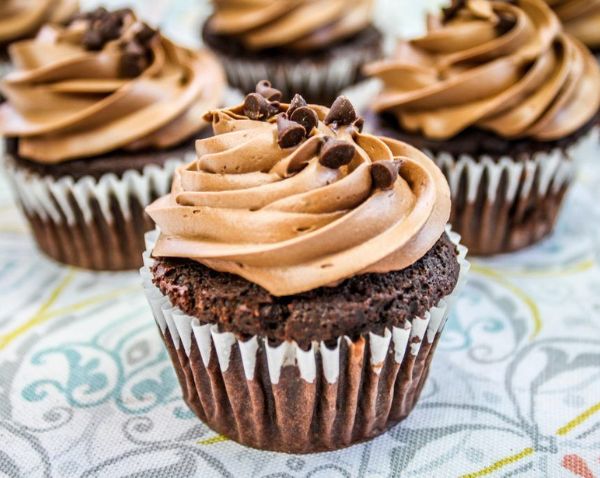 Phone Number: 210-201-5669
Email: akki@akkiscupcakery.com
Completely family-based, and operating as a team – the Tejwani family – with high-school student Akeila Tejwani at the head of the ship, is founded on the principle of giving back to the community, while baking healthy, nourishing treats.
Started when she was only 15 years old, Akki's Cupcakery and Tea utilizes only organic ingredients, and specializes in gluten-free baked goods – along with being able to provide vegan options, keto options, and paleo options to customers.
Considering 50 percent of the profits are donated to children's charities, this is a bakery you can feel good about supporting.
Everything on the menu is made completely fresh-to-order, and despite the business being operated under her dad's name because of her age – Akeila is responsible for doing all of the baking in the household.
They offer a wide range of gluten-free options, but considering the kitchen is operated out of someone's home, the possibility of cross contamination is very real despite any minimized risk from precautions Akeila takes.
This is merely something to keep in mind if you have a more serious allergy or reaction to gluten, such as those with Celiac Disease.
Menu offerings include a specialization in cupcakes and whole cakes, with all them able to be made into Keto or Paleo friendly options:
Organic German Chocolate Cupcakes (Gluten-Free, Vegan and Keto options)
Organic Mint-Licious Cupcakes (Gluten-Free, Vegan and Keto options)
Organic Vanilla Berry Cupcakes (Gluten-Free, Vegan and Keto options)
Organic Vanilla Keto Cake (also Gluten-Free)
Organic Strawberry Keto Cake (also Gluten-Free)
Organic Chocolate Cake (Gluten-Free and Vegan options)
Organic Red Velvet Cake (Gluten-Free and Vegan options)
---
Small Cakes
Address: 10919 Culebra Road, San Antonio, TX, 78253 (SUITE 159)
Website: Smallcakes (smallcakessa.com)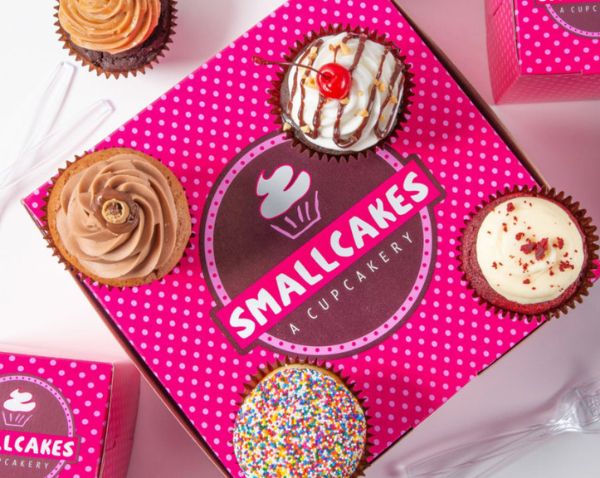 Phone Number: 210-417-4442
Email: Smallcakessa2@gmail.com
A gourmet cupcake company founded initially in Kansas City by the couple Jeff & Brady Martin as a family affair close to a decade ago.
They've been on TV on Food Network's Cupcake Wars, The View – and even catering the 2011 MTV Music Video Awards.
Their San Antonio location, like their others, offers a variety of their flavors in a gluten-free option.
However, they do specifically mention on their website: "our kitchen regularly prepares items with peanuts, tree nuts, nut oils and butters, and gluten, and therefore, cannot be certified as a nut free or gluten free facility.
While we do offer gourmet cupcakes without nuts and/or gluten, all of our desserts are made fresh everyday within the same kitchen.
Though safety and sanitation are of the utmost importance to us, the possibility of cross contamination does exist."
Small Cakes, while delicious, are probably an option best reserved for those with a very mild gluten allergy or intolerance – not those with more severe or life-threatening reactions.
We cannot in good conscience recommend them to those individuals that have Celiac. Thankfully, there are plenty of other great bakeries and shops on our list to accommodate.
---
Wholesome Eating
Address: 19202 Stone Oak Parkway, STE 101, San Antonio TX, 78258
Website: wholesomeeatingllc.com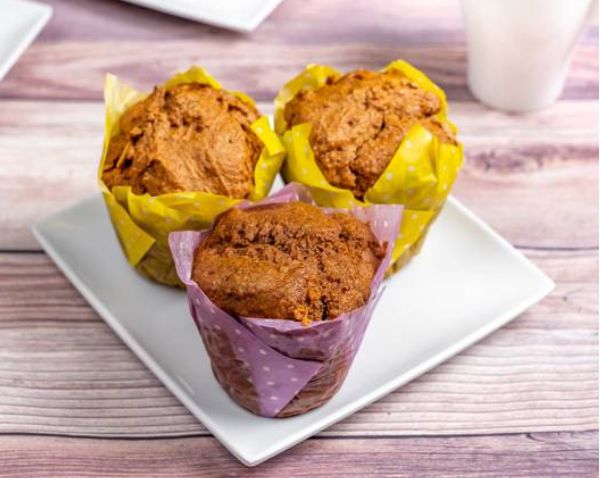 Phone Number: 913-522-3098
Email: atolulope3@aol.com
Formed by a nurse working in the health sector, Wholesome Eating was founded on the basis of supporting the health needs of clients through dietary changes and adjustments – without having to sacrifice what they were eating.
With customer feedback like: "This is Paleo? How did you get so moist and light…" Wholesome Eating is the San Antonio gluten-free bakery to try for those with specific dietary concerns and needs.
Wholesome believes in never having to compromise on taste for a "healthier" alternative.
Oat breads from Wholesome Eating contain: Oat Flour, Flaxseed, Honey, Vegetable Oil, Sweet Potato Flour, Organic Egg Whites, Sea Salt, Pumpkin, Bananas, Raisins, Dark Chocolate, and Walnuts (depending on the flavor you order).
Paleo products are always 100% grain-free, and substitutions are used instead, depending on the product ordered.
These include: Coconut Flour, Almond Meal, Flaxseed, Almond Milk, Organic Egg Whites, Sea Salt, Honey, and variations of Pumpkin, Sweet Potato Flour, Bananas, Dark Chocolate, and Raisins.
For residents outside of San Antonio, they do also ship nationwide across the U.S. Residents within San Antonio are advised to place an order through DoorDash, or contact them directly to avoid any shipping fees, as they can deliver locally.
While the kitchen is absolutely dedicated gluten free, it is not nut free – so those with peanut or tree nut allergies will unfortunately have to avoid this much beloved bakery.
Some highly recommended menu items include:
Pumpkin Bread
Pumpkin Chocolate Chip Muffin
Sweet Potato Muffin
Nutty Banana Bread & Nutty Banana Muffins
Sweet Potato Bread
GF, Grain-Free, Paleo, and Dairy-Free Chocolate Chip Cookies
---
Powerhouse Bakery
Address: 4902 Golden Quail STE 101, San Antonio TX, 78240
Website: Powerhouse Bakery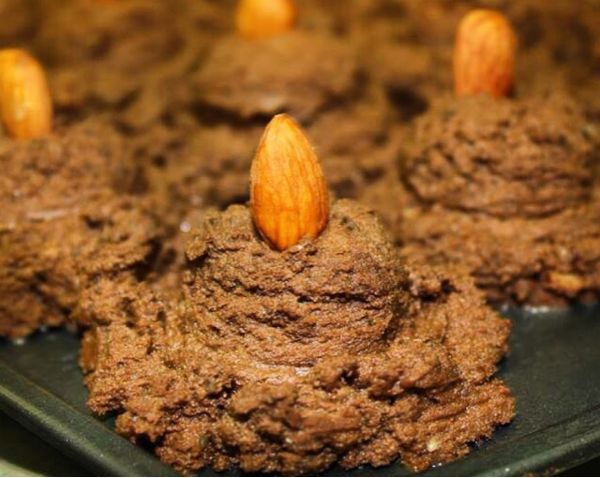 Phone Number: 210-201-5669
Email: suzanne@powerhousebakery.com
Again, another completely dedicated gluten-free option for those with more severe illness to gluten and gluten-containing grains.
Powerhouse Bakery was founded by CEO Suzanne Parker, a registered dietician and personal trainer that wanted to focus on providing healthy baked goods to those not only with specific dietary needs, but those interested in taking control of their own health.
All products are made from 100% gluten-free and non-GMO ingredients, with hand-picked and locally sourced produce.
Beyond pre-orders and traditional baked goods, they also offered tailored and personal 1-on-1 guidance and health coaching when you become a personal client.
They also offered highly specific cooking classes, with a schedule located on their website for further information.
Through Powerhouse Bakery, you can order: meal prep, Sourdough Bread (GF), large or small scale Specialty Cakes, Vegan or Classic GF Cupcakes, Sugar-Free + Keto/Paleo Cupcakes, and traditional Celebration Cakes. 
RECOMMENDED: EVERYTHING Gluten-Free at Godfather's Pizza
---
Southern Roots Vegan Bakery
Address: 6208 S Flores, San Antonio TX, 78214
Website: Southern Roots Vegan Bakery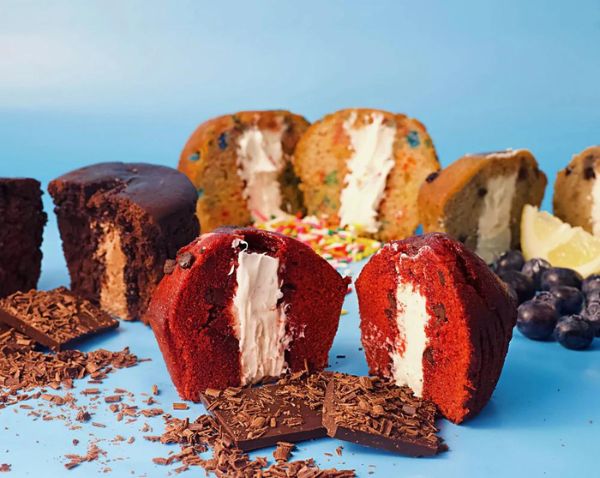 Phone Number: 210-279-9419
Email: CustomerService@SouthernRootsVegan.com
Those gluten-free patrons looking for more vegan options can look no further – despite the currently limited gluten-free menu, Southern Roots are looking to expand upon their current GF offerings in the future, so they are definitely one to watch when it comes to local bakeries in San Antonio.
They do not have a physical storefront, and instead rely on online ordering – which can be done through their website, via phone and email, or third party links available on their website.
While all of their products are dedicated nut-free for those with peanut or tree nut allergies, the same cannot be said about gluten.
Again, those with a strict avoidance or intolerance will want to steer clear, as cross contamination is a real possibility given that many of their products do contain wheat flour.
As of now, they offer a number of their donuts (including the classic OG glaze) in a gluten free variety. These are instead made using rice flour and oat milk.
Southern Roots does, however, take the required precautions for their GF customers, and bakes all GF products on separate bakeware, using dedicated utensils and supplies.
---
Sprinkles and Spoons Bakery
Address: N/A – Home Based Bakery
Website: Sprinkles & Spoons – Gluten Free Bakery in San Antonio, TX (sprinklesandspoons.com)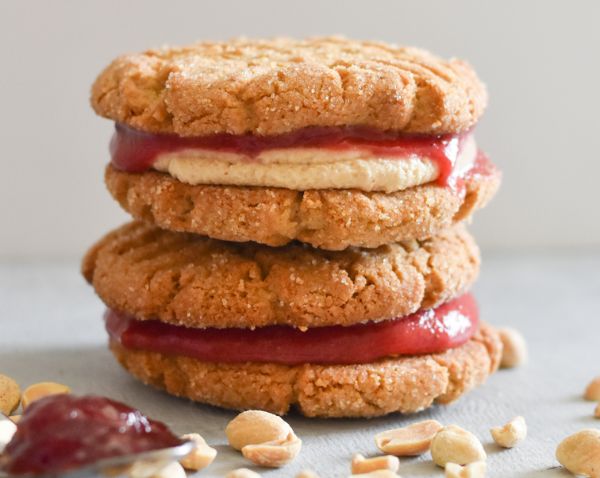 Phone Number: 210-504-7038
Email: amber@sprinklesandspoons.com
Offering an online form you can order through, along with appearing at numerous pop-ups can cafes around San Antonio (keep an eye on their social media for more details), Sprinkles & Spoons might be one of our favorite choices from our list!
Founded by Amber, the bakery is operated by someone who understands gluten as an allergen exceptionally well – as she was diagnosed with Celiac Disease in 2009.
Dedicated to creating the most delicious GF goods out there in San Antonio, Sprinkles & Spoons has the most consistently glowing 5/5 Google Reviews and GF forum reviews we've seen compared to all the other inclusions on this list.
These treats are better than the "real" thing. Offering indulgence and gourmet flavors at the same time, Sprinkles & Spoons wants to cater to childhood nostalgia and baked good aficionados just the same.
Amber does allow for some customization and requests via email, and because she is Celiac herself, you can be assured of the level of control she has over the kitchen when it comes to safety precautions – despite this being a home business.
Options include:
Cupcakes (Lemon, Funfetti, Salted Caramel, Cookies & Cream)
Macarons
Cookie Cakes (Cookies & Cream, Chocolate Chip, Funfetti)
FIND MORE: EVERYTHING Gluten-Free at Corner Bakery Cafe
---
Bird Bakery
Address: 5912 Broadway Street, San Antonio, TX, 78209
Website: BIRD bakery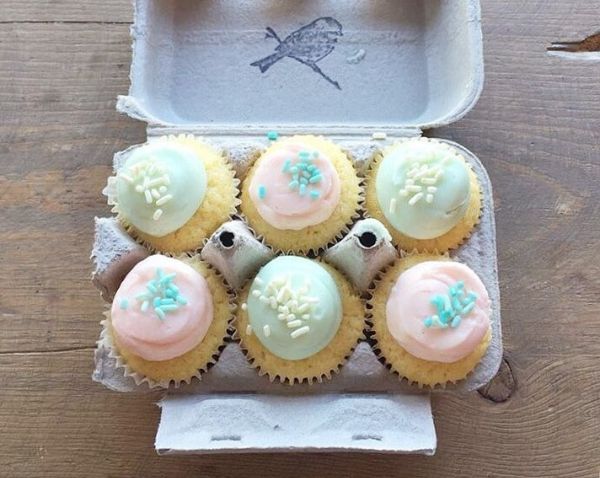 Phone Number: 210-804-2473
Email: bird@birdbakery.com
With well over 1,000 Google Reviews – most of which are exceptionally positive, Bird Bakery is one of the leading bakeries and pastry places in San Antonio, TX.
Despite not being dedicated gluten-free, they do offer a number of gluten-free options for their patrons, including GF cupcakes, cakes, and brownies.
Reviewers do point out that they could easily incorporate more GF options, and seem to enjoy their current offerings without any note of reactions or cross contamination.
That being said, they do not appear to have an FAQ page listing their practices for their GF baked goods.
Concerned patrons and those with more severe allergies are recommended to reach out via email or phone prior to placing an order to ensure their safety requirements are met.
---
Plantyful Sweets
Address: 1520 N Main Ave, San Antonio TX, 78212
Website: Plantyful Sweets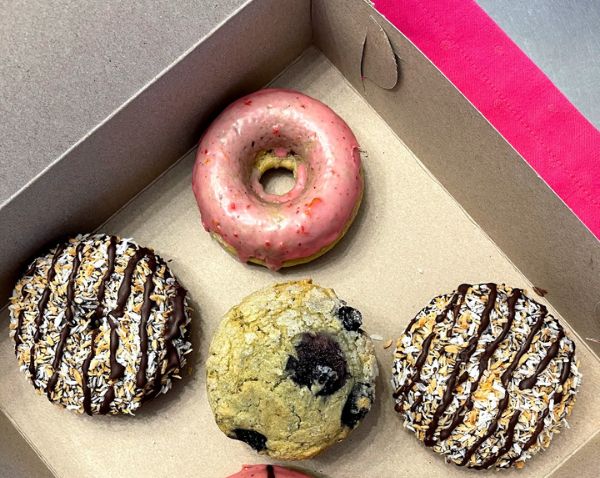 Phone Number: 210-957-1480
Email: N/A: Dine-In or Order Online
Another one of the top contenders on our list, Plantyful Sweets offers an actual dine-in space, compared to many of the made-to-order home kitchens + they're completely GF and vegan!
One customer review reads: "As someone who is gluten-free and dairy free, it can be really hard to find a place that offers those options, but still tastes good. Let me tell you that Plantyful Sweets does all of that and more."
Plantyful specializes (and prioritizes) whole food, wholesome ingredients first & foremost, while raising the standard for allergen free foods.
Their bakery and kitchen facility is completely (dedicated) gluten free, soy free, dairy free, vegan, and free from preservatives. They also offer nut-free options, oil-free options, and sugar-free options upon request.
Some treats we recommend from their menu include:
Lavender Donut
Chai Latte Muffin
Apple Pie 'Cinny' Bun
Pumpkin Loaves
German Chocolate Donut
Speciality Cakes
---
Miss Chickpea's Cafetal
Address: 8002 Callaghan Rd, San Antonio TX, 78230
Website: Miss Chickpeas Cafétal (toasttab.com)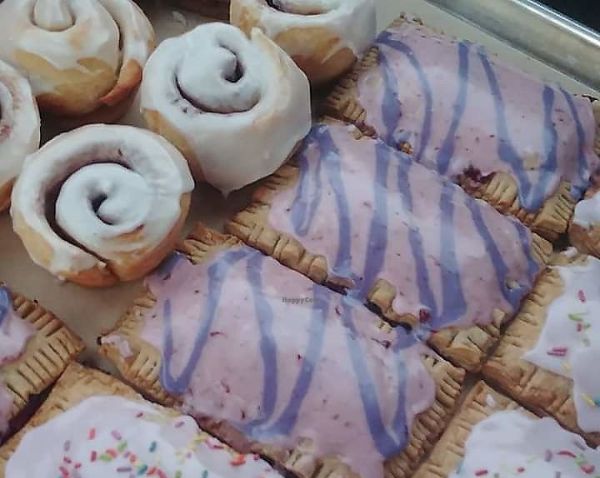 Phone Number: 210-993-0748
Email: N/A – Order Online, or Dine-In via Storefront
With a name like that – you'd expect this cafe and bakery to be vegan/vegetarian friendly and accommodating to all varieties of allergies (including gluten). And you would be right on the money.
Customers are ready to proclaim them "the best bakery ever, and vegan!" along with those accommodating their gluten-free partners: "my husband is gluten-free, and they had a large selection of menu items for him to choose from.
It's hard to find vegan and gluten free baked goods, so he was thrilled."
Miss Chickpea's Bakeshop was founded in 2017 out of a love for all things vegan and baking (first & foremost). Initially, it started as vegan macarons crafted using aquafaba from chickpea liquid (hence the name).
From there, it expanded outside the realm of pop-ups, into their own storefront with their products being carried across 23 coffee shops in San Antonio TX.
Founded and still operated by a couple that loves baking and pastries, Miss Chickpea's Cafetal + Bakeshop offers a number of GF items, all of which are vegan.
Their menu items also include more pastry and meal oriented food, for those looking for a great lunch or brunch spot.
Unfortunately, their kitchen is NOT dedicated gluten-free, but they do take the necessary precautions to avoid cross contamination by using different baking trays, utensils, and equipment – as well as following proper sanitization standards. Of course, this isn't 100% for those with more severe Celiac.
GF menu offerings: Sweet Potato Hash, GF Oreo Sandwiches, GF Oatmeal Creampies, GF Cookies, Plantain Chips w/ Homemade Salsa, and Pupusa (corn flour and cashew cheese).
---
The Guilt-Free Bakery
Address: 6811 Grapevine Lake, San Antonio TX, 78244
Website: The Guilt-Free Bakery | San Antonio TX | Facebook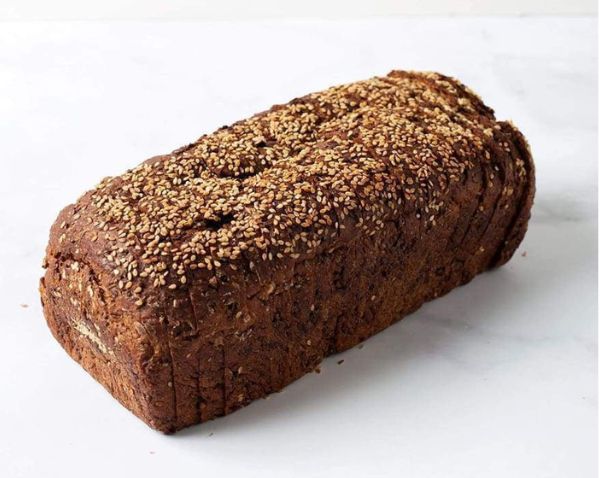 Phone Number: 210-639-5721
Email: theguiltfreebakery@yahoo.com
Perhaps much more low-key than other entries on this list, The Guilt Free Bakery is a completely home-run operation – providing cakes specifically for those with allergies and intolerances.
Specializing in gluten-free and nut-free cakes (birthday, wedding, celebration events, catering), The Guilt Free Bakery can be reached via email, phone, or Facebook Messenger to place an order and inquire about their safety protocols and practices.
---
La Panaderia Bakery & Cafe
Address: 8305 Broadway Street, San Antonio TX, 78209
Website: La Panadería – San Antonio Bakery & Café (lapanaderia.com)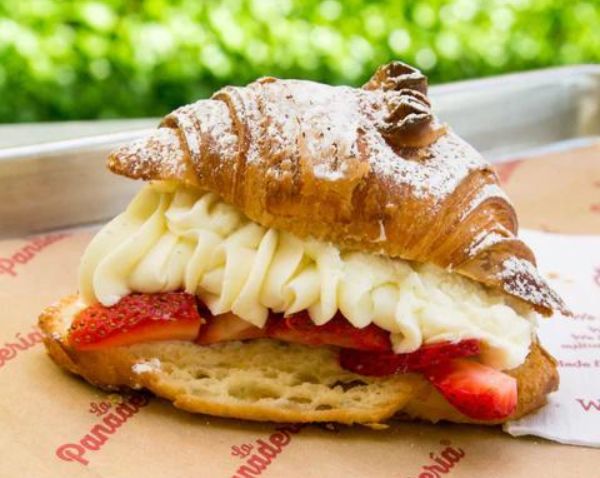 Number: 210-375-6746
Email: N/A – Dine-In or Order Online
With a Latin-American focus on baked goods and pastries, La Panaderia isn't an explicitly GF dining establishment, but does offer good gluten-free options. Plenty of Celiac patrons have written favorably about them via Google or forums.
As such, we found it appropriate to include them in our list of the best bakeries, given their HIGHLY well-received reputation (2.6 K Google Reviews – most of which are 5/5 or 4/5).
To give you an example, one review reads: "staff were so friendly and accommodating (and informative) when dealing with my gluten allergy."
That being said, the gluten-free options are still limited and lean mostly towards savory rather than sweet.
If you're looking for a restaurant for an actual dine-in meal experience, we'd suggest checking out La Panaderia – otherwise, those with a sweet tooth will need to satisfy their fix elsewhere (try Sprinkles & Spoons or Plantyful Sweets).
---
Bakery Lorraine at the Pearl
Address: 306 Pearl Parkway, #110, San Antonio TX, 78215
Website: Handmade French Pastries | Bakery Lorraine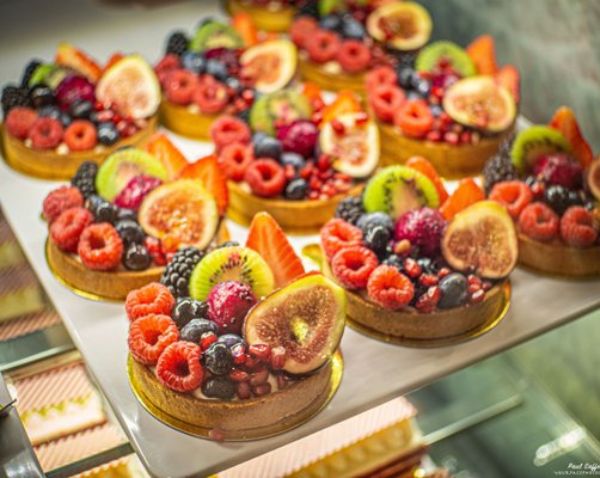 Number: 210-862-5582
Email: N/A
With a more refined aesthetic, Bakery Lorraine offers quite a few gluten-free options, including cheesecake, muffins, and macarons.
Those wondering about the quality of the food, should take a look at the variety of pictures people have posted of their desserts and treats on Google – or read through the number of glowing reviews praising their quality.
They have a number of locations throughout San Antonio, but we've found the one at the Pearl District to often be the best.
As more of a dine-in establishment, they also offer plenty of GF meals for those that are genuinely hungry.
As we've mentioned with previous bakeries and restaurants on this list, this one is not dedicated gluten-free, so the possibility of cross contamination is always a real concern.
That being said, they do seem to have a genuine concern for customer allergens and offer a number of GF specific items on their menu like their fruit tarts and muffins.
Those seeking savory can opt for their Yellow Corn Grits (w/ Okra & Bacon) or their Veggie Quiche (w/ a side of Roasted Potatoes).
They also offer an impressive number of drinks compared to other entries on this list, with Hot Cocoa, Matcha Lattes, Espresso Shots, Americanos, and Wine.
---
Lily's Cookies
Address: 2716 McCullough Ave, San Antonio TX, 78212
Website: Lily's Cookies – Beautifully hand-crafted, decorated cookies. (lilyscookies.com)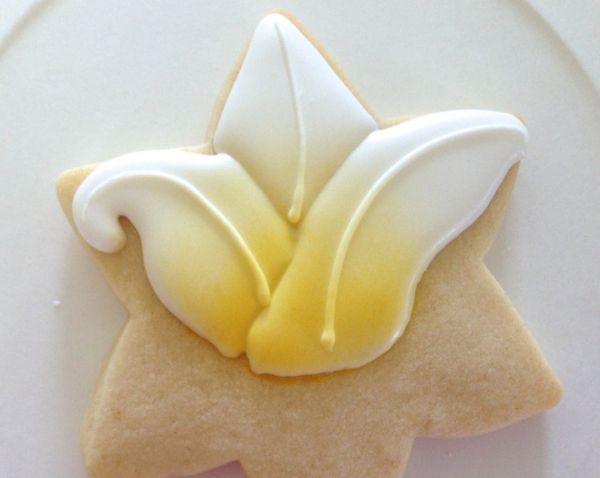 Number: 210-832-0886
Email: info@lilyscookies.com
Specializing in hand-crafted and hand-decorated cookies (and award winning), Lily's Cookies is highly popular among the gluten-free crowd – developing a bit of a following in the realm of catering for corporate events.
One patron writes that they were easily the "best gluten-free cookies [she's] ever tasted, and [got] them in under 30 minutes" from when she placed her order online locally.
Offering GF options baked on dedicated trays, with dedicated equipment – Lily's has been described as "safe" by many patrons with varying levels of gluten allergy/intolerance, but we would still err on the side of caution and ensure you speak with them prior to placing an order if you have Celiac Disease.
Some gluten-free options include:
Snickerdoodle Cookies, Sugar Cookies, White Chocolate Macadamia Nut, Molasses, Chocolate Chip
Custom Cakes (Cookie Cakes) and specially decorated cookies are also available to be made gluten-free when ordering online
---
Gigi's Cupcakes San Antonio
Address: 1203 N Loop 1604 W Acc Road #109, San Antonio TX, 78258
Website: San Antonio, TX | Gigi's Cupcakes (gigiscupcakesusa.com)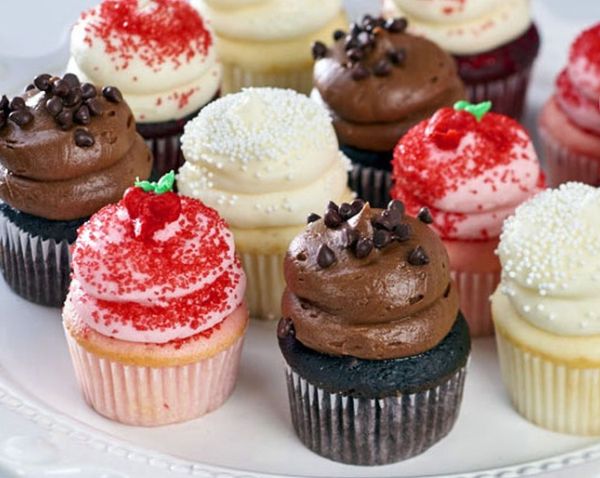 Number: 210-481-2300
Email: gigis.sanantonio@gmail.com
Gigi's Cupcakes is more of a chain cupcake bakery compared to other bakeries on this list that are independent, but the ethos is entirely the same.
Founded more than 12 years ago, Gigi's has expanded to over 50 locations across 21 states – including a location in San Antonio, TX.
With each Gigi's being locally owned and operated, they have been a mainstay among those with a sweet tooth.
Those with gluten allergies can rest a little easier, knowing that despite the limited options – they do ensure extra levels of precaution are taken.
Reviews pertaining specifically to the San Antonio location are sure to mention that the gluten-free cupcakes were up to their standards and never caused any sort of reaction.
Currently available for GF customers are:
Pumpkin Swirl (Reminiscent of a classic Cream Cheese Pumpkin Roll, a perfect fall time flavor)
Triple Chocolate (Ooey, gooey, rich – and a little chewy. A brownie-like consistency, topped with triple layer chocolate ganache).
Wedding Cake (Gluten friendly vanilla cake topped with buttercream).
---
Dee's GF Cookie Company
Address: 12024 Vignette Street, Schertz, TX, 78154
Website: Dee's GF Cookie Company | Schertz TX | Facebook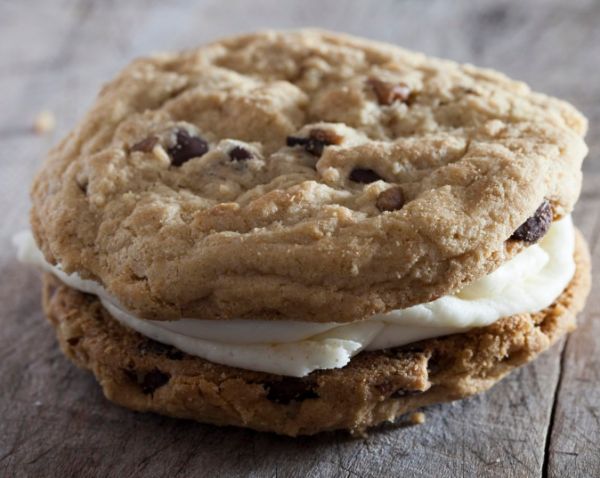 Number: 210-847-0002
Email: deesgfcookies@gmail.com
An independent bakery, completely home run and without a website other than Facebook – don't let that dissuade you from checking out Dee's GF Cookie Company.
With plenty of positive feedback via Google Reviews and online GF forums, Dee's is completely dedicated to those living a GF lifestyle and factors into account the precautions necessary to make their baked goods safe for those with Celiac Disease.
Offering curbside pick-up and local delivery for orders placed through Facebook, email or phone – Donna is super accommodating to all requests and inquiries on orders.
Donna appears to be interactive with all her customers on social media or Google, inviting reviews and feedback (all of which is positive).
With a lot of custom options available, including cakes, scones, pies, cookies, muffins, and tarts – anyone within the San Antonio, TX area should take a chance on a more independently run business and give Dee's GF Cookie Company a whirl.
---
Sugar Mama's Tasty Treats
Address: 16652 San Pedro Ave, San Antonio TX, 78232
Website: Sugar Mama's Tasty Treats | Bakery and Cupcake Shop San Antonio, TX (sugarmamastastytreats.com)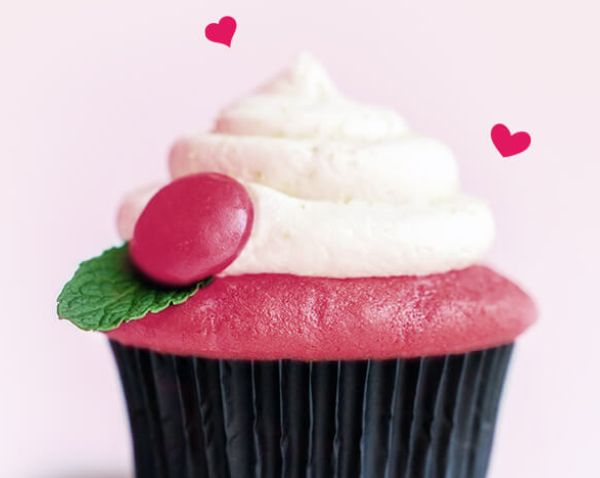 Number: 210-215-0121
Email:
Formerly known as Saweet Cupcakes, Sugar Mama's Tasty Treats is a woman-owned and independent bakery located in San Antonio, TX and serving surrounding areas via local delivery or pick-up.
Offering both traditional and unique treats, Sugar Mama isn't a dedicated GF facility or kitchen, but does offer a number of gluten free options for patrons with sensitivity or allergy.
Everything is baked fresh from scratch, and Sugar Mama only uses the freshest ingredients.
With a rotating number of options at their storefront, some customers have remarked that they tend to offer more gluten-free options than traditional on a number of days of the week!
Gluten friendly flavors include: Strawberry, Lemon, Vanilla, Chocolate Sour Cream, Chocolate Coca-Cola, Banana, Red Velvet, and Tres Leches (offered on Fridays and Saturdays).
As a last word of caution, please remember not only with Sugar Mama, but with all bakeries that are not "dedicated" gluten-free:
gluten treats might be made without wheat, barley, or rye, but the bakery itself may not be a gluten sterile or completely gluten-free bakery.
The possibility, however remote, does exist that something may come in contact with gluten-containing flour.
If you are severely allergic to gluten, please keep this in mind and proceed with caution when ordering from any of the aforementioned bakeries that do not explicitly have a dedicated kitchen.