What was founded as a bakery serving bread in 1991 now offers an expansive menu with a variety of breakfast items, sandwiches, paninis, fresh salads, and much more!
Corner Bakery Cafe prepares everything to order with the finest ingredients that will leave you wanting more.
So what's Gluten-Free at Corner Bakery Cafe?
The gluten-free menu at Corner Bakery offers a range of breakfast, lunch, and dinner options. You can enjoy scramblers, salads, paninis, sandwiches, shakes, and oatmeal.
Moreover, it gives you a complete choice of gluten-free sauces, spreads, and sides.
However, while ordering from a gluten-free menu, you need to ask the providers to remove toasts, croutons, or sweet crisps from your dish as they might contain gluten.
However, the risks of cross-contamination or gluten addition to your dish can not be eliminated at restaurants. If you are cutting down gluten by choice, you need not worry about cross-contamination risks.
But if you have Celiac disease or gluten allergies, you might want to reconsider all your choices. Also, you will have to order the food with clarity to eliminate any miscommunication.
We'll be taking a closer look at the Corner Bakery Cafe menu to filter out all the possible gluten-free options and discussing ways to eliminate the risk of contamination.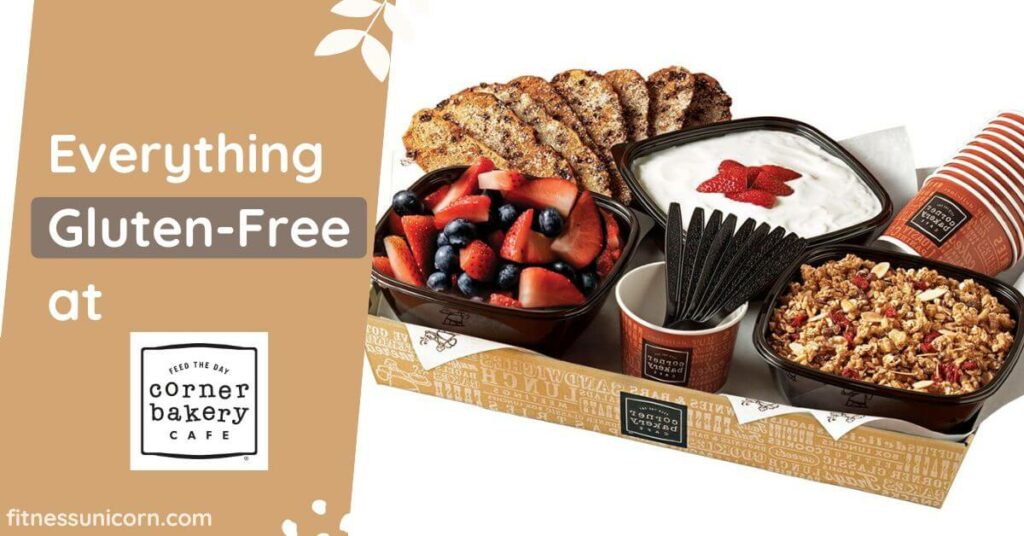 This post may contain affiliate links, which help keep this content free. (Full disclosure)
Gluten-Free Options at Corner Bakery Cafe
The dedicated gluten-free menu offers plenty to choose from. Their scramblers are famous for their taste and texture. Along with scramblers, you can order bacon, sausages, or potatoes. You can also add other sides to your order.
Their gluten-free sandwiches come with your choice of meat, veggies, and spreads. Moreover, various salads are also included in the gluten-free menu with your choice of dressing.
Eggs for Breakfast
At Corner Bakery Cafe, you can order gluten-free eggs for breakfast. The scramblers are rich in taste and prepared from fresh ingredients. Do not forget to order them without the toast.
Whole-wheat toast contains gluten that can be unsafe for consumption if you are allergic to gluten.
All-American Scrambler
Veggie Scrambler
Anaheim Scrambler
RECOMMENDED: What is Gluten-Free at Rubio's?
Traditional Breakfast:
What can complete a scrambler? Bacon, sausages, and potatoes go perfectly with a scrambler for breakfast. Corner Bakery Cafe provides options to choose from the mentioned sides to go with your perfectly cooked eggs.
Bacon
Chicken Sausage
Breakfast Potatoes
Seasonal Fruit Medley
Oat Meals and Starters:
Who does not love oatmeal for breakfast? Corner Bakery Cafe offers overnight oats with multiple topping choices. You can have your oats sprinkled with almonds, walnuts, brown sugar, black currants, or cranberries.
Apple & Banana Overnight Oats
Berry & Almond Overnight Oats
Berry Yogurt Parfait
Seasonal Fruit Medley
Sandwiches
Sandwiches make the best options for lunch. Short breaks and hunger both require something delicious yet fulfilling. The sandwiches have steak, bacon, turkey, and ham. Also, the choice of veggies is up to you.
Uptown Turkey Avocado Sandwich
Turkey Bacon Ham Stack Sandwich
BBLT Sandwich
Tomato Mozzarella Sandwich
Ham & Swiss Sandwich
Chicken Pesto Sandwich
FIND MORE: Gluten-Free Options at The Habit Burger Grill
Panini
Panini and coffee make a great combo for lunch or dinner. Corner Bakery Cafe offers three gluten-free paninis. All are rich in nutrients and healthy for consumption.
Rustic Italian Panini
Club Panini
Chicken Pomodori Panini
Salads
If you are looking to cut down weight and skip gluten from your diet, salad is your go-to dish. A variety of salads are part of Corner Bakery Cafe's gluten-free menu.
You can order them with your choice of proteins, veggies, and dressings. While ordering salads, ask your server, not to add croutons or sweet crisps as those contain gluten.
Chopped Salad
Southwest Salad
Caesar Salad
Harvest Salad
Mixed Greens Salad
Turkey Avocado Cobb Salad
Salad Dressings
Corner Bakery Cafe has two gluten-free salad dressings apart from spreads. These dressings are rich in texture and taste. They enhance flavor and are safe for gluten-allergic customers.
Avocado Ranch Dressing
Caesar Dressing
Spreads
Here are some spreads for your sandwiches, paninis, or salads that are gluten-free at Corner Bakery. These can be consumed by people with celiac disease or gluten allergy. Also, the choice of spreads is yours.
House Vinaigrette
Balsamic Vinaigrette
Mayonnaise
Strawberry Vinaigrette
Pesto Aioli
Dijon Mustard
Stoneground Mustard
Black Pepper Balsamic Aioli 
Pesto Vinaigrette
YOU MAY ALSO LIKE: BEST Gluten Free Bakeries in Pittsburgh, PA
Sides
At Corner Bakery you can ask for different sides along with your order. The gluten-free chips, sticks, salads, and fruit medleys complete the meal.
However, while ordering salads as your side to your meal ask the server to eliminate croutons from the dish.
CBC Chips
Carrot Sticks
Caesar Salad
Mixed Greens Salad
DC Chicken Salad
Albacore Tuna Salad
Seasonal Fruit Medley
Kids Menu
Gluten-allergic kids require more attention to their diet. You can't restrict them to home food. Corner Bakery Cafe has gluten-free dishes on the menu, especially for the kids.
The portion size of the meal fulfills the nutrition needs of the child. When ordering the kid's meal or scramblers order through gluten-free options and without the whole wheat toasts.
Kids Scramblers
Kids Sandwiches
Turkey Sandwich
Ham Sandwich
Grilled Cheese Sandwich
PB&J Sandwich
Tips for a Gluten-Free Meal at Corner Bakery Cafe
If you are going to Corner Bakery Cafe, here is all you need to know before ordering. It is never really easy to cut down on gluten when dining outside.
But with attention and effort at the right restaurant, you can enjoy a gluten-friendly meal.
Everything on the Menu is not Gluten-Friendly
Some restaurants offer a separate gluten-free menu provided on demand. Other restaurants have a single menu with gluten-free dishes marked with GF on the menu.
So before you order, make sure your dish is marked with GF or other symbols referring to gluten-free. Also, you can ask your server to point out options that do not contain the allergen.
You should always choose dishes that have fewer ingredients and if you are sure about them. The safety of the food comes before the taste.
Give Clear Instructions about Dietary Requirements
While your order your gluten-free dish at Corner Bakery Cafe, tell the staff about your allergy or choice of cutting down on gluten. Make sure he knows gluten is unsafe for you.
Also, double-check your order and ask him to repeat it for reducing the chances of error. You may also want to ask questions about the dish and ingredients. Remember, it is okay to ask about the dish than to suffer later.
Never Consume Food with Doubted Ingredients
Read the menu carefully before ordering and avoid any dishes with doubted ingredients. If the dish has already been ordered and you feel it is not safe for consumption, leave the dish and order something else.
Never consume something you are not confident about. After a few bites, if you feel different, skip the meal and take your medicines. Nothing should be prioritized before health.
Avoid the Rush Hours
Rush hours at any restaurant should be avoided. They increase the chance of miscommunication and cross-contamination.
If you are seeking a good and safe dining environment, visit the Corner Bakery Cafe when the load is less. The staff is more willing to pay attention. Also, while preparing the food cross-contamination might be less during non-rush hours.
Cross Contamination
The food in restaurants is always at risk of cross-contamination. Cross-contamination is usually accidental. Thus, it is hard to figure out and eliminate.
Even if the restaurants offer a separate menu and strict policies against cross-contamination, it is inevitable.
Corner Bakery Cafe offers a wide range of items both gluten-rich and gluten-free. It is possible that even with minimal contact between the two food products, your dish can be hazardous to health.
The same frying pans, cutting, and chopping boards cause the mixing of gluten with nongluten products.
Moreover, while processing gluten-free dishes, trace amounts of gluten from cutlery, storage spaces, and ovens can contaminate the food. However, to reduce cross-contamination, good food processing practices should be used.
What Are People Saying About Bakery Cafe?
Corner Bakery is bagging all the praises for being one of the best gluten-free food providers in town. The restaurant is known for its multiple breakfast options that are healthy for people with a gluten allergy or celiac disease.
Also, people claimed to spend a good time at lunch, ordering gluten-free sandwiches, salads, and chips. People say that the cafe is perfect for dining and takeaways.
While some were worried about the safety of the food due to cross-contamination and reported cases of stomach aches.
The shared fryers and serving equipment may cause cross-contamination rendering your food unsafe for consumption if you are allergic to gluten.
Gluten-Free Alternatives to Corner Bakery Cafe
With such a wide range of gluten-free options at the Corner Bakery, one does not want to explore other places. But for a change of taste, you might want to visit a few more cafes offering a separate gluten-free menu. We have listed some great options for your food cravings:
Shake Shack
Shake Shack has reported having a gluten-free menu with burgers and ice cream as their specialty. Their gluten-friendly buns are the topic of the town because they are soft, delicious, and healthy.
They have dedicated appliances and equipment for preparing gluten-free food. Other food options at Shake Shack include fish, fried chicken, sandwiches, hot dogs, fries, shakes, and good wine.
The Veggie Grill
Veggie Grill offers a wide range of gluten-free dishes for people of all ages. The salad at the restaurant was mouth-watering and satisfying. They have a variety of salads with different dressings.
The chinese salad, classic romaine salad, and caesar salad are all prepared with fresh ingredients that are gluten friendly. Other items on the gluten-free menu include fries, fried chicken, and bowls.
They allow you to create customized bowls according to your preferences.
Zoup
With gluten-free items marked on their menu, Zoup offers quite a deal in gluten-friendly options. The highlight of this restaurant is its gluten-free soup.
The menu has a long list of soups that are prepared with multiple meat cuts and veggies, to impress your taste buds. Other gluten-free items include tacos, pizzas, burgers, sandwiches, steaks, and fried chicken.
Costa Vida
Are you in the mood for tacos and tortillas? Well, Costa Vida offers a complete range of gluten-free tacos and tortillas. The restaurant allows you to choose stuffing and sauces.
Also, remember to order tacos and tortillas with corn wraps. The restaurant has separate fryers and equipment for making gluten-free food. People are loving the choices given for their proteins, veggies, and sauces.
Bonefish Grill
Bonefish Grill is one of the most prominent seafood chains in the country. They have a gluten-free menu with a variety of seafood options, steaks, pasta, sides, shakes, and other beverages.
If you are craving seafood or a good steak, Bonefish grill is the place your need to visit. They have maintained a gluten-free environment by using separate cooking and serving equipment for gluten-rich and gluten-free foods.