Rubio's Coastal Grill is a popular restaurant specializing in Mexican cuisine with a modern and creative twist while maintaining the sanctity of the cuisine.
The founder, Ralph Rubio, fell in love with a fish taco he consumed in San Felipe and decided he'd bring it home to start a Mexican food cart, and so Rubio's was born.
So what's Gluten-Free at Rubio's?
Rubio's Coastal Grill boasts an expansive and ever-evolving menu that offers a fantastic range of gluten-friendly items prepared with adequate contamination control.
The gluten-free options range from various fresh salads, grilled seafood, chicken, steak tacos, burrito bowls, quesadillas, and much more!
The restaurant even offers brownies that are free of gluten for all the Celiac sweet lovers out there.
If you have Celiac disease or severe gluten sensitivity, we advise you to stay cautious when visiting Rubio's and ensure proper protocols are followed. The lack of dedicated surfaces can pose a risk of contamination.
This article will be an in-depth analysis of Rubio's enticing menu. We'll be filtering out all of the scrumptious gluten-free options on offer and discussing some handy tips to avoid contamination to ensure a safe meal.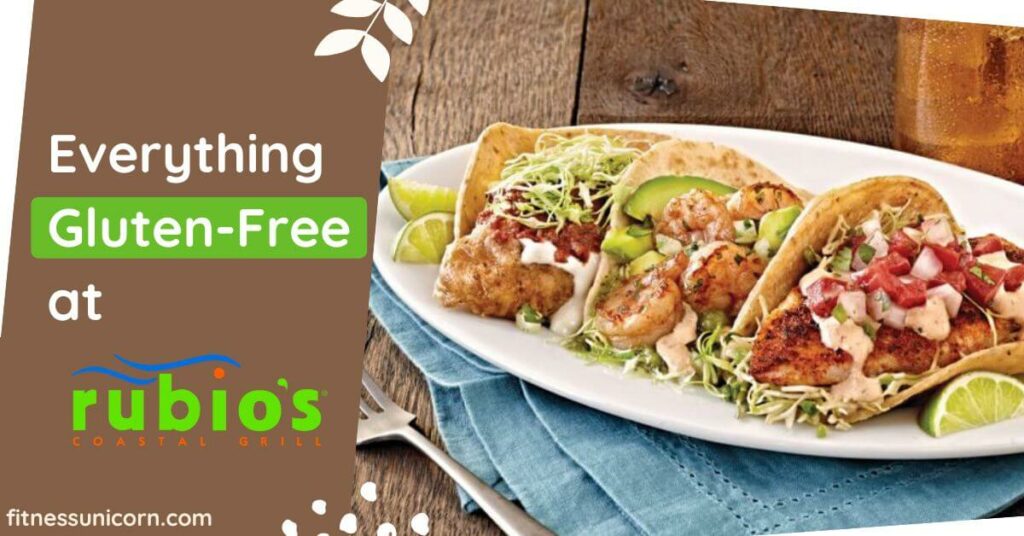 This post may contain affiliate links, which help keep this content free. (Full disclosure)
What is Gluten-Free at Rubio's?
The best part is that all of these items are entirely gluten-free and prepared with sustainable, locally sourced ingredients. A big part of Rubio's mission is to serve meals prepared sustainably for the betterment of the environment.
Moreover, everything is prepared to order and hand-made for each customer while ensuring strict contamination protocols are followed.
Rubio's staff is well-trained and informed about food allergies and contamination measures. They will ensure your meal is prepared safely to avoid allergic reactions.
In addition to their service, Rubio's has a detailed allergen guide to help you choose the perfect gluten-free meal.
However, due to the shared kitchen, there is always a possibility of contamination that can be a risk for customers with severe gluten allergies.
At Rubio's, you will find dishes for every meal. From breakfast to dinner, Rubio's gluten-free menu covers it all. We have split the dishes into categories, so you can easily sort out what you want.
Salads and Bowls:
All the ingredients of these bowls are gluten-free and extremely nutritious. The salad bowls come with your choice of proteins and veggies. Also, the kid's meal is prepared with all-natural chicken and is full of vegetables.
Here are your options for gluten-free salads and bowls at Rubio's:
Chipotle Orange Salad
Balsamic & Roasted Veggie Salad
Chipotle Ranch Salad
Chopped Salad with your Choice of Protein and Veggies
California Bowl served with Roasted Chipotle Salsa
California Bowl with Salsa Verde
RECOMMENDED: Uncle Julio's Gluten-Free Options
Chicken Tacos:
Rubio's has the juiciest and most delicious tacos on their gluten-free menu. The tacos are served with corn tortillas. Tacos are served with steaks, veggies, and all-natural chicken.
There are so many options in the tacos, that we often find it difficult to select our favorite. Here are what you will find in the tacos corner at Rubio's:
You can order grilled gourmet tacos with corn tortillas and stuffing of your own choice. The four available stuffings include veggies, salmon, all-natural chicken, and steak.
Classic grilled tacos are similar to grilled tacos with a variety of sauces. You can order these with corn tortillas and stuffing of your own choice.
Classic Grilled Steak Taco
The classic grilled steak taco is gluten-free if ordered with a corn tortilla. It is stuffed with chicken or salmon steak. It is a tender cut with extreme juiciness.
The street tacos can be ordered with all-natural chicken or steak. These are served with multiple sauces.
Seafood Tacos:
Rubio's seafood tacos are juicy, mouth-watering, and full of nutrition. These are served with corn tortillas. The gluten-free menu offers choices of seafood, here is what you can eat at Rubio's:
The salsa verde shrimp taco at Rubio's is filled with shrimps and sauces. While ordering the shrimp taco, request stone-ground corn tortillas.
Wild-Caught Mango Mahi Mahi Tacos
The wild-caught Mahi Mahi tacos come with a choice of grilled or blackened salmon. The corn tortillas and sauces add to the flavor.
Wild-Caught Mahi Mahi Tacos
The wild-caught mango Mahi Mahi at Rubio's is packed with grilled or blackened Mahi-Mahi. These have rich mango sauce and flavorings that make your mouth water.
Sustainable Atlantic Salmon Tacos
Sustainable Atlantic salmon Mahi tacos can be ordered with corn tortillas, and a choice of blackened or grilled salmon with veggies.
YOU MAY ALSO LIKE: What's Gluten-Free at Taco Bueno?
Nachos:
The gluten-free menu at Rubio's has two choices of nachos. Both the nachos are extremely delicious and packed with juiciness and tenderness.
These melt in your mouth and are a treat for your taste buds. While ordering nachos at Rubio's you can get:
The cheese nachos are yummiest and topped with many layers of cheese.
Chicken nachos are made of all-natural chicken and have amazing added flavors to satisfy your cravings
Enchiladas:
The enchiladas at Rubio's are much loved because of their taste and gluten-free properties. At Rubio's you can order the following enchiladas:
Shrimp Enchilada served with Verde sauce
Chicken Enchilada served with fire-roasted sauce
Cheese Enchilada served with fire-roasted sauce
Other Nutritious Dishes:
Apart from the tacos, nachos, and bowls, you can order protein-filled dishes at Rubio's. These dishes come with side orders of your choice. You can choose seafood or chicken for yourself. Also, these are served with veggies and sauces.
Cilantro Lime Quinoa Bowl
Grilled Steak
Regal Springs
Dressings:
Here are some gluten-free dressings available at Rubio's:
Chipotle Orange Vinaigrette
Light Balsamic Vinaigrette Dressing
Chipotle Dressing
Chipotle Ranch
YOU MAY ALSO LIKE: BEST Gluten Free Bakeries in Pittsburgh, PA
Kids:
Kids with celiac diseases and food preferences can dine in at Rubio's. The restaurant provides delicious gluten-free dishes on the kid's menu.
The controlled portion and taste of these foods are impressive. Here is what you can buy for your children at Rubio's:
Chicken Taquitos
Chicken Bites
Chicken Taco
Mott's Apple Sauce
Tips for a Gluten-Free Meal at Rubio's:
If you are willingly cutting out gluten, you are allergic, or pertaining some health conditions, remember you can be at risk of exposure despite ordering gluten-free food.
Don't assume anything is gluten-free:
The restaurant offers a gluten-free menu, but not everything is gluten-free. Before ordering from the menu, make sure you have informed the wait staff about your food preference.
Be clear and check with the staff that they are providing you with a gluten-free menu. Moreover, choose dishes with ingredients mentioned to be more clear and safe as some seasonings and toppings may have some gluten.
Tell your server about your dietary requirement:
While ordering food, guide your server about your dietary requirements. Tell them about your allergies, health conditions, or preference. It will be wise to ask them to explain the dish to you.
Rubio's menu offers listed ingredients with several gluten-free dishes. Yet, you should double-check for your safety.
If in Doubt, Throw it Out:
If you are in doubt about a dish or a certain ingredient, do not compromise your health. The wise action would be to refrain from the dish or particular ingredient.
If you have already ordered the food and you realize it's late to make modifications, simply leave the dish. Nothing should be more important than your health.
Avoid the Rush Hours:
To gain the full attention of the staff, you need to avoid going to Rubio's during the rush hours. Though the staff is cooperative and very attentive all day, during rush hours they need to pay heed to all customers.
If you are craving delicious Mexican food at Rubio's you might want to time your visit wisely. In the morning the work pace is slow, so you can easily enjoy a gluten-free breakfast at Rubio's.
As the day progresses, the pace gets faster, and the peak rush hours are at lunch and before 5. During rush hours, the wait staff might unintentionally forget a few details of your order.
Also, the risk of cross-contamination increases during peak hours.
Cross Contamination Risk:
Cross-contamination is unintentional thus it is inevitable. In a restaurant, the risk of gluten cross-contaminating your food can not be completely avoided.
Even if all safety measures are taken, somehow some gluten can come in contact with your food causing it to be unsafe for your consumption.
Your gluten-free meal can be contaminated with direct or indirect contact with gluten-rich foods. As Rubio's has a wide range of menus apart from its gluten-free menu, the dishes have several ingredients that contain gluten.
The wheat, bread, malts, ice cream cones, wine, pasta, and cereals are many such items that are core ingredients of several dishes. These are placed together with the ingredients of the gluten-free dishes.
This can contaminate your dish. Moreover, cutting and chopping boards and cutlery are common routes of cross-contamination.
High-end restaurants try to minimize the risk of cross-contamination by using different colors of board ana d cutlery for different food items. Still, there are always chances of mistakes.
For example, if a chef used a knife to spread jam on wheat bread and the same knife he cut the gluten-free bread, the food get cross-contaminated.
Many restaurants use the same fryers, ovens, and refrigerators for all their products, which increases the risk of cross-contamination from gluten-rich products.
Also, if the food items are washed, cleaned, or stored in the same location cross-contamination can occur, risking your safety.
What People Are Saying:
According to rich internet sources and people we interviewed, everyone is loving the diversity of the menu Rubio's provides.
With ample gluten-free options to satisfy their cravings for delicious Mexican food, Rubio's is ruling in taste, presentation, and food selection. People are enjoying the tacos and healthy bowls.
Apart from the menu, the customer service at Rubio's is getting immense positive reviews. People have had mixed experiences at the restaurant.
Some had all the praises for Rubio's for providing a healthy, Celiac friendly, and gluten-free menu. They said Rubio's was one of the best Mexican chains in their area.
Whereas others had gotten sick because of the tacos. They stressed that the food at the restaurant is not gluten friendly and should be avoided.
Due to shared fryers and cross contamination people have had several problems with tacos and fries. On the other hand, the healthy bowls are winning hearts all across.
They are keto-friendly, gluten-free, and nutritious. Overall people are quite satisfied with the menu, pricing, service, and staff.
Gluten-Free Alternatives to Rubio's:
If not Rubio's, here are some alternatives to gluten-free foods providing restaurants. These restaurants offer a good deal of gluten-free menus. Here is where you need to go for gluten-free yet delicious food.
Claim Jumper:
Claim Jumper offers a good deal of gluten-free dishes on their menu. All gluten-free dishes are marked with GF on the menu card. For starters, they have buffalo wings, loaded potato skin, and cowboy bacon.
They also offer Cali Chicken Citrus Salad, caesar salad, and claim jumper house salad in their GF menu. The ribeye steak and pan-seared sea bass are the most loved gluten-free steaks at Claim Jumper.
It is a great place to get your portions of gluten-free carbs and proteins.
Red Robin:
Robins is famous for its gluten-free buns and fries. The menu at Robins offers gluten-free pizzas, burgers, wraps, and fries. The burgers have gluten-free buns. You can choose the stuffing of your burger.
You can go with natural chicken or veggies. Also, the pizza crust and wraps have no gluten. For maximum safety of the customers, Robins have separate fryers for their gluten-free menu.
The dedicated fryers reduce the risk of cross-contamination to the maximum.
Yard House:
The Yard House has an impressive separate gluten-free menu. It has a wide range of poultry and seafood stuffed dishes. They have gluten-free buns for sandwiches and burgers.
Also, the restaurant has cooking skills that reduce the risk of cross-contamination. For example, they have separate fryers, cookers, and saute grills for gluten-free dishes.
The restaurant offers burgers, sandwiches, fries, steaks, shrimps, salmons, salads, and protein bowls. All dishes are delicious and mouth-watering. The Yard House is a great place to eat gluten-free food at an affordable price.