So you've taken the keto pledge and all you care about is a low-carb, high-fat meal.
But luckily, you don't have to be a shut-in! There are tons of keto-friendly options available at Moe's Southwest Grill. That means all your Tex-Mex cravings will soon be put to an end (yay!)
With just the right tricks up your sleeve, you can turn any menu into a low-carb feast for yourself. It's all about the right choices!
So what's keto-friendly at Moe's?
If you are in a hurry, simply order your favorite taco in a bowl and nix any nachos, tortillas, beans, rice, or strips.
Read on to design your perfect low-carb order at Moe's. We will share the best keto tactics along with the common pitfalls that you must avoid.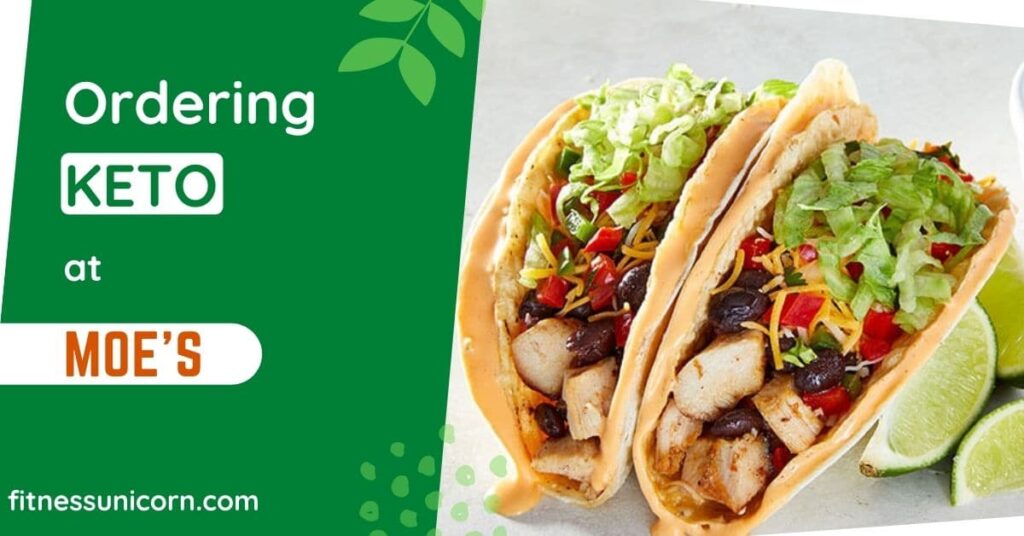 Tired of searching whether certain foods are keto? Download my keto cheat sheet with 210+ keto-friendly foods!
This post may contain affiliate links, which help keep this content free. (Full disclosure)
How to Order KETO at Moe's
Keto limits you to 20g of carbs per day. Compare it to an average person gorging on 250 grams of carbs daily (jealous, right?)
Sadly, most restaurants design their menu for the latter!
But that's not the case with Moe's! See, Tex-Mex restaurants (think Chipotle or Taco Bueno) are a boon to the keto diet. They have plenty of low-carb ingredients and you can freely customize your bowl.
That means you have complete control over what goes on your plate!
Moe's Southwest Grill is not only keto-friendly, but they have something for every diet on the planet (paleo, whole30, carnivore, etc.)
You just have to follow a simple 3-step process:
Choose your protein source: chicken, pork carnitas, steak, etc.
Add-in veggies and condiments.
Finally, throw in some dressings and pick your sides/extras.
That's it! You are not bound by a fixed menu and you can easily order based on your desired macros.
Here's an overview for building your Keto order at Moe's:
Avoid all tortillas, chips, nachos, strips, rice, and beans.
Most of the tacos and burritos turn keto-friendly when you ditch the outer shell/wrap.
Replace your side chips with a serving of fresh guacamole.
Out of all dressings, Southwest Vinaigrette has the maximum number of carbs (4g net carbs).
Use Pico De Gallo to add an extra punch to your bowl without increasing carbs.
Build Your Own KETO Bowl at Moe's
The beauty of Tex-Mex restaurants lies in the ease of customization! And Moe's is no exception.
Here's a step-by-step guide to building your perfect keto-friendly bowl:
Step 1: Pick Your Protein
This is the first step to building your keto bowl and here you get complete freedom. It means you can choose any option because all of them are pretty low in carbs.
There's no extra breading and no smothering of sauces on the meats.
Here's a detailed nutrition analysis per serving:
Adobo Chicken: 148 cals, 8g fat, 2g net carbs, 19g protein
White Meat Chicken: 130 cals, 4g fat, 0 net carbs, 23g protein
Steak: 104 cals, 5g fat, 2g net carbs, 15g protein
Pork Carnitas: 131 cals, 8g fat, 1g net carbs, 17g protein
Ground beef: 124 cals, 7g fat, 3g net carbs, 11g protein
Fish: 106 cals, 4g fat, 1g net carbs, 20g protein
Organic Tofu: 108 cals, 8g fat, 1g net carbs, 10g protein
Step 2: Add-in some Toppings
The toppings and condiments can really enhance your keto salad.
Too much meat can be overpowering and these add-ons will balance out the flavors.
Here are the macros:
Diced onions: 2g net carbs
Fresh Jalapenos: 0g net carbs
Chopped Cilantro: 0g net carbs
Diced Tomatoes: 2g net carbs
Grilled onions: 2g net carbs
Grilled Peppers: 1g net carb
Grilled Mushrooms: 1g net carbs
Pickeled Jalapenos: 1g net carbs
Diced Cucumbers: 1g net carbs
Black Olives: 2g net carbs
Shredded Lettuce: 1g net carbs
Shredded Cheese: 2g net carbs
Lime Wedges: 1g net carbs
Bacon Pieces: 1g net carbs
Avoid the Corn pico at all costs because a single serving contains 7g of carbs.
Also, go easy on the grilled onions. Those caramelized crispy strands can get really tempting but you've got to stay strong!
Step 3: Embrace Low-Carb Dressings
Yay! This is my favorite part of all keto eat-outs.
No matter how boring your salads are, dressings can really turn your meal around. For example, adding some Pico de gallo brings about a blast of freshness.
Pico De Gallo: 3g net carbs
Sour Cream: 2g net carbs
Chipotle Ranch: 1g net carbs
Southwest Vinaigrette: 2g net carbs
Queso: 6g net carbs
Guacamole: 2g net carbs
Hard Rock And Roll Hot Sauce: 1g net carbs
Step 4: Ditch the Rice and Beans
So far we haven't made any drastic changes to your meal bowl.
We have accepted almost everything from the menu just like regular folks. But now comes the game-changer.
You have to let go of the rice and the beans. A single serving of black beans contains a whopping 12g of carbs!
That's more than half of your daily quota, right?
If your bowl feels incomplete without them, I completely understand! But the best alternative is to add more of the good stuff i.e. meat, veggies, dressings, and cheese.
Step 5: Choose your Sides/Extras
As you know, the chips and quinoa are already out of the equation.
I would any day pick a side serving of Guacamole. It has high-quality fats and a lot of minerals and vitamins (avocado is the ultimate keto super-food).
Moe's offers three sizes of Guacamole, and here's the carb count in each one:
Guacamole as an add-on: 2g net carbs
Cup of Guacamole: 9g net carbs
Bowl of Guacamole: 12g net carbs
The largest serving size has too many carbs for a side dish. However, you can enjoy it as a complete meal in itself.
With 30g of high-quality fats and 12g of net carbs, it's still better than most fast-food options out there.
In fact, it's a quick dish that you can easily grab on the go.
No customizations, no repeating your order, and no energy wasted in brainstorming your keto bowl ingredients!
Another option is the smooth and creamy queso. But there's more to it that you should know.
Is Moe's Queso Keto Friendly?
Queso is a Tex-Mex dip which literally translates to "cheese" in Spanish.
However, the actual queso you find in restaurants like Moe's is more than just cheese.
The traditional recipe calls for a melted brick of Velveeta cheese, diced tomatoes, and some green chilis. Over time there have been hundreds of recipes around the world. But the use of soft American cheese remains constant.
Moe's queso is made with White American Cheese which is quite high in carbs.
The soft cheeses always have a higher carb count than the tough ones (e.g. Pepper Jack). And the main reason is lactose – a natural sugar found in milk and other dairy products.
Did you know? The famous Velveeta cheese used to be actual cheese decades back. But today, it is made with whey protein concentrate and milk protein – and hence it doesn't even qualify as cheese!
So all that gooey, creamy texture comes with a price after all (i.e. carbs)
But hey, that doesn't mean you have to give up the queso altogether!
Moe's smallest queso dip contains 6g of net carbs, which can be accommodated on the keto diet. But make sure you budget the rest of your meals smartly.
Here's a breakdown of Moe's queso dips and their carb count:
Queso as an add-on: 6g net carbs
Cup of Queso: 26g net carbs
Bowl of Queso: 39g net carbs
Cup of Chili Con Queso: 28g net carbs
Cup of Black Bean Queso: 33g net carbs
Cup of Spicy Queso: 27g net carbs
As you can see, only the add-on queso makes any sense on the ketogenic diet.
RELATED: Moe's Southwest Grill on Gluten-Free Diet
My Keto Order at Moe's Southwest Grill
If you read up to this point, you are already ahead of the masses!
You also have a fair idea of what to order on your next visit to Moe's Grill.
Now I'm going to show you my all-time favorite meal that costs just 7g of net carbs (and saves a ton of money!)
My keto bowl includes:
White Meat Chicken (double)
Cilantro
Pickled Jalapenos
Black Olives
Shredded Lettuce
Sour Cream
Shredded Cheese
Here's the nutritional breakdown:
Calories: 497
Fat: 28g
Carbohydrates: 8g
Fiber: 1g
Protein: 57g
Net Carbs: 7g
For me, 7 grams is the sweet spot for dining out on keto. My daily carb limit is around 20g and hence this meal looks like just another home-cooked meal.
I may enjoy some guacamole from time to time. Also, I've been adding bacon pieces to my bowl lately (yumm!)
For beverages, I just stick to diet coke. But you can also have unsweet tea, coffee, or a sugar-free lemonade.
Conclusion
In a nutshell, the best keto order at Moe's is the one you make yourself!
Simply choose a protein source, add some cheese & veggies, and top it all with low-carb dressings.
You know what? It's even simpler than it sounds!
Avoid the obvious carb-laden items like nachos, burritos, rice, beans, chips, and queso. And don't forget to use their nutrition calculator. It's highly user-friendly and you'll get a detailed report on your macros.