Aubrey Good and Doug Rogers had founded Cheddar's in 1979 to serve unique made-from-scratch dishes. Their concept was an instant hit and the restaurant chain expanded pretty rapidly across 28 states on 179 locations. No doubt they are loved by fitness enthusiasts and gym freaks. But what's keto-friendly at Cheddar's Scratch Kitchen?
Grilled Chicken, Top Sirloin Steak and Ribs, Ribeye Steak, Grilled Chicken Pecan Salad, etc. are some mouth-watering keto-friendly dishes served at Cheddar's. Kitchen They also have a wide range of low-carb appetizers, chicken dishes, steaks, soups, salads, and more.
Cheddars menu is pretty vast and it comprises many options in each food category. Since you are on a keto diet, you've got to be really careful of your choices. A single mistake can cost you your hard-earned ketosis!
But don't you worry! In this article, you'll find everything you need to stay low-carb at Cheddar's Kitchen. So read on.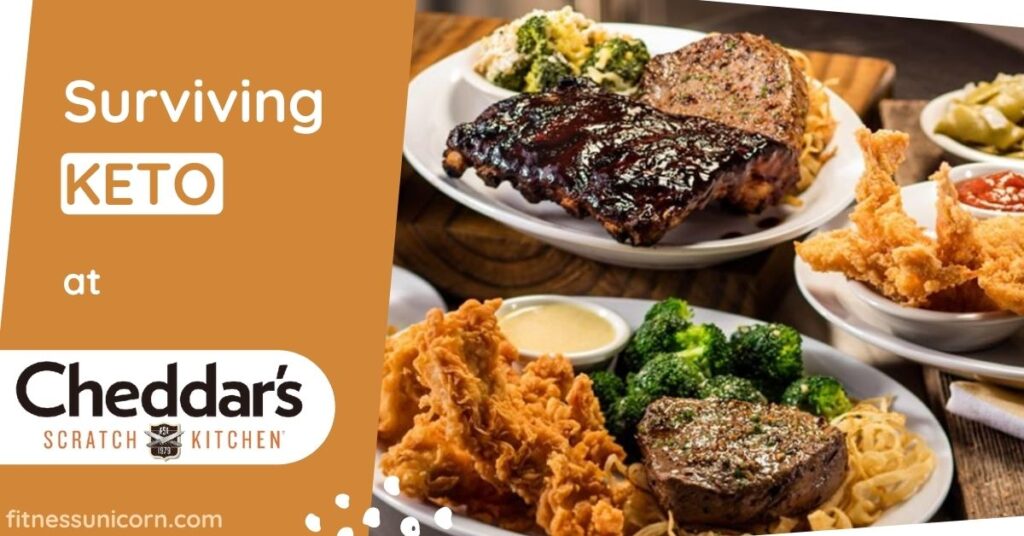 Tired of searching whether certain foods are keto? Download my keto cheat sheet with 210+ keto-friendly foods!
This post may contain affiliate links, which help keep this content free. (Full disclosure)
How to Survive Keto at Cheddar's Scratch Kitchen?
Did you know? The name "Cheddar's" was actually proposed by a 5th-grader when the founders Aubry Good and Doug Rogers asked for restaurant name suggestions.
A "scratch kitchen" is a restaurant concept that emphasizes fresh and wholesome meals. They cook each recipe from scratch every day, instead of simply defrosting the pre-cooked stuff (which is pretty common in the restaurant world!)
As described earlier, Cheddars Scratch Kitchen has got a vast menu encompassing chicken, steaks, seafood, soups, sweets, beverages, etc. All these foods are quite delicious and pocket-friendly too! What's more, they keep experimenting with new recipes to avoid the "boredom" in their menu.
But if you are on a ketogenic diet, dining out can be a tricky game altogether. A quick glance at the menu and you'll realize that they don't really care about the low-carb dieters! After all, most of the "delicious" stuff is either highly breaded or dipped in sugary sauces.
Luckily, you can turn any restaurant keto-friendly if you stick to the basics! For example, Cheddar's Kitchen has plenty of steaks, salads, and veggies that are always going to be low in carbs.
Top Sirloin Steak & Ribs is the most popular dish among keto dieters at this restaurant. It is a complete package for just 10g of net carbs from your daily carb quota. The Grilled Chicken Pecan Salad is also highly satisfying and filling for just 11 grams of carbohydrates.
Ribeye Steak is another delicious alternative to avoid excess carb intake. It offers only 6 grams of carbohydrates with 78 grams of protein. You can call it a perfect keto-friendly food served at Cheddar's.
Caesar Salad and Steamed Broccoli make up for an excellent low-carb side dish. You could also get a serving of steamed green beans for just 6g net carbs.
Cheddar's also serves sauces and dressings prepared specially for keto dieters. You can order Ranch Dressing, which has only 4 grams of net carbs per serving of 3 fl. oz. However, keep in mind that it's highly easy to overdo the dressings and those numbers can quickly add up!
The Chunky blue cheese is my all-time favorite addition to salads and meat-based dishes. It's high in fats and super low in carbs – just what the Keto gods appreciate!
In the mood for some booze? Light beer and White Wine are the two least-carb options that will get the job done!
Cheddar's features a Gluten-Sensitive menu that goes hand in hand with our keto lifestyle. So you don't have to request weird customizations like "I'd have the burger without the bun, please." Instead, the staff is already trained for gluten-free bunless burgers so you can avoid those awkward stares!
Before we proceed to the best keto-friendly options at this restaurant, here's what you must AVOID:
Chips and Fries
Honey Lime and Honey Mustard Dressings
Chicken tenders (because they are highly breaded)
Red Beans & Rice
Hickory Smoked Ribs
Mashed Potaotes
Wisconsin Cheese Bites (the cheese is good, but the outer crust isn't!)
Desserts
RELATED: Gluten Free options at Cheddar's
Cheddar's Scratch Kitchen Low-Carb Options:
Here's my pick of the top keto-friendly items available at Cheddar's Kitchen:
1. House Salad
Carbs: 9g

Fiber: 3g
Net Carbs: 6g
Total Fats: 9g
Protein: 7g
Calories: 140 cal
The house salad is something light and fresh that leaves a refreshing after-taste in your mouth. It provides you with the necessary vitamins and minerals along with powerful antioxidants. Add in some shrimp or blackened salmon for a mere fraction of carbs!
2. Bacon Cheeseburger (Bunless)
Carbs: 6g
Fiber: 1g
Net Carbs: 5g
Total Fats: 51g
Protein: 54g
Calories: 710 cal
Just get rid of the bun and suddenly most burgers become keto-friendly! After all, what's left is a combination of cheese, veggie, and meat. The bunless bacon cheeseburger at Cheddar's has four slices of bacon, cheddar cheese, lettuce, tomato, pickle, onions. Pair it with some side greens and you are golden!
Recommended: CAVA's Low-Carb Options
3. Top Sirloin Steak & Ribs (6 oz):
Carbs: 11g
Fiber: 1g
Net Carbs: 10g
Total Fats: 75g
Protein: 83g
Calories: 1070 cal
It should be your favorite dish when ordering food for the main course. It adds only 10 grams of carbs to your meal and leaves enough room for more sides and dressings! Plus, the meat is quite filling and highly satisfying for your belly.
4. Fresh Steamed Broccoli
Carbs: 6g

Fiber: 3g
Net Carbs: 3g
Total Fats: 8g
Protein: 3g
Calories: 100 cal
Broccoli isn't just low-calorie, but it's also the ultimate low-carb side dish. For just 3g net carbs per serving, this crunchy veggie can add a punch to your meals. Heck, you could also have it as the main dish when paired with chunky blue cheese and some ranch.
5. Kid's Chicken Tenders:
Carbs: 18g
Fiber: 1g
Net Carbs: 17g
Total Fats: 42g
Protein: 44g
Calories: 630 cal
Juicy soft chicken on the inside, and crunchy breading on the outside! Remember how I said that chicken tenders are anti-keto? Well, the Kid's chicken tenders are a sneaky way to satisfy those crunch cravings. It has a much smaller portion size that rakes in just 17g net carbs.
6. Caesar Salad:
Carbs: 9g
Fiber: 2g
Net Carbs: 7g
Total Fats: 26g
Protein: 8g
Calories: 290 cal
Salad fans should order this dish to have Romanian lettuce tossed with Caesar dressing. It's low in carbs and high in taste.
7. Grilled Shrimp:
Carbs: 1g
Fiber: 0g
Net Carbs: 1g
Total Fats: 2.5g
Protein: 13g
Calories: 80 cal
Whether it is grilled shrimp, blackened salmon, or southern green beans, all the add ons are low in carbohydrates. Order freely to enjoy delicious meals and have more options in your keto diet menu.
Cheddar's Keto-Friendly Drinks
Sometimes a glass of water isn't enough to quench your thirst, especially while dining out. You may want a refreshing beverage that compliments your meal while hanging out with your pals.
So here's a list of keto-friendly drinks and beverages at Cheddar's Scratch Kitchen:
Alcoholic Beverages
Sweet White / Blush Wine, 6 oz: 7g net carbs
Sparkling Wine, Split: 10g net carbs
White Wine, 6 oz: 4g net carbs
Red Wine, 6 oz: 5g net carbs
Beer, Light – 12 fl. oz: 6g net carbs
Beer, Light – 16 fl. oz: 8g net carbs
Non-Alcoholic Beverages
Coke Zero Sugar: 0 carbs
Diet Coke: 0 carbs
Diet Dr. Pepper: 0 carbs
Coffee: 0 carbs
Water: (Duh!)
Conclusion
Cheddar's Scratch Kitchen has plenty of low-carb options for those on a ketogenic diet. It's a trusted restaurant operating in 179 popular locations. Even your non-keto friends can enjoy a bunch of wholesome meals that are fresh and minimally processed.
Some of their most keto-friendly options are Top Sirloin Steak, House Salad, Grilled Chicken, Grilled Shrimp, and Bacon Cheeseburger (bunless).
You can pick Cheddar's for any meal of the day and you won't run out of options. Pick one or more dishes featured in this post to have a perfect dining experience while still maintaining your ketosis
Read Next: Zoës Kitchen's Keto Options