Convenience stores are generally full of sugary drinks, bread, and other high-carb food items. But, finding a keto-friendly dish at Sheetz is not really that difficult. In fact, you can have quite a satisfying meal at Sheetz without feeling overly restricted.
So what's keto-friendly at Sheetz?
You can have the burger patties and sandwich fillings in a bowl and just ditch the bun. If you want something light, the Italian salad comes with just 4g of net carbs. Other low-carb options include scrambled eggs, MTO salad, and Breakfast Platters.
Whenever you stop for some gas at Sheetz, their food section is always tempting your hungry stomach. But do you feel overwhelmed and confused with such a vast menu?
Don't you worry at all! In this article, I'll take you through all of their low-carb options that you can enjoy on a ketogenic diet.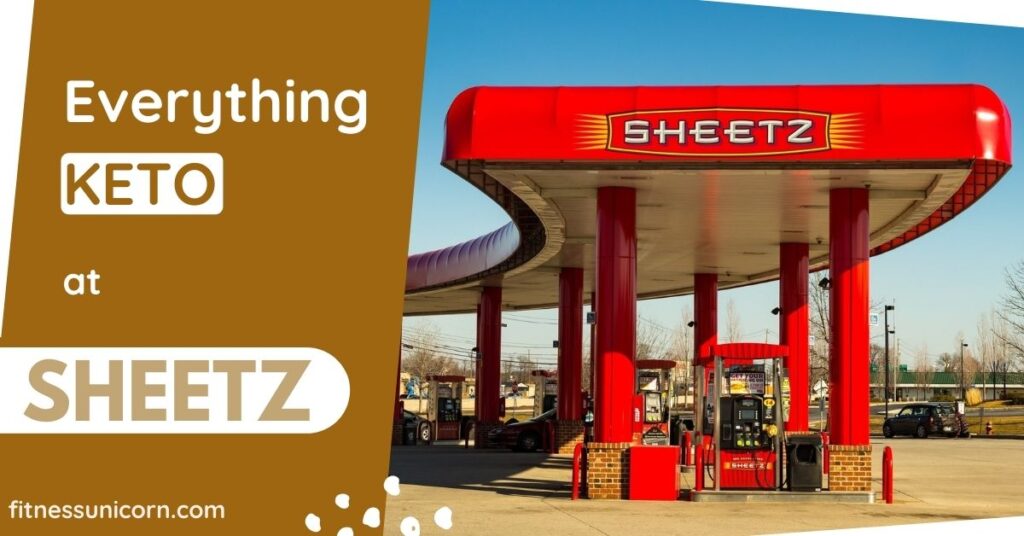 Tired of searching whether certain foods are keto? Download my keto cheat sheet with 210+ keto-friendly foods!
This post may contain affiliate links, which help keep this content free. (Full disclosure)
How to Survive Keto at Sheetz
Sheetz is a chain of gas stations and convenience stores stacked together. They've got almost everything you need on the go while traveling – custom food, a wide range of beverages, and your regular convenience store items.
In fact, some locations are full-fledged truck stops, featuring showers and even a laundromat.
But my favorite part about Sheetz is their Made-to-order food range. It ensures that anyone with any specific dietary needs can enjoy a wholesome meal that is prepared according to their instructions. That's why it makes Sheetz a worthy contender for the keto diet.
For example, you can create your own salad with their "MTO Salad" offering. Pick your favorite protein, add some veggies, and go light on the dressings. There you have it – the perfect keto salad under 5-6g of net carbs.
If you are stopping by in the morning, you can't go wrong with their breakfast platter. There's lots of meat, cheese, and veggies. What else can you desire on a ketogenic diet?
From their Salads to "no bread" Deli Sandwiches to Cold Brewed Coffee, there are a ton of keto-friendly options to look out for. While most of their dishes are carb-heavy, you can request "No-Bread" subs and sandwiches for a keto-friendly meal.
For instance, the Deli meat is absolutely keto-friendly. But when you sandwich it between a bread/bun, the carb count just takes off! Instead, you can ditch the bread and enjoy your sandwich as a salad bowl (they put them nicely in a tub container!). The same goes for Burritos and breakfast subs, where you can toss away the high-carb bread and get rid of those carbs.
You can further customize the salads as per your taste and preferences. Pair them with any low-carb side dish to satisfy your mid-day cravings.
Before we proceed to the top low-carb choices, here's what you must AVOID:
Nachos and Tortilla
Toast Sticks
Boneless Wings (Because they are highly breaded)
Mac & Cheese
Pizzas
You'll find it really easy this way to maintain your keto diet. Having said that, let's jump right into all the keto-friendly options Sheetz has in store for us.
Keto-Friendly Options at Sheetz
Unlike other convenience stores, Sheetz has a diverse set of low-carb options which you can consume during your keto journey.
If you've got some free time to spare, there's nothing better than their MTO (made-to-order) options. Choose your favorite low-carb proteins, dressings, veggies, and condiments.
However, if you just want to grab some quick bites on the go, here you go:
Breakfast Options
 #1. Scrambled eggs: 4g
With a high fat and protein percentage, it makes for a perfect keto-friendly dish.
#2. Breakfast Platters: Customizable
The breakfast platter at Sheetz is one hell of a low-carb treat. You can choose from bacon, steak, sausage, and more. Add in some toppings and stick to the non-sugary sauces. And obviously, stay away from bread.
Keto-Friendly Salads (without dressings)
#1. Cali Cobb Recipe Salad: 9g
#2. House Recipe Salad: 4g
#3. Italian Recipe Salad: 4g
With both vegetarian and non-veg options on the card, everyone can enjoy the keto-friendly salads available at Sheetz.
Keto-Friendly Sandwiches (Bunless)
#1. Premium Chicken, Bacon 'N Egg Breakfast Sandwich: 13g
#2. Sausage Patty Melt Breakfast Sandwich: 4g
#3. Smoked Ham, Egg 'N Swiss Breakfast Sandwich : 3g
#4. Triple Meat Stack Breakfast Sandwich: 4g
#5. Mini Hashbrowns: 15g
#6. Beyond Burger: 2g
#7. Angus Burger : 0g
#8. Chicken Salad Garden Party Sandwich: 8g
#9. Classic Spicy Chicken Sandwich: 13g
#10. Old Bay Chicken Sandwich: 12g
Probably the most sought-after keto-friendly food item here at Sheetz, their signature sandwich. Provides you with a huge variety of low-carb sandwiches. Keep in mind that you've to get rid of the bun/bread.
Suggested: Old Chicago Keto-Friendly Options
Keto-Friendly Fruits
#1. Apple Slices: 6g
#2. Grapes: 10g
Undoubtedly, the healthiest keto-friendly food items here at Sheetz, their fruits.
Apart from all the keto options above, you can try a lot of side dishes as well such as Hard-Cooked Eggs (0g), Wisconsin Cheddar Bites – Regular (8g), and MTO Sliderz (14g).
You can also sip on some keto-friendly beverages such as:
Dark Espresso (0g)
Cold Brew Coffee (0g)
Hot Teas (0g)
Frozen Latte (8g)
Iced Latte (12g)
Frozen Mocha (8g)
Gfuel Fazeberry Refresher (3g)
Gfuel Hype Sauce Refresher (3g)
Gfuel Snow Cone Refresher (3g)
Note – Remember at all times that you should stick to your daily carb allowance no matter what. Everything else is secondary.
Tips for Ordering Keto at Sheetz
Sheetz also has a lot of customization options available, which makes it really easy for you to build your own meal and keep a count of the carbs. For example, stuff like their 'Meltz', 'Fish and Chicken Platters' and 'Quesadillas' allows you to choose your choice of proteins, toppings, sauces and spreads. (Always avoid the bread and tortillas though!)
Since Sheetz has a lot of customization options available, I feel it's my duty to guide you with what you should be adding to your customizations and whatnot.
As far as the dressings are concerned, only their BBQ sauce is a tad high on carbs (10g), you might as well avoid it. Apart from that, there's no such "High Carb" sauce they have.
For the toppings, you can pick anyone except Caramelised Onions(4g carbs) since there will be more additions to your meal, which when combined, might cross the allowed carb limit.
For your protein choices, anything and everything is good except the boneless or the beer-battered ones. A lot of breading goes into making that crunchy layer!
The mini hashbrowns are definitely delicious, but they are quite controversial because they have 15g of net carbs. However, if you manage to stay under your daily carb allowance for the whole day, I don't see that as a problem. You'll be in ketosis as long as you honor your daily carb limit. Period.
You can also get some amazing low-carb finds while roaming around the convenience store. The pork rinds are almost zero-carb, but make sure you read the label. And the same goes for beef jerky.
If you are craving some desserts but can't find a fix, simply grab a pack of Quest Low-Carb Cookies. They aren't as crispy as the original stuff, but definitely worth it on keto!
Conclusion
Sheetz has a huge variety of keto-friendly options in store for you. Their customizations especially, make it ever so easy to help you maintain your keto streak. The MTO range of options helps you choose your own meats, cheese, toppings, and veggies.
And if you are out of time, there are also ready-to-go keto-friendly items like the House Salad, Scrambled Eggs, and No-Bread sandwiches.
So the next time you stop by for gas, Sheetz has plenty of low-carb options in store for you. If you want more information on the specific ingredients and nutrition of any food item, you may visit their official nutrition guide here.